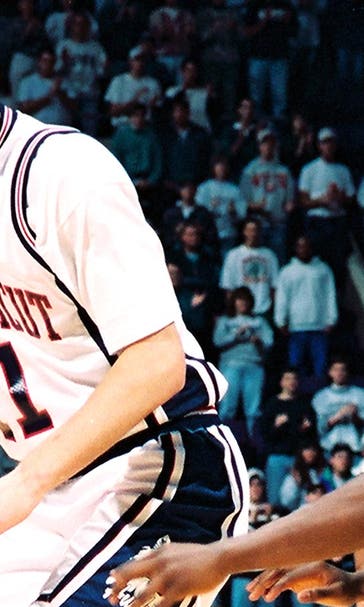 Former UConn star Doron Sheffer beat cancer, now living spiritual life
BY foxsports • July 9, 2014
Many moons ago, Doron Sheffer was a basketball star at the University of Connecticut playing alongside Ray Allen and Kevin Ollie for head coach Jim Calhoun. During his UConn career from 1993 to 1996, Sheffer became the first Husky with 1,000 points and 500 assists.
Sheffer eventually was selected by the Los Angeles Clippers in the second round of the 1996 NBA Draft, but instead chose to play for Maccabi Tel Aviv in the Israeli League, where he won four straight titles.
Fast forward to the present and Sports Illustrated reports that Sheffer is living in the mountains of northern Israel with his family and won a battle against testicular cancer. After having a spiritual awakening during his cancer treatment and traveling the world in retirement, Sheffer now runs a "spiritual cleansing" business with his wife, Talia, at his home.
Allen still has fond memories of Sheffer and says he made a big impact on his life.
"Honestly, a lot of who I am came from being around him," Allen told SI.
Although he's living a very different life than his former teammates Allen and Ollie, Sheffer still is a Huskies fan and was rooting for them during their national championship run last season.

More from NESN:
NBA Draft: Joel Embiid Takes Selfie Before Foot Surgery (Photo)


Texas Tech Recruit Kicked Off Team For Punching Women's Basketball Player


Miami Recruiting 9-Year-Old High School Basketball Player (Video)
---