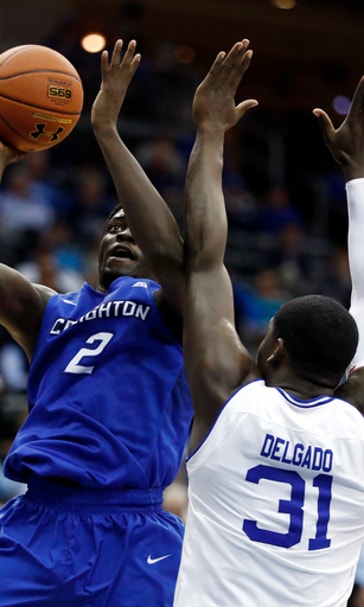 Double-Double! Seton Hall's Delgado tops nation in rebounds
February 16, 2017

SOUTH ORANGE, N.J. (AP) Angel Delgado of Seton Hall might be one of college basketball's most overlooked players.
The 6-foot-10 junior from the Dominican Republic is not on the watch list for the nation's top centers, and he's also missing from the list for the top power forwards.
All he is doing is leading the country in rebounding with a 13.2 average, while posting double doubles in 18 of his last 19 games. The last one happened Wednesday night when he had 17 points and 17 rebounds in the Pirates' 87-81 win over No. 20 Creighton.
''If they think I cannot be one of the best centers in the country, it's their opinion,'' said Delgado, who is averaging 15.2 points. ''But in my opinion, I am the best center in the country. It's my opinion. That's how I think and that's how I am always going to think. I don't care if people tell me I am top 50 or 100. In my opinion, I am the best center in the country or power forward, whatever they say.''
After averaging nearly a double-double in points and rebounds in his first two seasons, Delgado took the next step this past offseason. He spent a couple of weeks in the Dominican Republic playing in a tournament with the national team and then came back to school and hit the gym. He put on 15 pounds of muscle (240) and worked on his jump shot.
''He has worked hard to develop himself,'' Seton Hall coach Kevin Willard said. ''Again, that's also getting older. He has learned to play much better. He has really worked hard on his angles on defense, pick and roll defense, being smarter on offense. He is learning how to play.''
One might wonder how a kid from the `D.R.' - as Delgado refers to his homeland - started playing basketball.
It was his father, Rafael. He was one of his country's top defensive players and he taught his son a lot, especially how to compete. The two played often and, briefly, the younger Delgado said he started getting the best of his father at the age of 15.
He quickly reconsidered.
''I still can't because he just punches me and never lets me score,'' Delgado quipped, noting the tough defense comes in handy going against opponents in the Big East Conference, a league that let its players play more often than not.
Delgado's statistics in the conference are even better than his overall numbers. He is averaging 15.6 points and 14.5 rebounds. His best two games came in mid-January when he had 21 points and 20 rebounds against St. John's and followed by 12 points and 22 rebounds against nationally ranked Butler.
It was the first time in Big East history a player had consecutive 20-rebound games in a conference that featured Patrick Ewing of Georgetown, Derrick Coleman of Syracuse and Jerome Lane of Pittsburgh, just to name a few.
Watching Delgado, there are times he looks like a man playing against kids. Not only is it a mismatch in size, there is no denying his determination to succeed.
After being limited to two points and five rebounds in the first half against Creighton, Delgado had 15 points and 12 rebounds in the second half, including the go-ahead bucket on which he missed two shots in the lane, got both rebounds and then scored, punching the air as the ball went through the net.
''The guys always tell me I am trying to bully people,'' Delgado said. ''That's how I play. I try to play so hard that I bully guys. That's how I play. I want to dominate every single time I am on the court and it doesn't matter who I play. If I am playing a 7-5 guy, I want to dominate. I am always trying to be the best big man on the court.''
Delgado understands that the NBA might call after this season, but he's not thinking about that now. His focus is on winning games and getting Seton Hall (16-9) back to the NCAA tournament for a second straight year.
''My dream was not to come here and be at this level,'' Delgado said. ''It was like every kid in another country, to play for their country. Plans changed and I got the opportunity to come to this country and it was a privilege and I was so happy.
''When I came here I just told my family I am going to do the best that I can to help them to be a better off and to be a better person.''
(Fixes point totals vs. St. John's and Creighton)
---
More AP college basketball: www.collegebasketball.ap.org and https://twitter.com/AP-Top25.
---
---