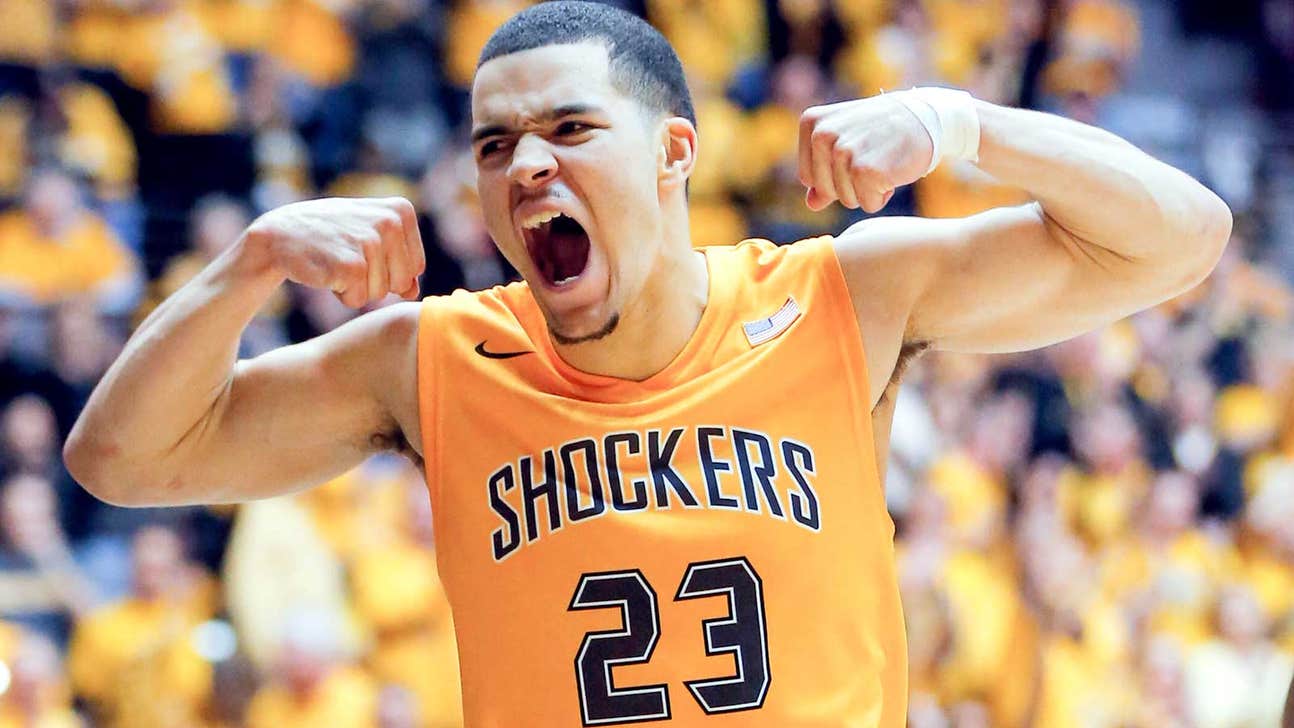 Despite landing in Region of Doom, Shockers still in my Final Four
Published
Mar. 17, 2014 2:12 a.m. ET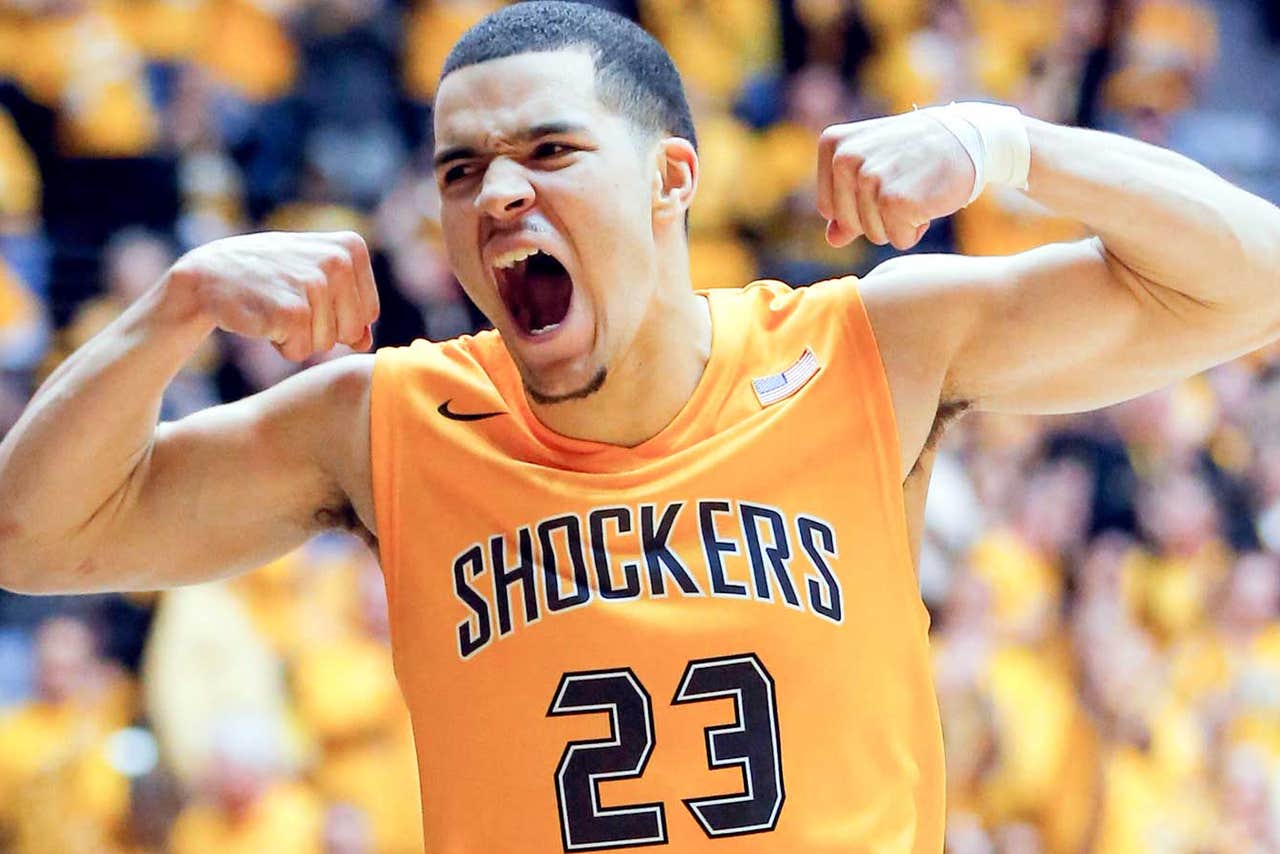 A week ago on FOX Sports Live, I backed myself into a corner.
The panel was talking about which teams would make the Final Four, and host Charissa Thompson put me on the spot. She pointed out that I've been a Wichita State believer for a long time, which is true. So would I put the undefeated Shockers in my Final Four this year?
I said yes.
After all, more than a year ago, I visited Wichita for a few days in January and learned about how Gregg Marshall and his stellar staff had taken a struggling mid-major program --€" 11 wins his first season --€" and turned them into a force in the Missouri Valley Conference. I saw a team that worked harder in practice than any team I'd seen. I came back from Wichita and, for the rest of the season, kept telling everyone I knew that Wichita State was a dark-horse Final Four team.
But when it came time for me to fill out my bracket before last year's tournament, I chickened out.
Sure, I predicted that 9-seed Wichita State would upset 1-seed Gonzaga and make the Sweet Sixteen last year, but I couldn't pull the trigger on the Final Four. Of course, the Shockers made a Cinderella run before falling to eventual champ Louisville in the national semifinals.
This time, I told Charissa, I would pencil them into the Final Four before the bracket is even revealed. Because I believe in Marshall as a coach, and I believe in Fred VanVleet as an elite and preternaturally composed point guard, and I believe this 34-0 team is far better than last year's bunch.
Then, on Sunday, I saw what the NCAA tournament selection committee did to the Shockers: The committee put the first team since 1991 to enter the tournament undefeated into the Region of Doom.
Do you see what the Shockers' route to a second consecutive Final Four could look like? In the round of 32, preseason No. 1 Kentucky, a hugely talented team that is finally clicking. In the Sweet Sixteen, defending champion Louisville, which might be the hottest team in the nation. Think things might get easier for the Shockers in the Elite Eight? How about 2-seed Michigan or 3-seed Duke, or even First Four participant Tennessee, a talented crew whose advanced metrics suggest is much better than a 12-loss team?
But this year I am holding firm. I have faith in Wichita State. I have faith that the undefeated team with a chip on its shoulder will take this challenge from the selection committee and use it as motivation. In fact, I have faith in my entire bracket, which you can view along with this story. So much faith that I am starting to plan which island I will live on with Warren Buffett'€™s billion dollars.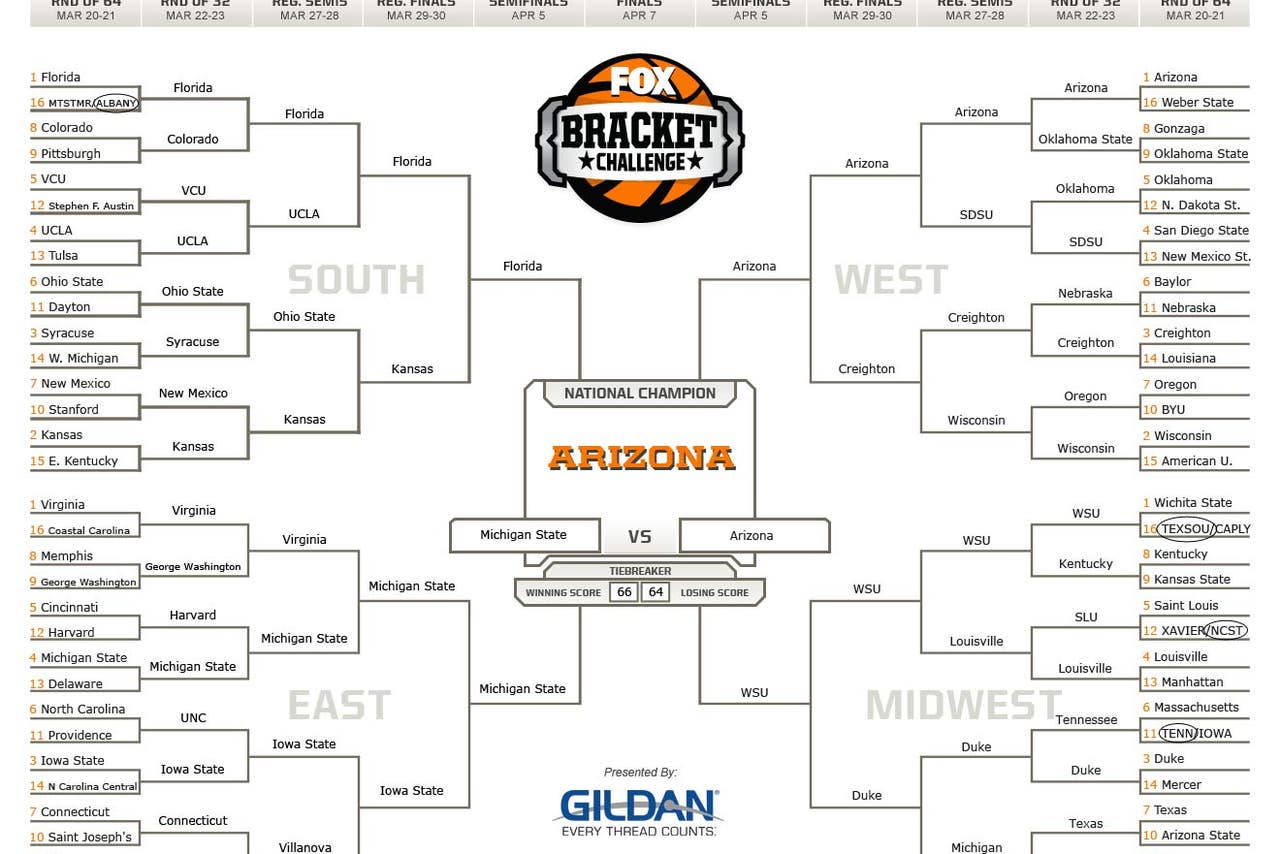 (Feel free to tell me how dumb I am in the comments below or on Twitter @reidforgrave.)
Here are a few other reasons on why I chose the teams I did in my bracket.
-- This is a year of chalk. There is so much parity at the top of college basketball --€" but I'm not so sure that parity extends to the lower seeds. I don'€™t see tons of big-time upsets this tournament; the biggest upset I picked was 12-seed Harvard over 5-seed Cincinnati, and I only picked that because of the old "12-seed always wins"€ rule. I have little faith in that pick.
-- In the past 11 tournaments, each eventual champion had one thing in common: The team ranked in the top 25 in both offensive and defensive efficiency, according to the wonderful advanced statistics web site, KenPom.com. This year there are six teams entering the tournament that rank in the top 25 in both categories: Wichita State, Louisville, Villanova, Iowa State, Florida and Virginia. Two of those four made my Final Four, and I was this close to picking Iowa State over Michigan State. (And only my stubborn belief in Wichita State kept me from picking Louisville.)
-- A high seed that I think has a chance to make a run is Tennessee. Why? Tennessee has three big-time talents in Jordan McRae, Jarnell Stokes and Jeronne Maymon. And Tennessee is mighty close to that top 25 in offensive and defensive efficiency barrier: 29th in offensive efficiency, 16th in defensive.
-- Kansas is this year's biggest question mark. With a Joel Embiid that is 100 percent -- not just on the floor and sort of healthy, but 100 percent --€" the Jayhawks could win it all. Without Embiid, the Jayhawks could get upset by New Mexico, the Mountain West tourney champs who were significantly under-seeded as a 7-seed.
-- Why did I pick Arizona as my national champion despite ranking outside the top 25 in offensive efficiency (35th)? Because that defense is so, so, so good. Sean Miller's Wildcats are clicking on all cylinders. They seemed staggered in the first 10 minutes against UCLA in the Pac-12 title game, but afterward Miller said that was a good lesson in case Arizona faces a similarly fast-paced transition team in the tourney. No team in the country is playing better, more confident defense than Arizona.
-- If Arizona loses, I hope it'€™s to Creighton. Because Doug McDermott, the best player in college basketball, is tantalizingly close to some serious history. He currently ranks fifth all-time in points scored. He's not going to reach Pistol Pete at No. 1, but if McDermott scores 30 points per game and Creighton reaches the Final Four, he'd move into third place (24 points behind Freeman Williams). Kinda hope that happens. But not sure I see Creighton beating a hyper-athletic, defense-focused team like Arizona.
-- BYU shouldn'€™t be in the field; SMU should. But there aren't any glaring snubs this year. Ultimately, it was SMU's fault the Mustangs didn't make the field.
-- You'd think by now I'd start believing in Michigan. I counted the Wolverines out before the season because Trey Burke was so key to last year's Final Four team. I counted them out again midseason when Mitch McGary went down to injury. And here I am, still counting them out and having the Wolverines lose to Duke. Guess I'€™m stubborn. But I don't see them as a Final Four-caliber team.
-- Michigan's in-state rival, however, I do. After winning the Big Ten tournament, it appears Michigan State -- a talented and experienced team that has been destroyed with injuries this year -- is back to full strength. Sparty looked great against Michigan. Like Florida, Michigan State has that rare combination of blue-chip talent and experience that ought to play well in March in the age of one-and-dones.
-- I don'€™t think UCLA can get past Florida. But man did UCLA look good in the Pac-12 tournament. That team is having fun.
-- What to do about Kentucky? The Wildcats looked great during the SEC tournament, even with their fair share of the typical freshmen sputters. I have little doubt that the typical hubris of Kentucky fans has them licking their lips over the potential matchup against Wichita State. But hubris is not just this fan base's problem; it's this team'€™s problem, too. I do not believe in Kentucky.
-- The hot upset pick seems to be Stephen F. Austin, a 12-seed, over 5-seed VCU. I don'€™t buy it. Havoc is so tough to prepare for. I didn't pick it, but a better 12/5 upset pick might be North Dakota State over Oklahoma.
-- A guard is going to win the Most Outstanding Player Award. His name will be either Nick Johnson, or Scottie Wilbekin, or Gary Harris. My money'€™s on Johnson.
-- Most of all, remember this: My wife tells me she's filling out a bracket this year. That will be a first. I recently asked her how many current college basketball players she could name; she said Marcus Smart and Andrew Wiggins, two guys I'€™ve apparently talked about a lot at home. Then she said, "I want to say Kareem Abdul-Jabbar, but clearly that's not right." She is not an expert; supposedly, I am. And my only sure bet this tournament is that my wife'€™s bracket beats mine. Because that, after all, is what all this Madness is all about.
Follow Reid Forgrave on Twitter @reidforgrave or email him at ReidForgrave@gmail.com. Or just tell him why his bracket is absurd and why he should stop researching beach homes in Tahiti.
---