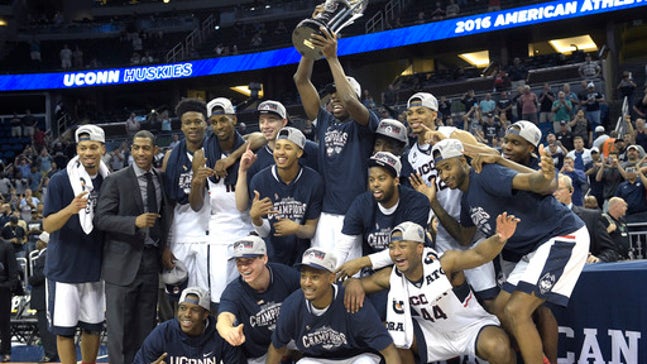 Defense, balanced scoring lifts UConn in American title game
Published
Mar. 13, 2016 9:04 p.m. EDT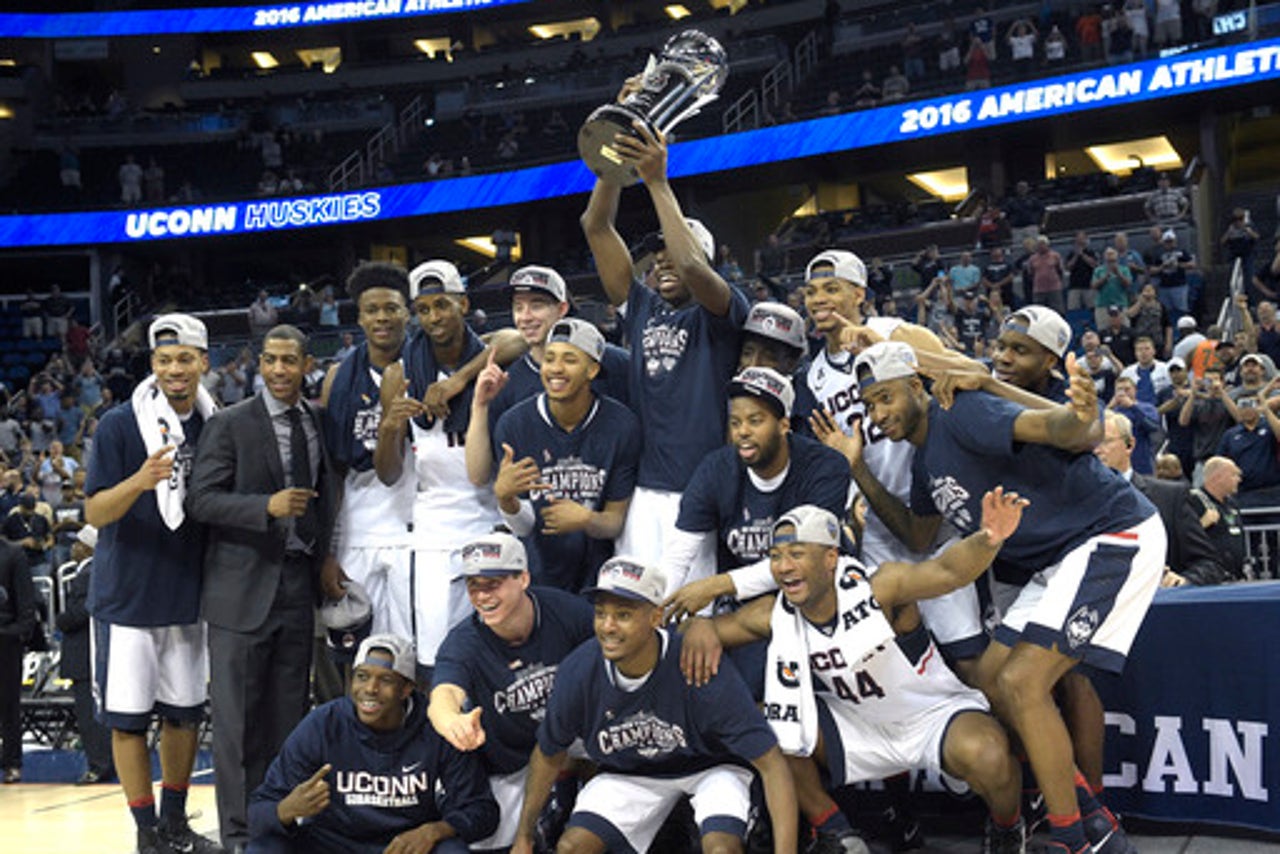 ORLANDO, Fla. (AP) Shonn Miller and Sterling Gibbs scored 13 points each and Daniel Hamilton had a double-double for the third straight day, leading Connecticut to a 72-58 victory over Memphis in Sunday's American Athletic Conference championship game.
Hamilton had 12 points and 11 rebounds, Rodney Purvis scored 12 points and reserve Omar Calhoun hit two crucial 3-pointers and finished with 10 points for UConn (24-10).
Memphis (19-15) trimmed a 16-point deficit to four before Gibbs made a 3-pointer to begin a 15-2 run for UConn, which also made 14 of 16 free throws after halftime to wrap up its first conference tournament title since 2011.
The Huskies lost the American final each of the past two seasons. But when Memphis made a final push to get back in the game, pulling within 62-54 with 3:07 left, Calhoun made a long 3 and Purvis followed with a layup in transition to enable UConn to put it away.
American rookie of the year Dedric Lawson led Memphis with 21 points and 11 rebounds.
But Shaq Goodwin, the Tigers' second-leading scorer, was limited to six points and spent a critical stretch of the second half on the bench with four fouls. Ricky Tarrant joined Lawson, who fouled out, in double figures with 11 points.
UConn won its fourth straight game since consecutive losses to Houston and SMU the final week of the regular season. They survived a four-overtime thriller to beat Cincinnati in the conference tourney quarterfinals before beating regular-season champion Temple 77-62 in Saturday's semifinals.
Hamilton was a catalyst in all three games. He had a career-best 32 points and 12 rebounds Friday, 19 points and 11 rebounds Saturday and hit a couple of big baskets against Memphis, despite finishing just 3 of 11 from the field.
UConn's last conference tournament championship came in 2011, when it won a record-tying seventh Big East title. The Huskies lost the American final to SMU in 2015 and Louisville two years ago.
Defense was a big part of this one.
The Huskies shot 37.5 percent, including 5 of 16 from behind the arc.
UConn led 32-19 at halftime, taking control during a 17-3 run that saw Memphis miss nine of 10 shots and go more than 6 minutes without a field goal in one stretch.
With the Tigers clanking shot after shot, Lawson became a virtual one-man show. He had 11 of his team's first 16 points, while Goodwin went scoreless until just 4:28 remained in the opening half.
A day after Temple shot 36 percent against the Huskies, Memphis missed 20 of 26 shots in falling behind by double digits and never recovered.
Trahson Burrell shot 3 of 14 for the Tigers. Goodwin missed his first three shots and finished 3 for 9 in 37 minutes.
TIP-INS:
UConn: Swept season regular-season series from Memphis, winning by three at home on Jan. 9 and 20 on the road on Feb. 4. ... It's the sixth time the UConn men's and women's teams have won conference tourneys in the same year. ... The Huskies played most of the second half with Amida Brimah, Phillip Nolan and Steven Enoch on the bench with four fouls.
Memphis: Coach Josh Pastner is 3-1 in conference tournament championship games. ... The Tigers were in the American final for the first time. They lost their opening game the past two years, losing to UConn in 2014 and Temple in 2015.
UP NEXT:
UConn faces Colorado in the NCAA tournament.
Memphis awaits word on a postseason berth.
---