Corey Maggette grew to appreciate Coach K's 'hard-ass' style
BY Aaron Torres • January 14, 2015
When Corey Maggette committed to Duke in the fall of 1997, he did so for the same reasons most high school kids pick a college. By signing with the Blue Devils, he'd have the opportunity to play for one of the top basketball programs in the country. As a player who was also recruited by the likes of Stanford and other major academic powers, he'd have the chance to attend one of the top schools in the country as well.
However, the ultimate draw, as it's been for so many top high school basketball players through the years, was the opportunity to play for Mike Krzyzewski. With both player and coach hailing from the Chicago area, there was an immediate bond.
There also was an immediate realization from Maggette when he arrived the following season: Though the guy who recruited him had the charm of a typical Midwesterner, the coach possessed some of the other — how do we say this nicely? — "tougher" characteristics of a Chicagoan as well, the moment practice tipped off in October.
"He was a hard-ass," Maggette said with a laugh, reflecting on that first practice. "What you see on TV, it's not what Coach K is like in practice. He's a Chicago guy, and you know, it comes off that way."
Eventually, Maggette got more direct.
"He's a little older now, so I don't know how it is now. But (back then) he was an a**hole. That's just the truth."
Now, more than 15 years removed from his last practice at Duke, Maggette can laugh about his former coach's behind-the-scenes demeanor. As someone who played 14 seasons in the NBA, Maggette can also appreciate that it's practice where Duke basketball gains its edge.
That's right, as Mike Krzyzewski gets set to become the first Division I men's college basketball coach to win 1,000 games, Maggette believes that more than anything, it's practice — yes, we're talking about practice — that has kept the Blue Devils elite.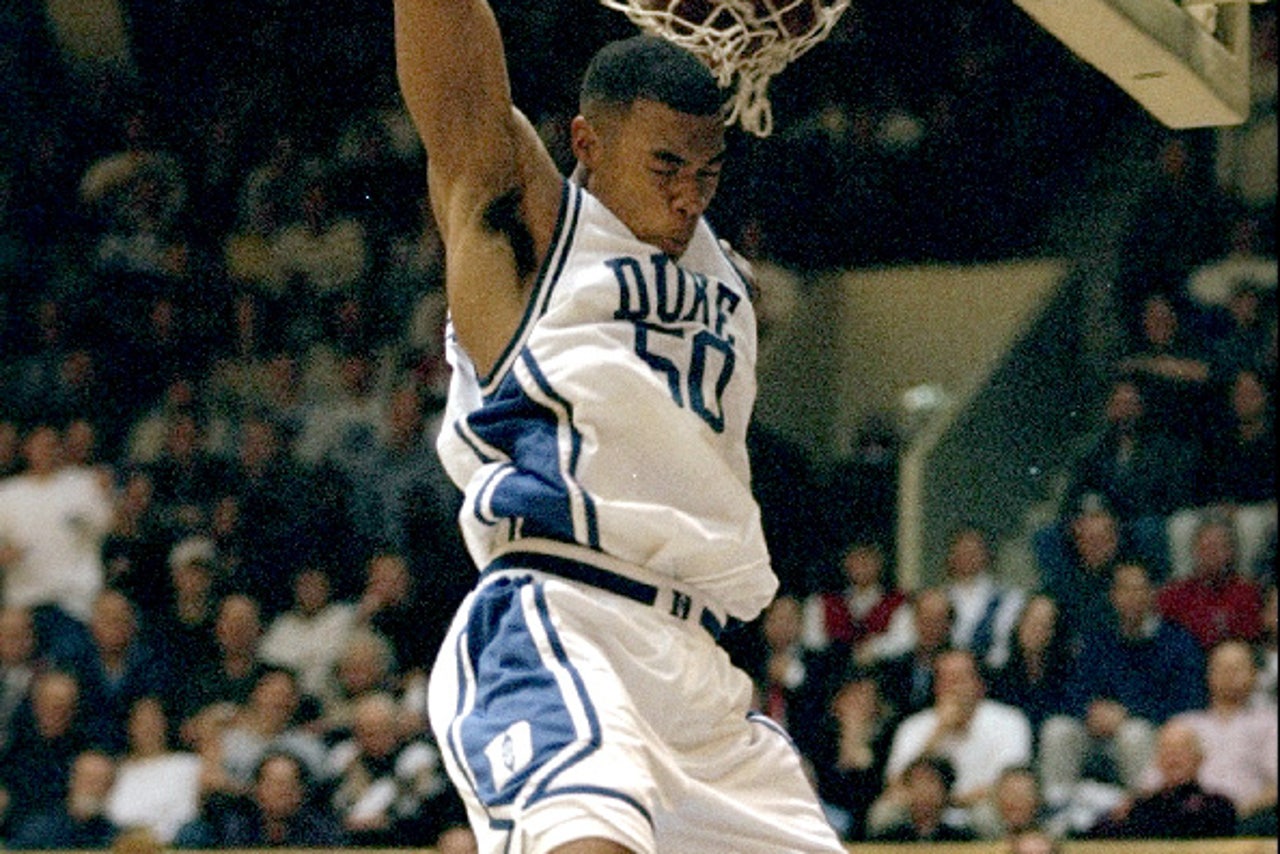 Corey Maggette was a great player on a great Duke team, but that doesn't mean his coach took it easy on him or his teammates.
"Sometimes teams don't practice as hard as they play in the game," Maggette said. "The way we practiced (at Duke), we practiced harder than any NBA team. When you have an opponent that's not accustomed to practicing game speed it shows. We were always prepared."
Maggette played one year at Duke but saw up close how much practice paid off in game situations. Duke went 37-2 that season, and although the Blue Devils lost to UConn in the title game, Maggette's 1998-99 club remains tied for the second-most wins by any team in college basketball history.  
Beyond the wins and losses, what might be most impressive about that specific group was Coach K's ability to get a bunch of stars to buy into a team philosophy. On a roster that featured Elton Brand, Shane Battier and Maggette (all of whom enjoyed decade-plus NBA careers), alongside three-year NBA vet William Avery and college All-American Trajan Langdon, shots and minutes were at a premium. To Coach K's credit, he was able to keep the focus on the team.
It's a trait Maggette credits to Krzyzewski's time spent at West Point.
"When you have a military background, it's not about 'you,'" Maggette said. "It's not about 'I.' It's about 'we' and pushing yourselves to the limit as a team."
That team-first philosophy has worked well for Coach K during his 35 years at Duke, but where it might be most evident is during his current decade-long stint with Team USA basketball. The organization has won two Olympic gold medals and two World Championships on his watch.
For Krzyzewski, his success with Team USA stems from getting stars to play together, but Maggette has also noticed another trait in his former coach. It's something others might not have picked up on but one that he believes separates good coaches from great ones.
As Maggette explains it, any coach can push his team. Only the truly great ones know when to take their foot off the gas. 
"To be a great coach, sometimes you have to let your players be accountable," Maggette said. "He relied on the leadership of Jason Kidd, of Kobe Bryant, of LeBron James. He let those guys police the team."
And it's only when the great players have ownership that a team can reach its absolute peak, according to Maggette. 
"(When that happens) everything on the court is magnified," Maggette said. "It changes the way you play. It changes the way you practice. It changes the way you watch film."
It's also a lesson that can translate well beyond the basketball court.
"Holding yourself accountable," Maggette said. "That's a key. That's something you use in your life each and every day."
It's also why, even as he approaches 1,000 wins, and even after 40-plus years in the game, Krzyzewski continues to garner respect, both from college kids and the game's top pros.
For Coach K, it's about more than basketball, it's about real-world lessons, too.  
Even if it takes a while for his former players to realize what he did for them.
"As time goes on, you learn to appreciate it," Maggette said, again with a laugh, reflecting back on his days as an 18-year-old in his first practice at Duke.
As it turns out, maybe Coach K isn't such a hard-ass after all.
Aaron Torres covers college football and basketball for FoxSports.com, and is a show writer for FOX Sports Live. Follow him on Twitter @Aaron_Torres or e-mail at ATorres00@gmail.com.
---