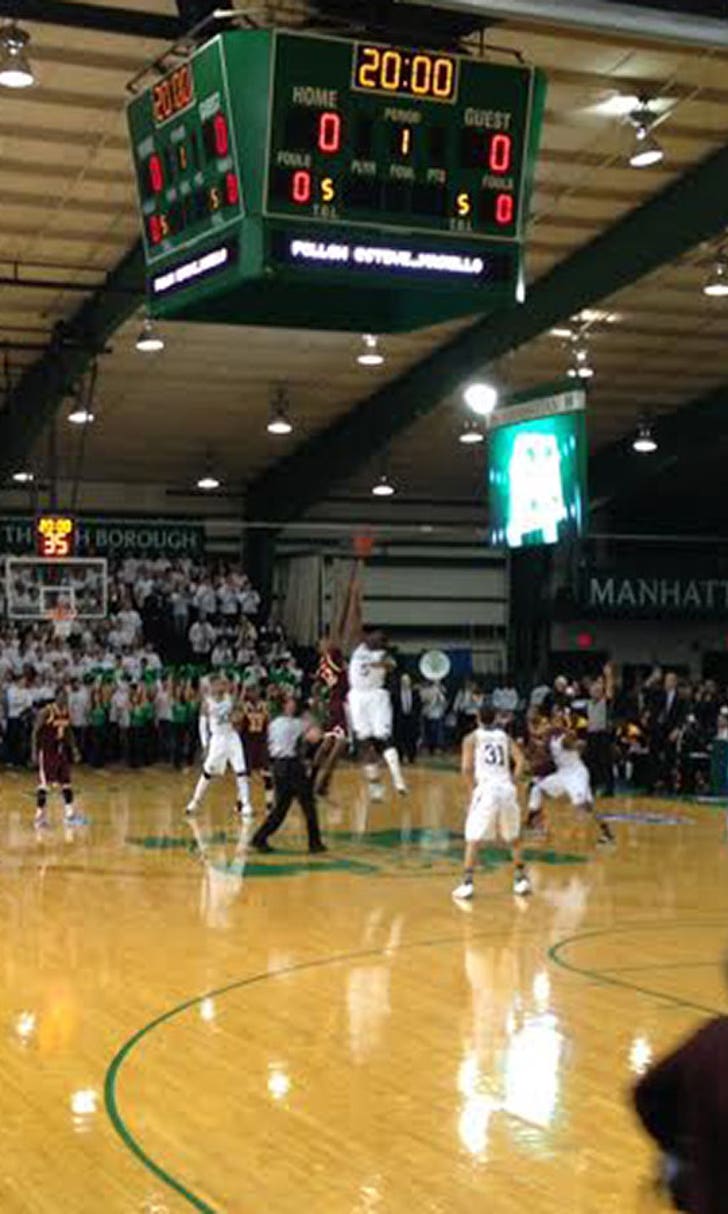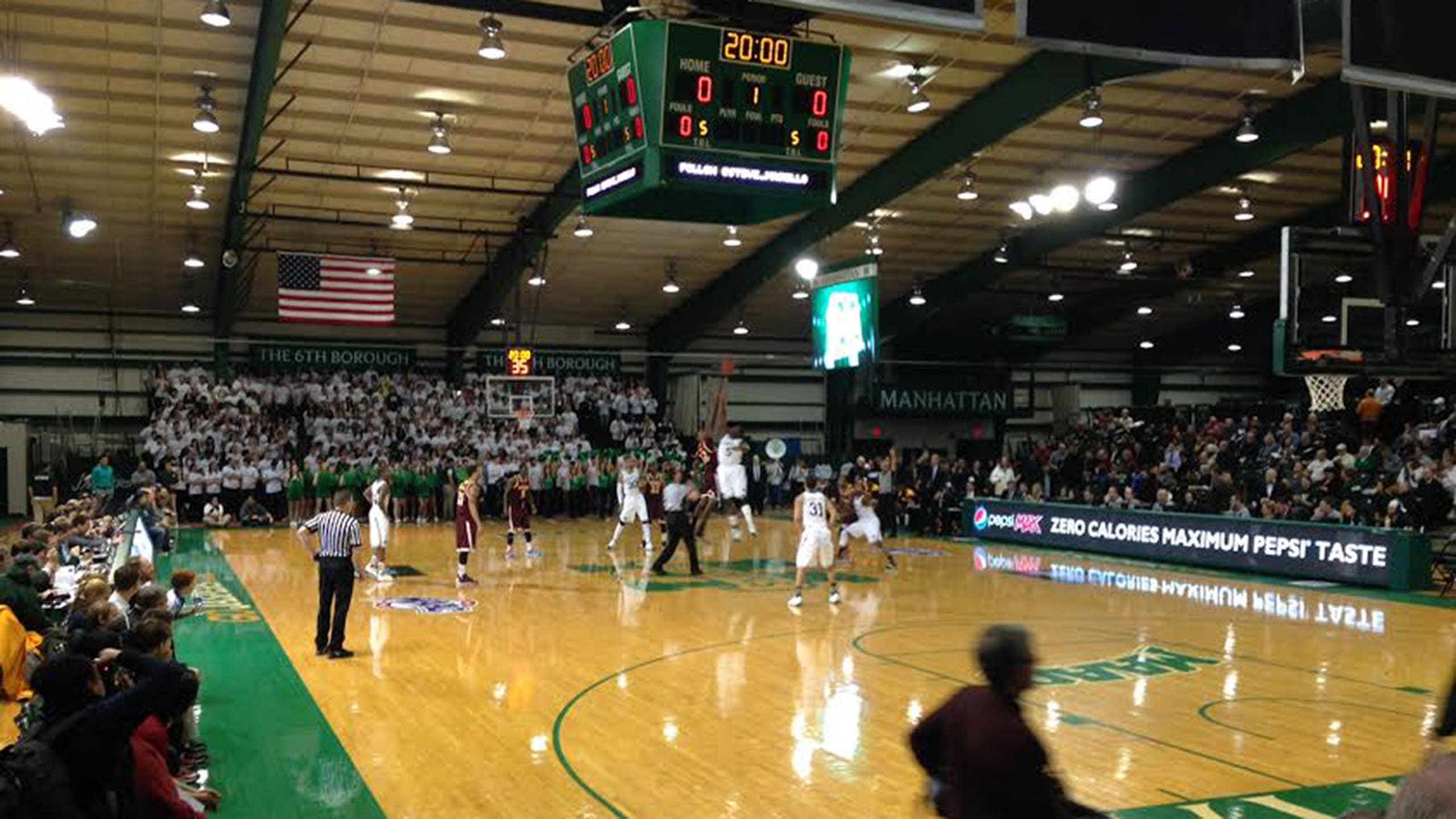 College Hoops Road Trip: What we learned at Manhattan -- in the Bronx
BY foxsports • March 1, 2014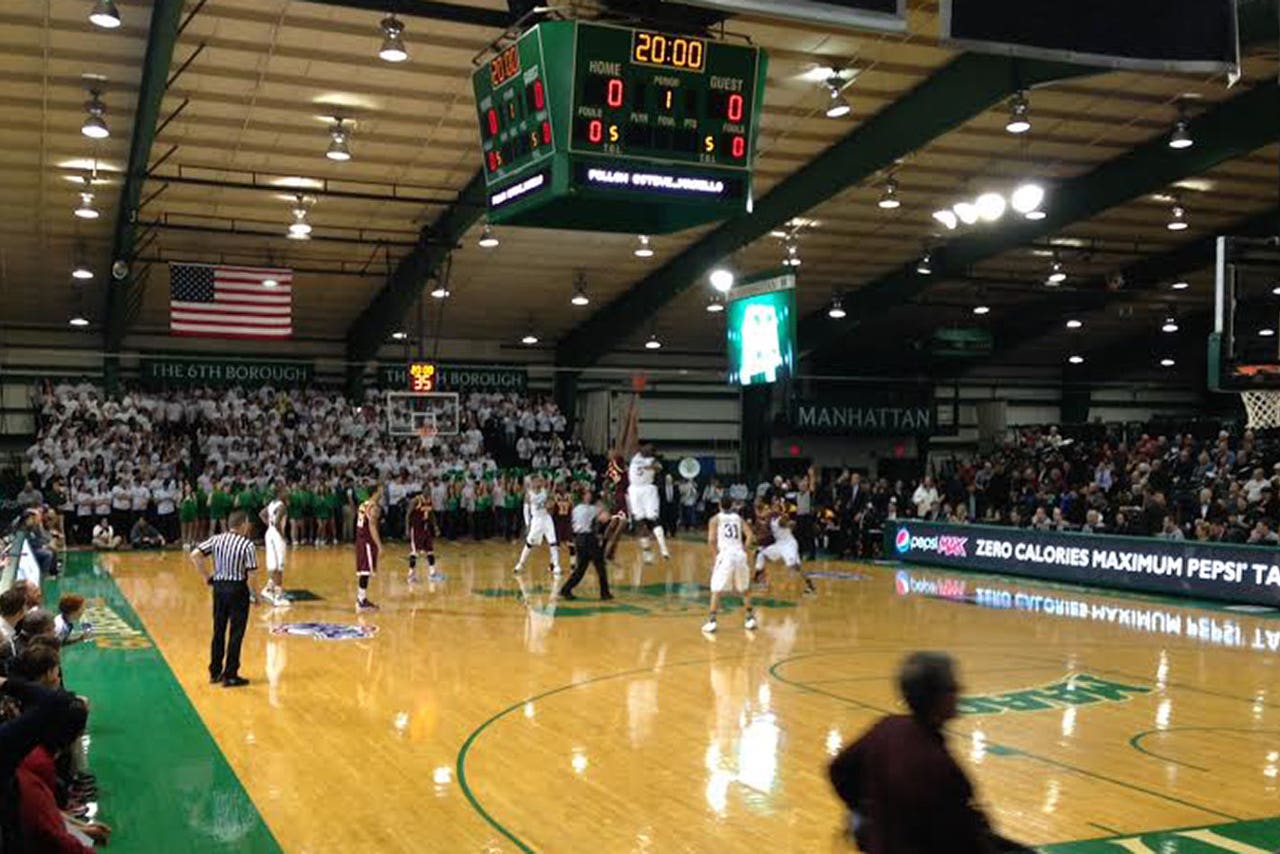 The Fox Sports College Basketball Road Trip took in its second game of the tour Friday night at Manhattan College, an intense rivalry game between two of the MAAC's best teams. First-place Iona visited Manhattan, which is actually in the Bronx, for a game that was meaningless on paper to the regular-season champion Gaels, but very important to the Jaspers'€™ run at a two seed in the conference tournament.
Manhattan got the best of Iona in this one, 80-77, ending the Gaels' 11-game win streak and evening the regular-season series at one game apiece as the postseason approaches. If things go as expected, these two teams should meet again on March 10 in the championship for a spot in the NCAA Tournament.
Here is what we learned in our first trip to Draddy Gymnasium:
We have a knack for finding close games.
Two games, two nights, two overtimes.
Twenty-four hours after taking in bonus basketball in Lexington, Manhattan and Iona were generous enough to give us five more extra minutes of action. The Gaels got a good look at a game-winner in regulation, but Manhattan'™s Emmy Andujar made a heroic play to block the shot and send it into overtime.
Andujar was the game's MVP, scoring a career-high 28 points off the bench. He added six rebounds, three assists, three steals and one block, the game-saver.
Read for yourself:
The freshman 15 does not exist at Manhattan College.
We must have walked up 15,000 stairs to get to Draddy Gymnasium for the game. The campus was built on a hill in the Riverdale section of the Bronx and the gym has to be at its highest point. I'm not ashamed to say I was too out of breath to tell the nice young lady at Will Call my name when we arrived. I politely handed her my driver'€™s license with a fake smile then put my hands on my knees to keep from passing out.
Manhattan'€™s nickname comes from the man who invented the 7th inning stretch.
The nickname of Manhattan athletics, the Jaspers, comes from Brother Jasper of Mary, F.S.C., one of the school's biggest names. Jasper is responsible for Manhattan College'€™s first band, orchestra, and glee club, and he also served as the school's first athletic director. Better yet, Brother Jasper brought baseball to Manhattan, coached the first team, and supposedly invented the 7th inning stretch.
What did you do in college, huh???? (Don'™t answer that.)
Draddy Gymnasium has an interesting setup.
The basketball court is just one section of what feels like one big open barn or an airplane hangar, complete with a track and room to do whatever. When its not hosting Manhattan basketball, Draddy could probably find room to hold a much larger event, like the Olympics. Good luck to whoever has to carry the torch up those stairs, though.
Steve Masiello wears expensive shoes.
I spotted Manhattan head coach Steve Masiello wearing Christian Louboutin dress shoes over on the bench, also known as "red bottoms."€ If you'€™re behind on your foot fashion and would like to know more, those will run you about a grand. Suddenly, you don'€™t want to know more.
Masiello believes the MAAC is better than a one-bid league.
In his postgame press conference, still wearing his red bottoms, Masiello spoke very highly of the top four teams of his conference.
"€œThese four teams at the top of the MAAC, you put them in a 13/4 game, (and) that (No. 4) seed is in trouble,"€ he said. "€œPut them in a 12/5 game (and) that (No. 5) seed is in trouble."€
Masiello wished people would re-watch Friday night'€™s game without looking at the names on the jerseys or judging the conferences, but rather looking at the quality of basketball. He believed the top of MAAC is better than it has ever been and the "€œone-bid league"€ label should be reconsidered. He'€™s not buying that a sixth- or seventh- place BCS-league team is better than Iona, Quinnipiac or Manhattan.
The postgame press conference was in an intimate setting.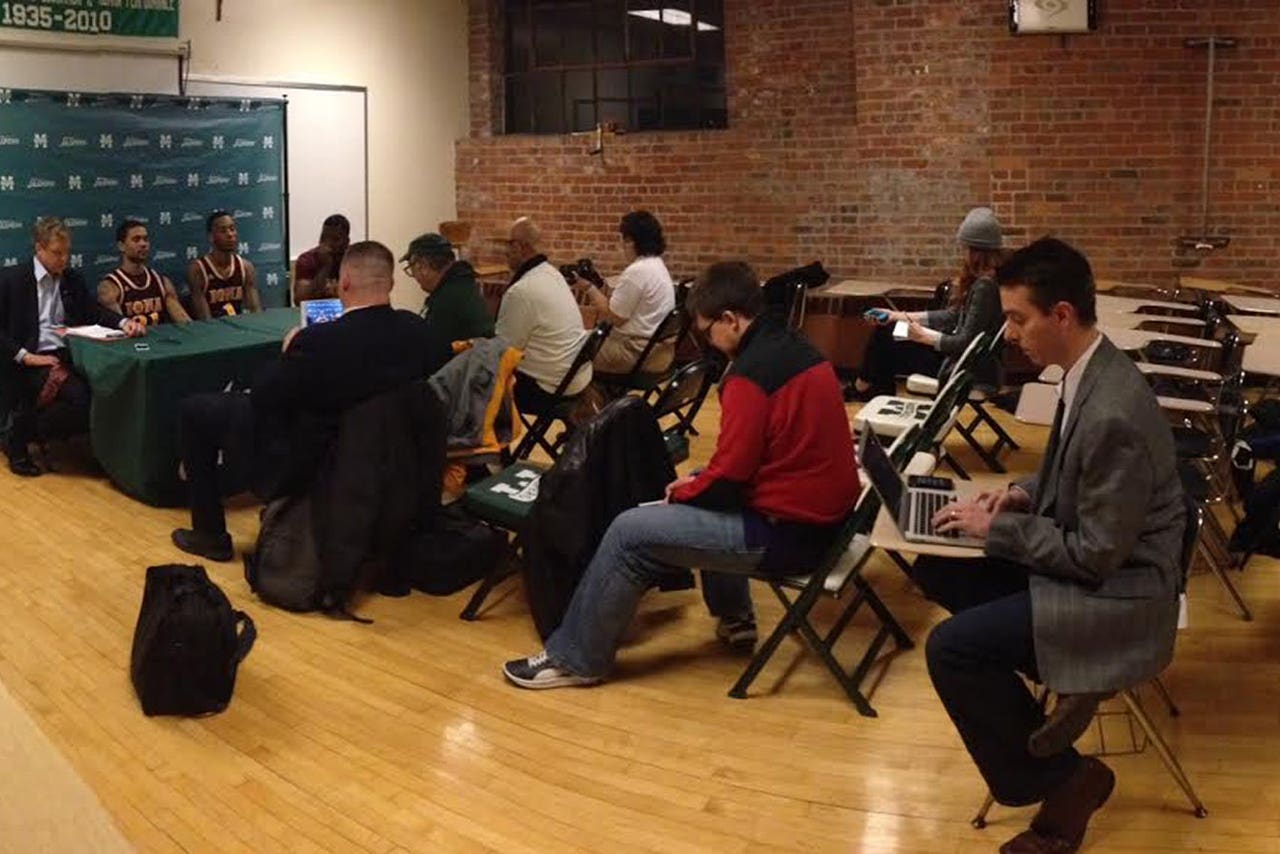 NCAA BASKETBALL: MANHATTAN VS IONA
It took me back to high school when we used to stick gum under the desk and carve our initials into the top of it.
Don't act like I'€™m the only one, people.
The home crowd brought the noise.
Kudos to the 2,520 people in attendance, wearing green and cheering on the home team. The Manhattan crowd was rowdy from start to finish and it was a big reason the Jaspers walked away victorious. After the game, we asked Coach Masiello what he thought of the energy in the building, and he told us, "Oh, they're always like that."€
Nicely done, Jasper fans. Nicely done.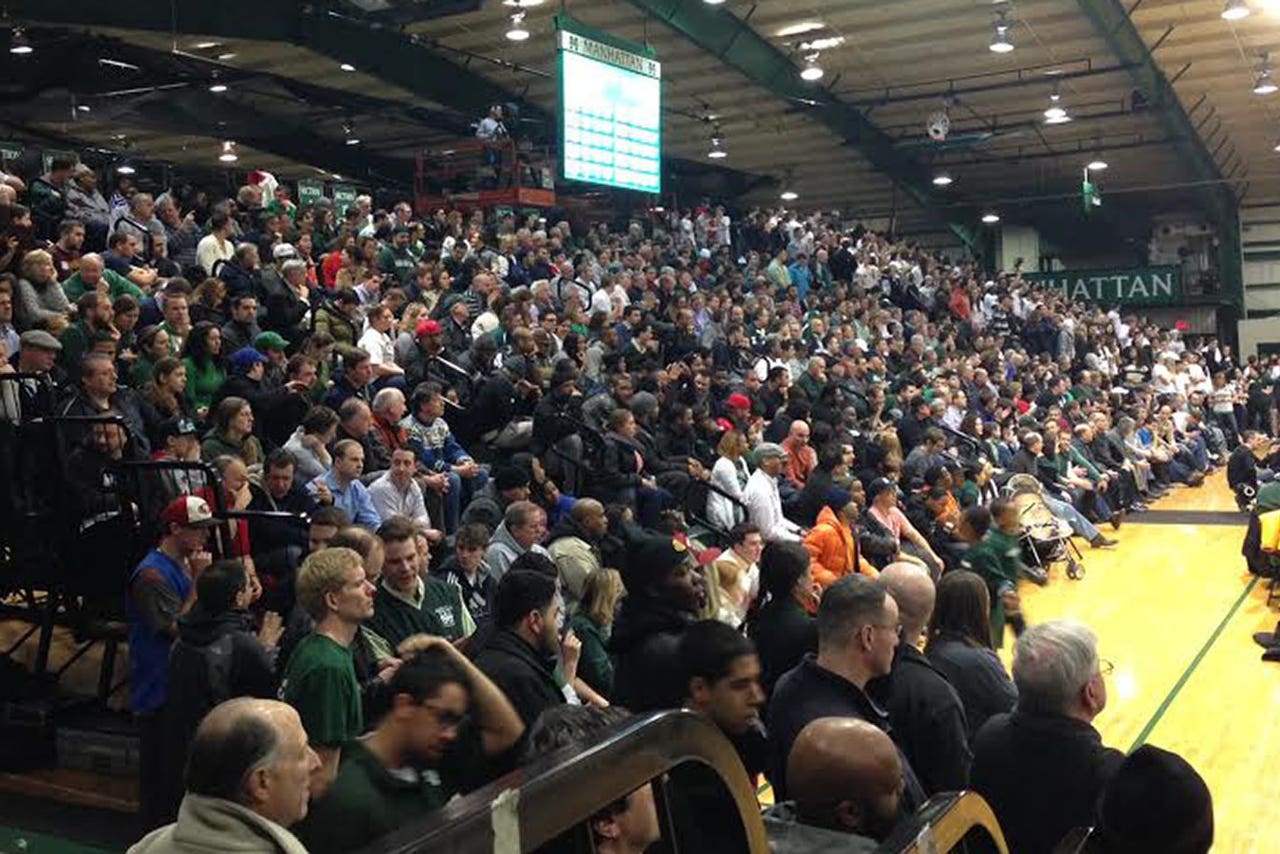 NCAA BASKETBALL: MANHATTAN VS IONA
Up next: Syracuse at Virginia.
With Manhattan and Iona in the books, the road trip is off to Charlottesville for Syracuse at Virginia. If it's anything like our first two days, get your bets in for overtime.
---