Clarke lifts Arkansas to overtime upset at No. 17 Kentucky
Published
Feb. 27, 2014 9:55 p.m. ET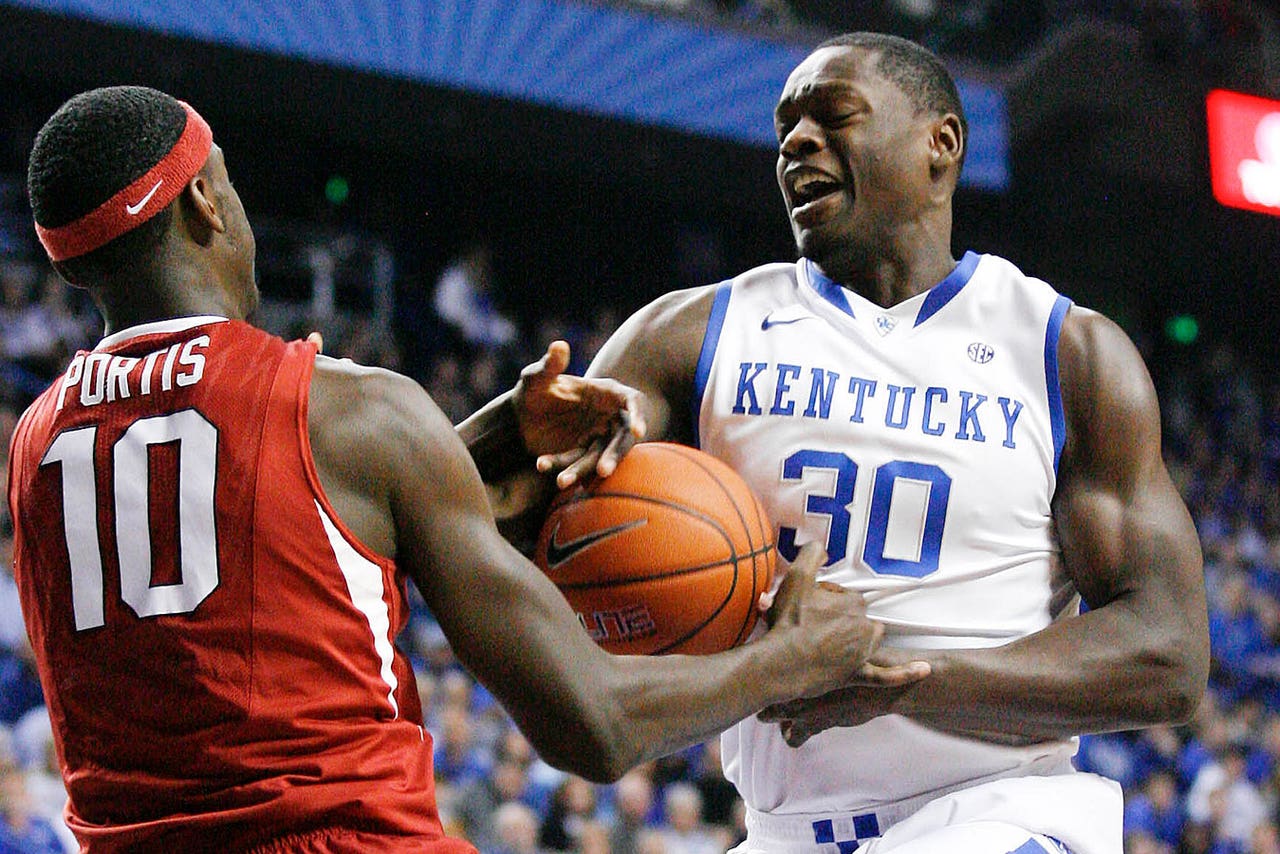 LEXINGTON, Ky. -- Arkansas didn't need a spectacular dunk to beat No. 17 Kentucky in overtime this time around.
Perfect free throw shooting worked just fine for the Razorbacks, a fundamental they executed much better than the Wildcats, with Coty Clarke and Kikko Hayder providing the final touches in the extra session.
Clarke scored four of his seven points in OT from the foul line and Arkansas upset the Wildcats 71-67 on Thursday night to complete a season sweep.
Six weeks after Michael Qualls beat the Wildcats with a last-second dunk in OT, Clarke lifted the Razorbacks this time with a 3-pointer and foul shooting, making two free throws with 36.7 seconds left for a 69-64 lead.
Foul shots were the difference in the game, with Arkansas making all six attempts in overtime and going 16 for 16 overall. Kentucky was 12 of 22 from the line and just 6 of 14 in the second half.
"They got tired and you could tell when they were going up and missing," said Clarke, who went 6 for 6 to finish with 11 points. "We were able to capitalize. You need that going in against a team like this on the road to maintain. That's what we were able to do."
James Young's 3-pointer brought Kentucky (21-7, 11-4 Southeastern Conference) within two, but Haydar made two more from the line with 17 seconds left for the final margin.
Aaron Harrison and Andrew Harrison each missed a 3 at the end for the Wildcats.
The surging Razorbacks (19-9, 8-7) have won four straight and six of seven. They evened their OT record at 2-2.
Clarke was one of four Razorbacks in double figures. Qualls scored 14 to lead the way, with Rashad Madden adding 12 and Anthlon Bell 10. Arkansas was outrebounded 47-38 and outscored 42-20 in the paint while committing 20 turnovers and shooting just 41 percent.
None of that stopped the Razorbacks from beating Kentucky for the third straight time and earning their first win at Rupp Arena since their 1993-94 NCAA championship season.
"It was good to see our guys come out on the right side of things, after so many overtime games," Arkansas coach Mike Anderson said.
Willie Cauley-Stein led Kentucky with 16 points and 13 rebounds. Andrew Harrison and Julius Randle each scored 14 and Young 11 on a night when the Wildcats shot just 26 of 76 (34 percent) from the field. Randle also had 10 rebounds but went 2 of 5 from the foul line.
Kentucky struggled with easy shots the whole game. Despite outscoring Arkansas in the lane, the Wildcats missed many from close in as the Razorbacks disrupted their flow shooting and passing.
"They beat us to loose balls," Kentucky coach John Calipari said. "We missed 10 one-foot shots. We missed all free throws that mattered. We have a lead late, we're leaving timeouts and not executing.
"We took two steps back today. Give them (the Razorbacks) credit, they played hard."
The Razorbacks also gained bragging rights in a matchup of the SEC's top two offenses. But they had to do it at the foul line with baskets hard to come by for both teams in a scrappy if sloppy second half.
Trailing 50-43 with 12:03 remaining and struggling for offensive consistency, the Wildcats battled back with tough defense to outscore the Razorbacks 11-2 over 6:14. Cauley-Stein's dunk at the 5:31 mark provided Kentucky's first lead since the early minutes.
But the Wildcats missed three of four free throws late in regulation along with a couple of jumpers. Andrew Harrison also committed a costly turnover in the final minute on a lob attempt to Alex Poythress, allowing Arkansas to come back from a 60-56 deficit and force overtime.
Arkansas had a chance to win at the end of regulation after Clarke blocked Andrew Harrison's jumper, but Alandise Harris' long 3-pointer bounced off the rim.
Clarke took over from there in overtime, culminating in a road win the Razorbacks have been waiting to secure for a long time.
"We just had to stay poised," Harris said. "We've been down, we've been up. We just had to make plays to get us where we needed to be."
---