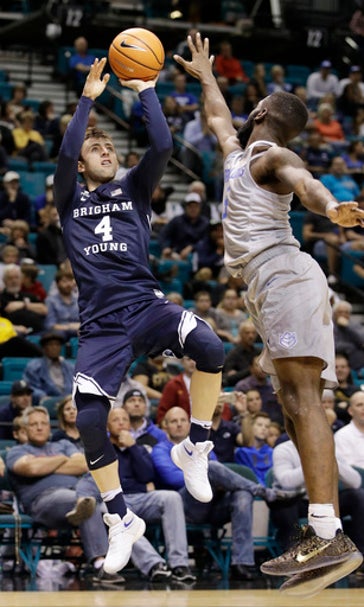 BYU, NCAA investigating booster's connections to guard Emery
October 27, 2017

SALT LAKE CITY (AP) Brigham Young University and the NCAA are investigating whether a booster paid for Cougars guard Nick Emery to travel to concerts and an amusement park and gave him a new car to use, the Salt Lake Tribune reported Friday.
BYU has released few details about the investigation but said in statements that it contacted the NCAA after receiving some kind of information and has hired a law firm that's familiar with violations of NCAA rules to run their probe.
''BYU is in the process of working with the NCAA regarding issues related to Nick Emery,'' the school said in a statement.
Social media posts show Emery, 23, has traveled to Toronto and Southern California with Brandon Tyndall, an executive at travel company Fun For Less Tours and member of BYU's booster organization, the Cougar Club. Emery has also been driving a 2017 Volkswagen Jetta leased by Tyndall.
NCAA rules bar student-athletes from receiving money and other benefits from boosters. Athletes who have been found to violate the rules can be put on probation and lose scholarships. Teams can be penalized as well, even if coaches weren't aware of the behavior.
Tyndall denies wrongdoing by either man. He says Emery has paid for the travel and documents showing that have been provided to the NCAA. He did not respond to questions from the Tribune about the car.
Emery does not have a listed number where he could be reached for comment Friday. A phone message left seeking comment from Emery's family Friday was not returned.
The investigation is not Emery's first brush with controversy during his time at BYU.
As a freshman, he served a one-game suspension for throwing a punch at a Utah player during a game. Emery was caught on camera in March swearing and taunting opposing fans before the West Coast Conference tournament semifinal.
---
Information from: The Salt Lake Tribune, http://www.sltrib.com
---
---