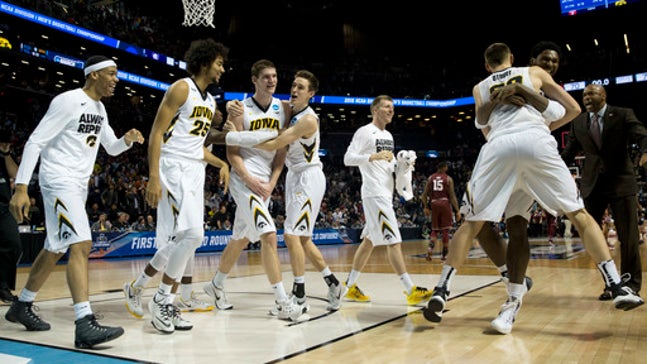 Buzzer-beater in overtime lifts 7-seed Iowa over Temple
Published
Mar. 18, 2016 7:39 p.m. ET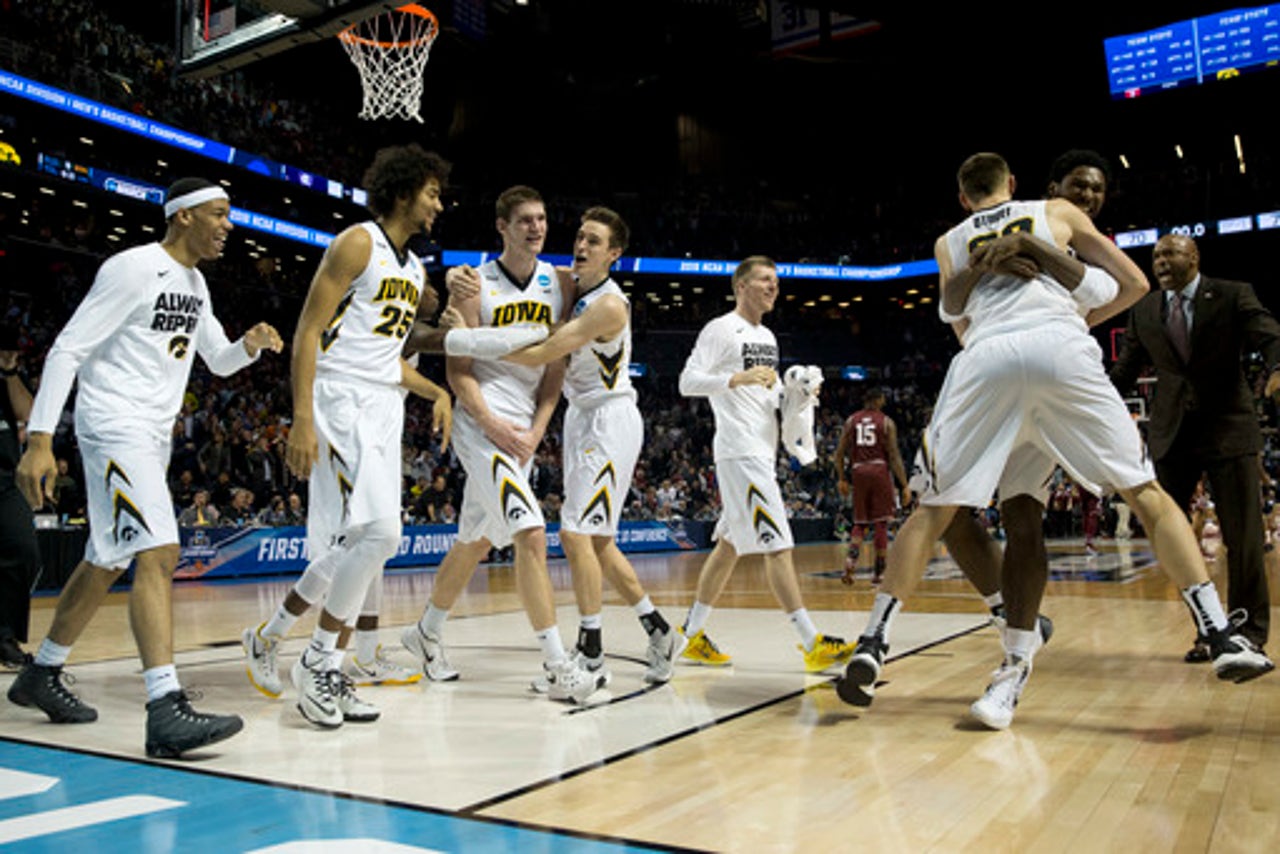 NEW YORK — One rebound by 7-foot-1 Adam Woodbury put all of Iowa's recent woes in the rearview mirror.
Woodbury's fifth rebound of the game was a putback at the overtime buzzer that gave seventh-seeded Iowa a 72-70 victory over Temple on Friday in the first round of the South Regional at Barclays Center.
The Hawkeyes came into the game having lost six of their last eight games and they had lost five of their last six NCAA Tournament games. All that matters now is that Iowa (22-10) will play second-seeded Villanova in the second round on Sunday. The Wildcats beat UNC-Asheville 86-56.
With the game tied at 70, Mike Gesell worked his way to the baseline and shot about a 10-foot jumper that missed the rim and went right to Woodbury, who put it in as the red lights around the backboard lit up.
"Coach always tells me get on the glass every possession," Woodbury said. "So I knew that if Mike got a good look at it and it was a little long, I'd be able to get the offensive rebound. I was fortunate enough to put it in, and just one of those right place, right time kind of deals, and happy we got it in."
Iowa coach Fran McCaffery said the end of the game wasn't exactly what he drew up.
"We had something different in mind," he said. "The last thing you want to do is dribble the clock out. So Mike got a shot up. Now, they don't have time, because we took the shot at the right time, they don't have time to run it back down your throat. So we're sending everybody. So it worked.
"It wasn't what we designed, but Mike made the right play, and Woody made the right play," he said.
"They just beat us to the ball. They were able to get an offensive rebound and the tip-in won the game," Temple's Jaylen Bond said.
The Hawkeyes got the chance at the game-winner when Daniel Dingle of Temple, who played just 6 minutes and was in the game because Devin Coleman had fouled out a minute earlier, missed the front end of a 1-and-1.
"We just wanted to be solid, and I thought Josh Brown did a great job on Gesell and made him shoot a really difficult shot," Temple coach Fran Dunphy said. "And then, obviously, it's a free for all at that point, hoping you're getting it and their guys aren't. Obviously, Woodbury got it and stuck it back in, but I thought our defense was really good that last possession."
Jarrod Uthoff led Iowa with 23 points, while Peter Jok had 16 and Woodbury finished with 10.
Quenton DeCosey, who made three free throws with 2.1 seconds left in regulation to tie the game, had 26 points for the Owls (21-12).
"The only thing I was thinking was just let me take my time, make the first one, then make the second one, then make the last one," DeCosey said.
He was fouled by Anthony Clemmons, who had just been told by Gesell not to foul.
"I usually get down on myself when I make stupid plays like that, but my teammates, Mike (Gesell) in particular was with me the whole time," Clemmons said. "He had his arm around my shoulder. My coaches believed that I would respond."
Iowa started the game by making 6 of 9 3-point attempts and opened a 28-18 lead. While Temple stayed patient, running the shot clock down so often the Owls band had plenty of practice counting backward, the Hawkeyes missed their next seven shots from beyond the arc. Temple closed the half on a 17-6 run to cut Iowa's lead to 38-37.
Iowa led 61-53 with 5 minutes left in regulation but both teams went into an offensive funk, combining for nine points, the last three DeCosey's clutch free throws that sent the game to overtime.
Clemmons made one of two free throws with 1:08 left in overtime to give Iowa a 70-68 lead. Josh Brown's drive tied it with 50 seconds to play. Iowa was able to rebound two misses before Dingle went to the free throw line.
Temple, which played at a decided height disadvantage, outrebounded the Hawkeyes 49-38.
The Owls, who lead the nation in turnovers at 9.2 per game, finished with 12 while Iowa had three, the first coming with 5 minutes left in regulation.
"We just played 45 minutes and had three turnovers," McCaffery said. "We executed down the stretch as well as we have at any point in time in the last three years."
Uthoff finished 7 of 21 from the field, including 2 of 10 on 3s. DeCosey was 10 of 22 from the field and just 1 of 6 from 3-point range.
PHILLY FEELING
There was plenty of brotherly love to go around in Barclays Center. Both Villanova and Temple are members of Philadelphia's Big 5 and three of the coaches are Philly guys: Jay Wright of Villanova, Fran Dunphy of Temple and Fran McCaffrey of Iowa.
TIP-INS
Temple: Dunphy entered the game with a 3-15 NCAA Tournament record at Penn and Temple. ... The Owls' last NCAA appearance as in 2013 when they beat North Carolina State and lost to top-seeded Indiana in the second round.
Iowa: The Hawkeyes won the only two meetings between the schools. The first was in the Final Four semifinals in 1956. ... This was the third straight year Iowa was in the NCAA Tournament. The last time the Hawkeyes did that was 1991-93. ... The Hawkeyes were also a No. 7 seed last season. They beat Davidson and were eliminated by Gonzaga in the second round.
UP NEXT
Iowa: Villanova on Sunday in the second round.
---
---