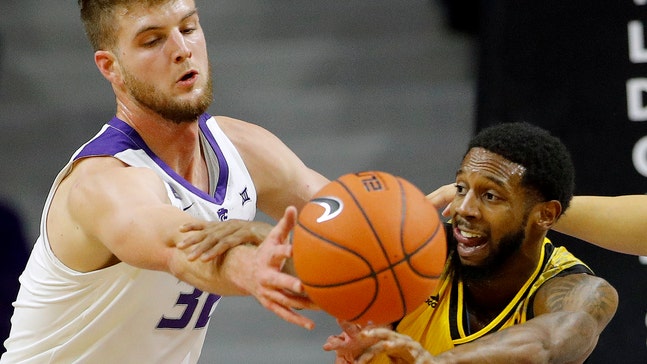 Brown, Mawien help No. 12 K-State beat Kennesaw State 56-41
Updated
Mar. 4, 2020 10:23 p.m. EST
MANHATTAN, Kan. (AP) — Three of the veterans that led Kansas State to the Elite Eight last season spent the past week shuffling in and out of practice, each of them dealing with a nagging early season injury.
Barry Brown and Dean Wade were good enough to play against Kennesaw State on Friday night.
Xavier Sneed wound up sitting out the game.
Most of the way, the No. 12 Wildcats could have used him.
It wasn't until Brown and Wade helped to trigger a run midway through the second half that Kansas State finally established a comfortable cushion. Brown finished with 15 points and Wade added 13 as the Wildcats persevered for a 56-41 victory in their season opener.
"We were our worst enemy when it came to missing a layup, making a turnover," Wildcats coach Bruce Weber said. "I hope they left with a sour taste in their mouth and come back and practice better tomorrow, but it's good that we made some plays at the end."
Makol Mawien added 15 points and Austin Trice had 12 rebounds in his debut for the Wildcats, who led just 31-27 at halftime before leaning on their stingy defense to go on that late run.
It was enough to help the Wildcats win their 24th consecutive non-conference game at Bramlage Coliseum even without Sneed, who sprained his ankle in practice and was held out as a precaution.
"If we were playing Kansas tonight," Weber said, "he's playing. We just have a big stretch coming up, Monday and then going to the Virgin Islands. We all felt it was better to rest him."
Kosta Jankovic had 10 points to lead the Owls (1-1), who committed 21 turnovers and were no match athletically for their Big 12 foe. Kansas State had a 42-12 edge inside and 24-4 in transition.
"I mean, shooting 1 for 13 from 3 isn't good," Wade said of the Wildcats' offensive struggles, "but it starts with defense. You get a couple stops, some easy layups, it gets everybody's confidence up. It all starts on the defensive end."
Still, the Wildcats probably could have used Sneed most of the way.
Wade was trapped and double-teamed inside throughout the first half, rendering him mostly ineffective, and nobody else could execute well in the half-court. That left the Wildcats' offense to come almost entirely on the fast break, where Brown proved most successful at running the court.
Trice also got into the act early, making a highlight play by blocking Kennesaw State's Pietro Agostini and taking the rebound to the other end for a scooping layup.
But otherwise, the Wildcats scraped and clawed their way through the first 20 minutes.
Most of their second 20 wasn't a whole lot better.
Kennesaw State answered every time Kansas State tried to go on a run, and Kyle Clarke bookended a basket by Tyler Hooker to get the Owls within 41-37 with 9 ½ minutes to go.
Cartier Diarra finally sparked the Wildcats by taking a run-out, spinning in the lane and getting a layup to go. Wade added a putback, Mawien converted in the paint and Brown scored on yet another fast break as the Wildcats ripped off eight straight points to take a 49-37 lead.
Kansas State slowly added to its advantage in the closing minutes.
"Like our coaches said in the locker room, we still won," Brown said. "We're 1-0 right now and that's all that really matters."
BIG PICTURE
Kennesaw State: The Owls proved they can hang tough for 30 minutes, but the Wildcats' superior depth began to show in the second half. Kennesaw State also hurt its upset bid with a series of sloppy turnovers, including four in a span of just a few minutes in the second half.
Kansas State: Diarra and Kamau Stokes, the Wildcats' two primary ball handlers, were shut out in the first half. Each finished with two points, going a combined 2 for 10 from the floor, putting some extra pressure on the rest of the team to score.
UP NEXT
Kennesaw State: Visits Samford on Monday night.
Kansas State: Plays Denver at Bramlage Coliseum on Monday night.
---
---