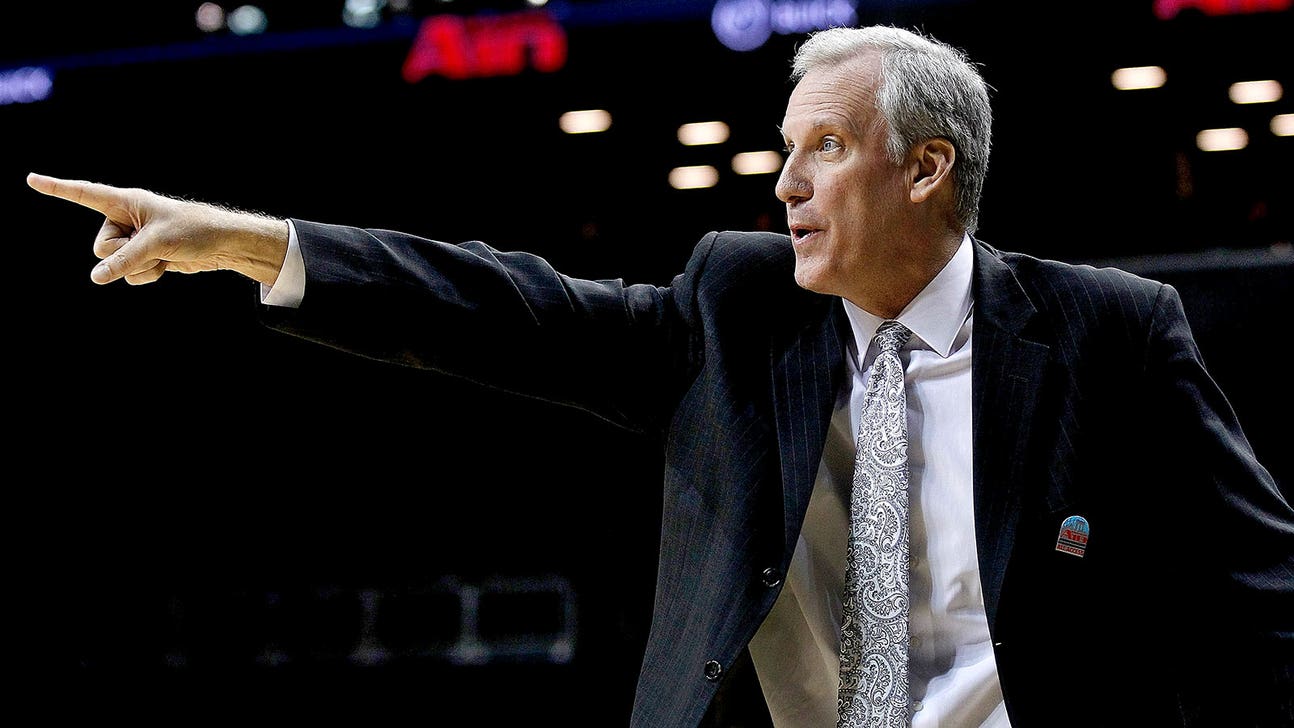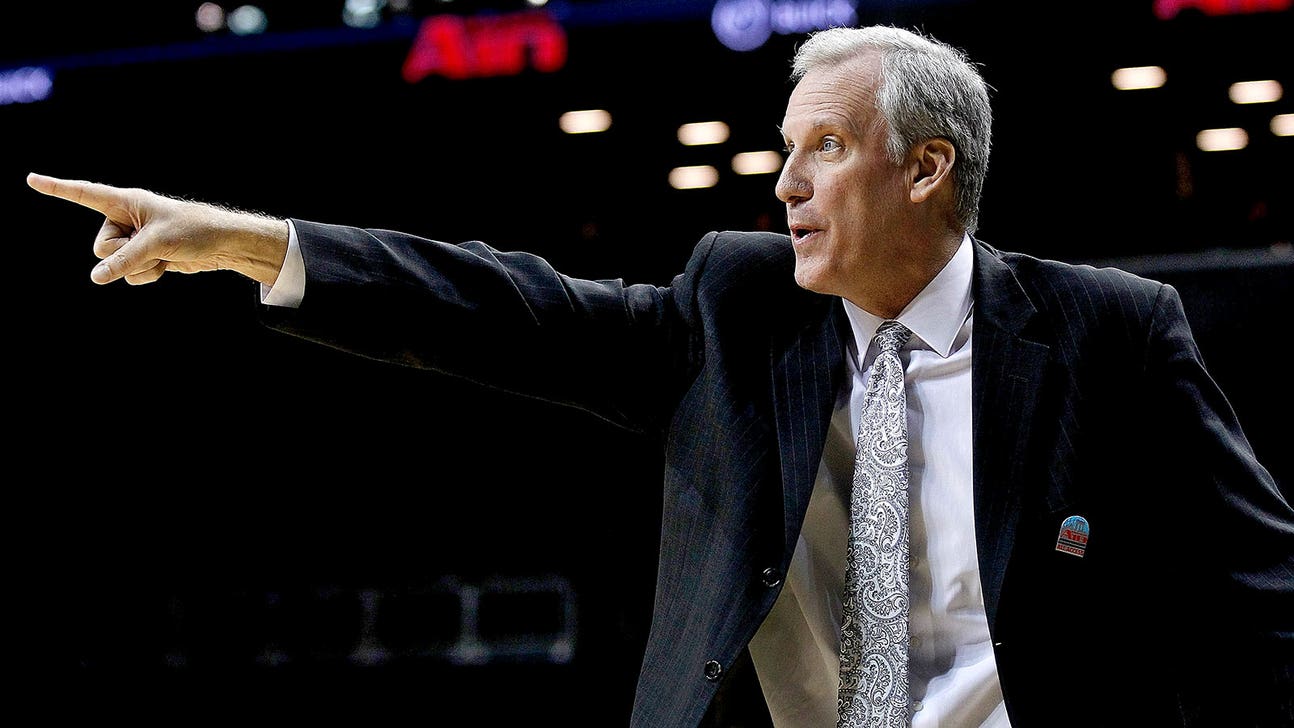 Billikens honor Majerus' memory with fundamentals, defense
Published
Feb. 27, 2014 6:28 p.m. ET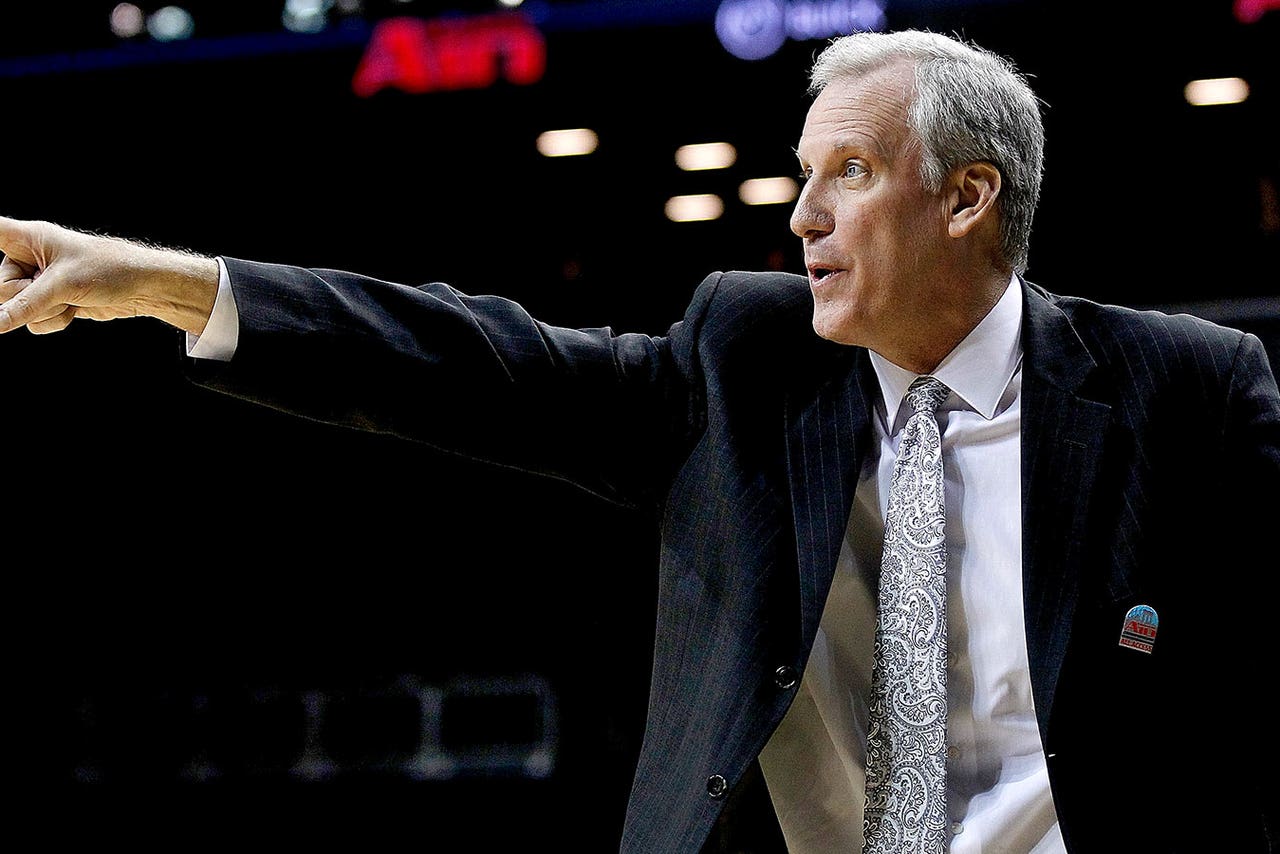 His players are screaming. Giant, high-pitched, primal, arena-filling yells, loud enough to make you cover your ears. Dunk a basketball, scream. Dunk another, stare into the camera, scream again. Repeat.
Jim Crews looks at them -- Jordair Jett and Dwayne Evans, two of St. Louis University's five senior starters, and junior forward Grandy Glaze -- and shakes his head. He thought that Chaifetz Arena on a day off would be a quiet place to talk about his team's remarkable run. Not quite. It's getting tough to hear his own voice.
"Gee-min-eee Christmas," Crews mutters.
Crews is trying to talk about how this basketball miracle came about in St. Louis in the face of loss and rebirth. It's tough to hear himself think -- another scream -- as he relives how the trying experience of last season shaped this year's team.
"We came for Rick," said Crews, speaking of legendary coach Rick Majerus, who died of heart failure at the beginning of last season. "For me it was a great friend for 35 years." A scream. "For some guys it was a father figure. For other guys it was a coach they really respected. But the big part of it was, we were all going through it together."
Now the players are grouped under the basket, staring into the camera, beating their chests and humming loudly, in the manner of the bizarre Matthew McConaughey character in "The Wolf of Wall Street." They're having fun. Crews just rolls his eyes and smirks.
"The silver lining in a tragic situation was we were all in the same boat," Crews said, his words drowned out by another scream.
The players are here filming a slew of hype videos to excite the home crowd in breaks in action. But it's not like Billikens fans need much encouragement to be excited these days. A year removed from the Crews-led Billikens winning an NCAA tournament game with the memory of their late coach fresh in their minds, Crews has this team rolling again.
The 10th-ranked Billikens are fresh off a 19-game winning streak, the longest in school history, which ended in Thursday night's loss to Duquesne. They did it on the strength of something that would make Majerus proud: the most choking, efficient, fundamentally sound halfcourt defense around, ranked second in the nation in defensive efficiency, according to KenPom.com, behind only Arizona.
In the era of one-and-dones, St. Louis is a shining example of why experience still matters in college basketball. This is the fifth-most experienced team in college hoops -- John Calipari's Kentucky team ranks 351st, or dead last -- with more years of experience than any of the other likely at-large teams in the NCAA tournament field.
That will matter next month. These guys have played in two NCAA tournaments in a row together, so they won't be overwhelmed by March's bright lights. They go nine players deep and don't lose much when going to the bench.
And perhaps the biggest reason why you should consider penciling this team deep into your bracket when you fill it out in a few weeks? Their experienced scheme is all predicated on help defense, the kind of fundamental basketball that is maddeningly consistent, that's not prone to losing games because of shooting slumps, that simply wears down an opponent.
"They enjoy trying to stop people," said Marcus Wilson, the team's video coordinator. "We have five guys who are on the same page, not two guys who are aggressive and three guys slacking. It's a matter of will more than talent."
In what Majerus -- whose lasting image to some friends is that of a man sitting at a pizza joint, scribbling plays on a napkin -- would take as the ultimate compliment, the Billikens are college basketball's Tim Duncan. They're the Big Fundamental: Really boring. Really good.
"They do pressure the ball, but not like Louisville, not getting out in the passing lanes and blocking every pass," explained Scott Highmark, the team's television analyst and a player on the 1994 team that took St. Louis to its first NCAA tournament in 37 years. "They keep their man in front of them. Straight man to man, lock 'em up, head on head. It's just assuming the guy with the ball will beat your guy, and then knowing where the help comes from. It's not that they're out trying to get steals every time. They're not pressing. They just lock down in halfcourt and play defense for 35 seconds. And most teams aren't tough enough to get in a defensive stance for 35 seconds."
It shocked everyone when St. Louis hired Majerus in 2007. He wasn't on anyone's radar. Inside the program, people expected the hire to be a top assistant at a major program who was looking for his first head-coaching job: A Chris Collins type. Majerus was hired in great secrecy, a huge splash for the university.
Majerus' first Billiken teams were among the youngest in the nation as he set about rebuilding a program that hadn't made an NCAA tournament in seven years. The team seemed ready to break out in 2010-11, Majerus'€™ fourth season, until two players were suspended amid sexual assault allegations. That team took a big step backward, finishing 12-19, Majerus' only losing season as a college coach. But a year later, Majerus had them rolling, winning a game in the NCAA tournament for just the third time in program history, all on the backs of that back-breaking defense.
"That kind of got nailed into our minds coming into college," said Evans, a senior. "You have to grow up fast. Early on, I got frustrated. There were so many little things on defense that I thought was nit-picky but they were obviously really big. Positioning-wise, Majerus would call us out for being three inches out of position. Or our foot wasn't all the way over on a man. We thought that was all little details, but it really makes a big difference."
Then Majerus got sick. Before last season, Majerus announced he was taking medical leave. Crews, the former head coach at Evansville and Army who Majerus had convinced to move to St. Louis to fill an assistant-coaching vacancy a year before, would become the interim coach. Majerus died on Dec. 1, 2012. Crews was hired full-time after the season.
"Jim handles himself like a teacher, not a coach," said athletic director Chris May. "He's way more about teaching life experiences and how to be successful in life than winning a game."
Yet since Dec. 1, when the Billikens lost by five to still-undefeated Wichita State, all this team has done is win games. You can point to the Billikens' strength of schedule (only 67th in the country), but I would point to their conference, the Atlantic-10, ranking sixth in conference RPI, higher than the high-major SEC.
Under Crews, the Billikens have done it with the opposite of flash: controlling tempo, playing the tightest halfcourt defense in college hoops, sharing the ball, focusing on boring details.
"I've always thought that fundamentals can be a very mundane and boring adventure, but I believe it's the invisible force that gets teams better," Crews said after his screaming players left the court. "I'd rather have guys who are more confident in the stuff we already do than start learning new stuff."
Thank goodness for all the screaming. When Crews talks about this team's keys to success, it's enough to put you to sleep.
"We have been very consistent," he said. "Part of it is their personality. They don't get really excited about winning. They love to win, don't get me wrong. But very rarely do they get really excited, and if they do, it's short-lived. By the next day it's gone. And if we lose, they don't think the world's coming to the end."
At its heart, basketball is a simple game that we try to make too complicated. This team is about returning the sport to its basics. Majerus used to have a simple saying he'd scribble on the board before every game. After he died last season, the same saying kept appearing on the board, in different handwriting before every game. The same words have been scribbled on the board this season: "To Win: Defend. Rebound."
So boring. So simple. So good.
Follow Reid Forgrave on Twitter @reidforgrave or email him at ReidForgrave@gmail.com.
---