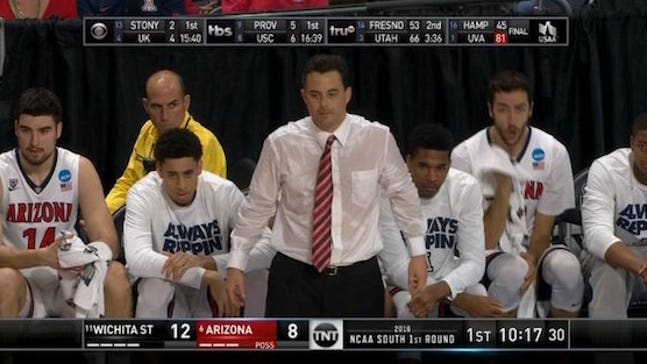 Arizona's Sean Miller was sweating so bad it looked like he was coaching from a pool
Published
Mar. 17, 2016 10:40 p.m. ET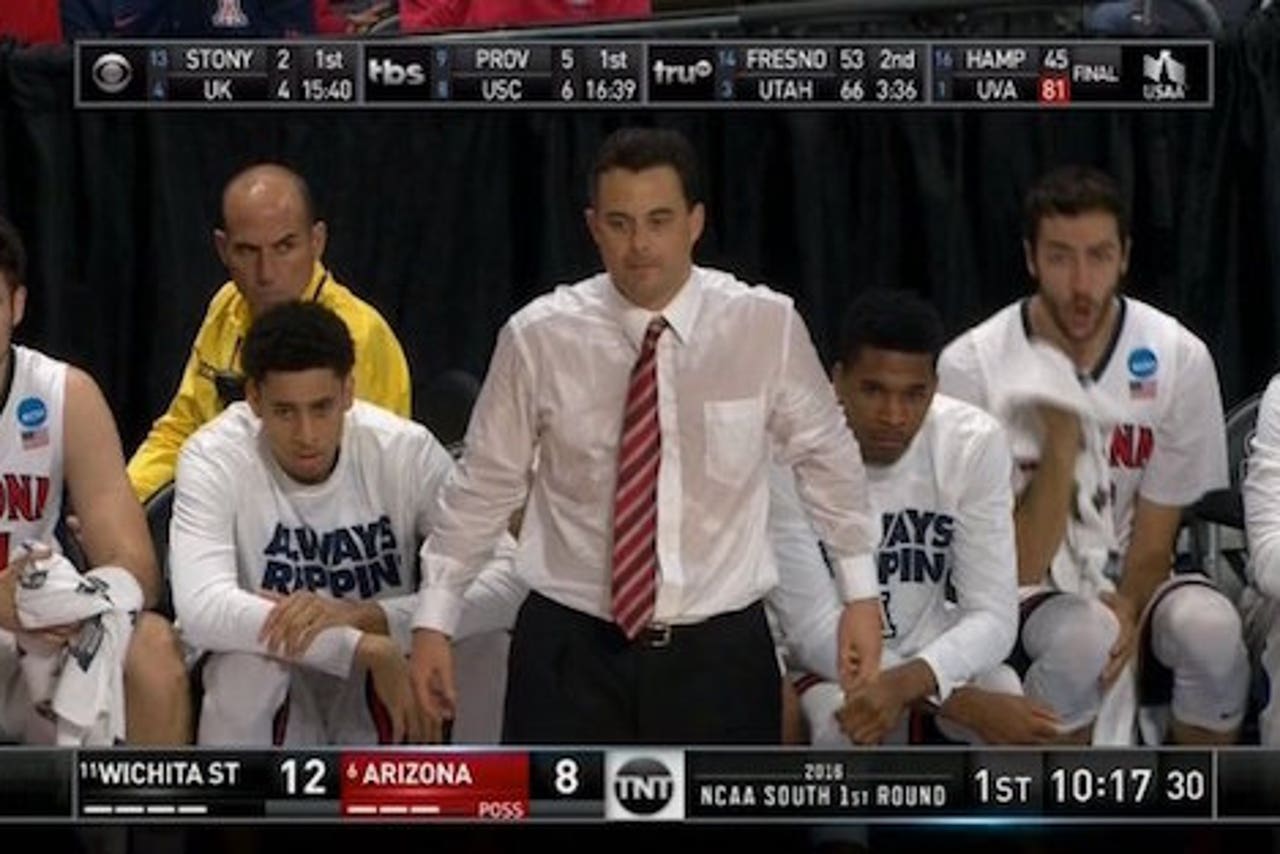 Arizona coach Sean Miller was sweating so bad it looked like he'd been pushed into a pool early in the first half of his team's first-round NCAA tournament game against Wichita State. I'm not exaggerating when I say Miller's shirt-sweat was the most fascinating part of the day and a mystery I only wish Matlock was around to solve.
1. I'd be sweating too having to play Wichita State, a sleeping giant seeded No. 11 and coming off an easy play-in game victory. But sweating like Shaq and Patrick Ewing combined is a bit much. I'm not even sure how one gets so sweaty. People on Twitter were saying he could get an antiperspirant endorsement after this but why? You don't put Right Guard all over your upper body and that dude was sweating from everywhere. It was like he spilled water on himself, except instead of one of those tiny paper cups he was taking a sip from a small-town water tower.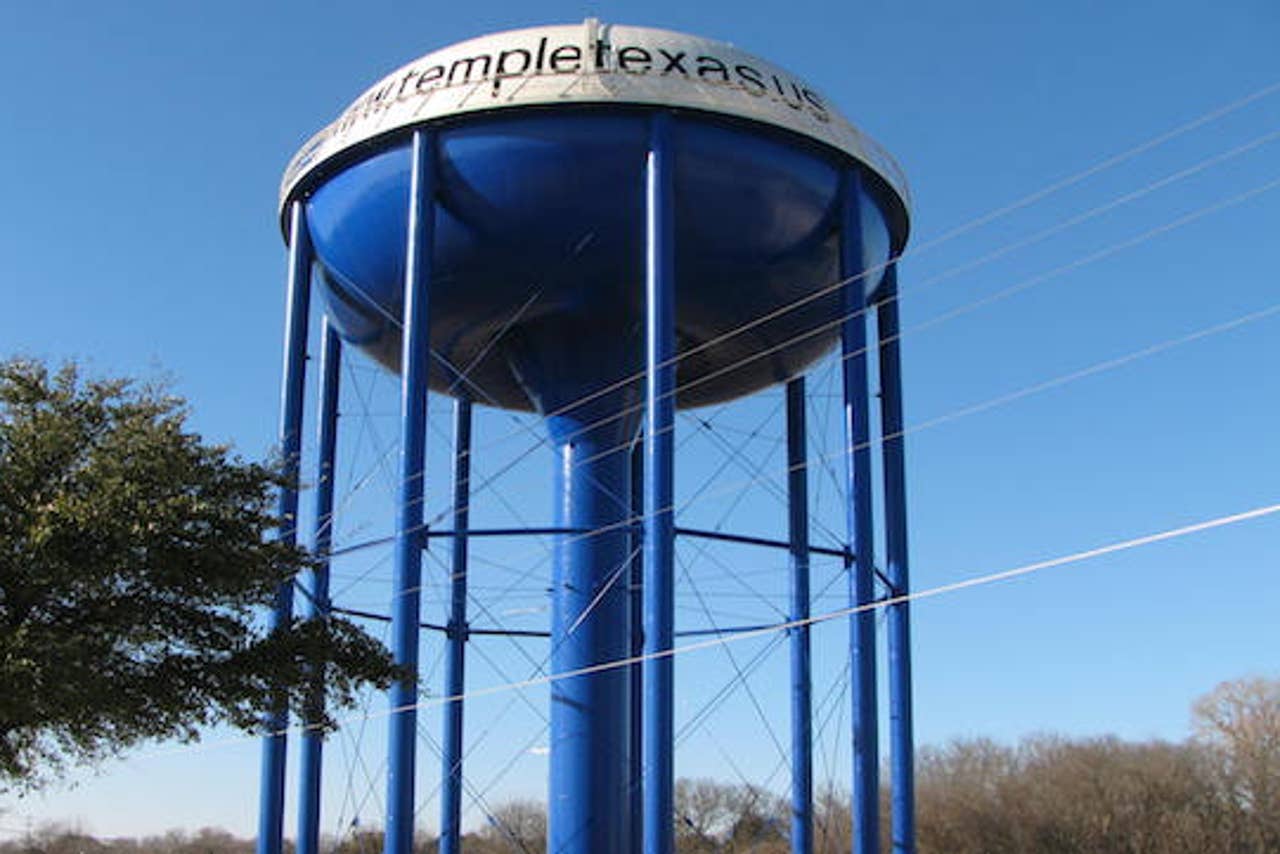 Wikimedia Commons
2. If you know you sweat that much, why on earth do you choose that shirt? In theory going with the thinnest shirt is best because, well, it's the thinnest shirt. But that also collects sweat. It's like picking up water with a paper towel or a dish towel. Miller is a veteran. He has to know that you wear something that's not going to make it look like you're in Cabo competing in a wet shirt-you-wear-to-work contest. (Those aren't very well attended contests.)
3. At no point in the first half did it look like any Arizona or Wichita State player was sweating 10% as much as Miller. Shockers coach Gregg Marshall looked positively refreshed, as if he'd been strolling outside with a cool Sunday breeze.
4. Looking through old photos of Miller, it doesn't appear that he's a Gary Williams-type sweater. This is from the Pac 12 tournament in Las Vegas, where it was the mid-80s.
Where is Arizona playing Thursday? Providence, Rhode Island. Gametime temperature, 46 degrees. I don't have any answers, but I'm seeking the truth.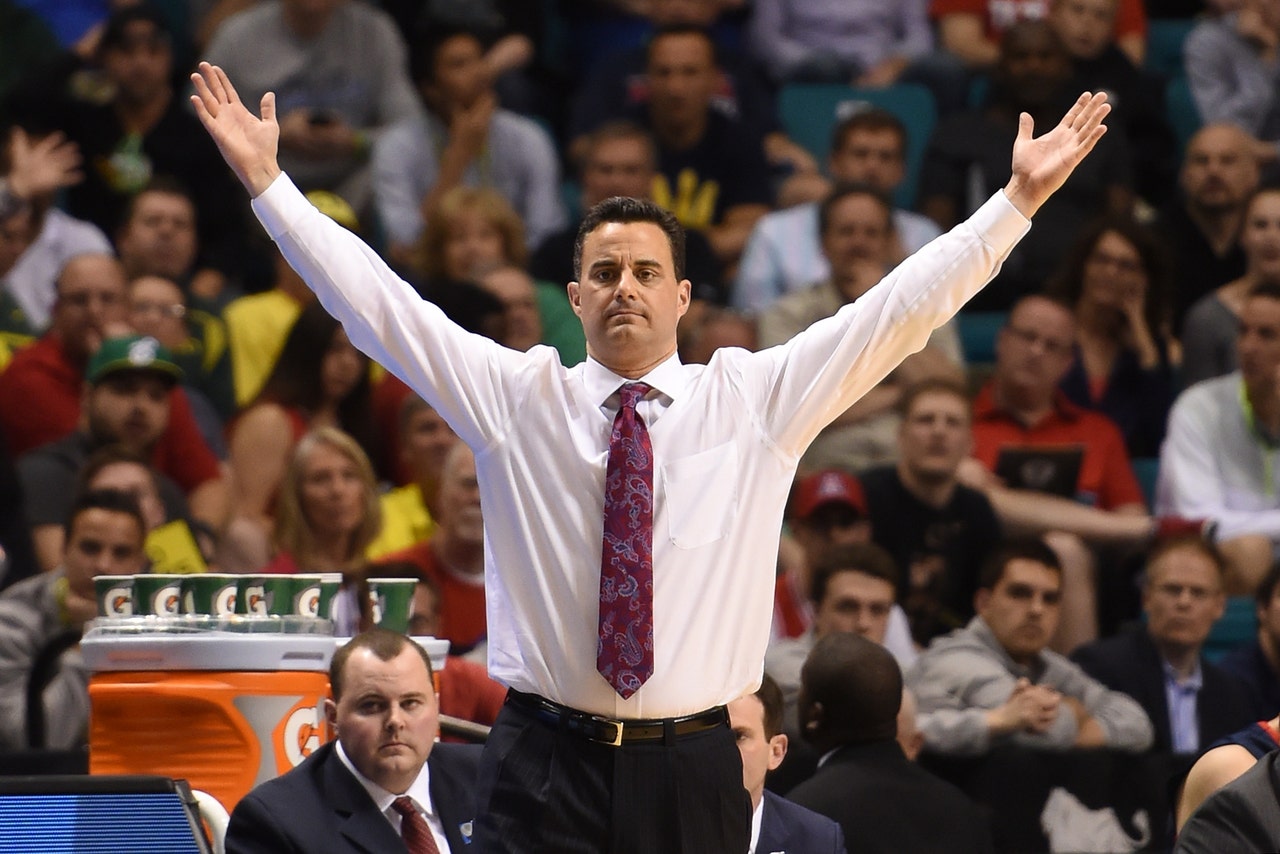 (Photo by Ethan Miller/Getty Images)
4. Miller appeared to change shirts at halftime though he was spotting sweat before the first TV timeout and steadily got more and more drenched. On one hand, you respect his dedication to dressing like a professional. On the other hand, you dont. It's like the line from Major League, paraphrased here:
"Dressing like a respectable coach is the most important thing."
"It ain't that important."
---
---