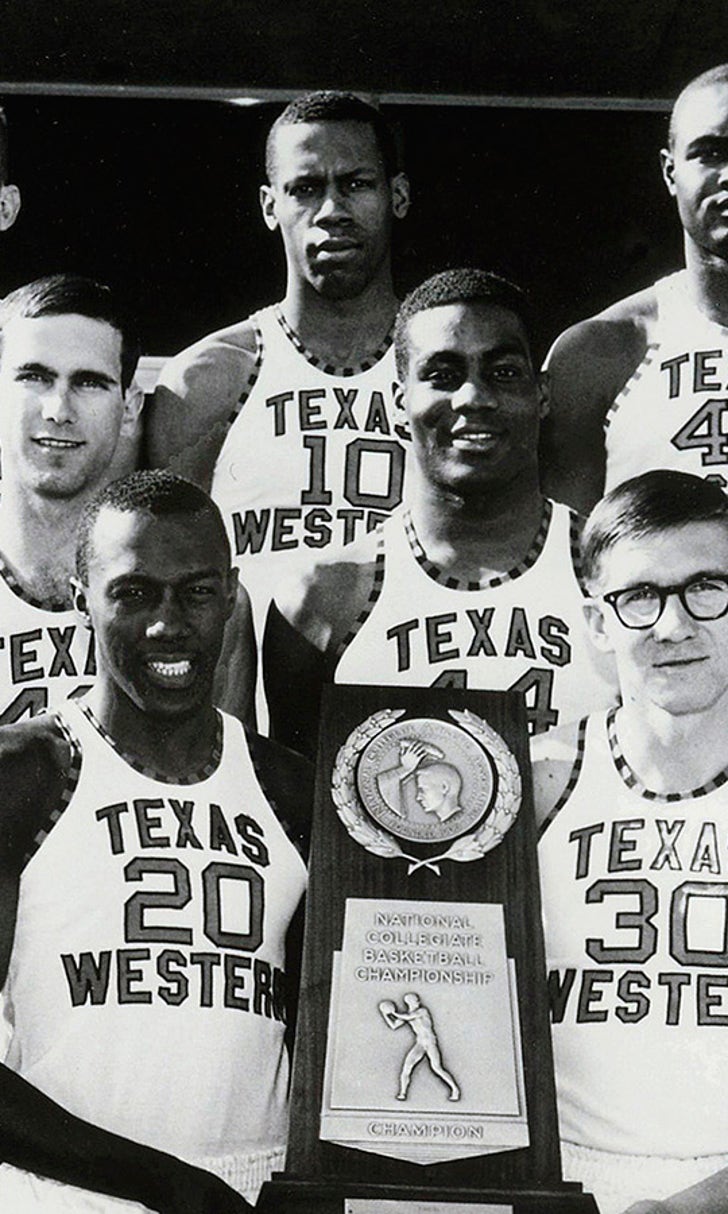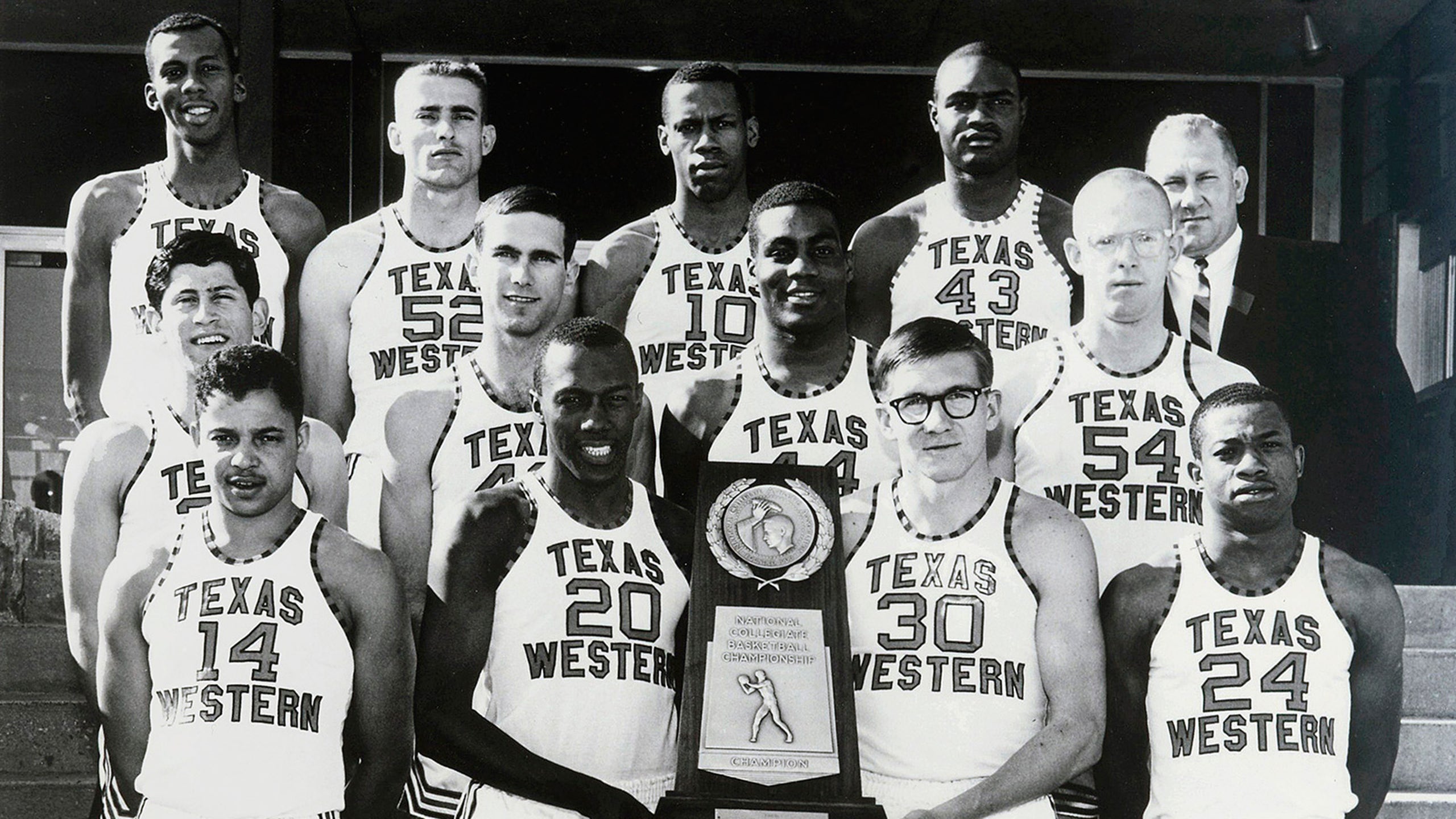 50 years ago, Texas Western didn't realize what it set in motion
BY Reid Forgrave • February 5, 2016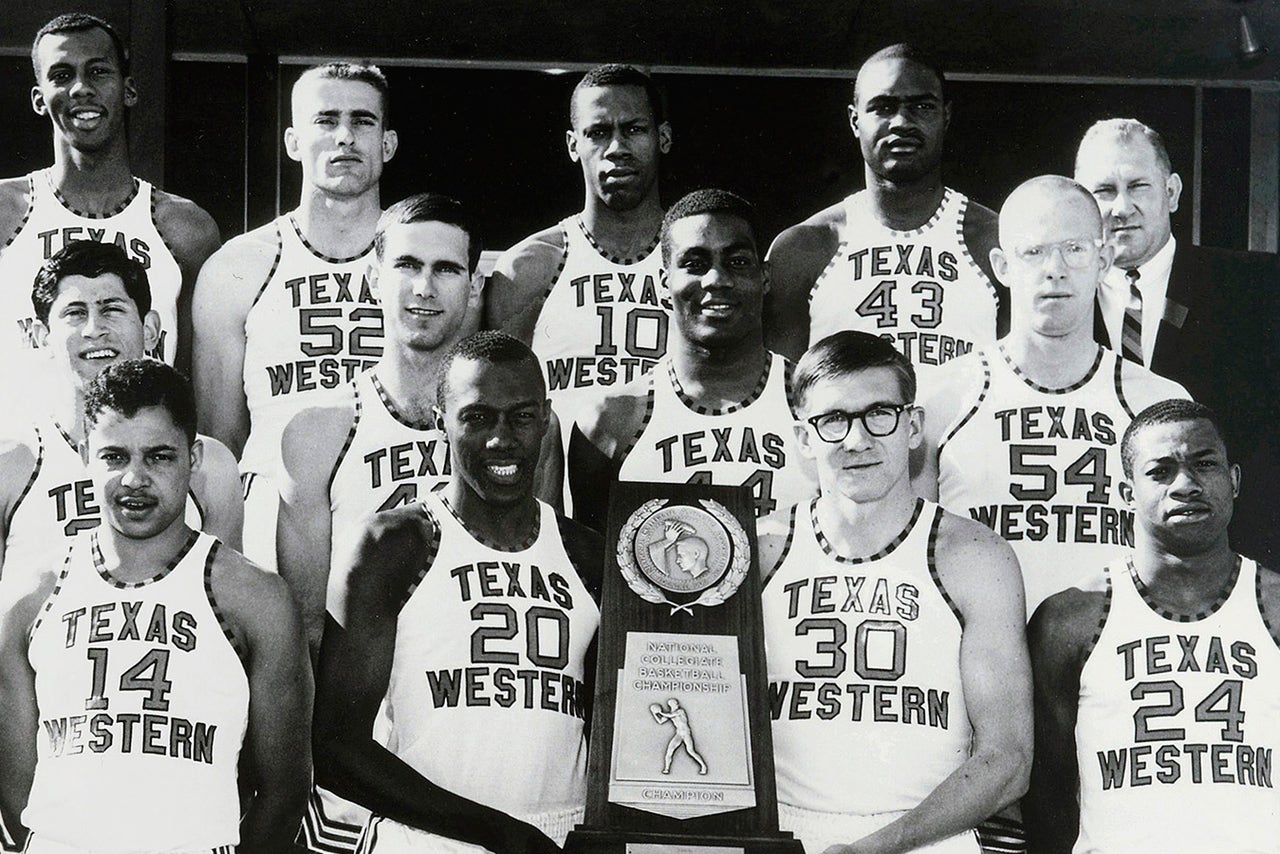 The final buzzer sounded on Mar. 19, 1966, and history had been made.
Texas Western and its all-black starting five had shocked Adolph Rupp's all-white Kentucky team and won the national title. It was a time when America was in tumult. Soldiers were dying in Vietnam. Protestors were swarming the streets. Martin Luther King Jr. had led the march for civil rights on Washington. Race relations were at the forefront of Americans' minds.
The world was changing.
But these basketball players? They had no idea that, half a century later, we would still be talking about what happened that day at Cole Field House in College Park, Maryland, and how it helped change the world.
As the buzzer sounded, they all ran toward their future Hall of Fame coach Don Haskins in front of the Miners' bench. The Confederate flags that popped up in the stands during the game had been tucked away. Willie Woolsey, the diminutive guard nicknamed "Ironhead," climbed on top the shoulders of Dave Lattin, the big man nicknamed "Big Daddy D" who had angered old-school basketball types by scoring the game's first basket on a slam dunk. Woolsey cut down the net. They accepted the trophy and posed for pictures. Nevil Shed, a tenacious big man from the Bronx nicknamed "The Bear," walked off the court and pointed at his father in the stands, the first time his dad had been able to watch one of his son's college games.
Certainly Haskins, a gruff coach known to motivate his players by saying they were playing like a bunch of girls, hadn't set out to make history. He just set out to get the best basketball players he could to come over the Franklin Mountains and to the isolated desert of El Paso. He got them from around Texas. He got them from New York City. He just wanted guys who could play. What he got was a talented, cohesive group of future NBA players who were a basketball revelation.
It had been a long road to get here.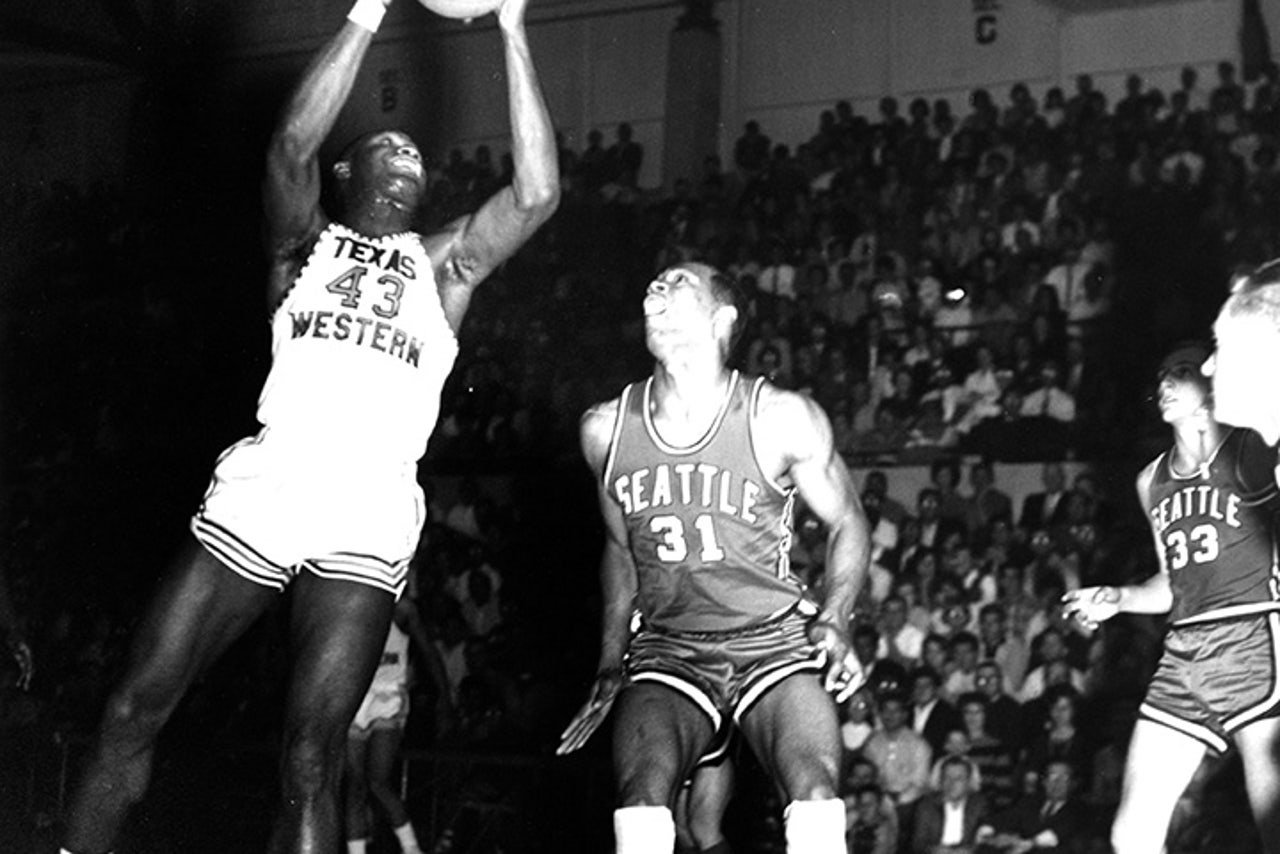 Dave Lattin, shown here against Seattle, on the title game against Kentucky: "We were just thinking about winning."

All season, Texas Western's African-American players had endured the hate.
Opposing fans screamed racial slurs at them. Officials often avoided calling obvious fouls against Texas Western's opponents. In Texas Western's final regular-season game against Seattle, the Miners' star guard Bobby Joe Hill was knocked down by a defender as he cut to the basket. No foul was called; in fact, no fouls were called the entire game, which led to the Miners' only loss of the season. After winning the national title, Haskins received bags and bags of hate mail, chastising him for not keeping at least one white player on the floor at all times.
So when the game was won and the nets were cut down and the trophy was presented, what was on the mind of Texas Western's players wasn't that they had become a beacon of racial equality that would forever change basketball in the South.
Far from it.
"I'll be honest," said Lattin shortly before he would head back to Texas Western — now known as University of Texas at El Paso — for this Saturday's UTEP-Western Kentucky game (5 p.m. ET FS1) that will honor the 50th anniversary of Texas Western's national title. "Right after game, Bobby Joe Hill's brother mentioned to Bobby and I that this was an unbelievably special game, that this was the first time five African-Americans had won the national title against an all-white team. Until he said that, we weren't even thinking about that. We were just thinking about winning."
"When ball goes up on the boards and I go for the rebound, I don't have time to look and see if the other guy is black or white," Lattin continued. "I was just going for ball. For our players and for the Kentucky players, there was nothing about race. It was just a lot of young kids that were trying to win."
Sometimes, when history is made, you immediately know its significance. Neil Armstrong walks on the moon. The Berlin Wall comes down. Barack Obama becomes the first African-American to become President of the United States.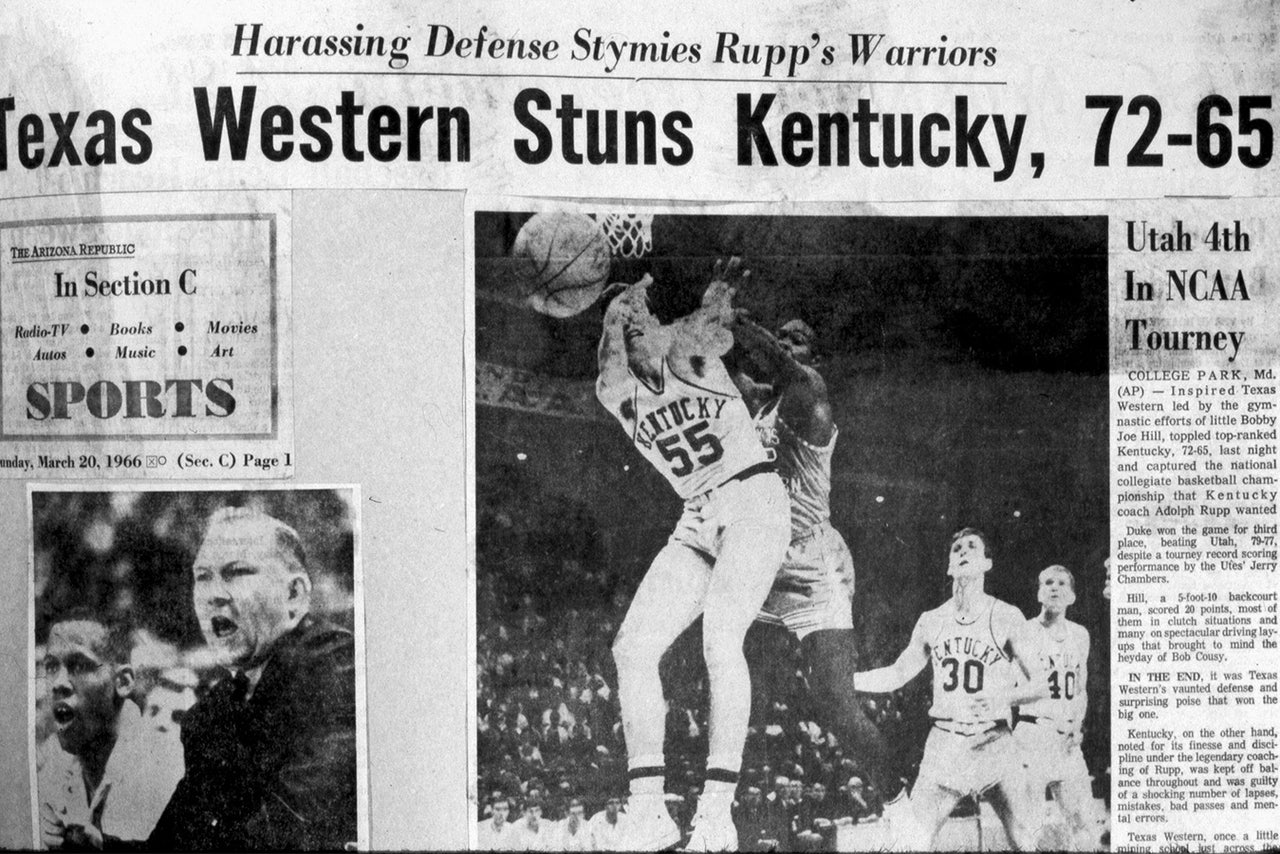 No one considered at the time that Texas Western could beat heavily favored Kentucky.

But there are other times when you can't tell until years later exactly how an event will come to shape history.
We didn't know when Jackie Robinson signed a contract with the Brooklyn Dodgers that baseball would foretell America's Civil Rights Movement. We didn't know Ronald Reagan's 1964 speech, "A Time For Choosing," would lead to his presidency 16 years later and a conservative revolution. We didn't know Alexander Fleming's discovery of penicillin in a lab would forever change medicine.
And Texas Western players had no idea when they walked off the floor in Cole Field House 50 years ago that they'd just given generations of African-American basketball players in the South an opportunity for a college education.
This wasn't two years later, in the 1968 Summer Olympics in Mexico City, when Americans Tommie Smith and John Carlos stood on the medal stand and gave the Black Power symbol.
Instead, these were a bunch of young men who understood what segregation was. They lived with the reality that there was a black side of town and a white side of town. They saw the restrooms and water fountains that were separated between black and white. They went in the back doors of restaurants, and they climbed up the stairs to the balconies of segregated movie theaters, and they understood it was all so very unfair.
And yes, they heard the constant drumbeat of the 1960s that all of this was changing, but they were not exactly a part of that change. They were a bunch of young men who were in a basketball bubble. They had came to this desolate part of Texas because they wanted an education and to play basketball, not because they were trying to change history.
"The only thing I knew about Texas was oil wells and cows," said Shed. "It was August 1962, my first airplane flight. You fly over the Franklin Mountains, and there was nothing but desert and hot weather. I remember flying over Franklin Mountains, I said to (teammate) Willie Cager, 'I don't think we're in the right place here. When we walked out of that plane and that air hit us – woof! It was a burst off hot air. And the dust was blowing. And I said Cager, 'I can't believe this is where we're getting ready to go to school. It reminded me of a Clint Eastwood movie.
"And then Coach Haskins, this little fat man, walked up to us. And the rest was history."
When the team went to the Final Four, it was assumed the winner of the game on the other side of the bracket — Kentucky vs. Duke, all-white No. 1 versus all-white No. 2 — would beat Texas Western in the final.
"The general public assumed because of the color of our skin we couldn't handle pressure of playing on TV, of playing for the national championship," Worsley said.
When the Miners did, nobody really knew how to handle it.
"It wasn't a big deal to us," Lattin said. "It wasn't until following year that people started to write about it. They didn't talk about it all that much after the game. The reporters were sitting at the table after the game, and they didn't know what to write. They couldn't believe it. Nobody came to talk to us in our locker room."
But soon, things changed. The SEC had its first African-American player in 1967. In 1969, Rupp signed his first African-American player at Kentucky, Tom Payne. Decades later, Disney made a movie, "Glory Road," about the team. A group of basketball players had become legends.
"You know what I love about this?" Worsley said. "And you'll think this is corny. But I love how many people still talk about what happened 50 years ago. People still talk about us. And why? Because we could throw the basketball in the basket more than the other team did."
******
Fifty years later, as the surviving members of that Texas Western team get together this weekend at UTEP for the 50th anniversary of their national title, the world is different. Each year, thousands of young African-American men are offered scholarships to play basketball and get an education. America is not quite color-blind, but American sports have become the ultimate meritocracy.
The championship team will be honored at Saturday's UTEP game against Western Kentucky. This is the team 10 years ago, on the 40th anniversary of the title.

In this season of college basketball, there's a team in Norman, Oklahoma. that has a real shot at winning it all. The Oklahoma Sooners' starting lineup consists of one African-American player from the Bahamas (Buddy Hield), a white big man from small-town Oklahoma (Ryan Spangler), and three African-Americans from all over the United States: Isaiah Cousins (New York), Jordan Woodard (Oklahoma) and Khadeem Lattin (Texas). 
You may recognize Khadeem Lattin's last name. He is the grandson of Dave "Big Daddy D" Lattin from the 1966 Texas Western team. Granddad lived 15 minutes away when Khadeem was growing up and was one of the people who taught him basketball.
It wasn't until eighth grade when Lattin fell in love with basketball and really became a student of the game. He watched "Glory Road," and read his grandfather's book. It was mind-blowing, the fact that his lineage in the game of basketball will be remembered forever.
"We talk about it," Lattin said. "He just told me it helped him grow as a man. I respect him so much for being a leader on that team. It was such perseverance that team had to go through."
It's hard for Lattin to even wrap his mind around the America his grandfather grew up in. The fact that people judged others on their skin color. The fact that there were water fountains for white people and water fountains for African-Americans. The fact that if Khadeem Lattin had grown up two generations prior, there were plenty of basketball programs he wouldn't be allowed to play for.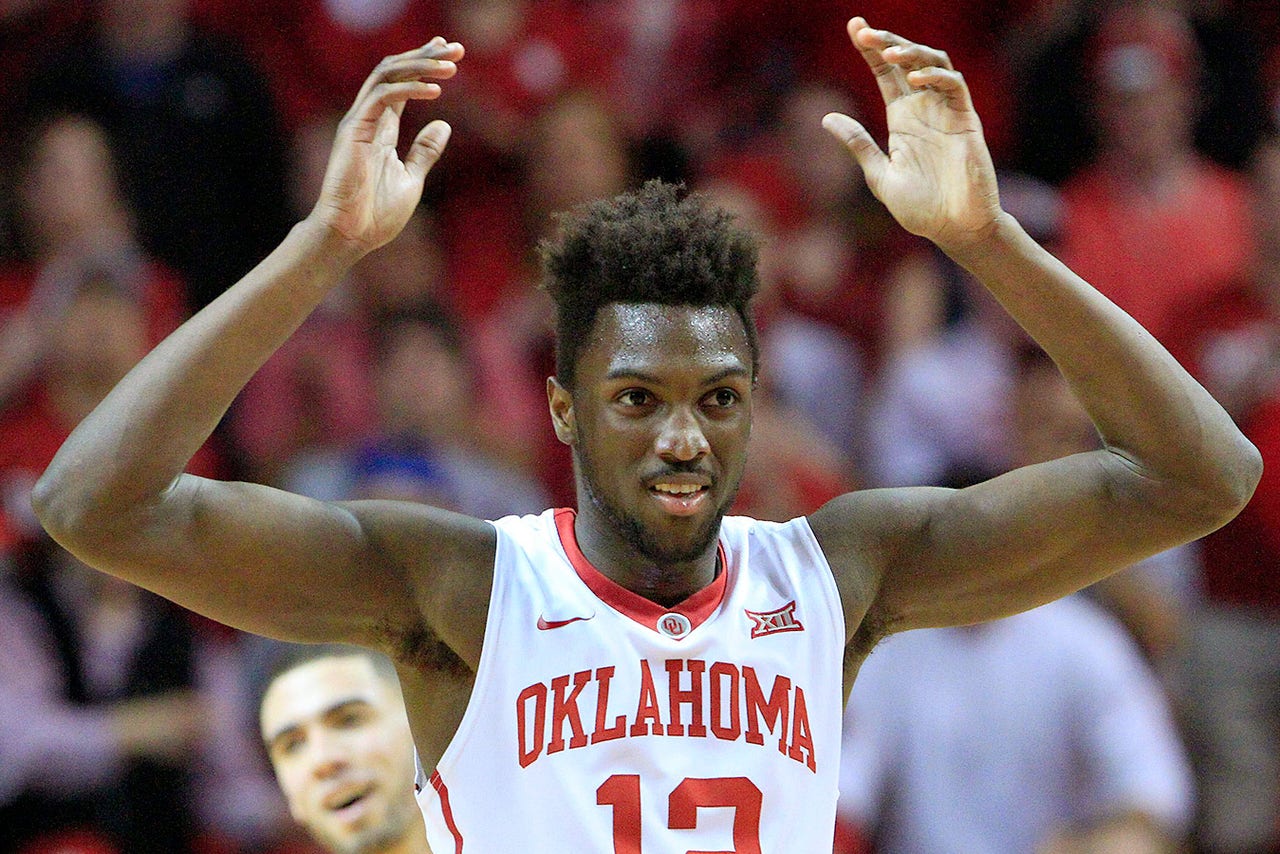 Dave Lattin's grandson Khadeem plays at Oklahoma and is grateful for the trail his grandfather blazed.
But he also knows that even today — in an age of an African-American president and unlimited opportunities for elite athletes like Khadeem — race relations are far from perfect, whether it be what happened in Ferguson, Missouri, or the mass incarceration that's taken a disparate toll on the African-American population.
When that happened, Lattin called his grandfather.
"It jarred me," Khadeem Lattin said. "I was really disgusted. But my grandpa said, 'Don't let it distract you. Keep your mind on the bigger prize.'"
And guess what? The reaction on campus was swift. The student body as a whole was outraged. The football team, white players and African-American players, held an arm-in-arm vigil instead of going to practice. The fraternity chapter was closed, and two members were expelled.
The video was awful and felt like a violation. But to Lattin, the reaction said more than the initial action. What has transpired in America the past half century — what his grandfather had helped change in the 1966 national title game — is that a country moved forward, and Khadeem Lattin's generation is now given the opportunities his grandfather had to fight for. The lasting legacy of that team is that Texas Western helped us as a nation realize that people should be judged on merit, not on race.
"You gotta remember: We were just a bunch of kids playing basketball," said Nevil Shed. "I never thought of myself as being a pioneer, never thinking we were about to change the era of basketball. We were just a bunch of athletes playing one game after another. And Coach Haskins simply put the best team out there that he could."
"Times have changed," Shed continued. "If we were part of a small thing within those past 50 years, I'm proud and honored. Now I can look at my kids and other people's kids and say that if they're qualified they have the opportunity to go to any school of their choice. They say Legends, all that kind of stuff. We're not legends. We were just athletes who took advantage of the chance to continue the game we loved very much."
Follow Reid Forgrave on Twitter @reidforgrave or email him at ReidForgrave@gmail.com.
---
---