Tiger, Phil flop at PGA Championship
So yeah, it was a little dribbler of a day for Phil Mickelson on Saturday at the PGA Championship, the kind of day you hit it into the trees, drive home and then realize you left your sunglasses in the 18th tee box.
It was such an all-around bummer that Mr. Everyman didn't talk to reporters after recording a 78, one of his worst rounds in 10 years.
Remember, Mickelson had some rough days early in his career. Particularly memorable was his performance in the final two rounds of the 1998 British Open, when he followed an 85 on Saturday with a robust 78 to close it out.
He shot an 80 during the US Open in 1991, then topped it with an 81 in the same tournament the next year. He also dropped 78s in both the British Open and PGA Championship in the 1990s.
But only once in the past 10 years of majors has Mickelson shot as poorly as he did in recording a 78 in the third round of the PGA Championship on Saturday. That happened in 2008, when he threw up a 79 at the British Open.
So no, he won't be winning this major. And neither will Tiger Woods. It might be Jim Furyk, who rallied for the lead heading into Sunday.
Woods assured himself he'll move to 0-for-his-last-18 major championships. Woods talks like things are basically OK, but the Washington Post's Sally Jenkins thinks he's "plodding around in a state of denial", and she seems to have a good point.
Woods shot even par on Friday and 3-over in his third round, leaving him tied at 214 with the likes of Brooks Koepka and Ryan Palmer.
"I played pretty well," he said Friday.
He's played 15 rounds in major tournaments now this year, and has broken 70 only once.
Woods said Friday he realized he was going to need a Saturday round in the mid-60s, at worst, to make a run.
He was closer to the mid-70s, hitting 11 greens and five fairways, and will leave another major no closer to Jack Nicklaus' record 18, and another weekend closer to his 38th birthday in December.
Tiger in seven PGA rounds at Oak Hill: 13 birdies, 27 bogeys and a double. Sixteen over par (12 over in 2003; four over through Saturday).

— Mike O'Malley (@GD_MikeO) August 10, 2013
Afterward Woods described himself as "Not joyous, that's for sure," which is probably about how this female fan is feeling about her tattoo (think that's real?) spotted by @shawnkmorse.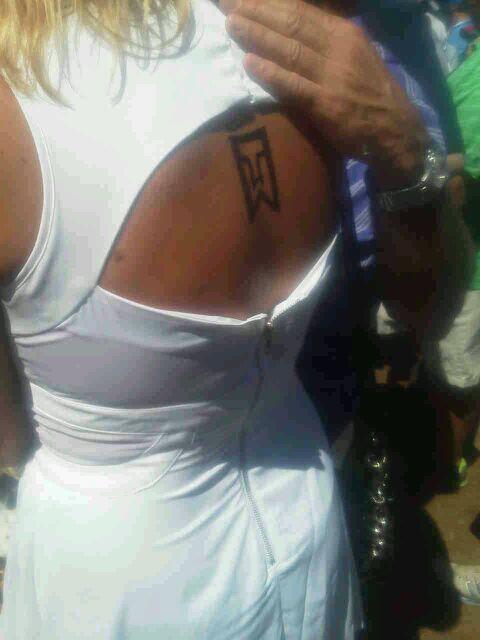 Like Woods, Mickelson on Friday seemed to believe he was close to having a great round.
"It's just a little bit off," he said. "I feel like it can turn around in a second."
That seemed plausible for both Woods and Mickelson, the top two golfers in the world. Woods shot 15-under to win the Bridgestone Invitational last week, and Mickelson won the prior major he played in.
Mickelson thought the rain-softened course had an amplifying effect on the way players were playing.
"What I found was the holes that were birdie holes actually played easier because of the rain by softening the greens," he said. "The holes that were really hard like 17 and 18 played even harder. I thought that guys that were playing well . . . (it) gives them a chance to play and separate themselves from the players who aren't playing well like myself."
The rounds he and Woods carded Saturday seemed proof of that. Neither was playing well as it was, and both played worse.
Woods seems to be getting awfully persnickety about things lately. He complains about the course or the crowds, and does not seem interested in exploring the reasons why he tends to smoke the field in smaller tournaments and eat dust in the majors. There was a time this guy was the coldest-blooded dude in sports, and now he seems to be the one that shrinks against his own shadow.
"Well, it was hard for me," Woods said Saturday. "I didn't play very well today. I didn't hit very good, didn't make anything, kept blocking every putt. So it was a tough day."