NFL Week 2 awards: The best and worst from Sunday's action
Aaron Rodgers" src="http://static.foxsports.com/content/fscom/img/2013/09/15/091513-NFL-1-Rodgers-Griffin-OB-G_20130915185028195_600_400.JPG" alt="" width="600" height="400" />
By Andy Nesbitt, FOXSports.com
Best performance by a QB:
Aaron Rodgers,
Green Bay Packers
. Mr. Rodgers had 335 yards and 3 TDs ... in the first half against Washington.
He later became the first QB since Y.A. Tittle in 1962
to throw for 480 yards, 4 TDs, and 0 INTs.
Best news a QB received before the game:
Joe Flacco
,
Baltimore Ravens
. The Super Bowl champ's wife, Dana, gave birth to the couple's second son just an hour before the Ravens hosted the Browns on Sunday. Flacco summed up his day in once sentence:
Joe Flacco: "Anytime you have a child, it's one of your best days." — Baltimore Ravens (@Ravens) September 15, 2013
Best pass by a defensive player:
Patrick Peterson
,
Arizona Cardinals
. We knew the Cardinals would use Peterson on offense this year, but
we never thought the cornerback would do something like this
: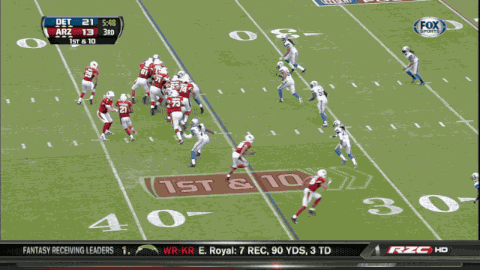 Best performance by a fan base:
Seahawks
fans. Folks in Seattle said earlier this week that they wanted to break the world record for crowd noise at a stadium and
they accomplished that goal Sunday night
during the game against the
49ers
.
Congratulations Seahawks 12th man & Centurylink field! We are officially the loudest stadium in the world! — Joe Tafoya (@JoeTafoya) September 16, 2013
New reading! 136.6!!!! #volume12 — Joe Tafoya (@JoeTafoya) September 16, 2013
Best hit issued by a QB:
Christian Ponder
,
Minnesota Vikings
. The QB couldn't lead his team to a win in Chicago, but he was able to send Bears LB
Lance Briggs
to the turf. How much fun will Briggs' teammates have with this highlight:
Best WWE style tackle:
William Moore
,
Atlanta Falcons
.
Rams
tight end
Mike McNeill
was having a fun time until he looked up and saw Moore coming at him. What'd Moore do to McNeill? Oh, just this:
Best game-winning TD pass with 12 seconds left:
Jay Cutler
,
Chicago Bears
. The Bears got the last laugh in their battle with the Vikings, as Cutler, on third-and-10, delivered a perfect strike to
Martellus Bennett
.
Best game-winning TD with 2 seconds remaining:
E.J. Manuel,
Buffalo Bills
. The QB didn't look like a rookie as he capped off a nine-play, 80-yard drive in the final minutes with a nifty 2-yard touchdown pass to Stevie Johnson.
Worst reaction to a team's game-winning TD pass:
Buffalo's social media department. We all make mistakes,
so let's not take this person to task too much
, but somebody in the Bills' organization tweeted this after the team took a 1-point lead with 2 seconds left in the fourth quarter.
Best game-winning TD pass in overtime:
Matt Schaub
,
Houston Texans
. After missing a field goal at the end of regulation that would have won the game, Schaub and the Texans quickly took care of business in overtime as he connected with
DeAndre Hopkins
on a 3-yard TD pass.
Best block by a running back:
Knowshon Moreno
,
Denver Broncos
. Moreno (93 yards, 2 TDs) had a huge day for the Broncos in their win over the Giants, but
his block on Giants DB Terrell Thomas
might be his most memorable moment from Week 2. The play didn't end up counting because of a penalty, but it was still impressive:
Best catch of the day:
Dez Bryant
,
Dallas Cowboys
. Bryant had a huge day for the Cowboys, who ended up losing to the
Chiefs
in Kansas City. This diving grab in the first half is worth watching again:
Best catch that didn't count:
Martellus Bennett, Chicago Bears. The Bears TE laid out for an incredible one-handed grab against the Vikings. The only problem? He landed about five feet behind the end zone and took out an unlucky cameraman in the process:
Best collision with a Gatorade table:
Davone Bess
,
Cleveland Browns
. The Browns WR didn't get much help from the Ravens as he went crashing through their sideline:
Most surprising performance:
Eddie Royal
,
San Diego Chargers
. Royal found the end zone three times in San Diego's surprising win over the Eagles. That's 5 TDs this season for Royal, if anyone is keeping track. Hey fantasy owners, you might want to be paying attention.
That sound you hear is everyone picking up @EddieRoyalWR on their waiver wire (he's owned in 4.2% of @FOXSports fantasy leagues). — FOX Sports: NFL (@NFLONFOX) September 15, 2013
Most heroic move:
Charles Tillman
, Chicago Bears.
Tillman acted quickly when he saw
that FOX Sports sideline Laura Okmin was about to get run over my a sideline camera Worst attempt at helping up a QB:
Fletcher Cox
,
Philadelphia Eagles
. Cox wanted nothing to do with
Philip Rivers
after the QB tried to draw a penalty by flopping to the ground like a soccer player:
Worst spelling mistake:
Chicago Bears. Second-year defensive end
Shea McClellin probably didn't like his throwback jersey
Sunday. Why? His name was misspelled on the back:
Ouch. Shea McClellin's NOB spelled wrong in Bears game. (h/t @Pettymania) pic.twitter.com/PodKy143xK — Phil Hecken (@PhilHecken) September 15, 2013
Best angry tweet by an NFL star who didn't have a great game Sunday:
Ray Rice
, Baltimore Ravens. Apparently some fantasy football owners weren't happy with Rice after he rushed for just 36 yards in Baltimore's win over Cleveland.
Here's how Rice responded to them
:
I was a fan of fantasy football until today so many spiteful and hateful words I still love you all God Bless great win today #Ravens — Ray Rice (@RayRice27) September 15, 2013
Most awkward kiss shared between two fans at an NFL stadium:
This couple at the Broncos-Giants game. Young love at its best?