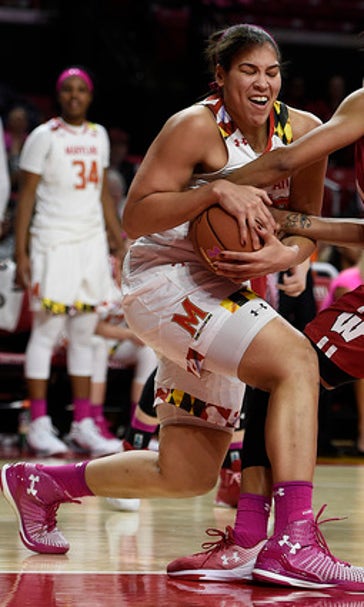 No. 2 Maryland ramps up defense to prepare for postseason
February 17, 2017

COLLEGE PARK, Md. (AP) Unbeaten in the Big Ten and still perfect on the road, second-ranked Maryland appears to have all the elements of a Final Four team.
Rebounding? Check.
Fast break? Yep.
Depth? Absolutely.
Defense? Very good, but with room for improvement.
That's what coach Brenda Frese determined last week, so defense will be the focus as the Terrapins (26-1, 14-0) charge toward the end of the regular season.
''When I looked at our weaknesses, I felt like our offense, our transition, our rebounding (are solid),'' Frese said. ''But the missing piece was our defense. It felt like that is what could cost us.''
Maryland's bid to reach the Final Four for the third year in a row ended last season with a second-round loss to Washington at home. In that game, Kelsey Plum scored 32 points to oust the Terps, who entered with a 31-3 record.
''I'm still haunted from Kelsey Plum coming into this building,'' Frese said, ''and I'm not going to let that happen for our seniors.''
If Maryland is clicking on defense, this could be a memorable season for seniors Brionna Jones, a 6-foot-3 center, and Shatori Walker-Kimbrough, a 5-11 guard. Both will celebrate a third straight Big Ten regular season title if the Terrapins defeat No. 12 Ohio State (23-5, 13-1) on the road Monday night.
The Buckeyes are led by Kelsey Mitchell, who's averaging a Plum-like 23 points per game to lead the conference.
In a prelude to that showdown, Walker-Kimbrough scored 22 points and Jones had 16 points and 11 rebounds in an 89-40 rout of last-place Wisconsin on Wednesday night. The Terrapins forced 20 turnovers, finished with a 46-24 rebound advantage and didn't allow a fast-break basket.
''Give Maryland credit because I think they made us play at a faster pace,'' Badgers coach Jonathan Tsipis said. ''They're really good in transition when their defense can create their offense, but I think the thing that gets overlooked is how they are positioned defensively. They got to spots.''
Maryland won without starting point guard Destiny Slocum, who was sidelined with an illness. Backup Kristen Confroy had three assists and no turnovers, and the reserves contributed 25 points.
''If we want to be playing three games in three days in the Big Ten Tournament,'' Frese said, ''our depth is going to be key.''
Walker-Kimbrough has a sweet jump shot and the ability to slice past defenders for layups, but is just as proud of her play on the other end of the court.
''Our identity is: Defend, Rebound and Run,'' she said.
At this point, the emphasis is on defending.
''Coach always talks about that as a mindset,'' Jones said. ''We know it is something that we can improve because it is just effort and putting our mind to it.''
---
---