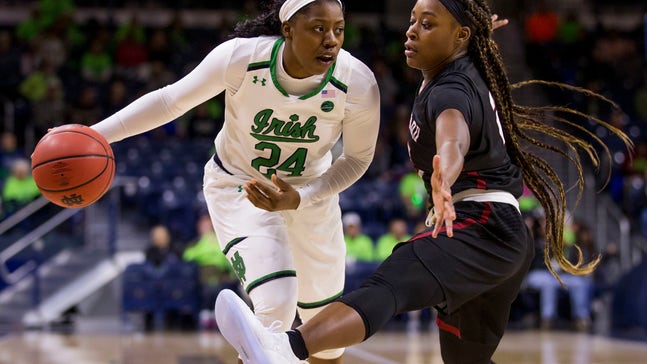 Ogunbowale, No. 1 Irish open with 103-58 rout of Harvard
Updated
Mar. 4, 2020 10:08 p.m. ET
SOUTH BEND, Ind. (AP) — Notre Dame didn't need any heroics from Arike Ogunbowale in its season opener. Three efficient quarters was more than enough.
Ogunbowale scored 30 points in 25 minutes before sitting out the fourth quarter as the top-ranked Irish opened their national title defense with a 103-58 victory over Harvard on Friday.
Ogunbowale, who hit two buzzer-beaters last spring at the Women's Final Four to give the Irish their second national championship under coach Muffet McGraw, made 10 of 21 field goals and all nine free throws in 25 minutes, and she's not dwelling on last season, which earned her an ESPY award and an appearance on "Dancing With the Stars."
"It's going to be nice to see it (the national championship banner) up there, but we need to move on," Ogunbowale said.
Jessica Shepard had 28 points on 12-of-16 shooting to go with eight rebounds before joining Ogunbowale on the bench in the fourth quarter after playing 27 minutes. Brianna Turner, who sat out all of last season with an ACL injury, had 11 points and 11 rebounds in 21 minutes. Forward Mikayla Vaughn, another player returning from ACL surgery, finished with 12 points.
"We've still got a long way to go," said McGraw, who now has 801 wins as she begins her 32nd season in South Bend. "I thought Jess was hard to guard inside, I think we can get the ball to Bri more and Arike got a lot of good shots off ball screens."
Sydney Skinner, whose 3-pointer in the first minute gave Harvard its only lead, led the Crimson (0-1) with 15 points, all from long distance. Nani Redford finished with 12 points.
"Notre Dame is great — they are all what they should be," Harvard coach Kathy Delaney-Smith said. "Their inside players were their best players today."
Ogunbowale had 18 points and Shepard scored 14 as the Irish dominated the first half, leading 23-11 after the first quarter and 50-29 at halftime.
Notre Dame, which shot 63 percent in the first half, ended it with Turner scoring on a pass from Jackie Young with four seconds left and Shepard stealing the inbound pass and hitting a jumper to beat the buzzer.
Skinner had 12 points in the first half for Harvard, which was limited to 28.2 percent shooting, outrebounded 29-15 and committed 12 personals to Notre Dame's one.
The Irish put the game out of reach with a 36-16 third quarter to lead 86-45 going into the final 10 minutes. Their largest lead was 46 points.
BIG PICTURE
Notre Dame: The Irish started the season with three players nursing injuries. Starting point guard Marina Mabrey, the team's 3-point threat, has a quad injury, while reserve frontliner Danielle Patterson sat out with a swollen knee. Both are day-to-day. Walk-on Kaitlin Cole is out for the season after knee surgery. Starting guard Jackie Young, who played much of last year with a mask to protect a broken nose, was in a mask again after getting dinged during the team's 107-65 exhibition victory over Lewis last week. She went without it in the second half.
Harvard: The Crimson finished 18-11 last season and received a berth in the WNIT for their 14th postseason appearance, the most of any Ivy League team. Harvard was picked to finish third in an Ivy League preseason poll behind first choice Princeton and Penn. Four of last year's five top scorers return, led by co-captains Skinner and Madeline Raster.
STATS
The Irish outrebounded the Crimson 55-30, had six blocks (four by Vaughn) and made 24 assists on their 37 baskets with Young and Ogunbowale having five each. For the game, Notre Dame shot 55.2 percent (37 of 67).
What really pleased McGraw was Notre Dame's defense. The Irish held the Crimson to 29.2 percent shooting (21 of 72) though Harvard went 11 of 34 (32.4 percent) from 3-point range.
Ogunbowale, who guarded Skinner, did hear it from her coach.
"Coach told me I couldn't guard her," Ogunbowale laughed. "So I tried to step it up in the second half."
UNHAPPY HOMECOMING
Raster played prep basketball two miles south of the Purcell Pavilion at Saint Joseph High School. It was not a good homecoming for Raster, who was kicked in the head by Turner going for a loose ball in the third quarter. After being examined, she went to the bench and did not return. She finished with five points in 13 minutes.
"She's going to be fine — she's tough," Delaney-Smith said. "Yeah, it was pretty unfair because we needed her. But that's OK. Life isn't fair sometimes, right?"
T'D UP AND TEED OFF
Delaney-Smith, who has been Harvard's head coach for 37 seasons, finally had enough with what she thought was a disparity in the personal fouls called. So with 1:45 left to play, she let the officiating crew know about it — and received a technical.
"I honestly believe the imbalance in the foul calls was an atrocity," she said. "All I said to the official was 'home cooking.' That's ridiculous. Ironically, after I said it, we got five calls. I need to learn to get a technical sooner."
The Crimson finished with 27 fouls to Notre Dame's nine.
UP NEXT
Harvard: Visits Purdue Sunday before returning home to play La Salle on Wednesday.
Notre Dame: Penn visits Monday, when the Irish will hoist their 2018 NCAA championship banner.
---
---