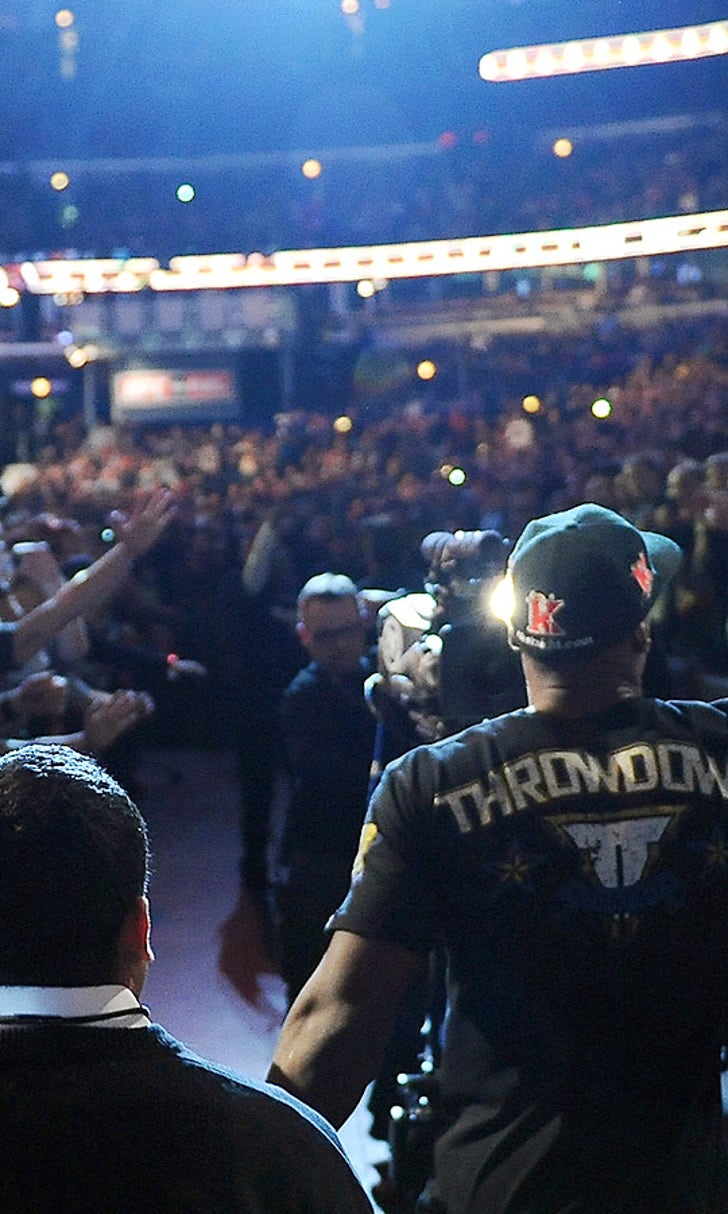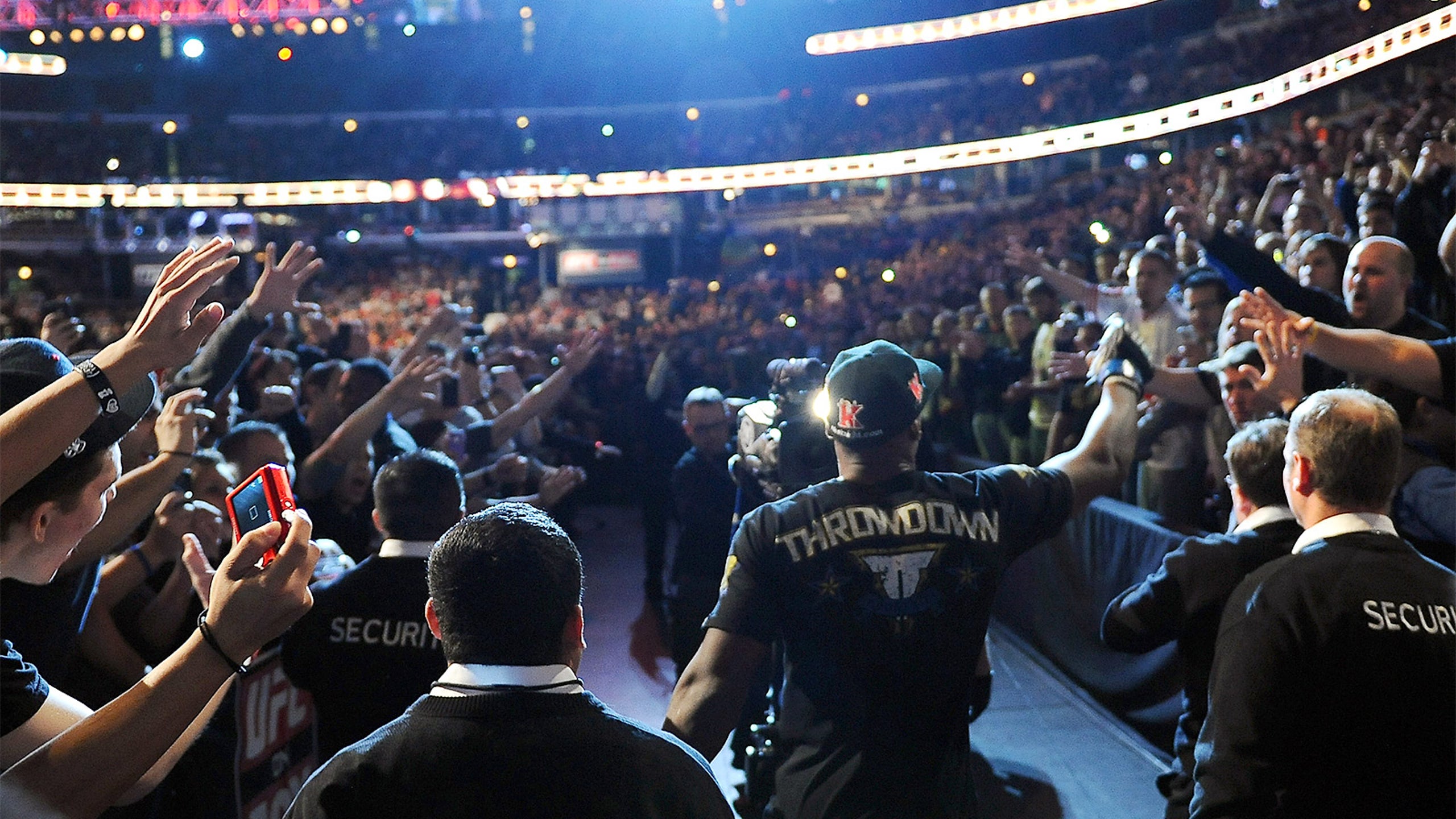 Undefeated: UFC's Top 10 unbeaten fighters
BY Fox Sports • February 21, 2014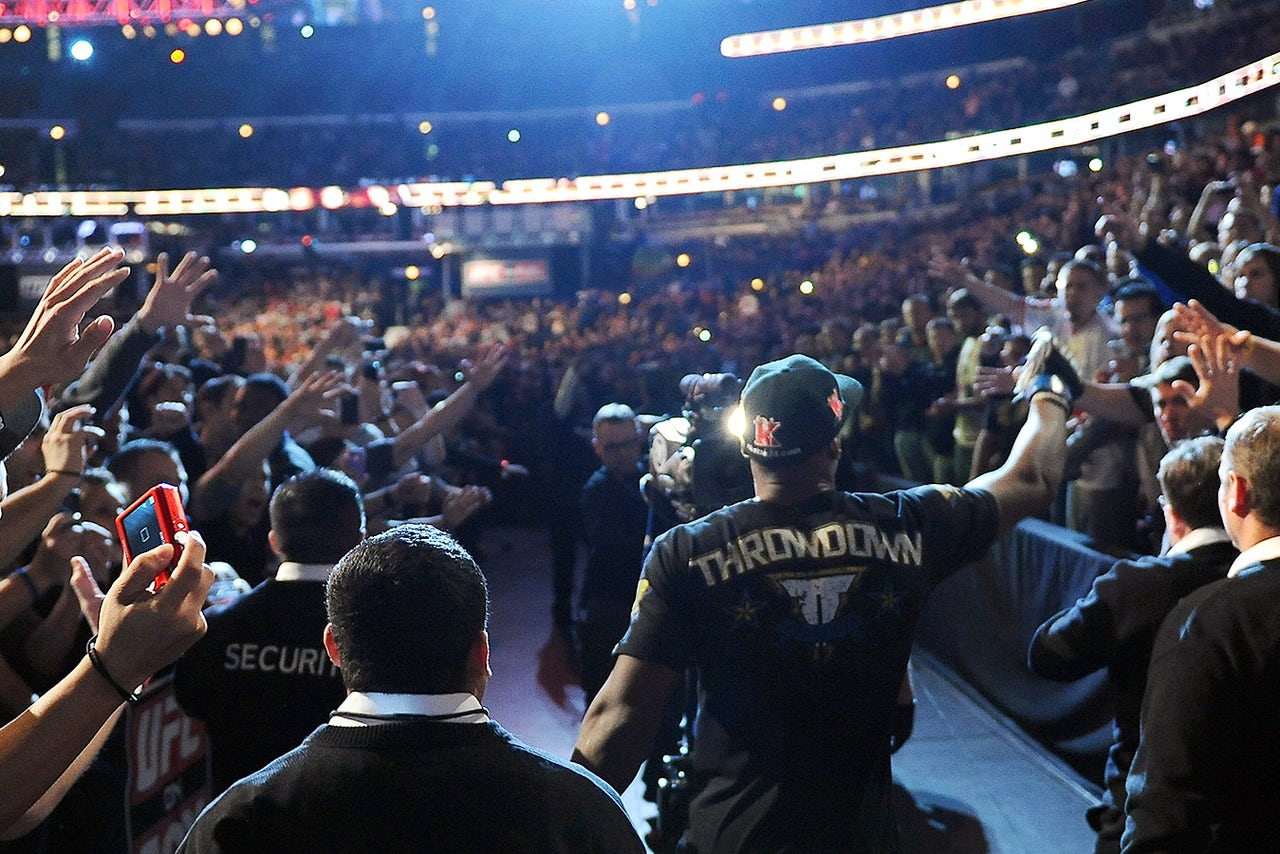 With the additions of UFC 170 competitors Patrick Cummins and Ernest Chavez to the roster, there are now 32 undefeated fighters in the UFC. That sounds like a lot, until you remember that there are more than 450 athletes competing in the Ultimate Fighting Championship, and that not all unbeaten records are created equal.
Of that group, there are a number of fighters that have yet to step into the Octagon for the first time, including three of the six undefeated talents set to compete Saturday night at the Mandalay Bay Events Center—Cummins, Chavez, and Aljamain Sterling.
In addition to the "yet to fight in the UFC" group, there is also a collection of fighters that have just a couple appearances on the biggest stage in the sport as well. As much as maintaining an unbeaten record once you arrive in the UFC is an accomplishment itself, keeping that zero in the loss column becomes increasingly more difficult the further up the ladder you go.
And that's what makes fighters like Chris Weidman and Ronda Rousey even more special—not only have they managed to avoid losing, but done so while climbing to the top of their respective division.
Because "The Machida Era" didn't end up lasting all that long, we've stopped heaping praise on undefeated fighters, afraid that as soon as their greatness is acknowledged, their run of success will come to halt and they'll join the rest of the masses with blemished on their resume and crooked letters in their loss column.
But it's time to acknowledge the fighters that have managed to make it this far without suffering any setbacks.
Here are the Top 10 Unbeaten Fighters in the UFC.
10. Kelvin Gastelum (7-0)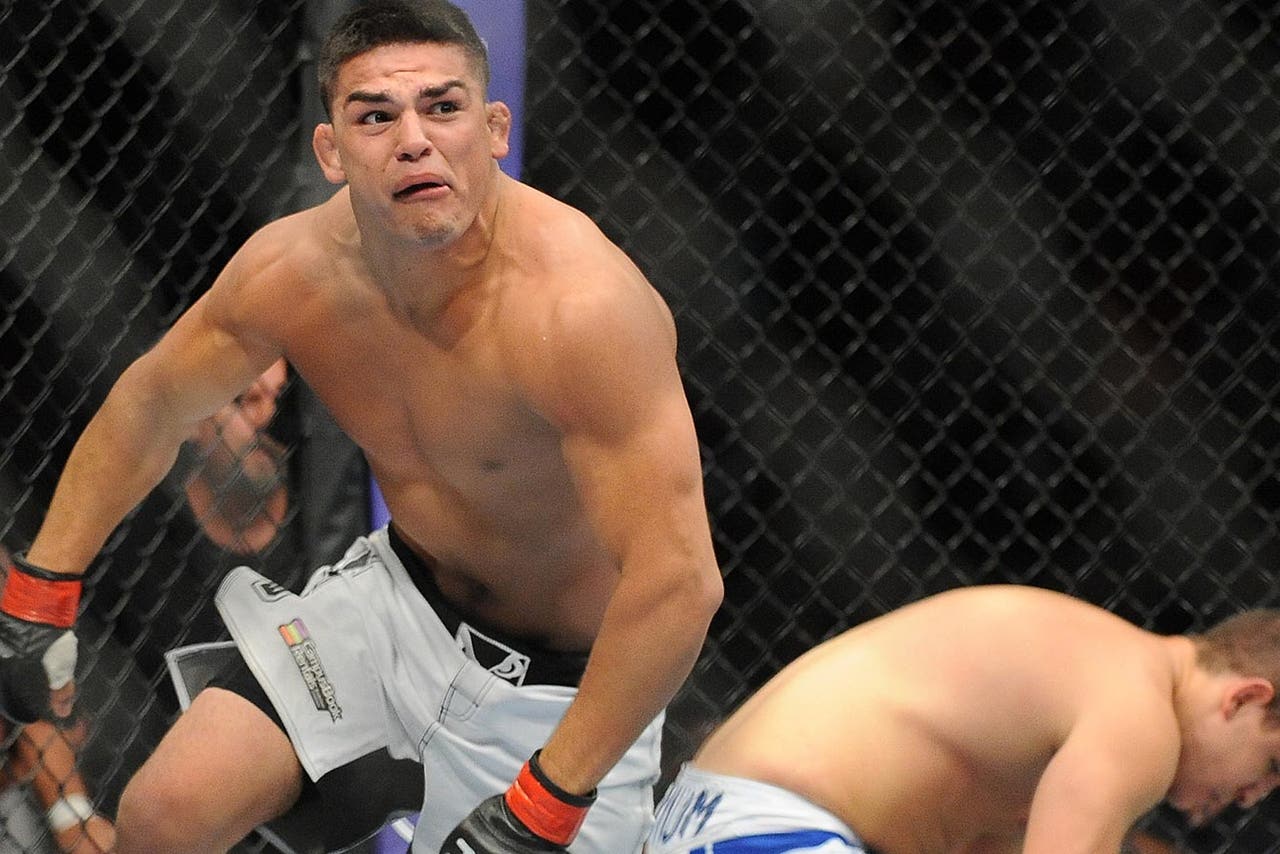 Here's the thing with putting together a list like this: at some point, you run out of "automatic additions" and hit that murky territory where four or five guys are battling for one or two spots.
Gastelum gets the nod for a number of reasons, chief among those being that he's 22-years-old and looked like a beast in his welterweight debut, where he knocked out Brian Melancon in under half a round.
The surprise winner of Season 17 of The Ultimate Fighter, you could see Gastelum's "diamond in the rough" potential during the season, as the Yuma, Arizona native showed heart, determination, and a well-rounded assortment of unpolished skills. He's only going to keep getting better with more experience and the opportunity to continue training with elite coaches and fighters.
9. Gunnar Nelson (10-0-1)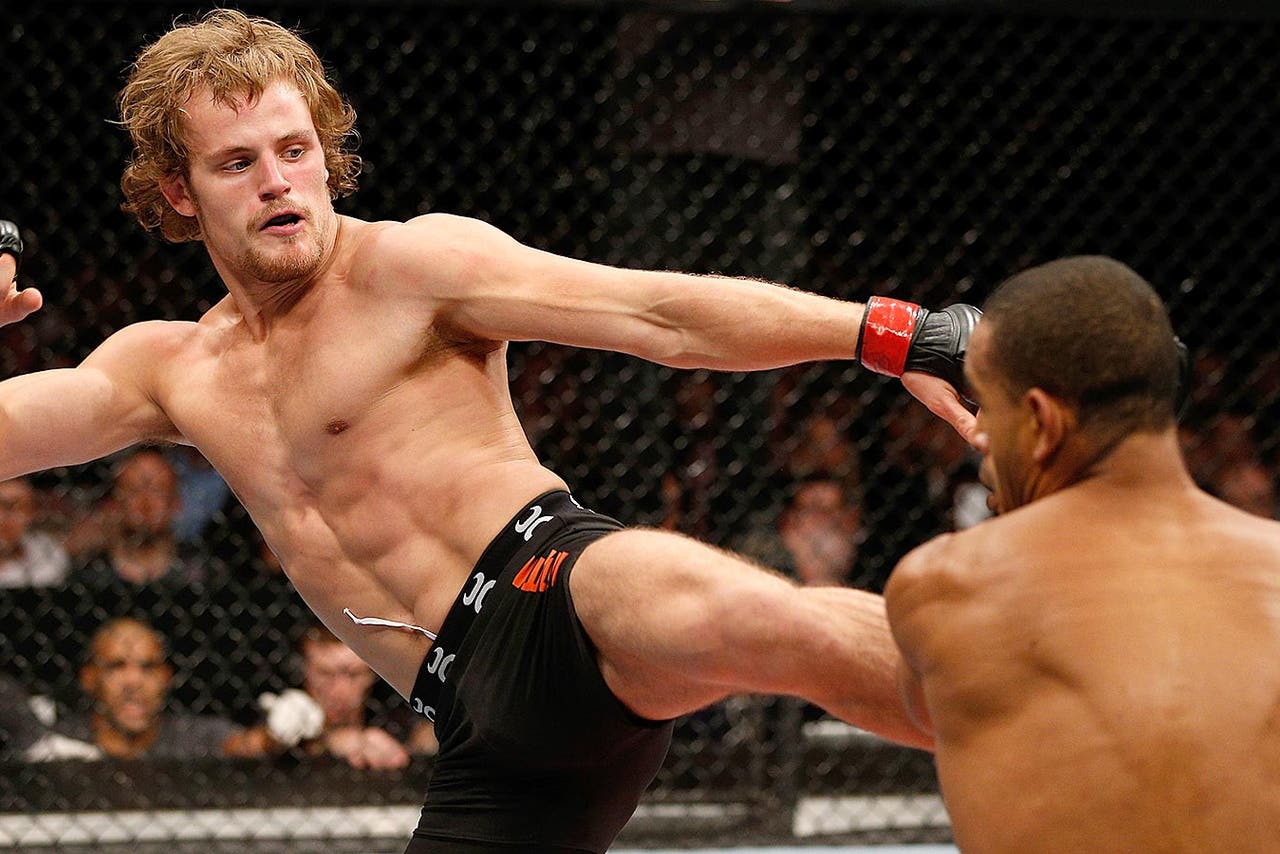 The Icelandic standout has earned a pair of wins in the UFC, but injuries have slowed his progress. He'll return to action looking to keep his unbeaten record intact next month when he takes on Omari Ahkmedov as part of the UFC Fight Night: Gustafsson vs. Manuwa card in London.
A Brazilian jiu-jitsu and karate black belt, Nelson showed there are still some rough edges to smooth out in his second UFC appearance, wading into a slugfest with Jorge Santiago where he took some big shots but still came away with the victory.
Nelson has the potential to be a contender, especially if he tightens up his striking defense. He's already one of the top submission artists in the division, has that "ice water in his veins" vibe to him, and at 25-years-old, is only now beginning to reach his athletic prime. With a couple more solid wins, we could see "Gunni" getting a Top 10 opponent.
8. Myles Jury (13-0)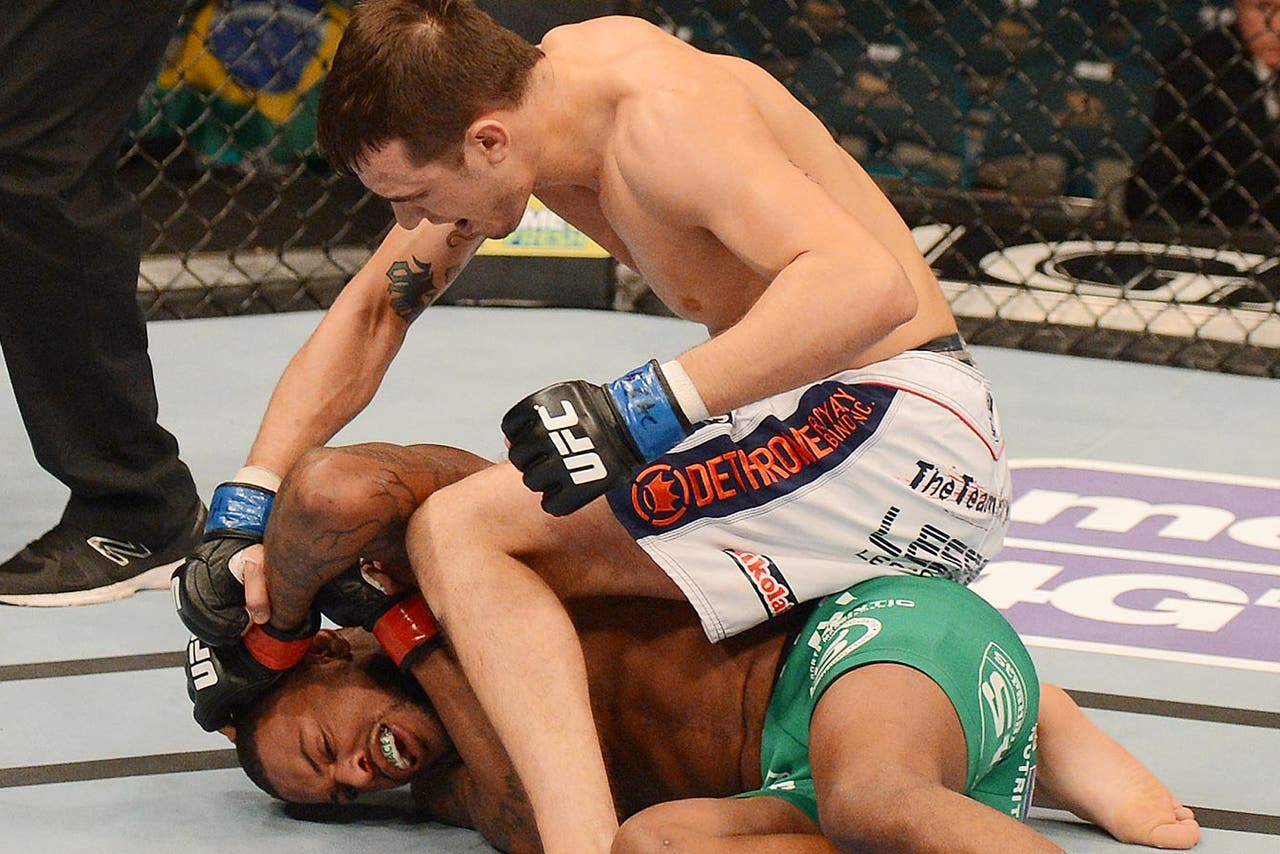 Jury is the forgotten man in the UFC lightweight division right now.
Because his last outing was an action-less grind against former TUF finalist Mike Ricci and there is a new buzz-worthy performance from someone in the weight class at every event, the unbeaten 25-year-old has slipped into the shadows of the 155-pound ranks.
But here's the thing: Jury already has three wins inside the Octagon, including a dominant unanimous decision result against Michael Johnson, who has shot into the Top 15 on the strength of recent wins over Joe Lauzon and Gleison Tibau.
A two-time contestant on The Ultimate Fighter, Jury was considered one of the top prospects in the sport before arriving in the UFC and has validated that designation through his first three appearances.
Next month, Jury gets a chance to open some eyes and push his unbeaten streak to 14 when he takes on fan favorite Diego Sanchez at UFC 171 in Dallas.
7. Jimi Manuwa (14-0)
Not only is Manuwa unbeaten, but he's yet to see the third round. Through his first 14 fights, "Poster Boy" has punished his opponents and earned the finish inside the opening 10 minutes each and every time he's stepped into the cage.
The last three of those victories have come in the UFC, where Manuwa has used wins over Kyle Kingsbury, Cyrille Diabate, and Ryan Jimmo to elevate himself to the fringes of contention in the light heavyweight division.
In just a couple of weeks, the 33-year-old Muay Thai fighter has the opportunity to shake up the 205-pound ranks when he squares off with former title challenger and current No. 1 contender Alexander Gustafsson in the main event of the March 8 Fight Night event at the O2 Arena in London.
6. Sara McMann (8-0)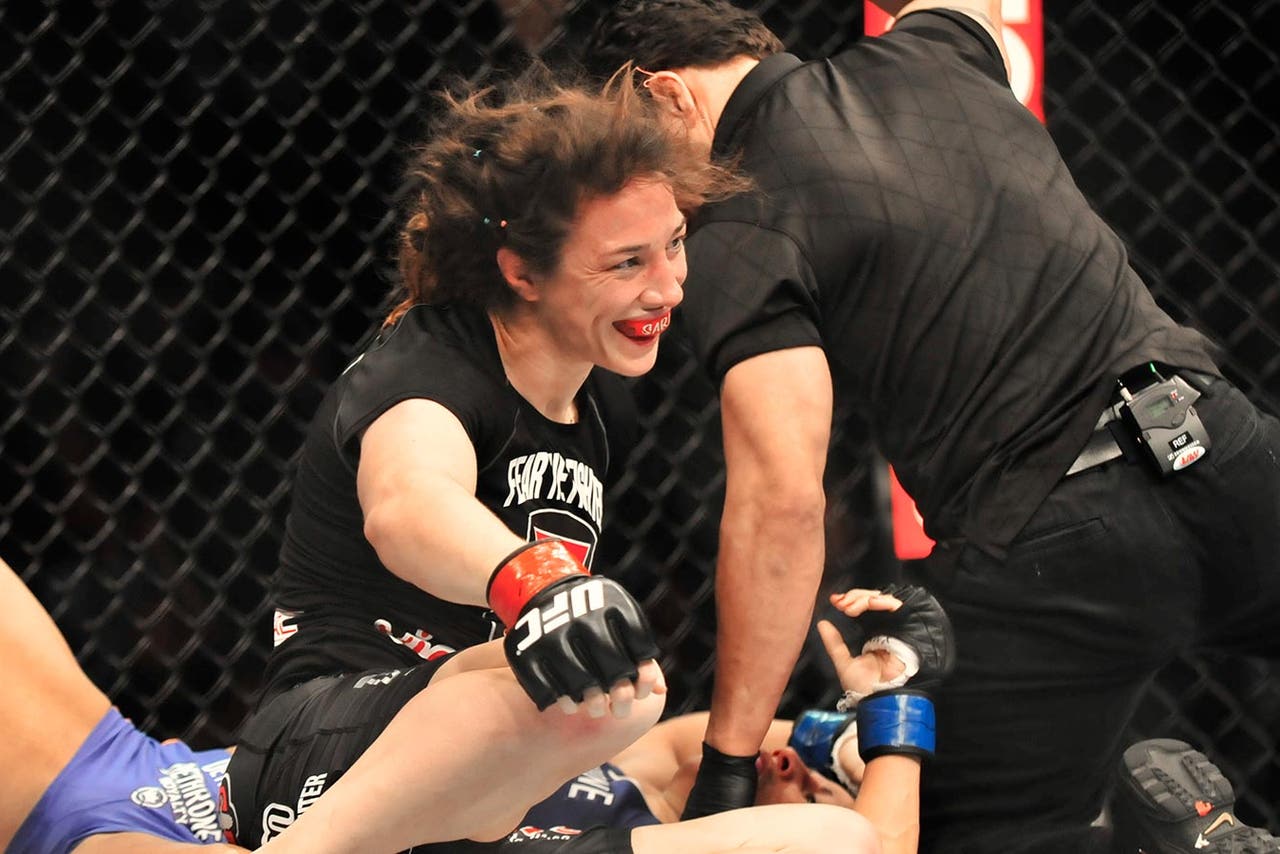 Want to know how awesome the UFC women's bantamweight division already is? McMann is No. 6 on this list and there are two more female fighters still to come.
The 2004 freestyle wrestling Olympic silver medalist could have landed higher on this list been able to face and beat Sarah Kaufman as scheduled last fall. Unfortunately, McMann pulled out of the fight, leaving her with just a single UFC appearance to date to work with when sorting out where she falls in this list.
That being said, it's not inconceivable that McMann wakes up Sunday morning as the UFC women's bantamweight champion. Her grappling acumen makes her the toughest test to date for champion Ronda Rousey—at least on paper—and while her stand-up isn't on the same level as her wrestling, we saw Miesha Tate clip Rousey a couple of times, so who's to say McMann doesn't land something clean and claim the title?
5. Cat Zingano (8-0)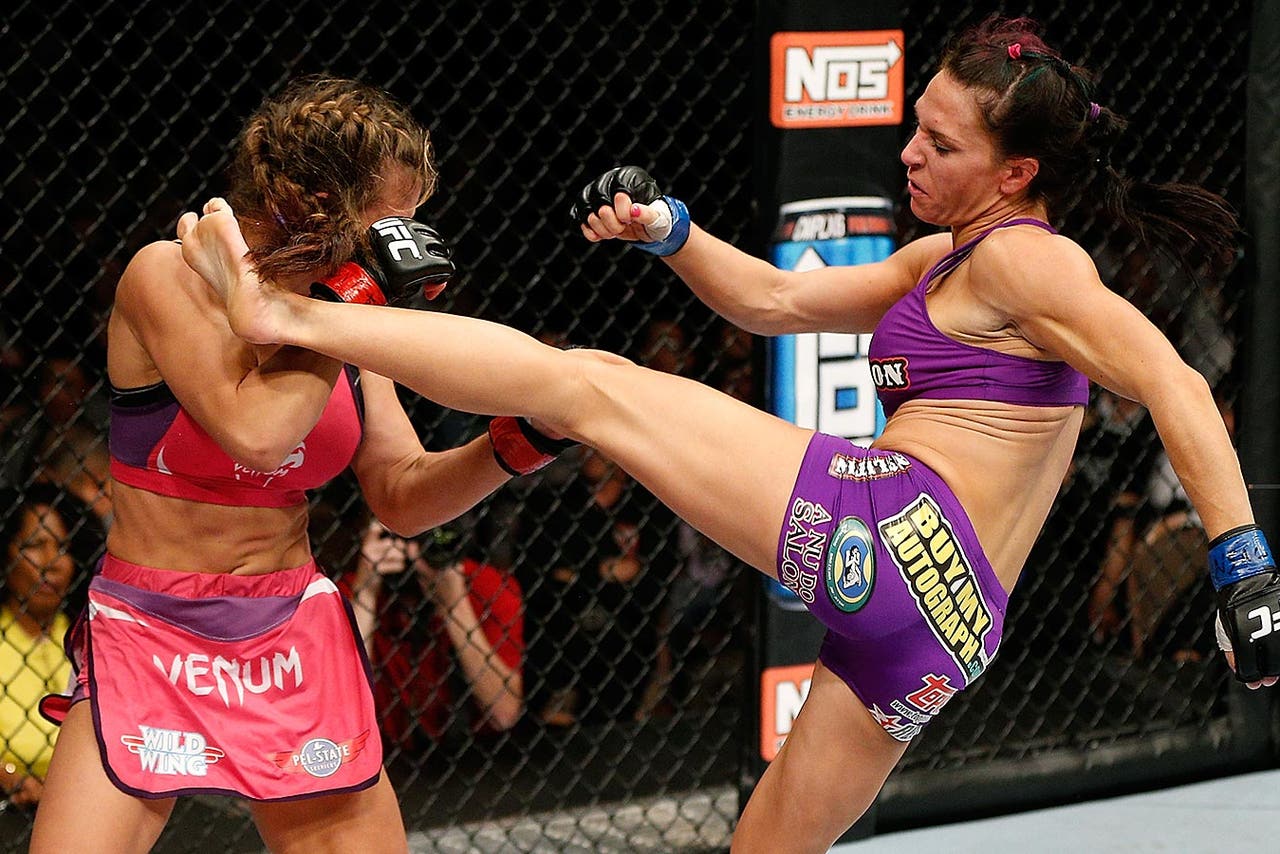 The second unbeaten title contender in the women's bantamweight ranks, Zingano gets the nod over McMann as a result of having finished Miesha Tate in her lone Octagon appearance to date.
A former Olympic wrestling hopeful, Zingano holds a purple belt in Brazilian jiu-jitsu and brings more power in the striking game than McMann. In addition to her win over Tate, the 31-year-old Broomfield, Colorado native also boasts victories over Invicta FC flyweight champ Barb Honchak and TUF 18 semifinalist Raquel Pennington.
After suffering a pair of devastating knee injuries and the death of her husband Mauricio, here's hoping Zingano makes it back to the cage and gets her opportunity to fight for UFC gold sometime later this year.
4. Khabib Nurmagomedov (21-0)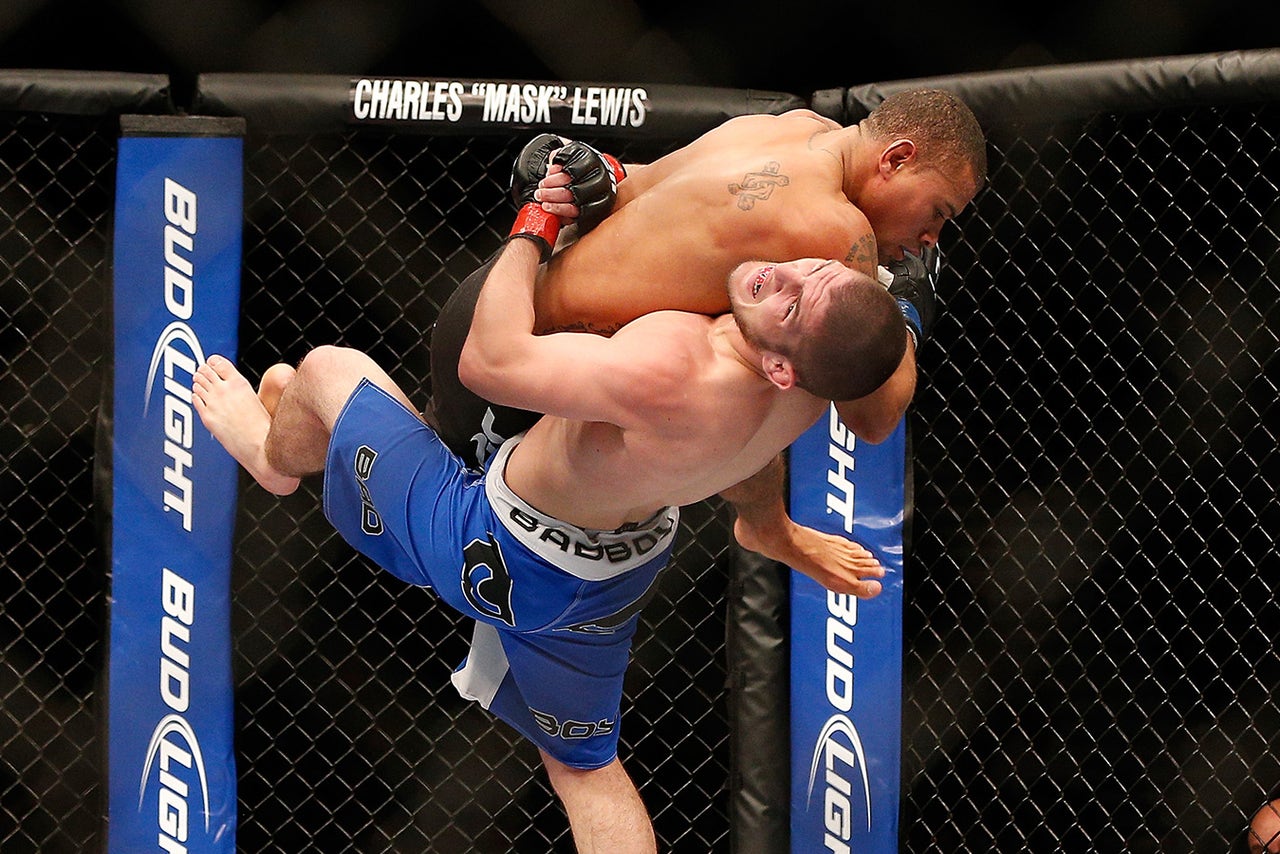 When he made his UFC debut against Kamal Shalorus, Nurmagomedov looked like a solid, but unrefined prospect. Two years later, he's a legitimate lightweight title threat with a 21-fight unbeaten streak on the go that was having a hard time finding anyone willing to share the Octagon with him.
The 25-year-old native of Dagestan has been more impressive with each successive appearance in the UFC, building from his sloppy win over Shalorus to back-to-back dominant decision wins over Abel Trujillo and Pat Healy.
Now based at the American Kickboxing Academy in San Jose, California, Nurmagomedov is already on the short list of potential title contenders in the lightweight division, and can take another step closer to a title shot with a win over Rafael dos Anjos when the two meet on the upcoming UFC on FOX show scheduled for April 19 in Orlando.
3. Daniel Cormier (13-0)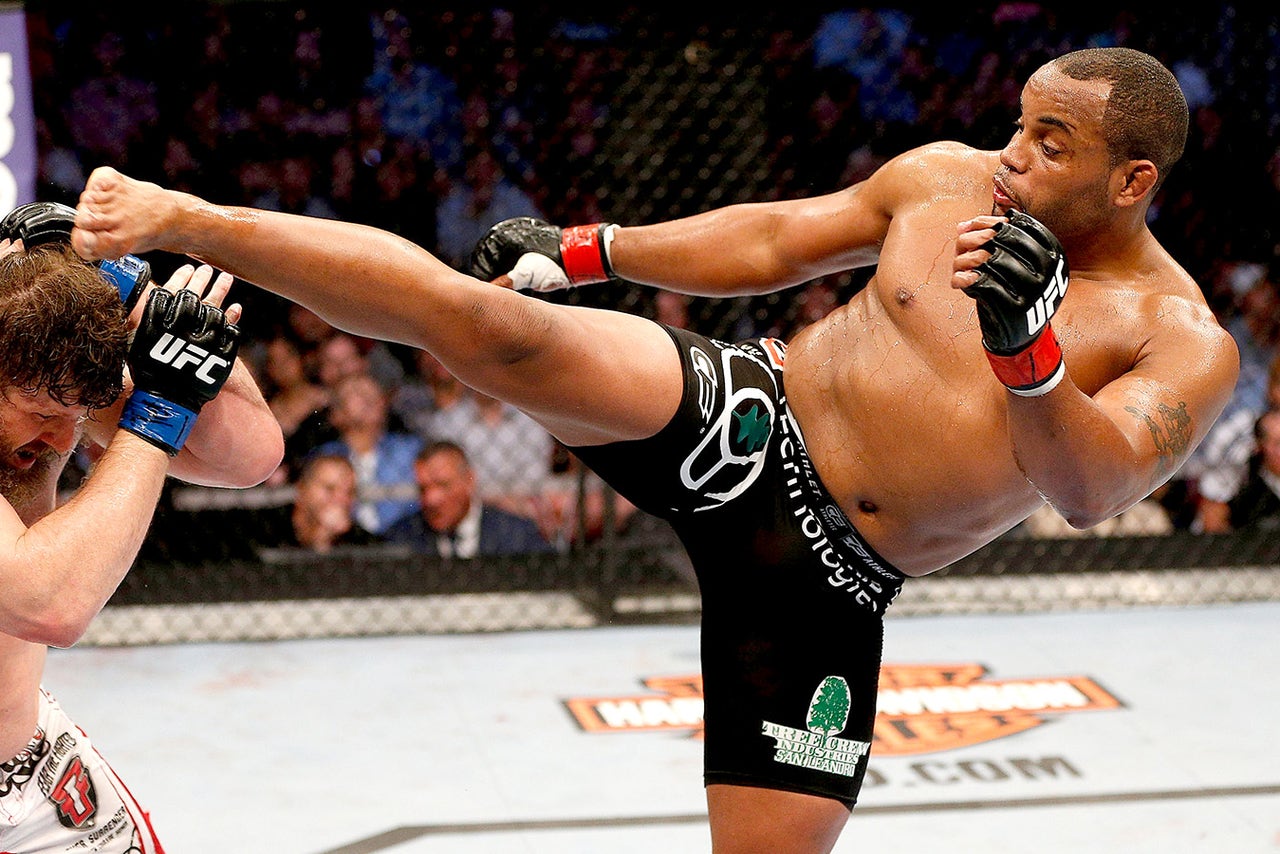 As mentioned in the intro, it's one thing to run up an unbeaten streak on the regional circuit and pick up a couple wins in the lower tier of the UFC talent pool, but it's something entirely different to continue to maintain that zero in the loss column as you're climbing the ranks and becoming a contender.
What Cormier has done since transitioning to mixed martial arts following his wrestling career is impressive, and the two-time Olympian doesn't get enough credit for the string of opponents he's turned aside.
In his last five fights, he's beaten four Top 15 opponents, including a pair of former UFC champions (Josh Barnett, Frank Mir), and former title challenger (Antonio Silva), and a perennial contender (Roy Nelson). Not many people make it through that gauntlet without a loss, and Cormier barely lost a round.
Set to embark on the next challenge of his career, "DC" makes his light heavyweight debut this weekend at UFC 170, taking on late replacement Patrick Cummins, a two-time All-American wrestler who used to train with Cormier back in the day. Will the unbeaten streak reach 14?
2. Ronda Rousey (8-0)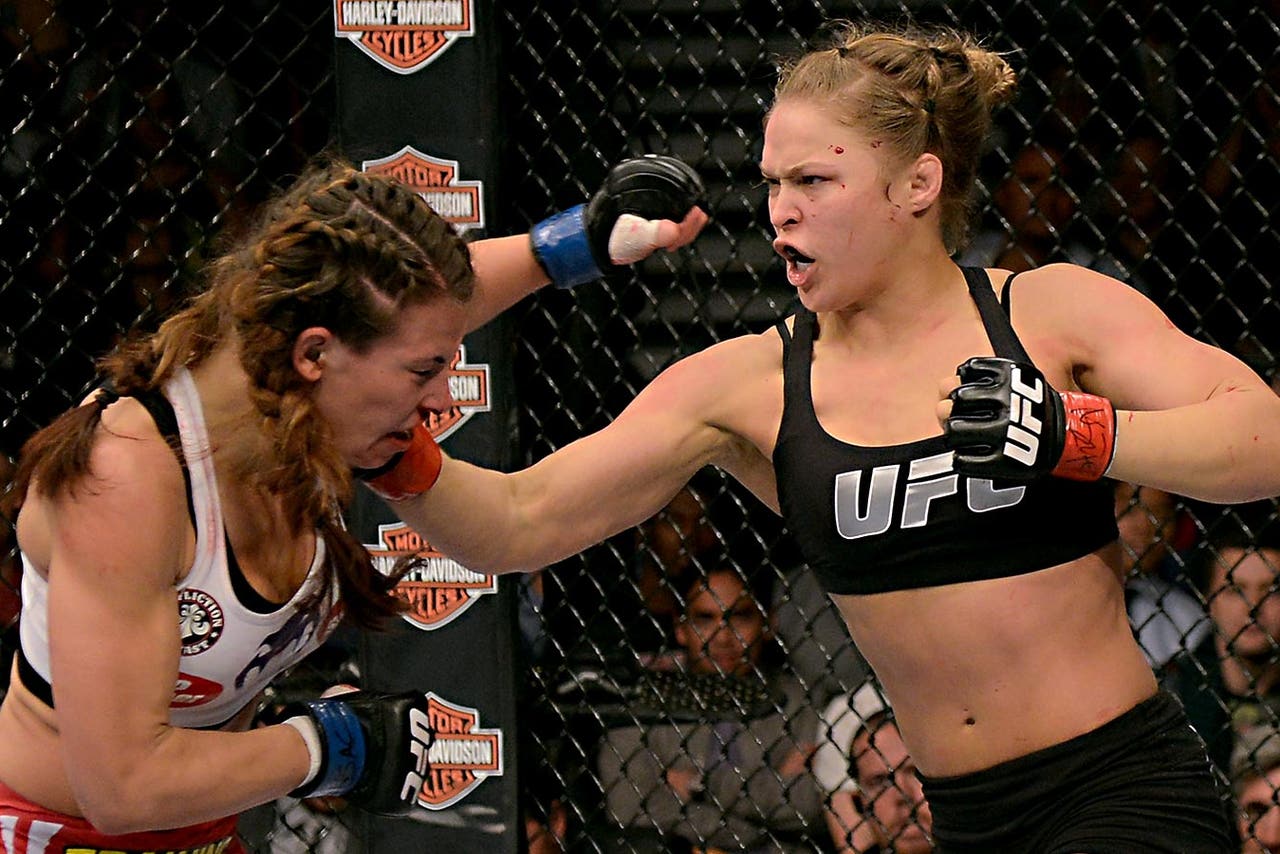 The women's bantamweight champion is a force of nature.
As impressive as Manuwa's 14-fight streak of finishes has been, Rousey has won each of her eight professional appearances (and three amateur fights) the same way—her signature armbar. What makes her string of submission wins even more impressive is that Rousey is able to set-up and catch the technique from anywhere. She doesn't need to be on a particular side or working from a specific position—all she needs is an opening.
And here's the real scary thing about Rousey: she still has a ton of room to improve. As devastating as she has been to date, imagine how good she could be in two or three more years with improved striking. While she may not stick around that long, the thought should be enough to send chills down the backs of potential challengers.
This weekend, one of the members of this list will lose their unbeaten record, as Rousey and McMann face off in the main event of UFC 170.
1. Chris Weidman (11-0)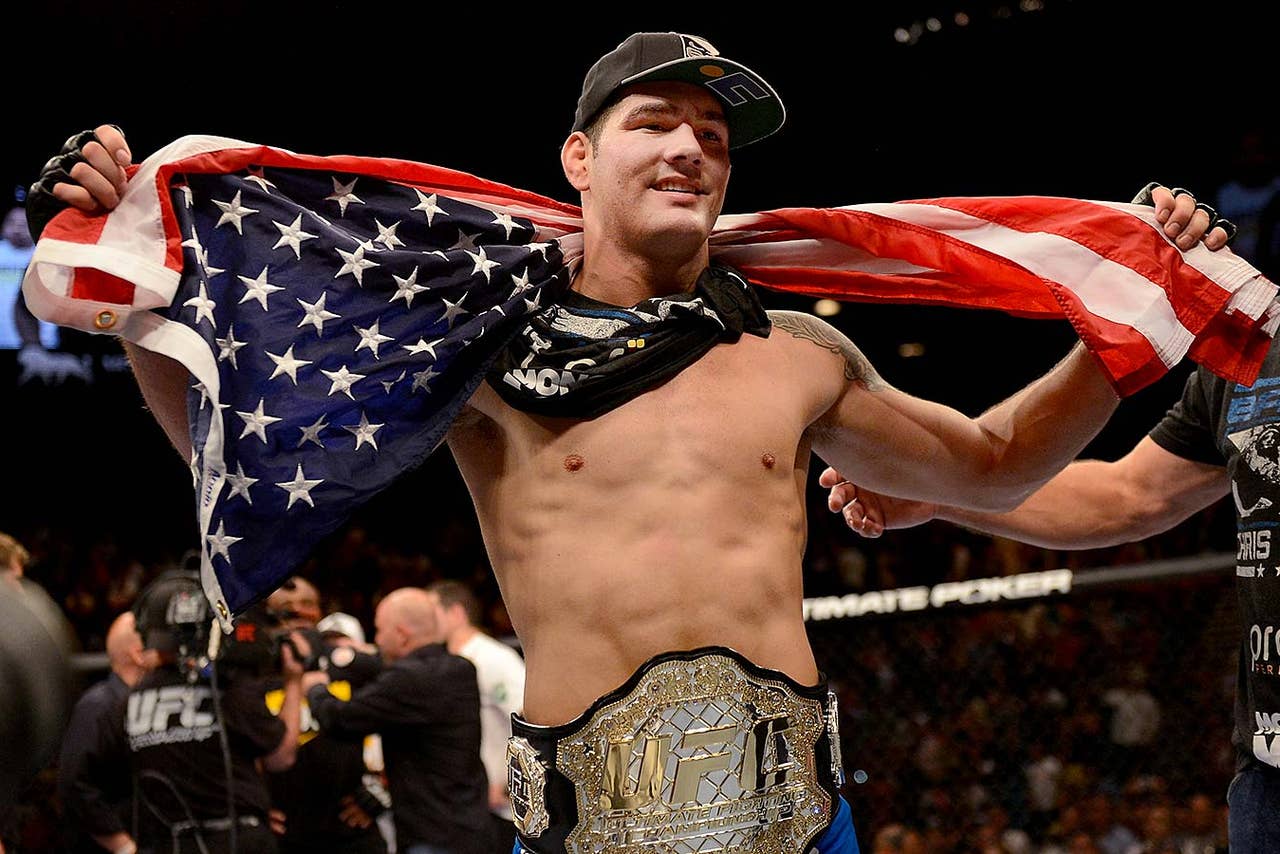 There is no way to deny Weidman top spot on this list. Pegged as a potential contender when he debuted in the UFC with a 4-0 record in March 2011, the 29-year-old Serra-Longo Fight Team product has been nothing short of spectacular over the last three years.
While it's easy to pick at his decision win over Demian Maia, people forget he took the fight on 10-days notice and cut 30 pounds in a week to make weight. He followed it up by knocking out Mark Munoz with a nasty little slicing elbow, and has since earned back-to-back victories over "The Greatest of All-Time," Anderson Silva.
There's no room for "Yeah, but..." offerings either—Weidman thoroughly dominated every second of each fight until they ended and stands as the undisputed UFC middleweight champion.
Next up for the top undefeated fighter in the UFC, a Memorial Day weekend date with No. 1 contender Vitor Belfort.
---
---