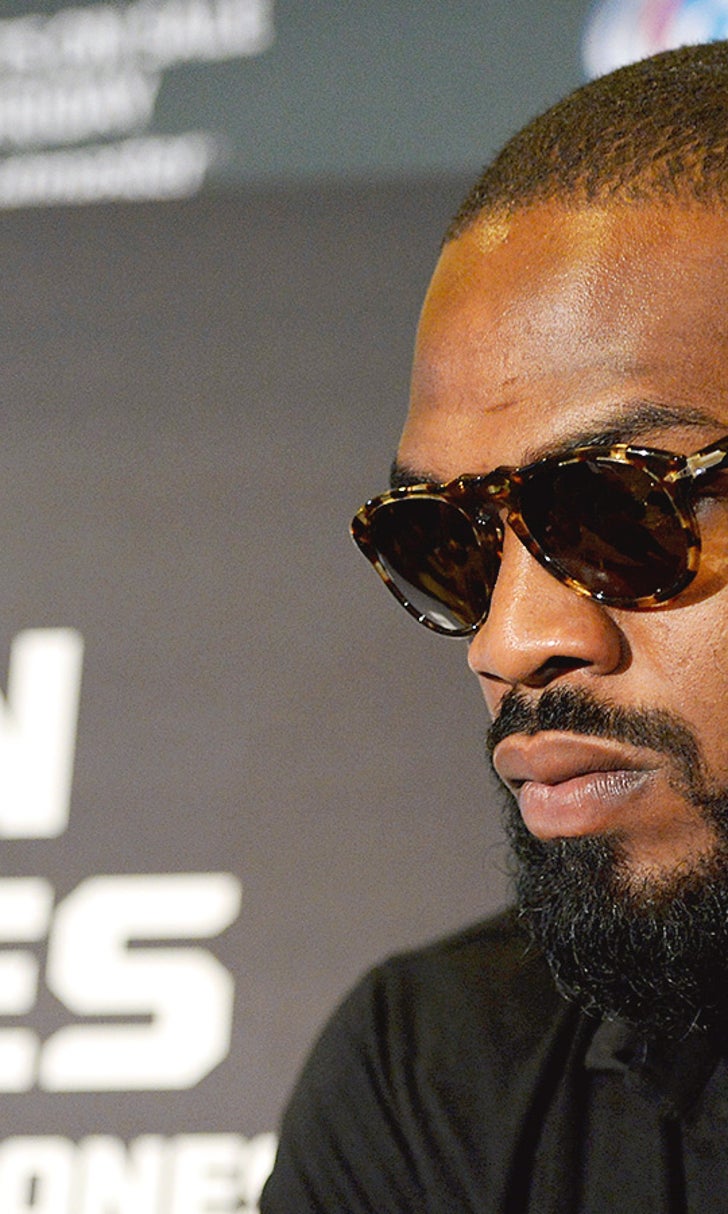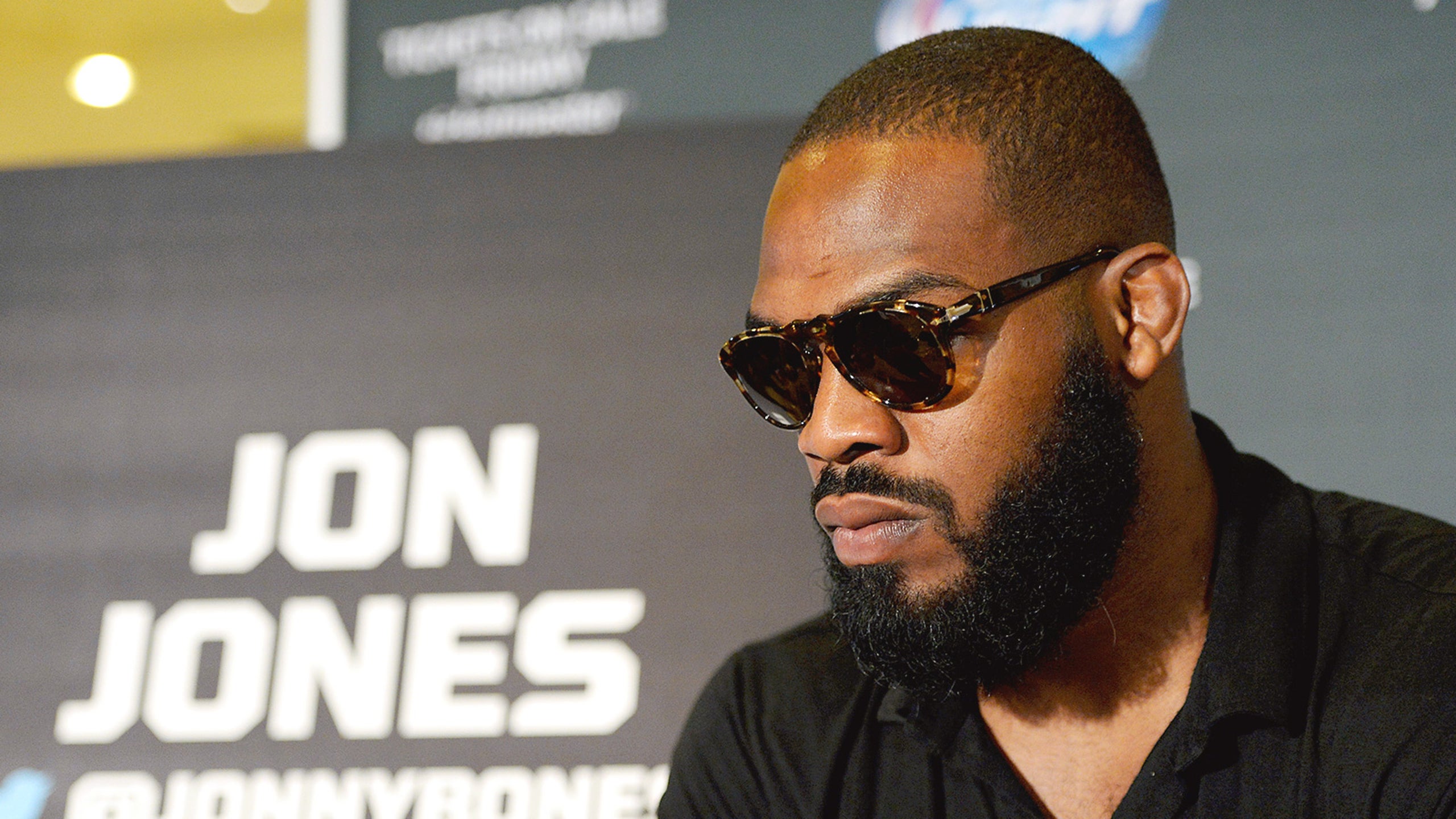 UFC's Jon Jones on whether he's phony: 'Who's the same person all the time?'
BY foxsports • August 7, 2014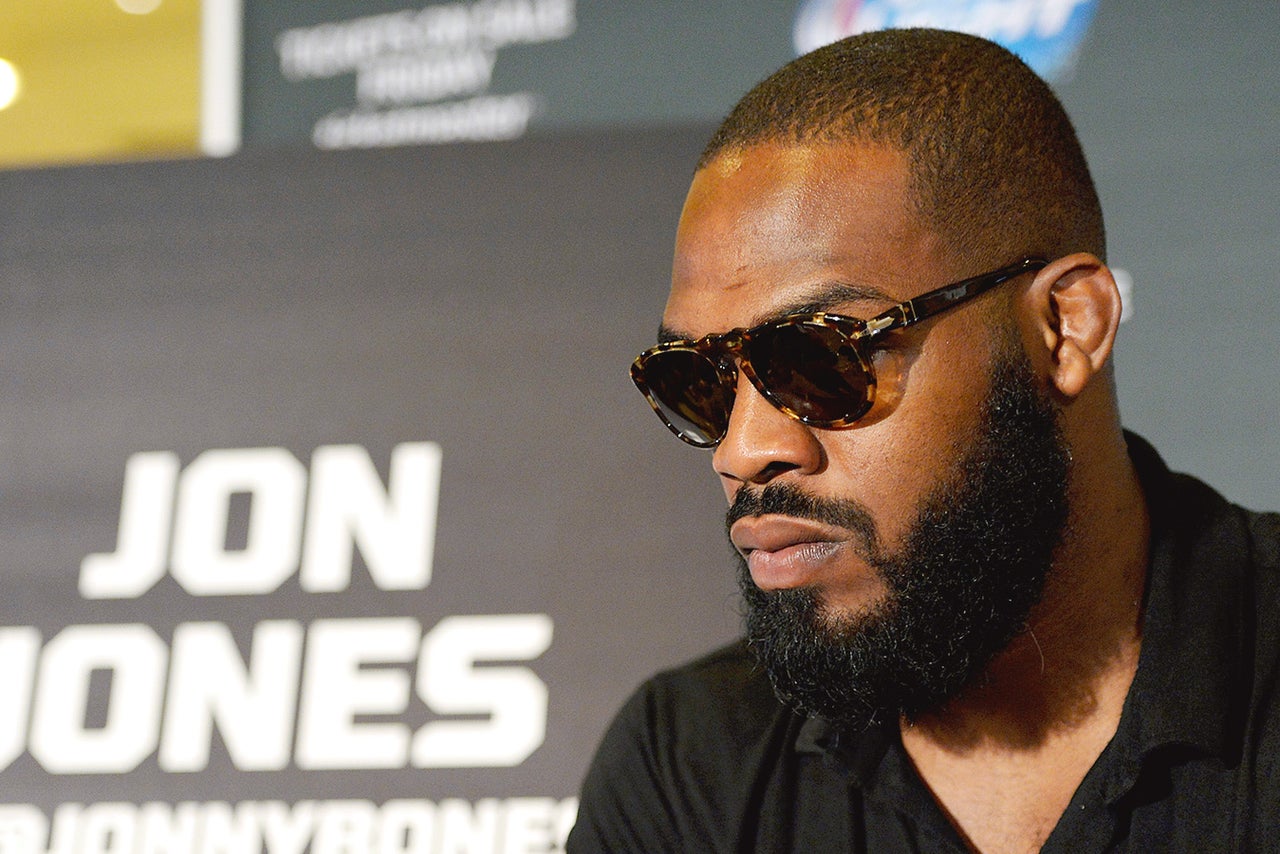 LOS ANGELES -- It was just a few hours after the press conference brawl that made Twitter explode Monday. Jon Jones and Daniel Cormier were about to square off again on camera, only this time in separate studios in an ESPN SportsCenter interview.
Before going live, the mics were turned on and Jones and Cormier could hear each other. Nothing they said would be printable for a family website.
"We started going off -- screaming and just cussing, calling each other some of the dirtiest things that you could call someone," Cormier said.
Then, Jones' demeanor completely changed when producers told the pair that they were on the air.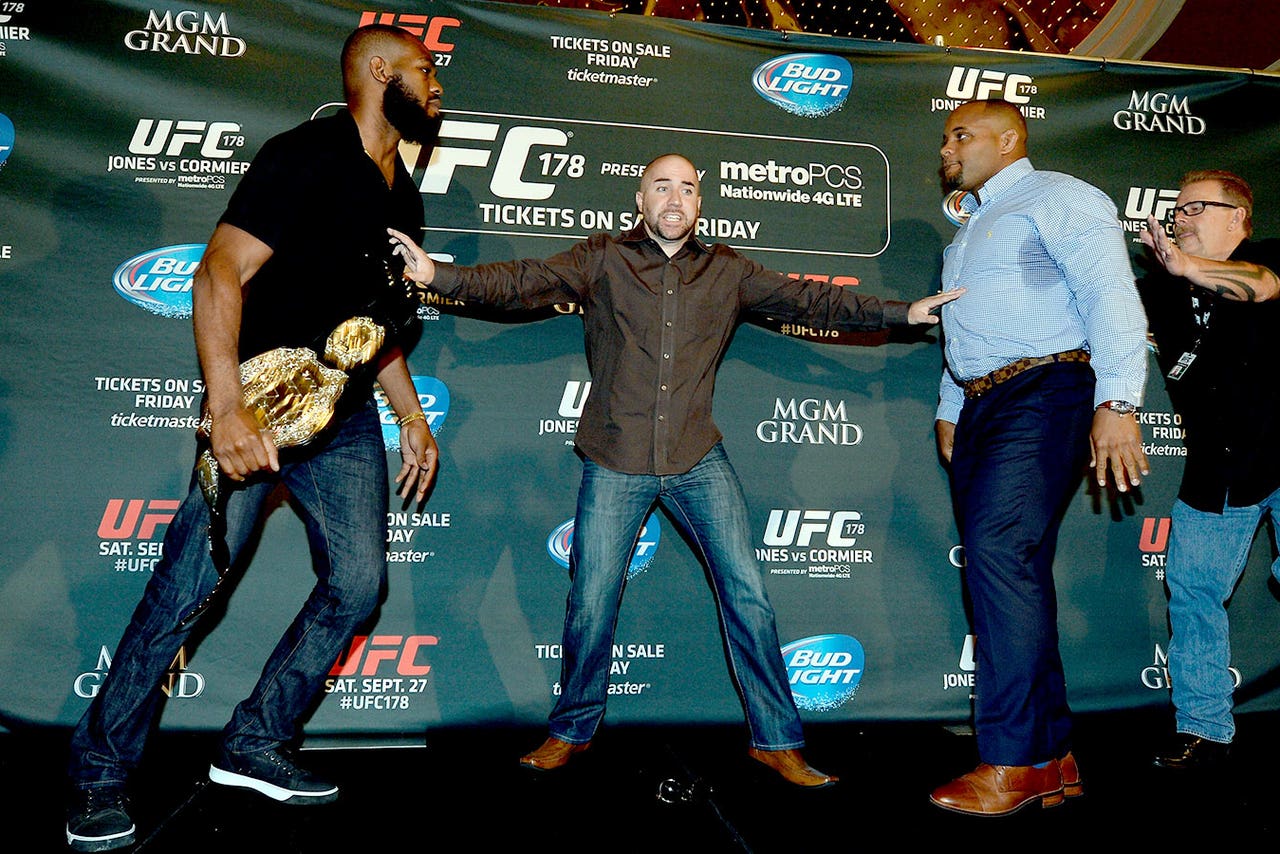 The scene right before Jon Jones (left) and Daniel Cormier brawled on stage Monday inside the MGM Grand lobby.
"The moment they said action, it was just like this [soft] voice: 'I apologize and I'm really sorry to the MGM Grand,'" Cormier said before a UFC 178 fan event Tuesday in Downtown LA. "And I'm like, what? For me, I understand being professional. But for me, I couldn't let it go that fast. I was emotionally into it. … It's like, how do you just turn it off like that, turn off your emotions that way. That's what bugs me."
That situation is the perfect example of why Cormier has accused Jones, the UFC light heavyweight champion, of being fake. That's the exact word Cormier ended up calling Jones in that ESPN spot and he also accused him of being a liar.
Now, Cormier isn't the first one of Jones' opponents to make those contentions. Jones said it all started with his former friend, Rashad Evans, in 2012. Evans, Jones said, called him phony and everyone else has followed along.
"Because it's so hard to insult me technically -- everyone has seen my performances -- what else can you go to?" Jones said. "My character. How do you judge someone that you don't know?"
Jones, 27, will meet Cormier in the main event of UFC 178 on Sept. 27 in Las Vegas. As he explains, that will be a different Jones than the one who spends time with his family and a different Jones who hangs out with his friends. The Jones that does interview on camera is a completely distinctive one altogether.
"We all have hats to wear," Jones said. "So I can feel something about someone and express the way I feel, but when the camera is on, I have a job to do. I represent a brand. I represent a fanbase and I'm not going to be an idiot on national TV just because I don't like the person who's on the other side of the camera. So yeah, he's telling the absolute truth. I swore, I told him all types of [profane], terrible things and when the cameras went on, I was professional. If you consider that fake … "
Jones shrugs and contorts his face as the words trail off. He brings up an interesting point. Does having different sides to your personality with the different people in your life make you insincere? Or is it just natural? And is it fine to put on a good face for the media when everyone knows you're probably seething inside?
Cormier, 35, calls the fact that Jones changes like a chameleon to fit the situation "disingenuous."
"One way or the other, be who you are," Cormier said. "That's my thing. If you're this great guy, then just be this great guy. But if you're kind of an asshole a little bit, then just be [an asshole]. People will respect you more. They want to see the true you. … On ESPN, I was childish a little bit, I was kind of petty. Because that's me. I can't just turn it off. When I'm upset, I'm upset. I couldn't just turn it off for the TV."
Jones evidently has a switch. How he is being viewed seems to always be on his mind. In the same interview Tuesday, Jones analyzed how onlookers must have felt about the brawl.
"I think I turned a lot of fans off," Jones said. "I think I turned a ton of fans on [too]. … I see the good that came from it -- as far as the exposure and the interest, the excitement I gave the fans. And I see the negative as far as people thinking we're barbarians and we're a taboo organization."
The champion seems to be forever picturing things through the eyes of others and his actions are shaped by those feelings. Jones is a sensitive and introspective person. But he said he doesn't care if people think he's a fraud.
"You show different sides of yourself throughout the day," Jones said. "In one day, we can show a hundred different hats. Who's the same person all the time? Everyone has different sides of themselves."
Cormier is rubbed the wrong way by Jones' behavior. Before the two faced off and came to blows Monday in Las Vegas, they shook hands out of sight of the crowd and Cormier introduced Jones to his fiancée Salina. Jones, Cormier said, was kind and respectful.
Minutes later, the two were toppling off the stage trying to beat the crap out of each other.
"Just be Jon Jones," Cormier said. "People are going to love you or people are going to hate you. At the end of the day, they're going to love you for who you are or they're going to hate you for you are. And even if you try to pretend you're someone else, they're still going to see right through it and it'll make them dislike you more."
---
---