UFC on FOX: Junior dos Santos vs. Stipe Miocic Crystal Ball Predictions
BY Elias Cepeda • December 10, 2014
The second of two exciting UFC cards this weekend is a good one, ladies and gents. UFC on FOX: dos Santos vs. Miocic has big men slugging it out to get closer to gold, as well as top lightweights fighting to get a title shot.
In the main event, former champion and always thrilling to watch Junior dos Santos steps back into the Octagon for the first time in over a year, and he's welcomed by contender Stipe Miocic, who hopes one more win will earn him a heavyweight title shot.
In the co-main event, Rafael Dos Anjos also believes that he's one win away from a title shot, but former title challenger Nate Diaz has different ideas. We've also got a toss-up battle between giants Alistair Overeem and Stefan Struve on the card.
If you want to see who is coming up the UFC ranks, you need to watch this card Saturday night. And, if you want to be prepared to watch it as an educated fan, we humbly suggest that you check out our main card picks below.
Junior dos Santos vs. Stipe Miocic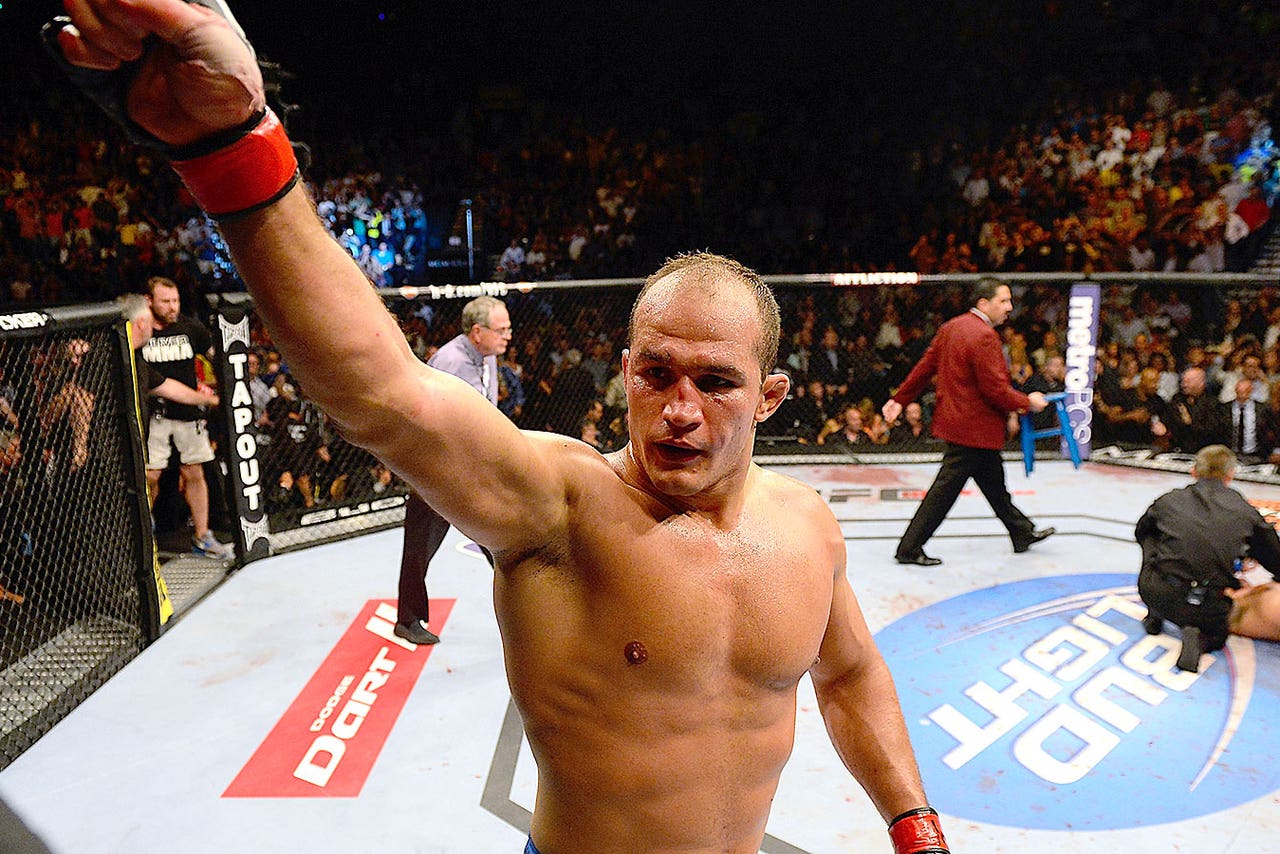 How will Junior dos Santos fare in his UFC return against Stipe Miocic?
On the one hand, it is hard to pick former UFC heavyweight champion Junior dos Santos to lose against anyone other than current champ Cain Velasquez. After three fights against one another, Velasquez has shown himself to clearly be the better fighter.
However, over the course of his entire UFC career, dos Santos has also demonstrated that he is head and shoulders above every heavyweight not named "Cain." At least, was.
Dos Santos hasn't fought since getting battered and finished by Velasquez in Oct. 2013 as he heads into a UFC on FOX main event in Phoenix against Stipe Miocic. There simply is no telling how much the Brazilian bomber has left until he steps into the cage again.
Has he taken too many blows after rushing into a third fight against Velasquez and receiving a second bad beating, and as a result will never again be quite the same? Or, has the time off allowed him to heal his body and brain enough to make another run?
Miocic is about as good a test as dos Santos could hope for to be able to demonstrate that he's still able to fight and win at the highest level. Miocic has only lost once, to Stefan Struve in 2012.
Since that loss, the part-time firefighter has won three straight and would appear to be one or two fights away from a title shot. Assuming both men are at their best, it is still an intriguing fight.
Miocic has been able to effectively box-up most of his opponents, and also possesses good take down skills. Will his hands be good enough to hang with perhaps the best boxer in the division, dos Santos?
And, will Miocic's take downs be better than the likes of those who have tried and failed in the past to put "Cigano" on his back, like Shane Carwin? If dos Santos has slowed at all, we think Miocic is a good underdog pick.
However, if the rest has been good for Dos Santos and he comes in sharp as ever, he might be a half step ahead of Miocic all fight long, and pull out a decision win.
Prediction: Junior dos Santos by unanimous decision
Rafael dos Anjos vs. Nate Diaz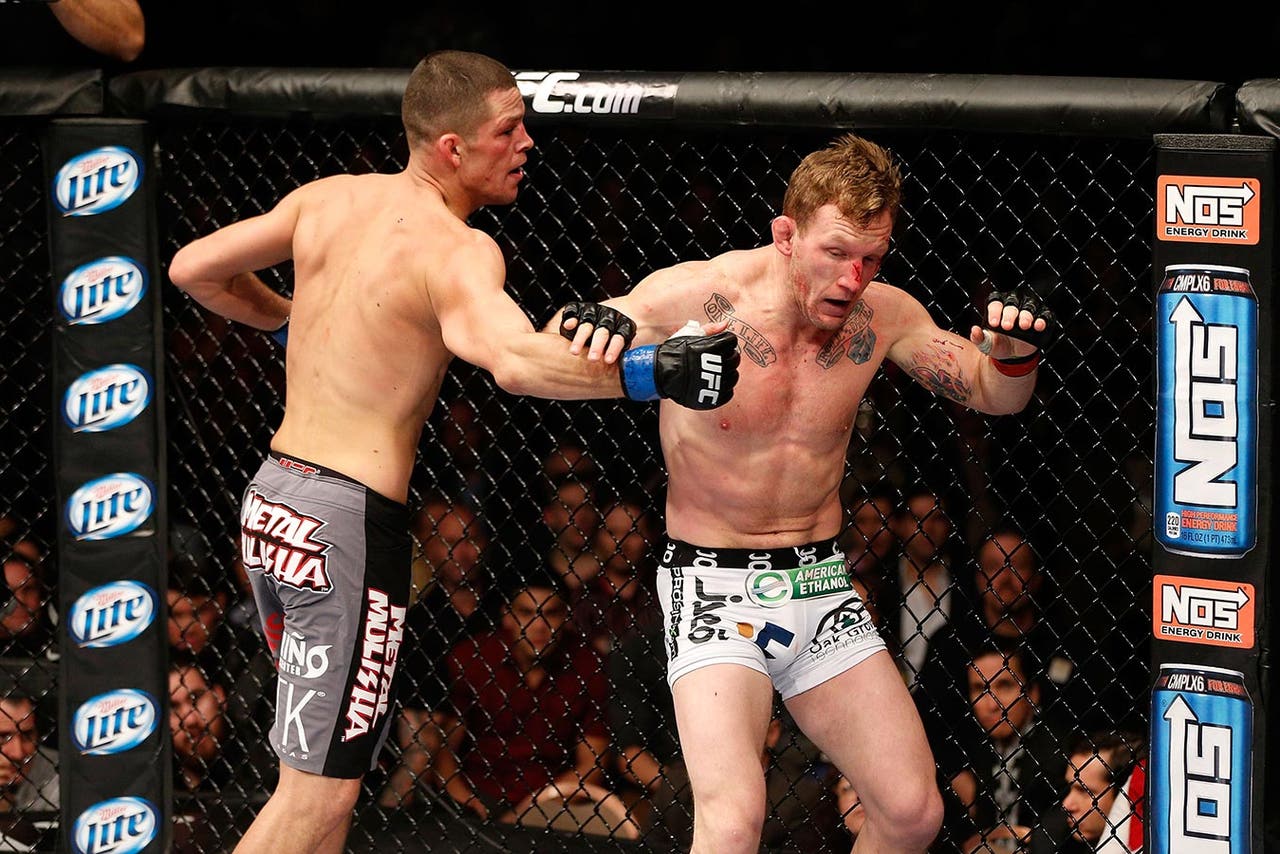 Can Nate Diaz (left) pick up where he left off in 2013?
The returning former title challenger Nate Diaz has not fought in over a year, while Rafael dos Anjos is at the hottest point of his career, with two straight wins including a knockout over Benson Henderson.
Perhaps such a long layoff has been a good thing for the seemingly perpetually world-weary Diaz. We know that both he and his brother Nick stay in great shape year-round, so he could have used the past year to heal injuries and improve his skill-set.
For his sake, hopefully he has, because dos Anjos looks better and more confident than he's ever been. The Brazilian may usually be an underdog, but he also believes that he's more well rounded than the Stockton fighter.
After winning seven out of his last eight, dos Anjos believes that a win over Diaz will earn him a title shot. Diaz plans on spoiling his opponent's title fight plans.
In the stand-up striking department, dos Anjos may have one-strike KO power, but Diaz still may be the better volume puncher. That style, combined with his excellent cardio allows him to keep a steady pace all fight long, while opponents usually fade.
If dos Anjos can do well enough to earn Diaz's respect on the feet with his own strikes, can set up takedowns and stay out of Diaz's dangerous full guard, he could very well win handily. Doing all of that is a big task, however.
We think that Diaz will be able to land enough on his feet to keep dos Anjos off of him, and should be able to get back to his feet when needed. It should be close but we're going to give a slight edge to the bad boy from Northern Cali.
Prediction: Nate Diaz by unanimous decision
Stefan Struve vs. Alistair Overeem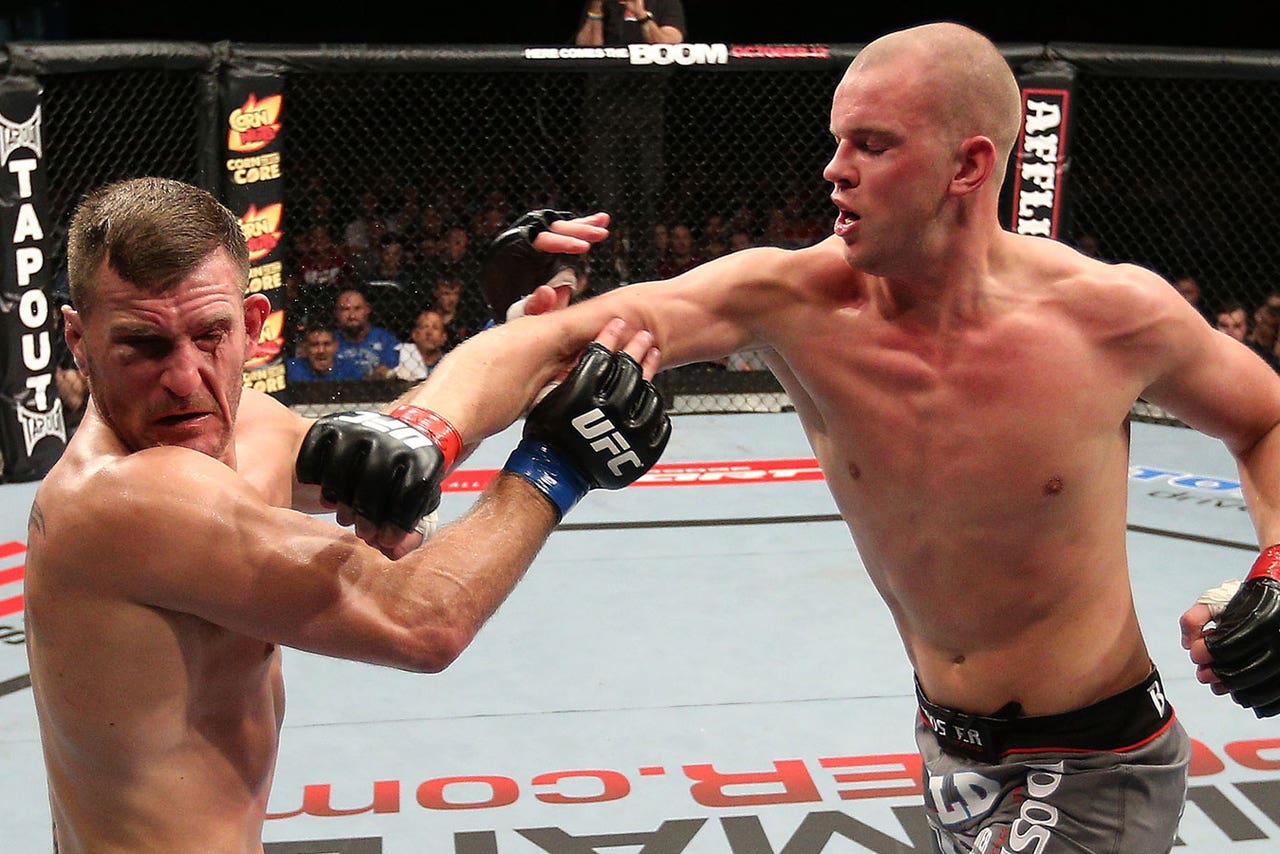 Stefan Struve (right) is capable of big things, including beating the likes of Stipe Miocic (left).
There are so many 'X' factors in this fight that it's difficult to feel certain about any prediction. Is Alistair Overeem a supposedly "better" striker than Stefan Struve?
Well, sure, but that's also been the case for The Reem against the many men who have managed to still knock him out. Kickboxing is different than real, full MMA striking, and Overeem has found that out the hard way with his straight-ahead peek-a-boo stance and guard that has allowed a great deal many strikes through, over the years.
Struve has also taken a lot of damage over his career. Add into the mix his scary heart condition, a year and a half away from competition, and an anxiety-related fainting incident before his last scheduled bout, and there's no telling how well he'll be able to fight.
What we do know, however, is that while he was healthy, Struve was the far more successful and consistent UFC heavyweight. Over nearly six years, Struve has fought some of the very best the division has to offer and has pulled off a 9-4 record.
Before losing to Mark Hunt in his last fight, Struve rattled off four-straight wins, including a TKO over current top contender Stipe Miocic. Over the course of his UFC heavyweight career, Overeem is just 2-3, with three knockout losses.
Before that, he mostly fought much less stiff competition as a heavyweight. We're guessing Overeem plays it smart and mixes in take downs with his strikes, like he did in his last win, against Frank Mir.
If Struve can get back to his feet and can snap strikes down the middle on Overeem, he should have a good shot. We'd like to pick Struve, because he's the more accomplished heavyweight, but with his heart and related health issues, there are just too many variables to know for sure how well he'll be able to fight.
So, we'll pick Overeem to win on the basis of takedowns and staying out of trouble in Struve's good guard.
Prediction: Alistair Overeem by unanimous decision
Gabriel Gonzaga vs. Matt Mitrione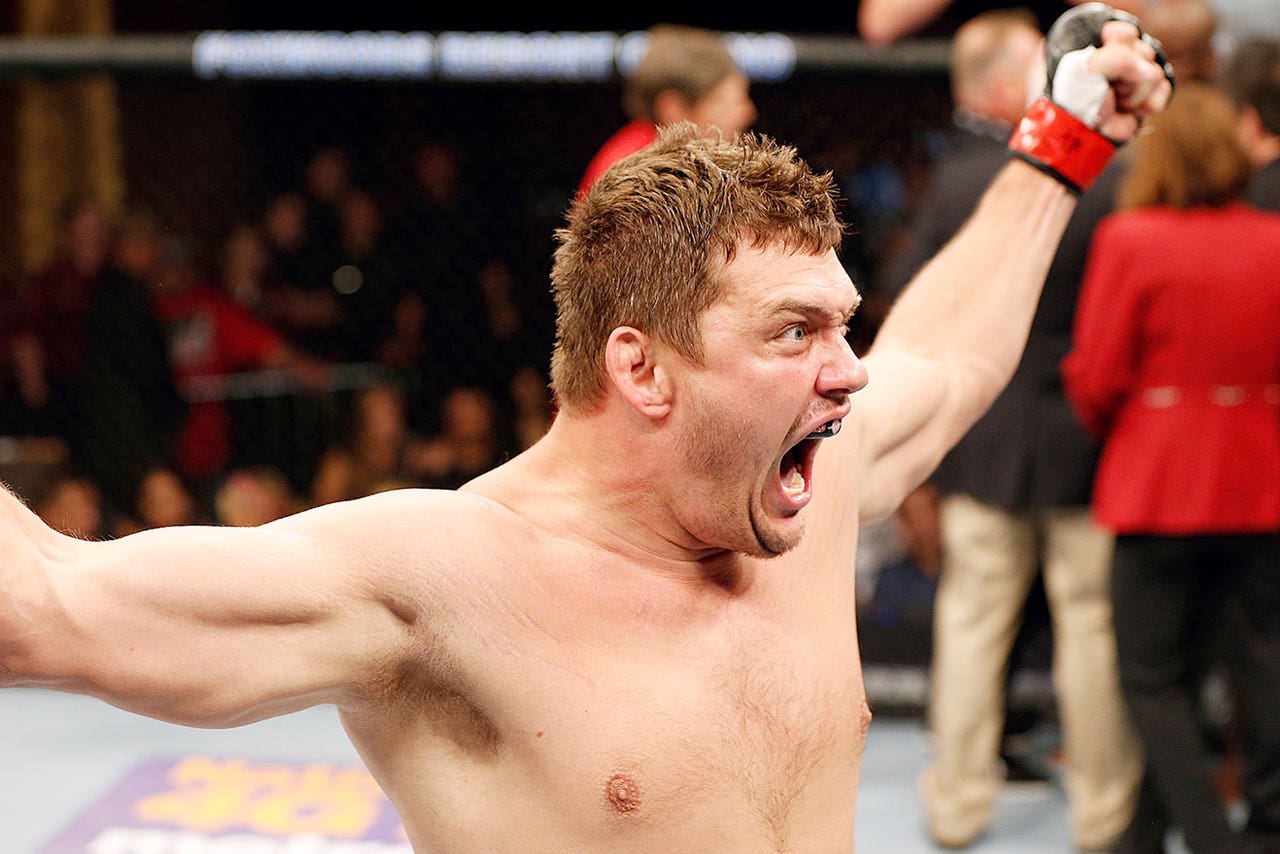 Matt Mitrione will face the best opponent he ever has in Gabriel Gonzaga.
Matt Mitrione has had an excellent 2014, after an uneven couple of years prior. The former football player has two KO wins this year, so far, but now closes out against the best fighter he's ever faced.
For his part, Gonzaga is coming off a loss 11 months ago to headliner Stipe Miocic. To beat Mitrione, Gonzaga has to come with conditioning, not let "Meathead" land a haymaker on the feet, and put him on his back.
From there, the Brazilian Jiu-Jitsu black belt should be able to handle the TUF veteran.
Prediction: Gabriel Gonzaga by second-round submission
---
---