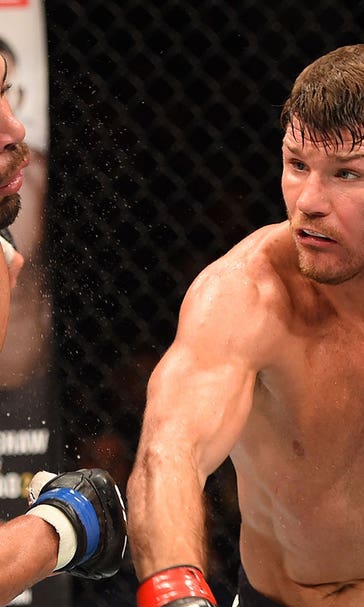 UFC Fight Pass doubling down on live events and new content over the next year
September 9, 2015

Before Eric Winter was ever hired as the general manager of UFC Fight Pass, he was already well aware how this particular piece of combat sports worked.
Winter was an executive at DirecTV who helped spearhead the satellite company reaching a deal with the UFC in the early 2000s to bring MMA back to pay-per-view. Years later, while he was at Yahoo! Sports, Winter brokered a deal to bring UFC pay-per-views online in a streaming format on the site.
So when the opportunity came to work directly with the UFC on their own digital streaming network, Winter was ready to go to work as the first full-time employee to oversee the project in the 18-plus months Fight Pass has been available.
Yes, you heard that correct.
For the past year and a half that UFC Fight Pass has existed, employees at the world's largest mixed martial arts promotion all chipped in to help build and maintain the digital streaming service, but Winter's hiring as the first ever full-time employee working directly on the project meant things were about to kick into high gear in 2015 and beyond.
"I'm the first full-time employee of UFC Fight Pass. Let that sink in and soak in for a moment. You're talking about 10 men and women at the UFC, you're talking about a crack team that was put together 14 months ago with all the nuts and bolts to put a product together that at any other company in America or around the world would have a 50-person team associated with it. The people at the UFC, there were no full-time employees," Winter explained when speaking to FOX Sports.
"I thought (UFC Fight Pass) served a purpose while they had the product standing up as is. Now finally we're putting together a team of people."
Before Winter started making changes at UFC Fight Pass, he first had to examine what was already available and in all honesty he was pretty impressed.
The service already had a back catalog of hundreds upon hundreds of fights, not to mention live streaming of UFC prelims as well as UFC Fight Pass specific events and a slew of new partnerships with promotions like Invicta FC and Titan FC to broadcast live MMA across the world.
Still it was undeniable that things could get better and so that's what Winter was brought on board to do -- revamp UFC Fight Pass to an even bigger and better version than what's already available.
"I was pretty happy with the product because I'm a fight fan. It wouldn't matter if you threw it up on the broad side of a barn or a tablet or my mobile device, I knew what I was paying for and I knew what I was getting and I enjoyed it," Winter said. "Should the technology be better? Absolutely, 100-percent and that's why the leaders of this company have doubled down on its support and their support of the Fight Pass product."
Winter has only been with the UFC for a matter of weeks, but September is already a huge month for the genesis of what he hopes Fight Pass will become one day.
A new series titled "The 3rd Degree with Kyra Gracie" was produced where the multi-time Brazilian jiu-jitsu champion from the most famous family in all of MMA travels around the world to train in martial arts disciplines far removed from her classic grappling background.
For the first time ever, the UFC secured the rights to every single one of women's bantamweight champion Ronda Rousey's championship fights, including her bouts in Strikeforce, which were previously unavailable. UFC Fight Pass then packaged all of her title fights in a back-to-back format where each championship bout rolled directly into the next for about 15 minutes of non-stop action.
Documentary series like "Fightography" continued with a look at recent UFC Hall of Famer B.J. Penn as well as a new "Pioneers of MMA" with Bas Rutten and a catalog of every single fight he had during his career from Pancrase to the UFC to his final fight in WFA.
Fight Pass also added fighter panels from the recent UFC Fan Expo, with a focus on women's MMA, champions in the UFC and legends of the Octagon.
But for all the original programming being added, Winter knows the heart of UFC Fight Pass is the live streaming of original events with fans able to tune in and see action from the best fighters in the world -- whether it's the women of Invicta FC or a new deal where Pancrase events will be shown live starting in October 2015.
"We are a digital streaming service but the foundation of our business is going to be live events," Winter said. "Remember this, the UFC has 40 live events per year. Whether it's on FOX, FS1, FS2, or pay-per-view and the handful of UFC Fight Pass only events.
"Every single one of those has a UFC Fight Pass streaming component to it. Do we do a good enough job of educating the public who those fighters are? The answer is absolutely not. It is our job to educate the public on all the great live content we have.  The foundation is going to be live streaming. I'm not going to promise that there's going to be 12 live streaming UFC-only Fight Pass events, but it's going to be a broad mix of fighting from around the world."
In addition to Invicta FC and Pancrase, UFC Fight Pass already has deals in place with Titan FC, based out of North America, Shooto in Brazil and a new addition from Russia called EFN MMA.
Winter promises that's only the beginning.
The new team at UFC Fight Pass will be constantly adding back catalogs of fights and other original programming and his hope is less than a year from now that the service will have twice as much content as it does today.
"We are going to double down on the amount of content that we add in the library of Fight Pass," Winter said. "Let's just say for argument sake say we have 9,000 pieces of asset -- fights, events, originals, TV shows that are part of UFC Fight Pass -- dare I say, in 10 months we are going to double the amount of content."
Winter's ultimate goal as the new general manager of UFC Fight Pass is to make a product the promotion can be proud of, but most importantly -- a service fans want to use. Winter plans to re-evaluate quite often to make sure he's keeping up with the expectations of the customers because without them, UFC Fight Pass wouldn't exist.
"The digital world has a distinct advantage and it's called data and knowledge. The user is going to tell us with their credit card if they like our product or not," Winter said. "They're going to tell us with their behavior. Are they watching all 15 minutes of that Ronda Rousey collection? Because if they watch seven minutes, we failed them for some reason.
"We are working on the product every single day. But we have the benefit of knowing what the users want based on behavior to give them what they want and that is key."
---
---