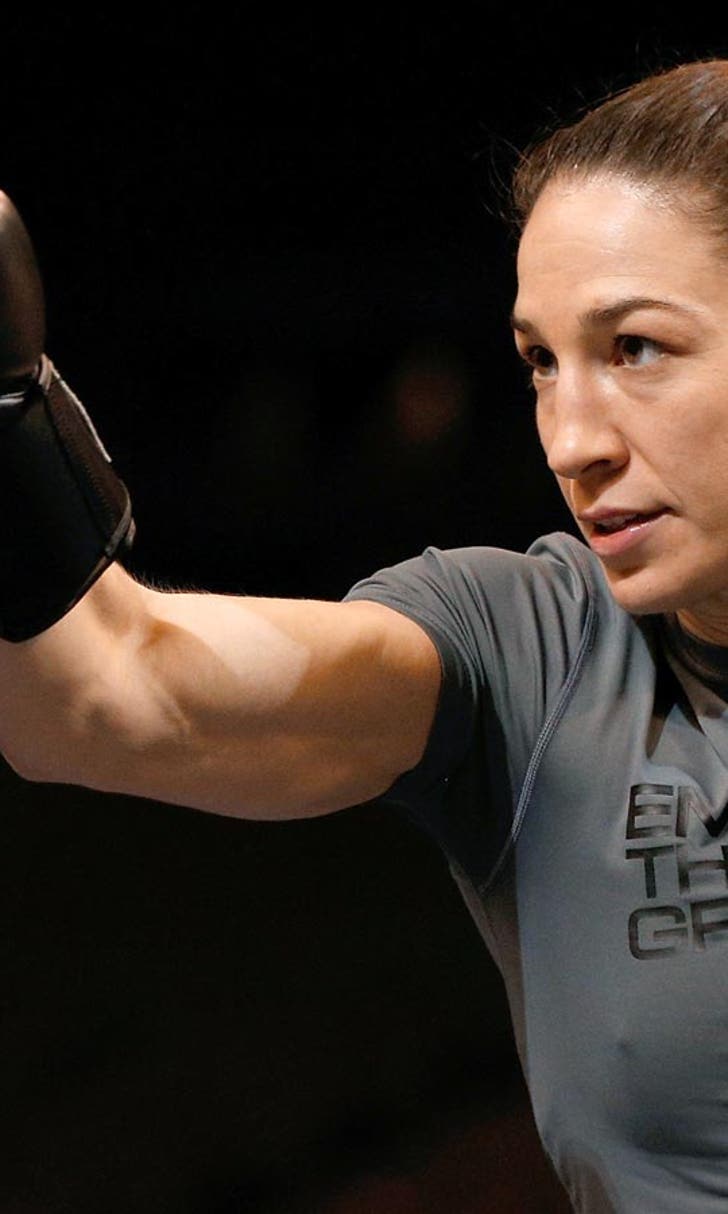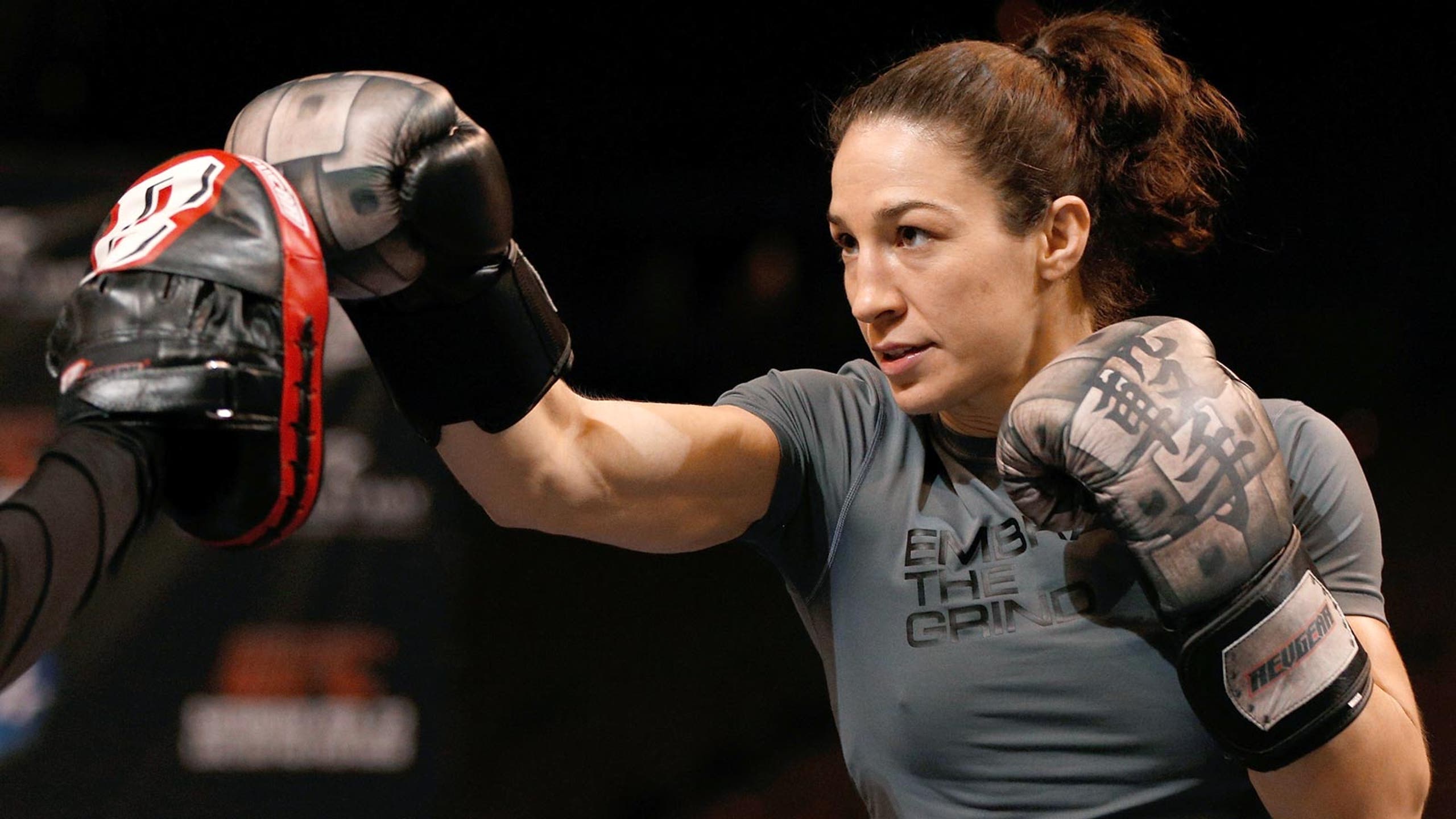 UFC 170: The long shot gamble
BY foxsports • February 20, 2014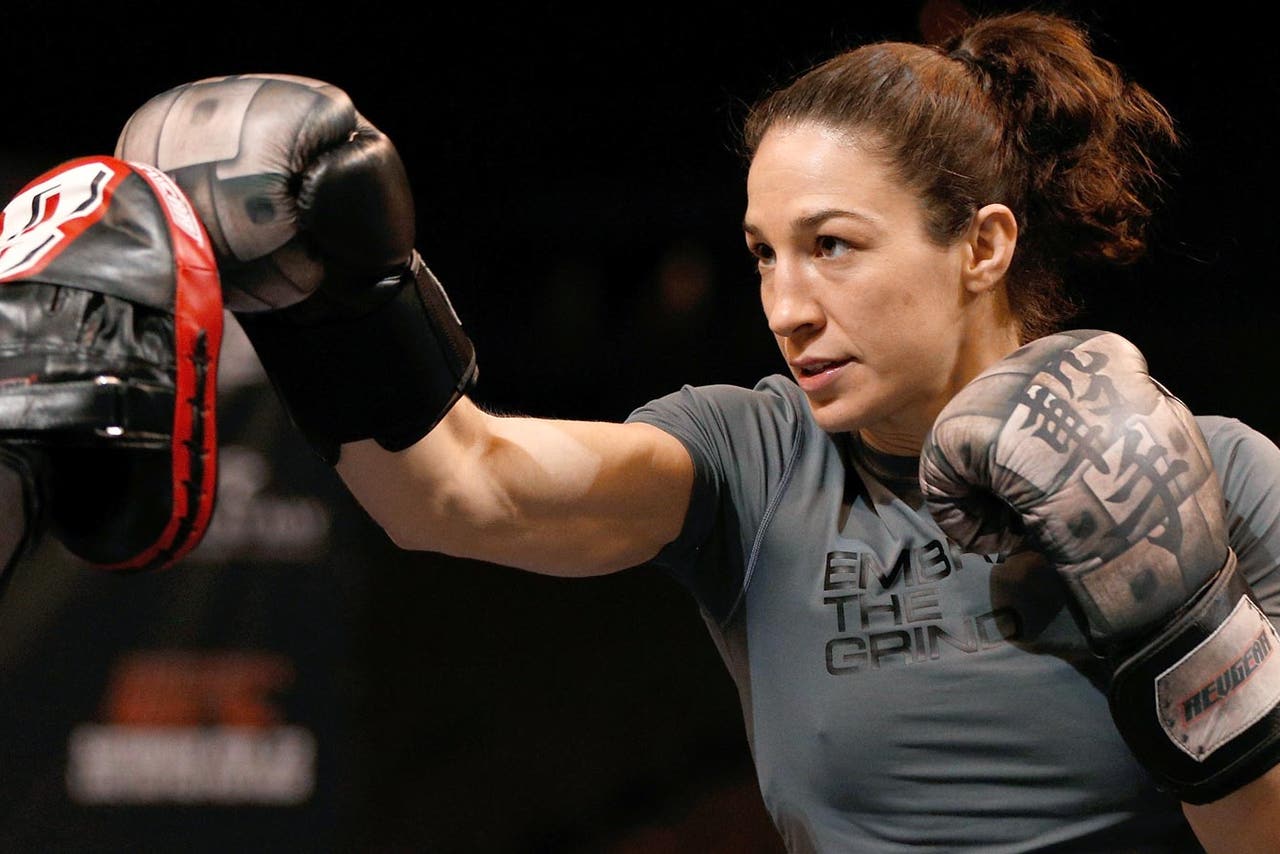 LAS VEGAS -- We are in the middle of nowhere. We forget this because of the neon lights and the loud sounds and all of the sensory stimulation that hits you from the moment you step off the plane at McCarran International Airport. But this is a town built in the middle of nowhere, constructed on the universal dream of one single thing: luck. Every few minutes, a plane lands and the new suckers get off with the same hopes of hitting the mega-jackpot that will change their life. Every few minutes, another plane takes off, the old ones heading home with lint and a few old business cards lonely in their wallets.
The house always wins. We know this, yet we still come. Besides, there's always the off chance that it's your day. Some lucky sap has to win once in a while, otherwise this whole charade would go up in dust. 
That makes it the best and worst setting for Saturday night. It's a reminder that the odds are the odds for a reason, yet maybe, just maybe ...
There's no denying that the top two fights on the UFC 170 card are generally viewed as lopsided, even though one of those was somewhat beyond the promotion's control. In the co-main event, Daniel Cormier is a favorite for the ages, bet up to -1800 in the Mandalay Bay sports book against Patrick Cummins, a promotional newcomer plucked out of obscurity after Rashad Evans was injured and Cormier pleaded for a replacement. And Ronda Rousey is -600 to beat Sara McMann and stay unbeaten. 
Here's the thing about those numbers: both of them started out lower, meaning the public is overwhelmingly betting on the overwhelming favorites. Doesn't anybody want to take a flyer on a sizable underdog? Even in Sin City, it seems like no one is feeling that kind of lucky. And Cummins, he doesn't have the cash to even bet on himself. Oof.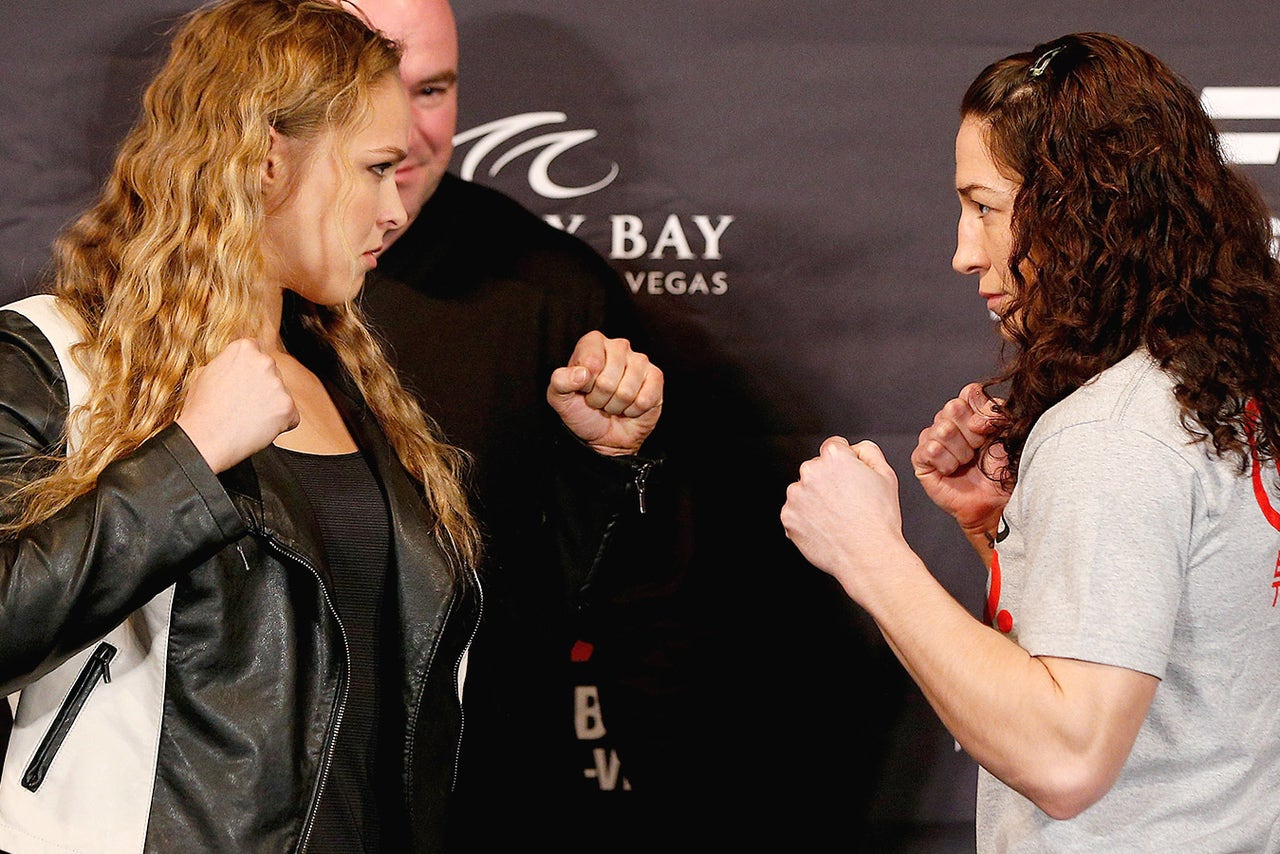 Does this sound compelling to you? I suppose that depends on your bent. From some perspective, of course it is. Two weeks ago at this time, Cummins was working a drive-thru window at a coffee shop trying to find a way to jump start his MMA career. It wasn't just Evans' injury that opened a door for him; it was his past with Cormier. If either one of those events hadn't happened, he'd still be serving up heart lattes. 
"I thought there was a chance just given the history, but it was definitely a long shot," he said of his social media campaign that landed him here. "But it wasn't something like, 'Hey, I want this," and then, 'Oh, no, I have it.' I saw the headline [of Evans' injury], and I just immediately thought, 'I would take that fight.' And here I am."
He says this punctuated with a few laughs, as if he still can't truly believe it is all happening. It is all a little surreal, we must admit. Even White has likened it to a "Rocky" story. Being the fight fan he is, he surely remembers that Rocky loses to Apollo the first time around. 
At least Cummins has upped the ante by recalling exploits of training rooms past. According to him, he "broke" Cormier in some of those sessions. He conveniently leaves out the fact that Cormier railroaded him in an actual match situation. Nevertheless, it's a history that Cormier felt should have been left to the past. 
"People actually think this is like Rocky," Cormier said. "It's not like Rocky, boys. I'm not underestimating this guy. I know that I have a fight on my hands and because of that I'm so well prepared mentally and physically. I'm going to really just run him out of the cage."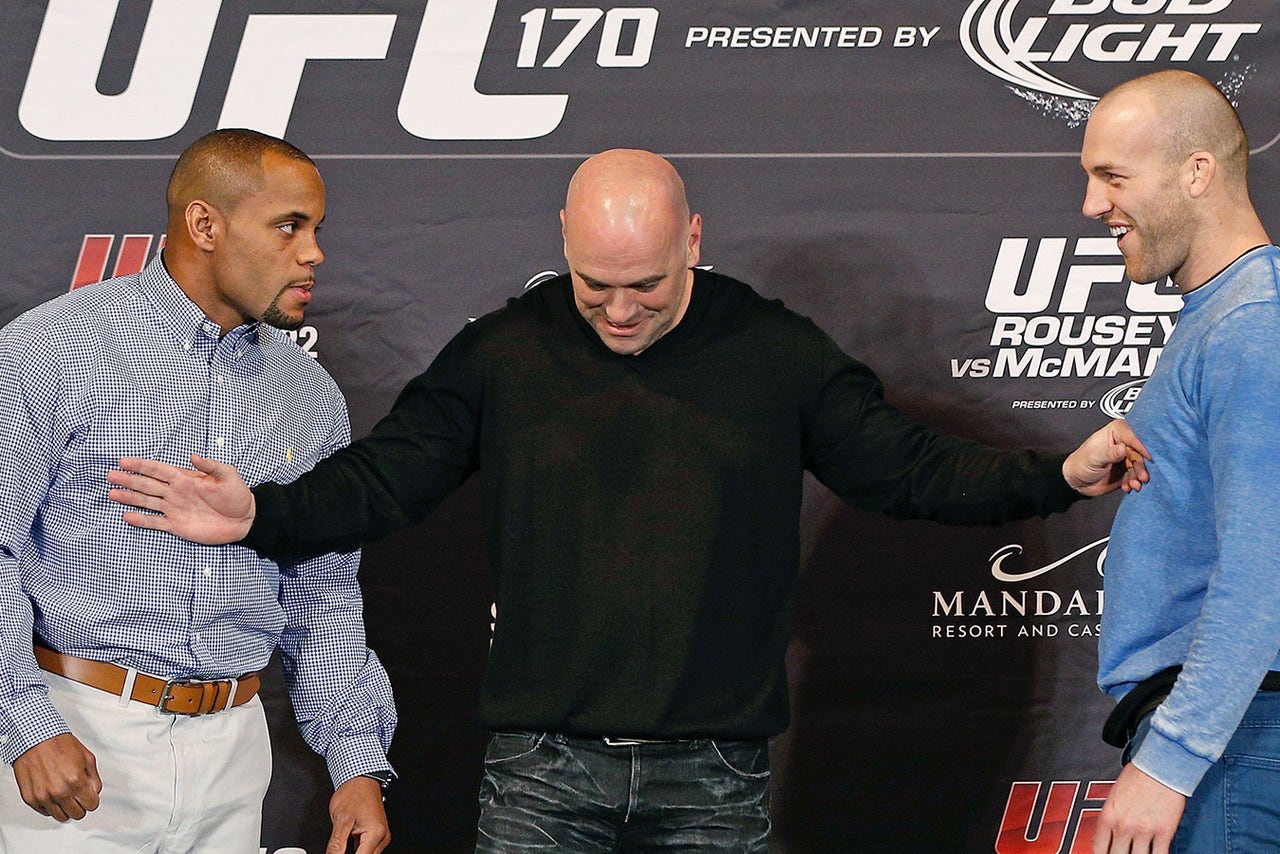 McMann has taken the opposite approach, a quiet challenger content to play a supporting character to Rousey's lead. This despite the fact that the two shared a brief moment in history that once got McMann pretty fired up.
Back when McMann was just beginning her MMA career, she said she was offered a catch weight fight with Rousey at 140 pounds, and accepted it, only for Rousey to decline. That's her version at least. 
Rousey went on to a rocket ride to stardom. She's such a big deal that she has both The New Yorker and Wall Street Journal here this week working on stories about her. She dominates the headlines and the betting lines. 
"I don't check in to see what the fans think or feel and I think that's just a wrestling habit," McMann said. "I just don't care as much. The people who know me, they know. A lot of the fighters that I train with when I've gone to different gyms, they know. But even if they didn't and I came out of nowhere, I know. And that's all that matters. Especially when you're in the cage. It's just you."
Of the two fights, McMann is the more intriguing upset pick. Historically, Rousey has bullied her way inside and used her elite athleticism and technique to put her opponents down. McMann will disrupt that. There is no one Rousey has faced in MMA who can sniff McMann's credentials. She is a straight-up peer. She is going to have situational awareness that Rousey hasn't experienced in a fight. She's also prepared with great camps, from Marcelo Garcia in jiu-jitsu to Tri-Star for MMA. Even though she took the fight with two months' notice, she's had Rousey on her radar for two years. She's been indirectly preparing for this.
In this case, the disconnect between the betting lines and the competitiveness of Rousey-McMann is due to the relative unfamiliarity with McMann. She's had only a single fight in the UFC, not quite enough to have the bandwagon cruising on down the highway. 
Still, it's a bit curious that in a town like this, in a place like this built on dreams, the long shots have been so frowned upon. Maybe it's because we all know they are so rarely realized, even if they are so fun to chase.
---
---