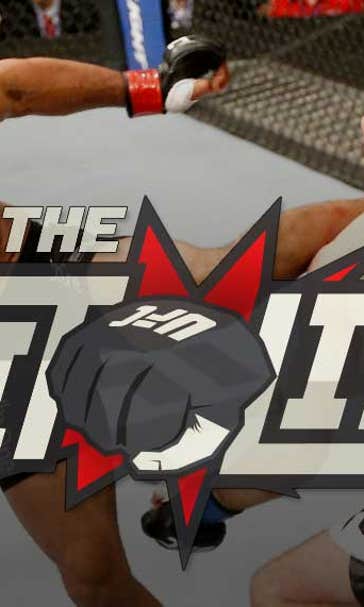 The Hit List: The Top 5 moments from UFC 174: Johnson vs. Bagautinov
June 15, 2014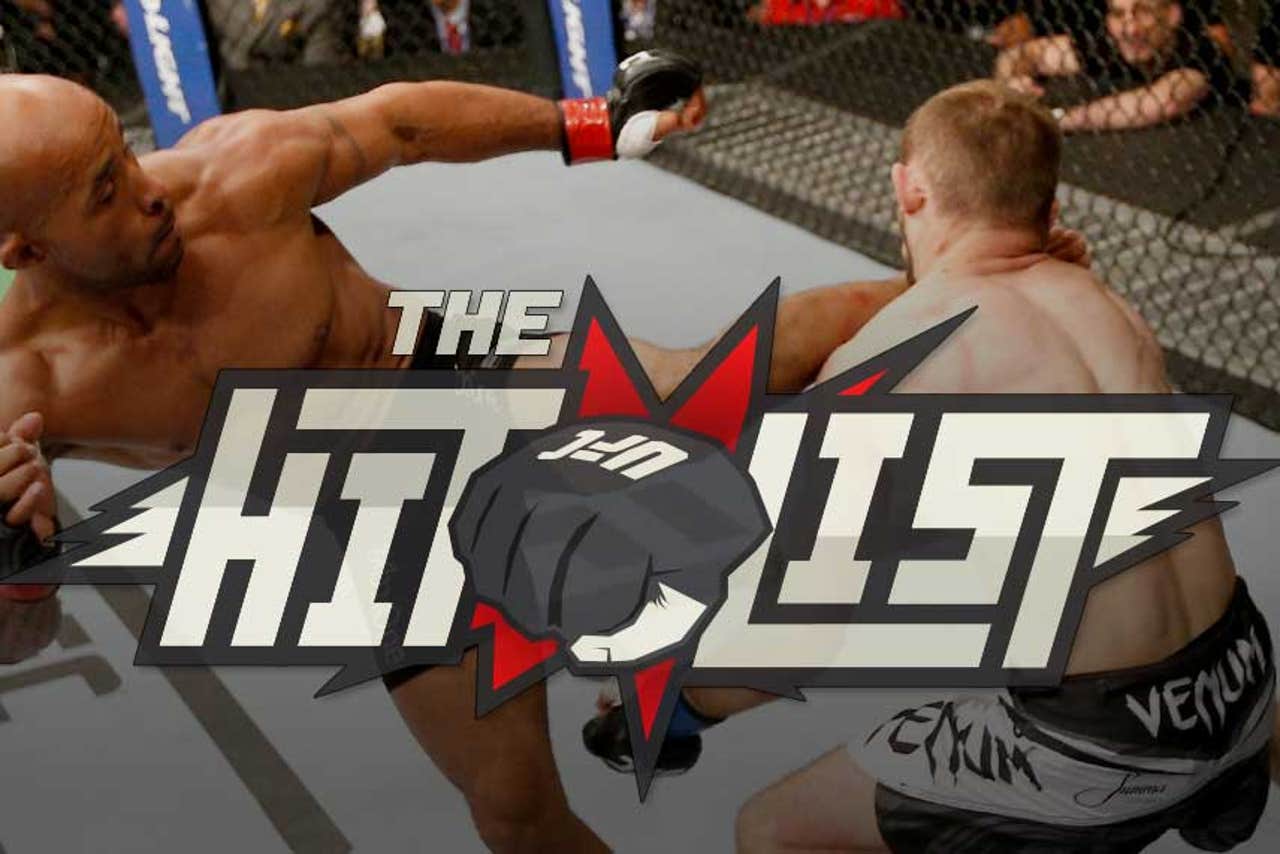 All things considered, UFC 174 wasn't exactly a memorable event. There were seven decisions in 11 fights, one fight ended due to injury, and a couple of the more anticipated bouts turned out to be duds. It happens. Even highly anticipated NFL games sometimes disappoint. 
But that Demtrious Johnson though. The mouse is indeed mighty, isn't he? After straight working Ali Bagautinov for five rounds, Johnson collected his fourth consecutive flyweight title defense, and set himself up for a potential rematch with John Dodson. 
Fortunately, Johnson wasn't the only bright spot from Vancouver. Without further ado, here's the UFC 174 Hit List ...
DJ separates himself from pack
The UFC flyweight champion seems to bring something new each time he takes the fighting surface. Against Ali Bagautinov, Demetrious Johnson was nearly flawless. The champ out-struck the Dagestani challenger 164-66, beat him on position in nearly every scramble, and stuffed 10 of 12 takedown attempts en route to the decision by a sweep of 50-45 scores.
In the end, Bagautinov was left with no answers, the same as most of Johnson's opponents before him. Over his last four fights, Johnson has landed 466 strikes, while his foes have only managed to connect only 194 times. That's a lopsided number made more impressive by the fact that he's facing the best the division has to offer.
Johnson has excellent fundamentals, and his speed has been talked about so much it probably deserves a song written about it, but his true brilliance is in his improvisation. Johnson hits opponents during times when others wouldn't even sense an opportunity. But there he is, hopping on one leg and landing a right cross, or throwing a right jump knee as Bagautinov tries to dig in on his left. He takes calculated risks and trusts in his instincts. 
The only real knock on Johnson is his finishing rate. That's something some people will never be able to look past, but if your thing is artistry in the cage, Johnson is quickly separating himself from the pack.
The Canadian Psycho returns
After a couple of yawners, the question regarding Rory MacDonald was whether he had been overrated all along. He lethargically jabbed his way to a decision over Jake Ellenberger, lost to Robbie Lawler, and then breezed past Demian Maia in a fight where he didn't look particularly inspired.
And in came Tyron Woodley, looking to reinforce that narrative. On paper, he might have been the worst matchup of the four, given his wrestling pedigree and one-punch power. And many agreed, as Woodley was favored heading into the opening bell.
What followed was a blowout, but to the surprise of many, it was Woodley who couldn't dent the judges' scorecards, as MacDonald swept the fight by 30-27 scores.
MacDonald melded strategy with aggression, landing from distance early and limiting Woodley's chances before beating him up from the inside.
Showing his dominance of the matchup, MacDonald landed 60 percent of his overall strikes, and even took Woodley down once on the way to the win.
And suddenly, we begin to think, maybe he would match up well with Johny Hendricks after all.
Bang, Bang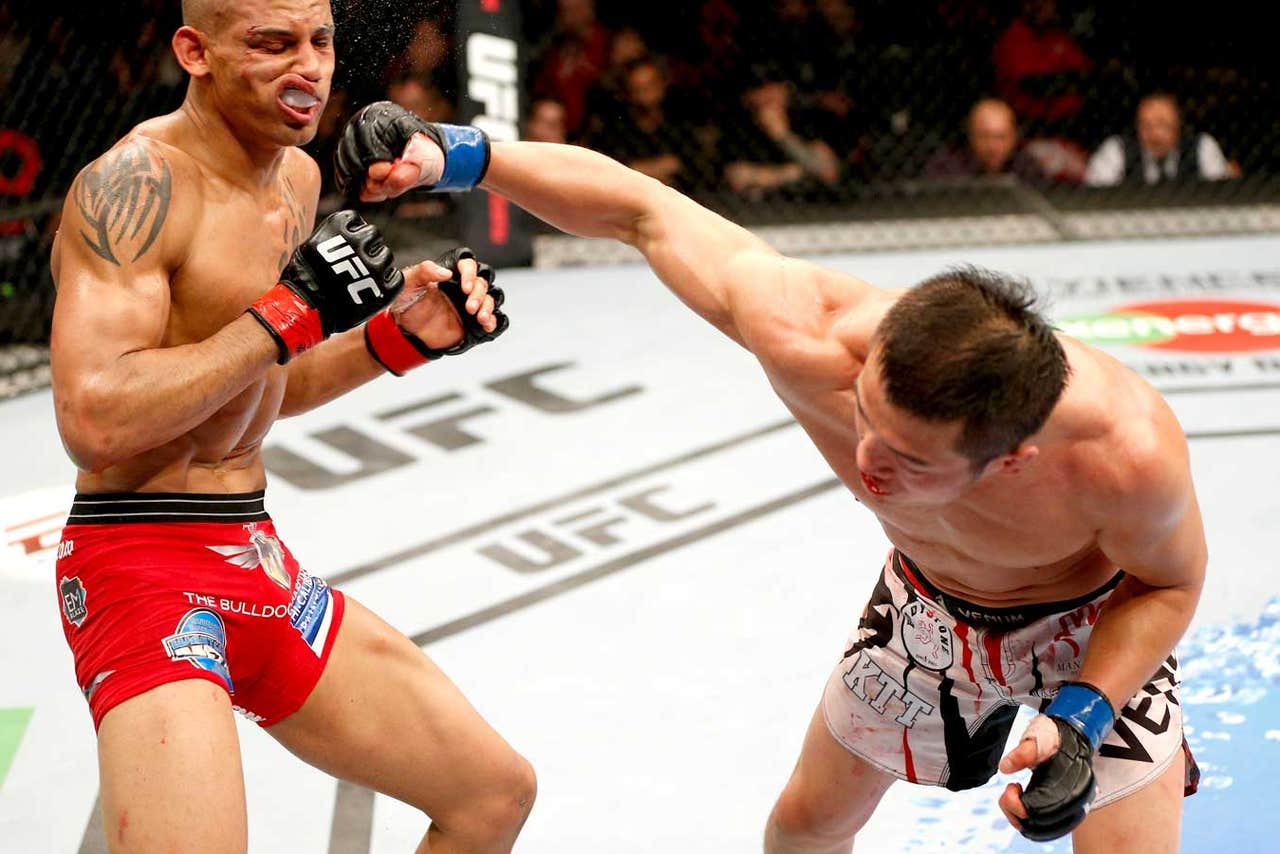 This sport can be so cruel. This sport can be so rewarding.
When Kajan Johnson stepped into the UFC octagon, it was the culmination of a journey that began over 12 years ago, when he first began competing as a pro. Johnson started his career 6-8. Back then, an invitation to the sport's big leagues seemed an improbability. But he stayed with it, turned his fortunes around and finally got his opportunity. 
Unfortunately for him, on the other side of the cage was another veteran who'd waited nearly as long before getting his first chance in January, losing. In his second time to the UFC cage, Tae Hyun Bang wasn't leaving without a win, and he got it in a most emphatic way, laying Johnson out in a third-round knockout. 
The finish was a bonafide brain-scrambler; the overhand right was so crushing that you could see Johnson's ears flapping due to the impact as he crashed to the mat.
On one side, dreams shattered; on the other, dreams realized.
Kiichi the killer
Among the 11 bouts on the card, only one -- the main event -- had more lopsided odds than the prelim fight between Kiichi Kunimoto and Daniel Sarafian. 
Sarafian, the TUF Brazil veteran, was a 5-to-1 favorite to beat Kunimoto, who was in his second UFC fight.
The Brazilian jiu-jitsu black belt Sarafian was expected to have a much better ground game than Kunimoto, and after moving down from 185, was believed to be both bigger and stronger. 
None of it worked out as expected, however. Kunimoto won out on a scramble, taking Sarafian's back, and re-gripped his rear naked choke several times before forcing the Brazilian to tap.
Ladies first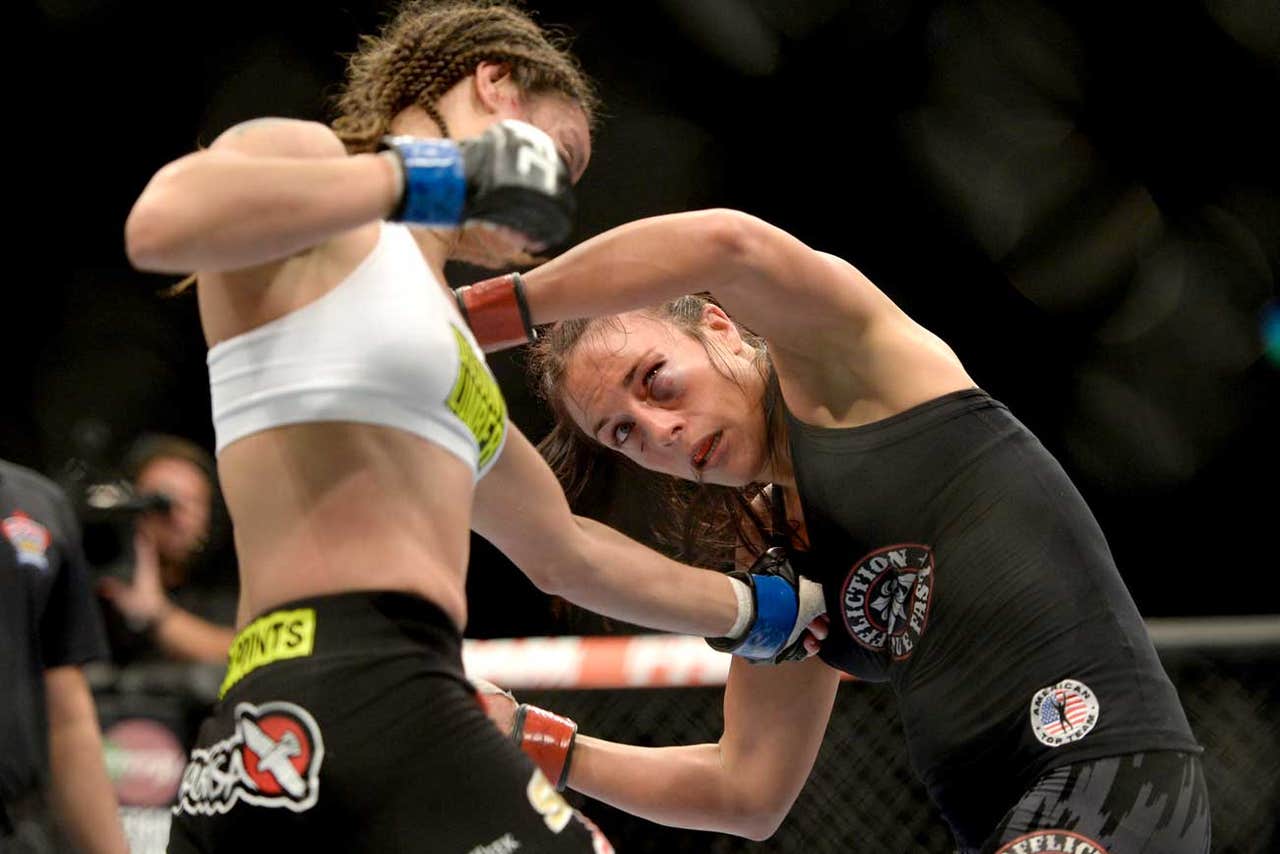 In today's MMA world, fighters would be well advised to always be ready for the opportunity of a lifetime.
Valerie LeTourneau had all of two weeks to prepare for hers after getting invited to fight in the UFC; Elizabeth Phillips had even less time, one week. That means they arrived without the gas tank they would normally bring to a fight, and had no time to peak. First impressions? Just bring the guts.
All they did was throw the most combined strikes of any of the three-round fights on the card. LeTourneau out-struck Phillips 104-67, earning a split-decision, and she had to do it despite impaired vision, as her left eye began swelling early on and was nearly shut by the time the fight was over. 
Still, she showed her edge in technique as the fight went on, making Phillips miss and picking her spots, and that combination of heart and skill won her the fight and respect.
---
---