Ultimate Fighting Championship
Ultimate Fighting Championship
The Early Look: Brock Lesnar vs. Mark Hunt at UFC 200
Published
Jun. 14, 2016 11:49 a.m. ET

Brock Lesnar rushing back into MMA competition six years after his last victory to face top-five heavyweight contender Mark Hunt at UFC 200 is one of the more fascinating match ups we've seen, recently. At their best, Hunt and Lesnar represent polar-opposite and dominate styles.
Hunt being the superb kickboxer and Lesnar the terrifying wrestler. With such a long lay-off for Lesnar, there are many unknown variables which are what really make this fight a curious one.
Below, we examine some of the major areas where this fight may be contested, and give predictions for what fans can expect, July 7. 
Stand-up striking: Obviously, the former kickboxing world champion and MMA walk-off KO master Mark Hunt is the more skilled and effective striker in this match up. With that said, Lesnar packs a punch, even on the feet.
He kocked Frank Mir down with punches, dropped Heath Herring with a single shot and felled perhaps the greatest fighter of all-time, three-time heavyweight champ Randy Couture with a punch, as well. The point is this - don't let Lesnar hit you, flush, because no matter who you are, he can hurt you if that happens.
In his prime, Lesnar had quickness to cut distance, fast, with his right hand. His long arms also make him dangerous from extraordinary distances. I can't imagine Lesnar is as quick as he used to be, however.
Hunt will need to have his guard high, which he rarely does, and use good head movement to avoid getting hit with a big single shot. If he can do that, he will have his own chances to knock Lesnar out.
Hunt should be drilling punch combos, right now. Hunt can fall in love with single powerful shots of his, but if he changes levels with his punches, in combinations, he'll likely ultimately find an opening on Lesnar's dome.
It will be interesting to see how often Hunt kicks, here. He has a real kicking advantage, but perhaps he'll be wary of Lesnar grabbing a leg and taking him down.
He should just do him, however, and let his strikes fly and move his feet. Hunt is great at getting back to his feet and shouldn't over think about what Lesnar might do.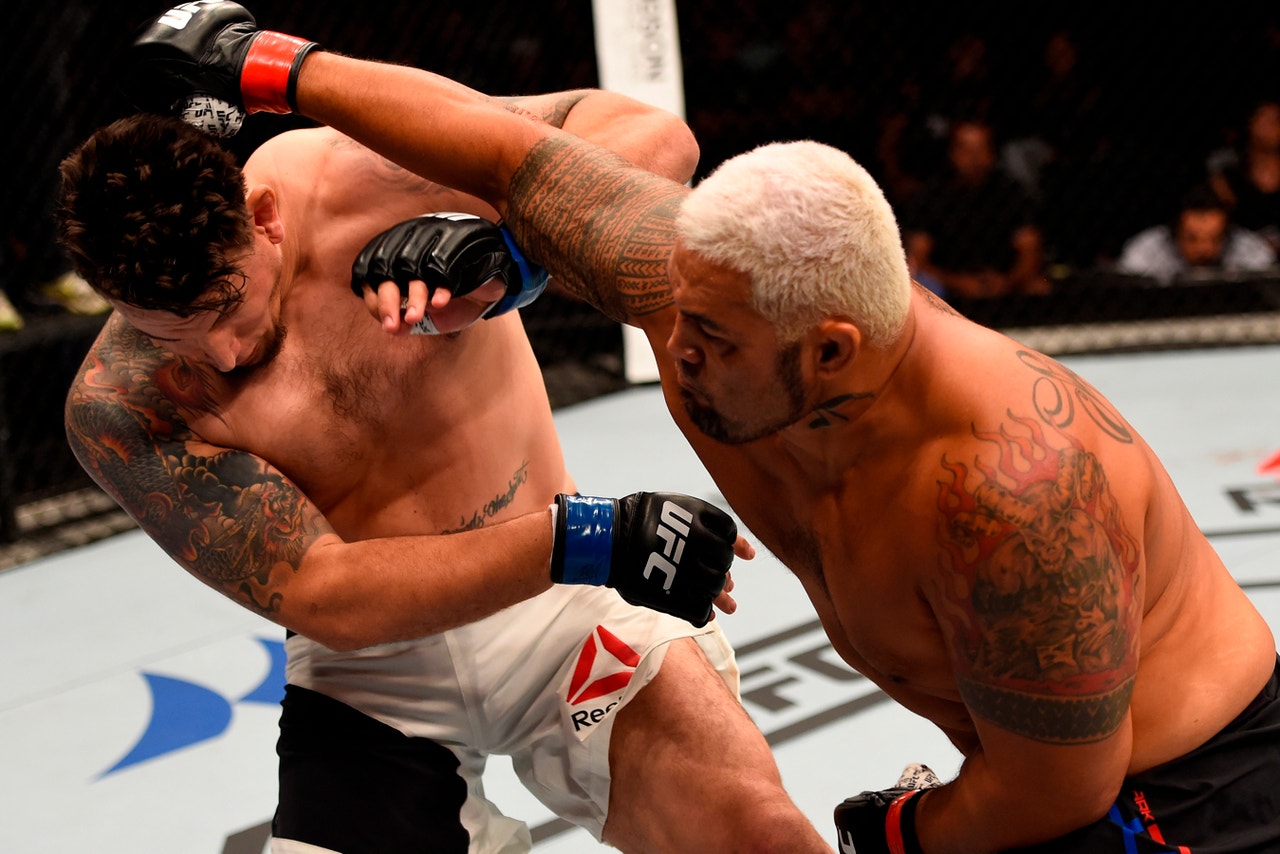 Mark Hunt (R) is capable of knocking anyone out in the world, with a single strike.
With that said, Hunt should definitely try to angle-out and keep his feet moving after throwing punches. If he doesn't put Lesnar out, and stands right in front of him, he gives the wrestler his best chance at scoring a takedown.
Advantage: Hunt. The 'Super Samoan' is the better striker and if he fights with intelligent aggressiveness and moves his head and feet, well, he should be able to get work done.
Wrestling: Lesnar is clearly the better wrestler, here. And, other than a one-punch KO possibility, his best chance of winning will start with him taking Hunt down.
If Lesnar is a good deal slower than he used to be - a good possibility - and if he telegraphs his takedown rushes without good strikes in front of them, Hunt may be able to defend the attempts better than most may expect. Hunt isn't easy to take down.
He's even harder to keep down. Leans is much bigger than the likes of Fabricio Werdum, but he also isn't nearly as skilled on the ground.
Werdum couldn't keep Hunt on the mat, and I think Lesnar will have trouble doing so as well, unless he connects quickly with damaging ground strikes. Against the cage, Hunt could defend well and end up hurting Lesnar with elbows, if the wrestler has to work for second or third takedown attempt.
Conditioning: If this becomes a grinding battle, the man with superior conditioning will have the serious advantage. Hunt can certainly tire, but stays a threat even while fatigued.
Furthermore, he's been an active fighter in recent years while Lesnar has not been doing serious fight training for the better part of a decade. It is hard to imagine Lesnar being in fight shape with this hurried match up, after so many years away from competition.
Intangibles: This is what makes this fight so interesting. There are so many x-factors that make this fight hard to predict.
If Lesnar were at his best, and Hunt at his best, this would be the type of fight that each man could win five times out of ten meetings. At his best, it is easy to imagine Lesnar scoring a quick takedown and finishing Hunt on the mat with strikes.
Hunt has improved so much in recent years, even as he ages deeper into his 40's, however, that it is also easy to see him angling-out or side-stepping as Lesnar rushed in, and scoring a KO punch.
Is either man at his best, however? Hunt looks like it, but at some point he's going to get old.
UFC president Dana White has said that Lesnar has been training, hard, to fight. Don't buy it.
White himself has said before that fighting isn't something that someone should have one foot in and another out. It is too dangerous an endeavor to be anything less than completely committed to and focused on. 
Brock Lesnar last wrestled in the WWE in April. It isn't possible, even if he's convinced himself to the contrary, that he was able to devote sufficient time to fighting while also entertaining people int he squared-circle. You can only do one of those things at an elite level, at a time.
Lesnar is taking on a huge challenge, here. He is heading into a fight against a top-five heavyweight with, at best, a couple months of real training after four and a half years away from competition.
Furthermore, Lesnar may have competed four and a half years ago, but he hasn't looked good in the cage for six or seven years. Additionally, who knows how healthy Lesnar is after reportedly being close to death several times due to intestinal disease, in the past.
On the flip-side, Lesnar is coming from the steroid-rich pro-wrestling environment and also not being subjected to normal drug testing that UFC fighters have to. Hunt has been vocal in calling out this clear corruption and unfairness.
Understanding the effect of performance-enhancing drugs in competition is always impossible to precisely know, but Lesnar not being fully drug-tested in advance of his fight certainly opens up possibilities that he will have benefited from drug-use that his opponent may not have. 
Prediction: We have no great way of knowing the condition either man will come in to this one, but I have to err on the side of assuming Hunt will be sharper and better prepared, since he's been active and improving while Lesnar has been inactive. I think Hunt has the ability to frustrate some of Lesnar's takedown attempts, but more than that, get up.
Once on the feet, Lesnar has a real chance, but Hunt should have the bigger arsenal and better timing.
---
---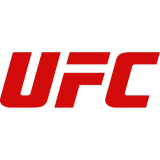 Get more from Ultimate Fighting Championship
Follow your favorites to get information about games, news and more
---