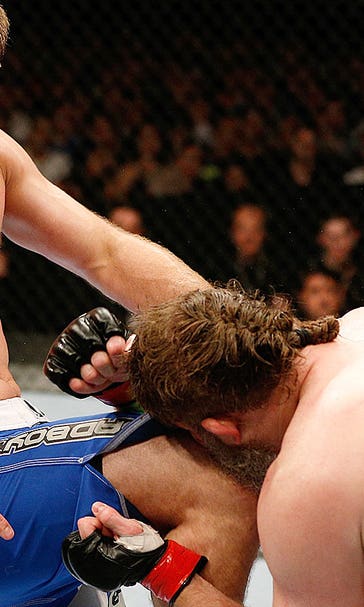 Stipe Miocic wants to break Junior dos Santos and earn a title shot
December 9, 2014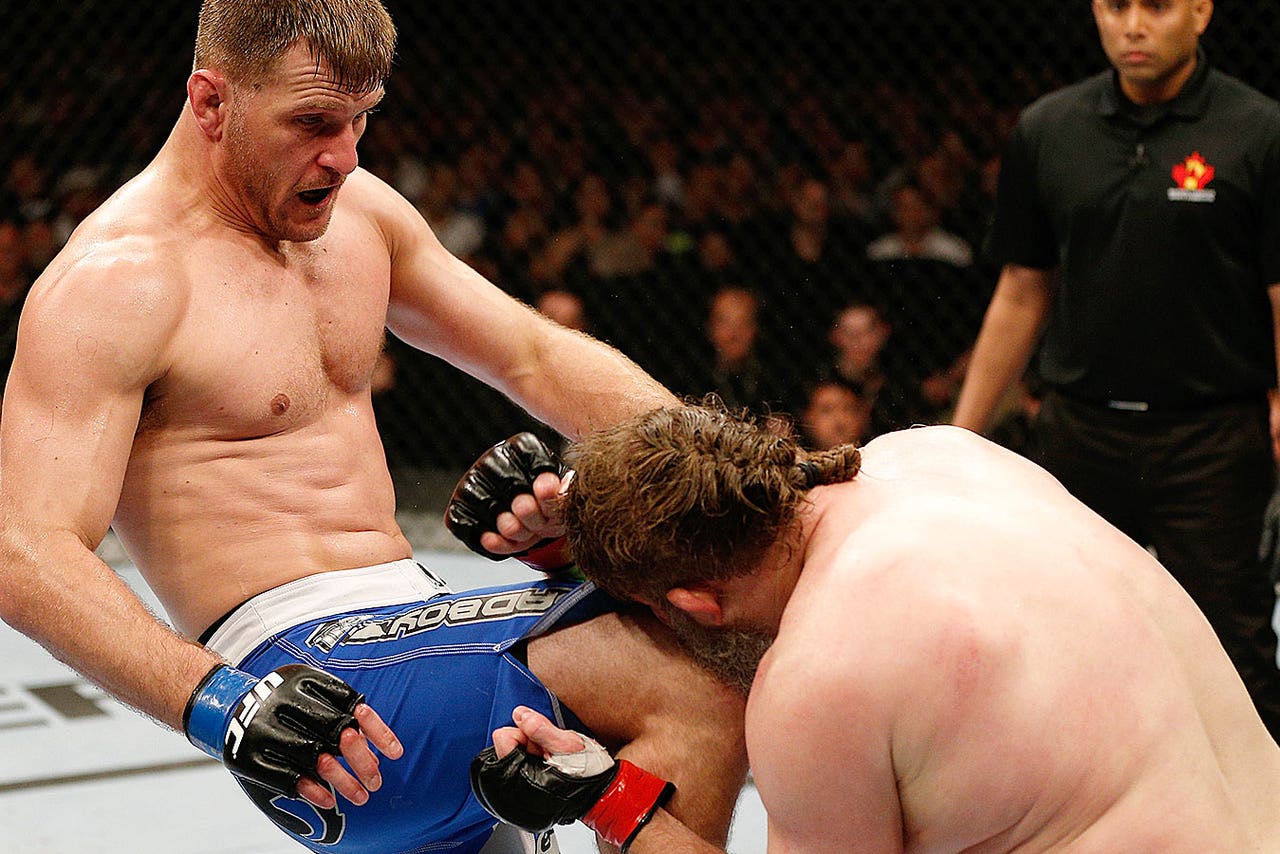 All Stipe Miocic has wanted for the past few years is fight.
Now that might sound like a fairly obvious statement considering Miocic is a fighter, but in his case it's been about activity and staying busy so he can climb up the ranks of a somewhat shallow heavyweight division.
Miocic suffered his only professional loss in September 2012 to Stefan Struve and as soon as the fight was over and he was cleared to compete again the Ohio native started asking for fights.  He wanted to get back in there and erase the bad taste of defeat from his mouth.
So he waited.  And he waited.  And he waited some more.
Finally Miocic got a short notice call up to face Roy Nelson at UFC 161 and he made the most of it, battering the former Ultimate Fighter winner for three straight rounds en route to a lopsided decision victory.  Miocic was excited with the victory and a chance to stay busy so he could make that climb a little faster.
And he waited.  He waited some more.  Finally, seven months later he stepped back into the Octagon and beat Gabriel Gonzaga. 
Needless to say when Miocic got the call up to return in four months time following the Gonzaga fight he was elated.  Things got even more exciting when he was matched up with former heavyweight champion Junior dos Santos.  This was the kid of fight Miocic had been begging to land and it was finally here.  And then dos Santos got injured.
So Miocic dispatched of Fabio Maldonado in 35 seconds and then the waiting game began again.  Thankfully it all paid off when he got the call to face dos Santos again this weekend at the UFC Fight Night card on FOX from US Airways Center in Phoenix.  He's in the main event and Miocic believes all the waiting will finally pay off because with a win he's staring down the barrel at a title shot.
"Everything happens for a reason," Miocic told FOX Sports. "I'm pumped I still get to fight him and hopefully after December 13 I get to fight for the title."
Miocic hasn't been told by the UFC that he'll receive a title shot with a win over dos Santos, but he says logically there's no other place to go.  The Brazilian is a former heavyweight champion whose only losses in the Octagon have come from current title holder Cain Velasquez.
Outside of those two losses, dos Santos has been an assassin in the Octagon with eight finishes in 10 wins in the Octagon.
"I don't see why I wouldn't (get the title shot)," Miocic said.  "I mean I really have no say so or choice, but he's ranked No. 2 behind Fabricio (Werdum) so I don't see why I wouldn't."
Because Miocic has painstakingly played the waiting game himself for so much time, he also understands that if he does earn a title shot it could mean several months away from action. Currently, heavyweight champion Cain Velasquez is still waiting on clearance from a knee injury to be able to face interim champ Fabricio Werdum. Only then will there be an undisputed title, but Miocic says in his him Velasquez is still the champ and until someone takes that strap from around his waist, he'll remain the best heavyweight in the world.
"He's the champ, there's nothing really to say about it," Miocic said about Velasquez.  "He's the champ, he's been champ for a while and sometimes these things happen.  When you train as hard as we do, bad things happen sometimes.  It's just part of the sport."
Another compliment Miocic pays Velasquez is for the way he dominated and finished dos Santos in their last fight in October 2013.  It was almost a duplicate of their previous rematch, which Velasquez also won by unanimous decision.
Miocic knows he's a much different fighter than Velasquez, but he saw something very interesting in both fights and he believes he can use it to his advantage.   He saw dos Santos' will break and his eyes fell to defeat.
Miocic just got a big smile thinking about doing the same thing.
"He's as tough as they come.  He's a former champ.  Watching the Cain fights there are a few things that we're working on.  Things I can keep in mind so he doesn't do it to me as well. We have a great game plan working with my coaches and I'll be confident when I walk in there," Miocic said.
"Every fight's like that.  You try to break the guy's will. I'm going to try to do that December 13 and he's going to try to do the same thing with me.  Fireworks are going to happen, leather is going to be thrown."
---
---