Stephen Thompson on making karate work, & training with Georges St-Pierre & Chris Weidman
November 2, 2015

After training in karate since the age of three and kickboxing his entire adult life, Stephen "Wonderboy" Thompson became a man who former UFC welterweight champion Georges St-Pierre once called the best striker he'd ever trained with. Thompson's unique skills were also called upon for help by Chris Weidman as he prepared to fight then-champion Anderson Silva.
To this day, Thompson still trains with Weidman, helping him prepare for his middleweight title defense against Luke Rockhold, and has worked with many other MMA fighters, including former light heavyweight champion Rashad Evans. Working with top-notch MMA fighters is what originally put the thought of switching fight careers in the South Carolina fighter's head.
After beating a TriStar gym teammate of St-Pierre in a kickboxing match, Thompson was invited to Montreal by Firas Zahabi. The rest, was history.
In 2010, Thompson jumped into MMA competition, unsure of whether or not he was ready. "I was kind of winging it," he told us recently.
He was ready, and he won five straight pro fights.
Then, he got the call up to the big leagues of the UFC, also then believing that he wasn't ready.
"I was kind of nervous because I felt that I wasn't ready for it," he admitted. "But, when the UFC calls, you don't want to back out, because they may never call again."
Once again, "Wonderboy" discovered that he was, in fact, prepared. He's win three of those five straight fights by stoppage and is knocking on the UFC welterweight division's top-five.
The human striking highlight reel recently sat down with us at FOX Sports and the Deep Waters podcast to discuss how he's managed to make his so-called traditional martial arts background in karate work so well in MMA, what training with the likes of Weidman has done for him, and what his ultimate goals in the sport are.
To be sure, Thompson is confident in his stand-up striking. However, taking the kicks of karate and implementing them in MMA, where opponents can take you down and continue fighting on the ground, is something that was once thought impossible.
Fighters like Lyoto Machida began to change that, a decade ago. Thompson continues that evolution.
Karate works in real fighting, if you're good enough at it, he's found, and if you learn how to adapt it.
"I started when I was three. I know Lyoto started when he was very young. Same thing with Gunnar Nelson, and these karate fighters who are bringing karate back," he explained. "They've been doing it for a very long time so they know what techniques work in a real situation, and what doesn't.
"It's just doing it over and over and over again and being confident in your techniques and what you're using. ... It takes a very long time to understand it and use it in a practical situation. It's just time, man."
And while Thompson was originally brought in to the camps of St-Pierre and Weidman to help them deal with dangerous strikers, Thompson eventually learned how to make small but crucial changes in his game to deal with wrestlers.
"I had the stand-up. I had to do some modifications to get ready for these wrestlers. That's what helps me trains with these guys lke Georges, Rashad, and Chris. It's not just anybody trying to take you down, but rather world-class wrestlers and jiu-jitsu guys that I'm working with. It's definitely helping my game," he said.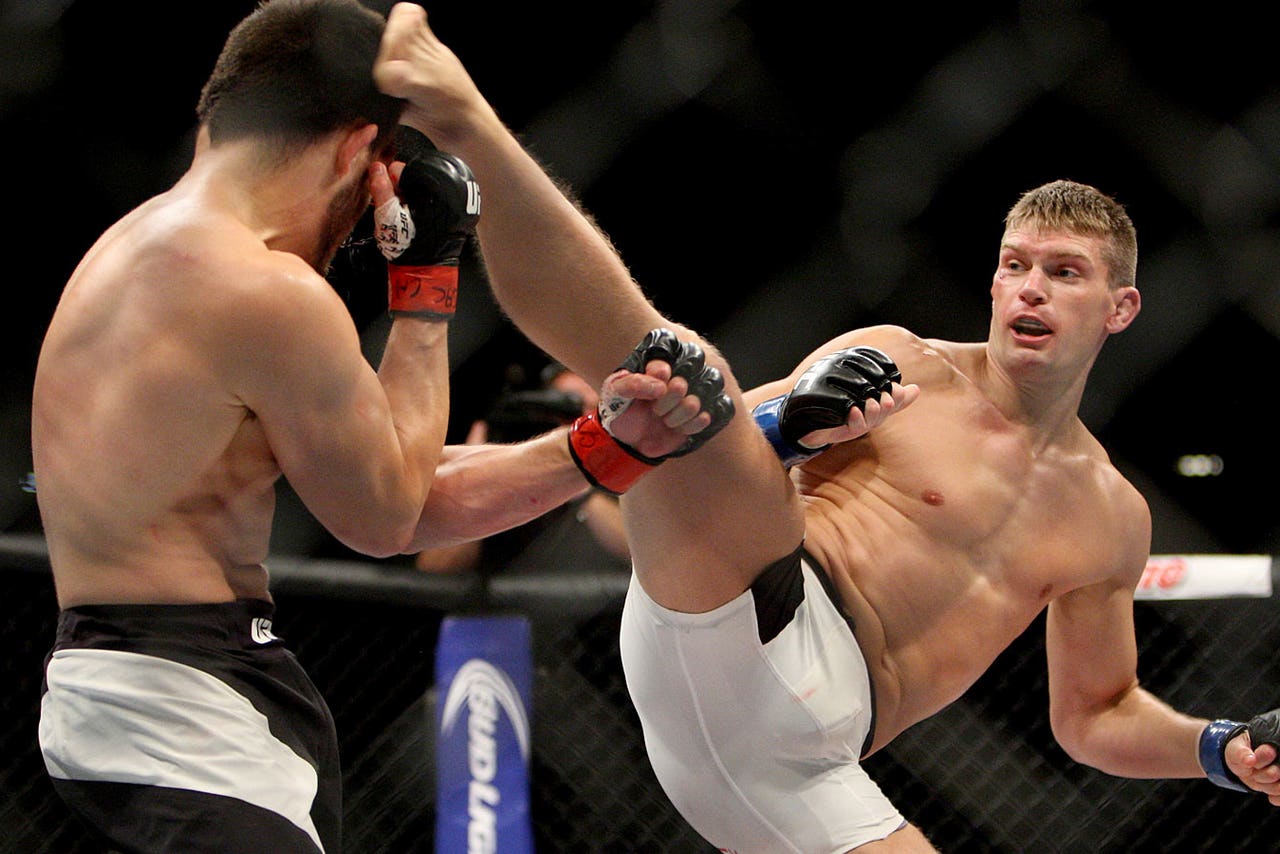 Stephen Thompson has the grappling confidence to kick high against great wrestlers like Jake Ellenberger.
"So I put myself in there with these world champions like Chris, and just having them in my camp trying to -- well, not trying to take me down, he does take me down, over and over again. It makes these 170's seem easy. It helps me with my wrestling and jiu-jitsu, and for them, it helps them with their striking. We're helping each other out."
Thompson learned that takedown defense actually begins long before any contact with your opponent is made. Defending a takedown starts with stance and footwork.
"I stand with a much wider stance. Most guys have their legs together, which makes it easy for guys to get double-legged. You can defend a single-leg takedown a little bit easier than you could a double-leg takedown," he said.
"Constantly moving, from side to side. Keeping your opponent guessing. If you stand still long enough, a wrestler is going to shoot for your legs. He's going to see where your legs are at. But, if you keep him constantly guessing, they can't get a bead on those legs. So, constant movement is probably one of the best takedown defenses you could use."
When he first started sparring with MMA fighters, Thompson's karate blitzes and strikes didn't take him very far.
"I was standing a little bit tall in kickboxing and everytime I would try to blitz or try and strike Georges, I would run into a double leg," he remembered. "So I had to modify that a little bit as well."
Although he insists that he still feels as though he as a lot to learn in MMA, Thompson said that some of the biggest adjustments he had to make from kickboxing to mixed martial arts didn't have much to do with in-ring techniques.
"I had to get used to the weight cut," the 32 year-old recounted. "In kickboxing, if I walked around at 185 pounds, I fought at 185 pounds. The weight cut is something I had to get a lot of help with, because it definitely puts a toll on your body."
Getting the brutal science of weight-cutting down has helped Thompson be successful in his new sport, and new weight class. Ultimately, a philosophy of working on his weak points has gotten him to where he is now.
"I'm constantly working my wrestling and jiu-jitsu, which is going to make me more confident in the Octagon," he said.
He's so confident that he'd love a rematch one day with the only man to have ever beaten him in MMA -- Matt Brown. Thompson faced the top contender in just his second UFC fight ever, and he lost a unanimous decision.
"My wrestling and my jiu-jitsu have improved a lot, which will give me more confidence in my stand-up if I want to stand up with Matt Brown," he said.
"If I do fight him, I fight him. If I don't, I don't. I'm not obsessing over it because everyone in that top seven in my weight class is legit. They're dangerous, man. They're really good. So, I've got to be thinking about all those guys, not just him."
Thompson may be humble, but he's shooting for greatness. His one and only goal in MMA is to become a world champion.
"I'm 32 years old and I've been fighting since I was 15. I want to do it as long as my body is going to let me do it. That's my goal, man. My goal is to be the best fighter in the world, and I've got a small window, and I'm going for it," he said.
"I know there's guys in my division that are ranked and I know they're better than me. I know they're wrestling is better. I know their jiu-jitsu is better. Maybe not their striking, but those two aspects of the game, they might be better.
"But, I'm going to go out there, I'm going to give it 110 percent. In my mind, I'm going to be better than them that night."
---
---