Rose Namajunas explains why she wants 'money fight' with Michelle Waterson
BY Damon Martin • January 4, 2017
As soon as Michelle Waterson put Paige VanZant to sleep in their main event fight this past December, Rose Namajunas was flooded with messages on social media all saying that she should face "The Karate Hottie" for her next fight.

Perhaps it's because Namajunas mauled VanZant in similar fashion when they met in 2015 or maybe it's simply a stylistic matchup that fans wanted to see when watching Waterson ply her craft.




Whatever the reason, Namajunas heard the message loud and clear and now she's asking the UFC to make her next fight against Waterson as soon as possible.

"I am a big fan of Michelle, ever since I started, she's been doing this a long time. It's one of the main reasons I always like to challenge myself and she definitely showed a lot of improvement in her last fight and she beat Paige (VanZant) faster than me so why not challenge her to a contest as well," Namajunas told FOX Sports.

According to Namajunas, the reaction to a potential fight with Waterson let her know right away that this was a matchup that would garner a lot of attention as well.

In the age of the "money fight" where competitors like Conor McGregor value the dollar as much as anything to do with rankings, Namajunas admits that Waterson is a bout that intrigues her both as a challenge inside the Octagon and the potential to add some extra zeroes to her paycheck.

Waterson's last fight with VanZant pulled in very good ratings on FOX and Namajunas believes she could boost viewership even more if she was given the matchup with the Team Jackson-Winkeljohn fighter.

"I don't know if she's quite ready for the champ (Joanna Jedrzejczyk) just yet. I'll fight the champ right now, too but it'd be hard to make a case for it coming off a loss. At the same time, I'm OK with anything but this one just makes the most sense to me," Namajunas explained. "We all know that this is a business, we all know this is the money fight and this is what people want to see.

"As much as a killer as Jessica Andrade is or Claudia Gadelha, as much as they are formidable opponents and somebody I would like to face one day, it just doesn't seem like the most marketable thing for me. I think people want to see me fight no matter, no matter who the opponent is, but why not? Why not put two pretty girls in there that can also throw down, that both beat Paige, both know taekwondo or karate, it just makes sense. It doesn't quite make sense for me to take fights that won't generate the most noise. I'm trying to make money here as well as be the best in the world. So she just makes the most sense for both."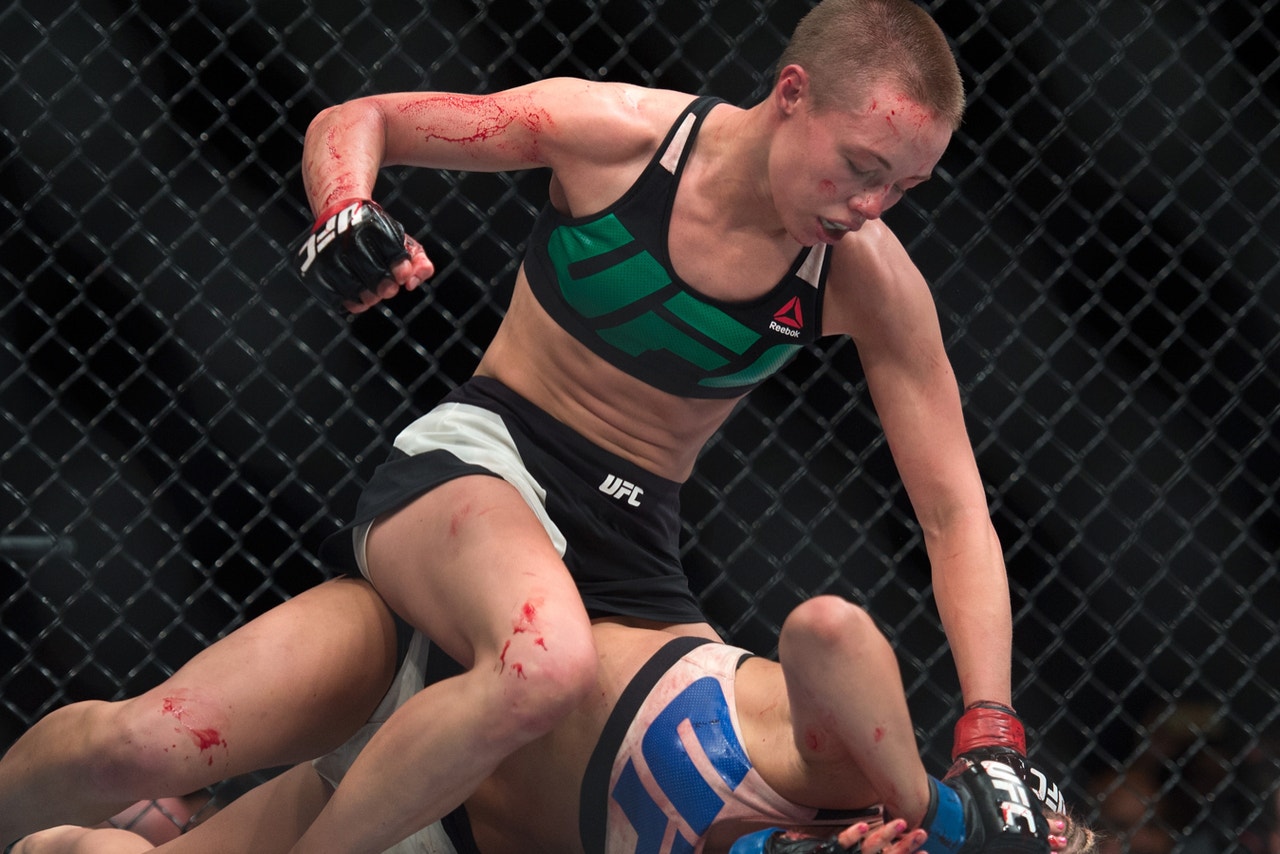 In terms of the actual matchup, Namajunas loves what Waterson brings to the table with her karate background mixed with a very slick submission game where she's earned her first two wins in the UFC.

In fact, Namajunas says despite Waterson being the underdog and the lower ranked fighter going into her last bout, she believed that the former Invicta FC champion had plenty of tools to dish out a defeat to VanZant.

"I think the speed at which she beat her in definitely surprised me, but I knew that Michelle was definitely reinvented herself and gained some new muscles. Not just physically but mentally as well coming off a long layoff. You become very hungry. People always talk about ring rust, I don't believe in that bull (expletive). I think if you want to fight, you want to fight no matter what," Namajunas said.

"I was impressed with Michelle but I wasn't necessarily shocked or surprised that she won. When I got a position just like that on Paige in the fight with her, but she was all bloody and stuff. I had her in position for the rear naked choke but I couldn't really secure the position as well. I think it would have happened if I didn't make her so bloody."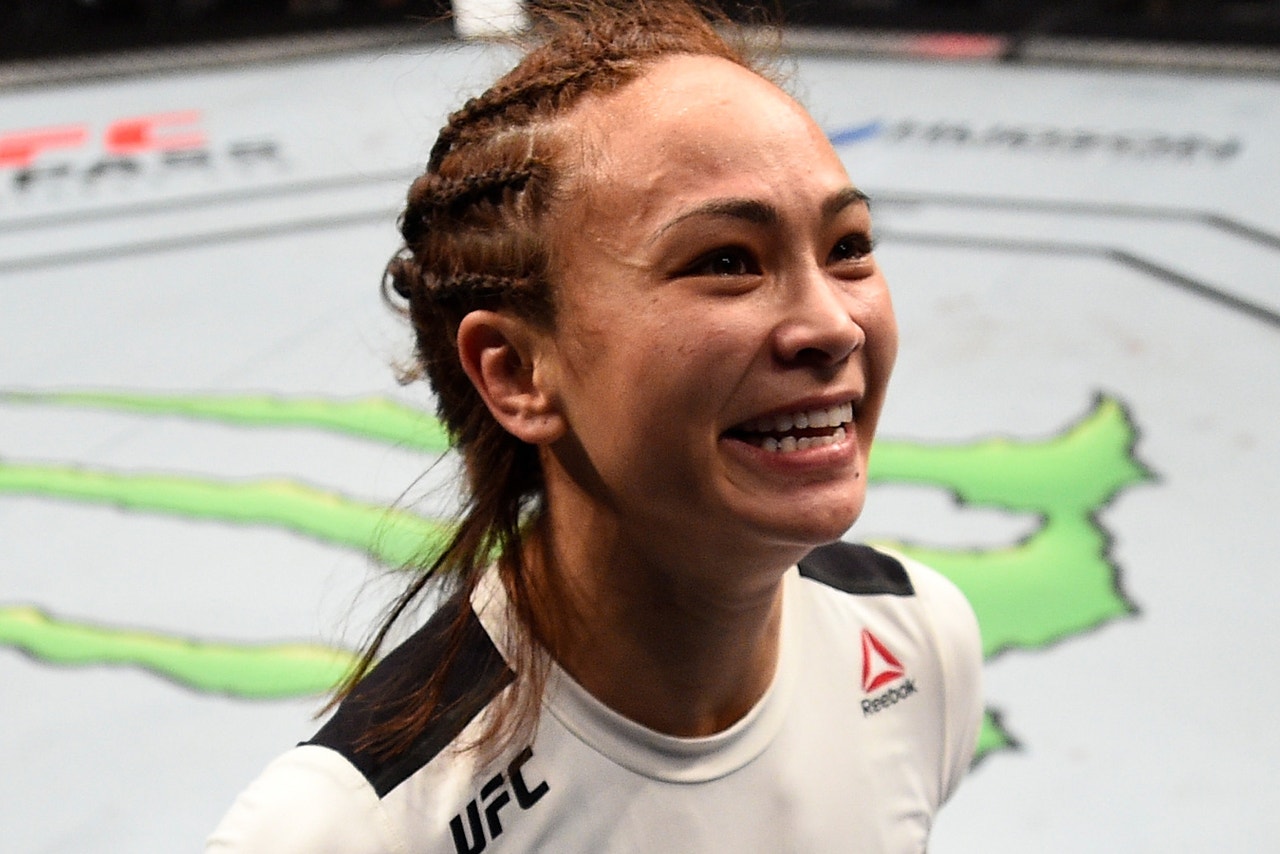 Following her win over VanZant in December, Waterson shot up the rankings and now sits at No. 7 — just three spots behind Namajunas at No. 4.

Namajunas promises that a fight against Waterson would be a crowd pleaser, although she doesn't like the chances that "The Karate Hottie" comes out quite as unscathed as her last fight against VanZant.

"I think I match up pretty well. I think she's got a new set of muscles and hunger. She's getting older now so she's got all the more reason and drive to try and be the best she can be. So that makes her very dangerous. At the same time, I have a lot to fight for right now. It doesn't matter who they match me up against, I feel like I will demolish my next opponent," Namajunas said with confidence.

"I've been training real hard lately. I have some new ideas and a new outlook on training. Always try to reinvent myself, never try to stay the same person because that's how people figure you out. We've got Valentina Shevchenko in town and I've been training with her a little bit. It's just awesome to get somebody, just another alpha female that can test me to my limits. I'm really feeling like I'm on top of the world right now."

In a perfect world, Namajunas would like to face Waterson in a five round main event because a 25-minute fight is just one more step in preparation to become champion one day, but no matter the stakes, she hopes the UFC is listening to her challenge.

As 2016 came to a close, Namajunas ended the year with a 1-1 record overall but it just didn't sit right with her in the end. Now she's ready to kick off 2017 in much stronger fashion and nothing would make her happier than getting a bout agreement with Waterson's name on the other end.

"I don't sit down for too long. I definitely enjoyed taking some rest and taking some time off. 2016 was really challenging for me," Namajunas said. "I don't know what it was. I was going through a lot of life changes and I don't know what 2017 is going to be like but I'm just glad 2016 is done and over with.

"I'm ready to open up a new chapter and I'm just really excited."


---
---