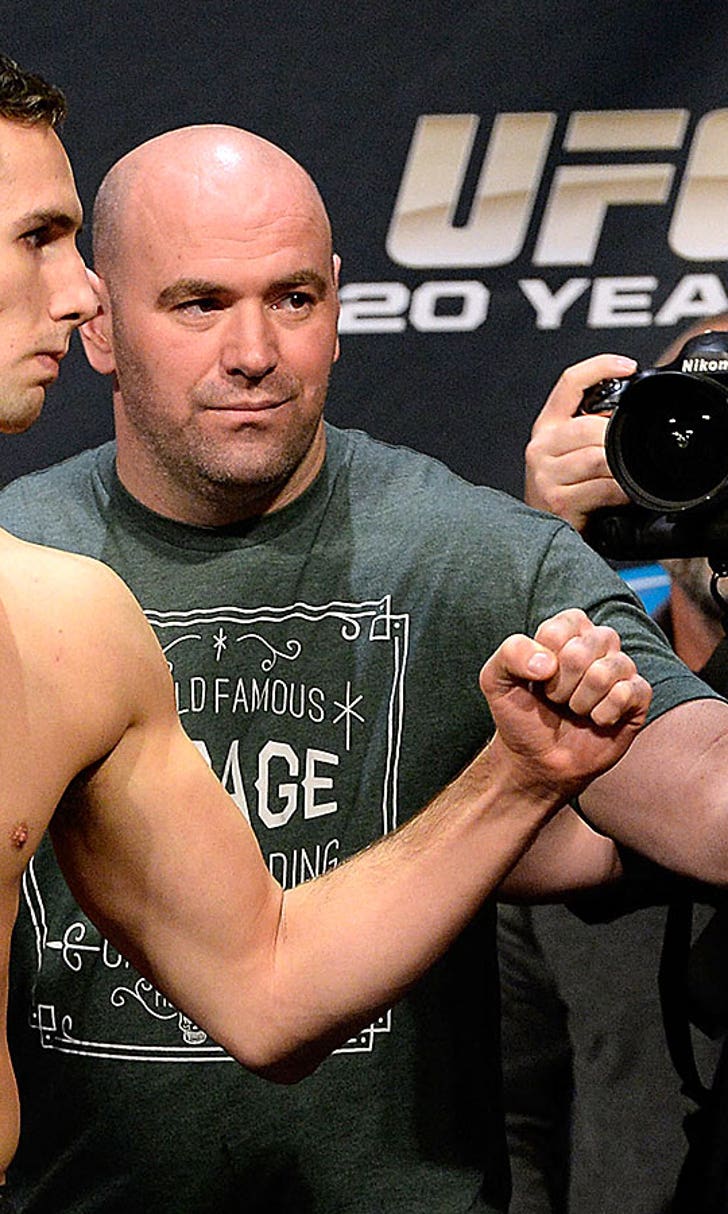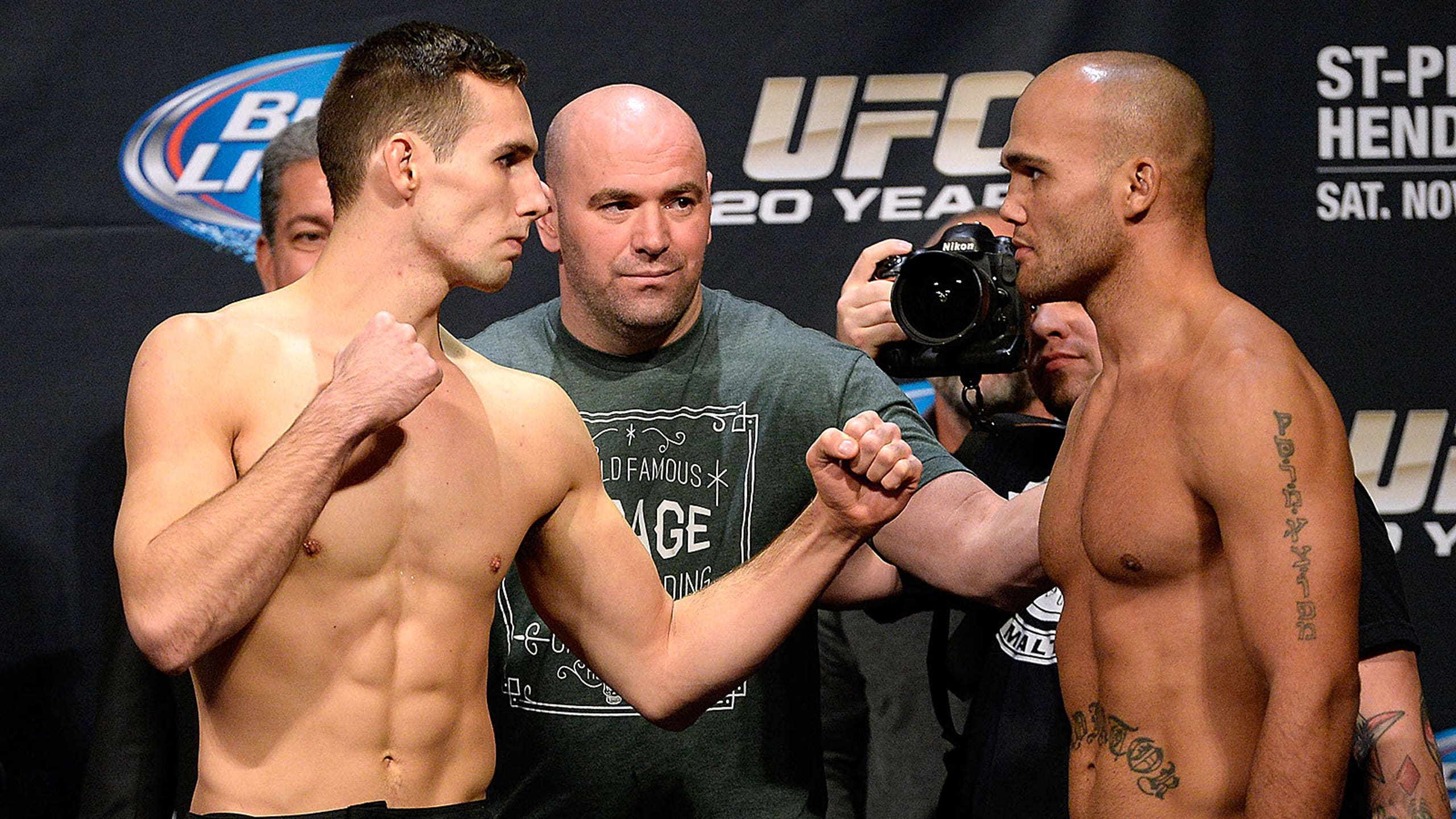 Morning Matchmaker: Which rematch is next for new champ Robbie Lawler?
BY Damon Martin • December 8, 2014
With two title fights at the top of the card, UFC 181 was bound to be one of the most talked about shows of the year, but the fallout and what comes next is always a big topic of conversation in the days following the show.
Robbie Lawler won the UFC welterweight title in a razor-thin decision over Johny Hendricks in the main event.  Conventional wisdom says his next opponent should be top contender Rory MacDonald, but UFC president Dana White said after the event that rematching the new champion with Hendricks wouldn't be the worst idea in the world either.
The picture in the lightweight division is just as muddy.
Lightweight champion Anthony Pettis made short work of Gilbert Melendez, finishing the fight by guillotine choke in the second round.  It would appear his next challenge should come from undefeated Russian prospect Khabib Nurmagomedov, but there's no denying the time off he's had due to injury might knock him back a little bit in the pecking order.
So as we deal with the fallout from UFC 181, let's take a look at the matchups that make the most sense for some of the biggest winners and losers on the card.
ROBBIE LAWLER
After 13-years as a professional fighter, Lawler finally claimed his first UFC title on Saturday night in a rematch with Johny Hendricks.  Rematches might be the norm for Lawler for his next series of fights considering both of his next potential opponents would be either a second or third bout respectively. First things first, Lawler is going to take some much-needed time off after four fights -- including two title fights -- in 2014.
Who's next: Rory MacDonald
The idea of a trilogy with Hendricks is appealing, but why force it to happen right away?  Lawler lost a close decision to Hendricks the first time and he had to go out and win two more fights to get back to another title shot.  Hendricks should have to do the same.  MacDonald is the heir apparent to the throne, but he already has a loss to Lawler so this might be his one big chance to get a crack at the title.  One other note -- this fight absolutely, positively should not happen in Canada.  As much as the Canadian fans deserve a big fight after losing out on Jon Jones vs. Alexander Gustafsson 2, putting Lawler on foreign soil for his first title defense is bush league.  Let them rematch where this rivalry started -- in Las Vegas.
JOHNY HENDRICKS
Most media members had Hendricks winning his rematch with Lawler, but then again no one is screaming that the fight was a robbery either.  That said, Hendricks didn't look great in the fight and afterwards blamed a rough weight cut where he ballooned up to over 220 pounds in the last nine months.  Hendricks needs to get his weight in check and win a couple of fights and then he can challenge for the belt again. He could rematch Carlos Condit in a five-round main event after the three-round classic they put on the last time, but he needs new competition.
Who's next: Winner of Hector Lombard/Josh Burkman
Hector Lombard has been screaming for a fight against a ranked welterweight, but unfortunately no one was biting so he gets returning UFC fighter Josh Burkman instead.  If Lombard tears through Burkman, there's no denying he deserves a chance to earn a title shot.  Hendricks needs to get a quality win over another top welterweight. The winner of this fight serves every purpose even if Burkman somehow manages to pull off the upset.
ANTHONY PETTIS
Lightweight champion Anthony Pettis needed less than two rounds to do to Gilbert Melendez what no one had done in his entire career when he finished him by guillotine choke in the second round.  Pettis looked better than ever facing one of the best lightweight fighters in MMA history and assuming he can keep his body together after a long string of injuries in the past year and a half he should be poised for a big run in 2015.
Who's next: Khabib Nurmagomedov
Nurmagomedov has told anyone and everyone that he should be next in line for the title and the fact is he's absolutely correct. It would have been nice to see him face someone like Donald 'Cowboy' Cerrone just to up his stock before a title fight, but he's the next logical contender.  Nurmagomedov is undefeated and has a wrestling-heavy style that could give Pettis fits if he doesn't drastically improve his takedown defense.
GILBERT MELENDEZ
Melendez dropped his second UFC title fight in three appearance in the Octagon, which likely eliminates him from contention for quite some time. Melendez was honest enough to say that if he lost to Pettis it might be his last shot at the gold and the hard truth is he could be right.  Still, Melendez is a fierce competitor who always puts on fun fights so there's always going to be opportunities out there for this top-ranked lightweight.
Who's next: T.J. Grant
This might be a wish list fight, but I'm still going to say it.  Grant has been out of action for well over a year and he's almost an afterthought at this point when it comes to the title conversation because when he last was in the UFC, the Canadian was the No. 1 contender for the belt.  Following a concussion suffered in training, Grant has been on the sidelines with no real news about when he'll return.  If Grant can get healthy and get cleared during the first quarter of 2015, a fight against Melendez gives him the chance to prove he's back and re-earn that title shot he never actually received.
TRAVIS BROWNE
It took less than a round for Travis Browne to dispatch unranked heavyweight Brendan Schaub and rightly so.  This was a mismatch on paper, but still a necessary fight to see if Browne could get his groove back after losing a lopsided decision to Fabricio Werdum in April.  Now it's back to the thick of the heavyweight division for this big Hawaiian.
Who's next: Junior dos Santos
Former heavyweight champion Junior dos Santos already has his next fight booked this Saturday against Stipe Miocic in the main event of UFC Fight Night on FOX, but if he wins there are probably not a ton of options open to him considering he's already lost to current title-holder Cain Velasquez twice and has taken on many of the top fighters in the division already.  Browne would be the perfect fight for dos Santos next if he wins because it would pit two top-five heavyweights against each other and that's a main event on any card.
TODD DUFFEE
The Duff returned in great form on Saturday night when he absolutely spanked Anthony Hamilton with a first-round knockout.  Duffee has been a top prospect for most of his career, but time off and injuries have killed any momentum he's ever been able to build up.  Hopefully his body stays healthy and he can get a fight in early 2015 to see where he stacks up in this heavyweight division.
Who's next: Alexey Oliynyk
Russian fighter Alexey Oliynyk had an equally impressive knockout in his last fight against Jared Rosholt, so why not see these two matched up as soon as possible in one of the upcoming cards in the first few months of 2015?  Time is ticking on Oliynyk as he closes in on 40 and Duffee definitely can't afford to miss much more time in his career either after huge gaps missed due to injury.  Book this sooner rather than later while everyone is still held together by glue and duct tape.
TONY FERGUSON
Another exciting performance for former Ultimate Fighter winner Tony Ferguson with a slick submission victory over Abel Trujillo.  Ferguson has been knocking on the door of the lightweight top 15 for his last couple of fights so now it's time to see what he can do.
Who's next: Jorge Masvidal
It's unfortunate Masvidal was forced out of his upcoming fight against Norman Parke, but he might draw an even better matchup against a name like Ferguson.  Both lightweights are looked at as fringe top-10 fighters so facing each other at least gives one of them a realistic shot of cracking the rankings down the road. 
---
---