Morning Matchmaker: Talking Werdum, Gastelum and more
BY foxsports • November 17, 2014
Fabricio Werdum won the interim UFC heavyweight title. Will he get Cain Velasquez next in Mexico for real this time?
Kelvin Gastelum stunned Jake Ellenberger with a first-round submission. How high in the welterweight division should he go?
Ricardo Lamas pulled off the upset against Dennis Bermudez. Can "The Bully" earn another title shot soon?
We'll try to answer those questions and more in this week's edition of Morning Matchmaker.
FABRICIO WERDUM
Werdum might not be the best heavyweight in the world right now, but he's the interim UFC heavyweight champion, and that's something no one would have expected a little over a year ago. "Vai Cavalo" has found his groove at age 37 and is better than ever. He'll still be a very large underdog against Cain Velasquez, though.
Who's next: Cain Velasquez
This is pretty obvious. If Velasquez is healthy in the spring, Werdum will be headed back to Mexico for the fight that was originally supposed to happen at UFC 180. Honestly, it will be even bigger, too. Werdum worked hard to be the face of the UFC's first card in Mexico when Velasquez went down with an injury. And he also finished Mark Hunt in highlight-reel fashion. Werdum couldn't have done any better.
MARK HUNT
It was a tough few weeks for Hunt in Mexico. He had a miserable weight cut of nearly 50 pounds and had to do it at altitude. By Wednesday, he was hungry and tired. There were also things going on back home that troubled him. Considering that, he didn't perform poorly in his second-round TKO loss to Werdum.
Who's next: Josh Barnett
Hunt's popularity depends very little on wins and losses. He's a cult favorite because he's open and honest for the most part. Hunt is not afraid to speak truth to the media, knock a guy out and just walk away. So this loss will hurt him very little. A fight with Barnett would be big, though with little rankings implications. It could easily headline a UFC Fight Pass card, maybe even an event on FOX Sports 1.
KELVIN GASTELUM
Welterweight is one of the best and deepest divisions in the UFC and Gastelum keeps climbing up its ladder with relative ease. The 23-year-old dispatched Jake Ellenberger with a first-round submission (rear-naked choke) on Saturday night. Gastelum is one of the best 170-pounders in the world now. There's no doubt.
Who's next: Tyron Woodley
It's understandable the UFC won't want to rush Gastelum, but he's rushing himself. Ellenberger has never been finished in the first round -- not by Robbie Lawler, Rory MacDonald or Carlos Condit. Gastelum did it, and the level of competition should only increase. That means a date with Woodley in what could very well be a title eliminator depending on timing. That is a serious fight in a loaded division.
JAKE ELLENBERGER
Three losses in a row would send some fighters out of the UFC. That is highly doubtful for Ellenberger, who has only lost to the elite competitors in the deep welterweight division. Kelvin Gastelum finished Ellenberger by submission in the first round, but Ellenberger is just 29 years old and has a long way to go in the sport.
Who's next: Gunnar Nelson
Nelson, a top prospect, is coming off a loss to Rick Story, who is similar to Ellenberger. The UFC could let him build himself up a little more, but he's going to have to face guys like Ellenberger eventually. The welterweight division is maybe the best in the UFC. Once you're ranked, there are no breaks. That goes for Ellenberger, too. He's lost three in a row, but will get a tough fight next.
RICARDO LAMAS
Looking back now, it was completely unfair to count Lamas out against Dennis Bermudez like so many people did. Bermudez was nearly a 3-to-1 favorite in some sportsbooks. Lamas is a quiet guy, so it's easy to forget how damn good he is. This is a guy who finished Cub Swanson and only lost to Jose Aldo in the last three years.
Who's next: Nik Lentz
Lamas is in a tough position right now, because he did not do that well in his featherweight title loss to Aldo at UFC 169 in February. There aren't many clamoring for that rematch. Lamas is going to have to really go on a serious run. Beating someone like Lentz would go a long way. Lentz is a grinder and no fun to fight for anyone. For Lentz, a win over Lamas, a top-five guy, would be massive.
DENNIS BERMUDEZ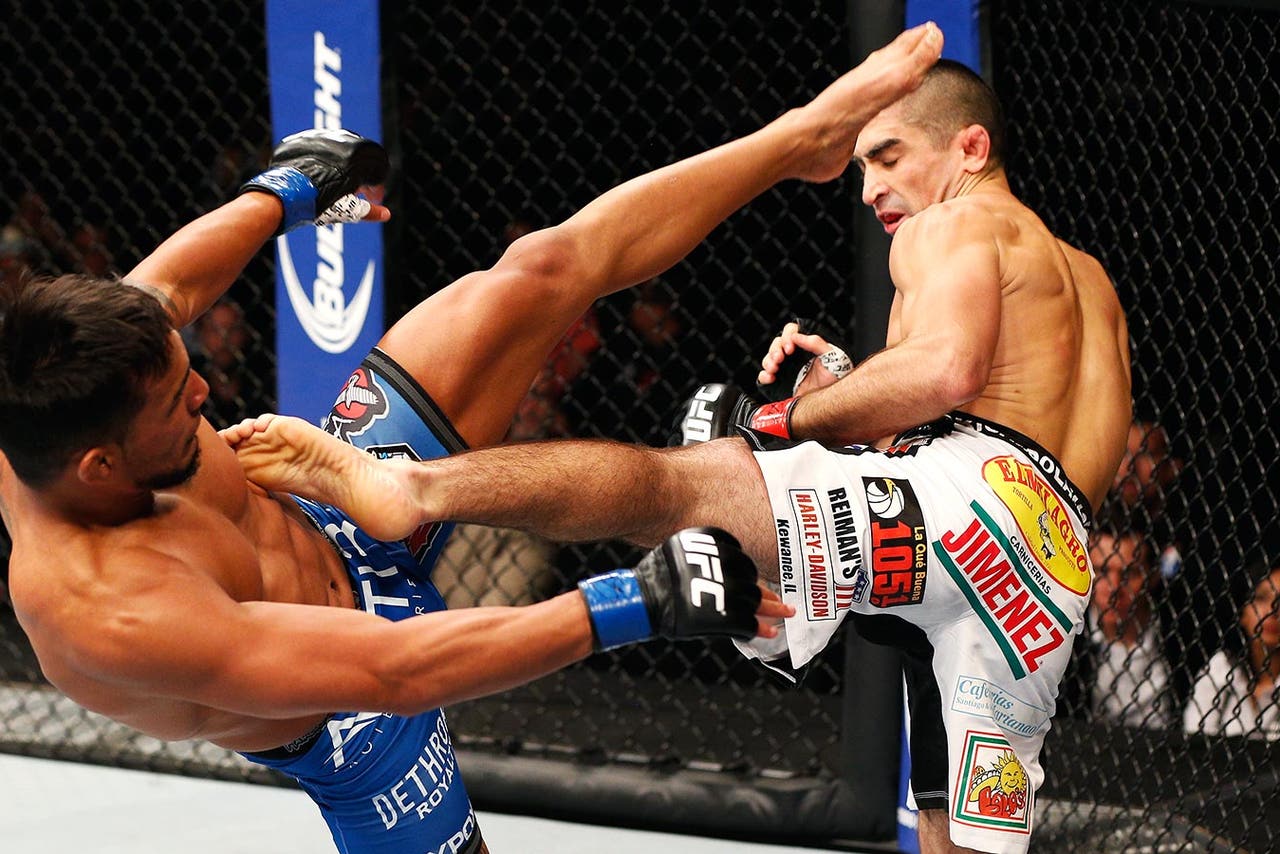 Dennis Bermudez (left) goes for a high kick on Ricardo Lamas.
It certainly appeared like Bermudez was a freight train rapidly approaching a title shot. Ricardo Lamas sent that train off its rails Saturday night when he beat "The Menace" by submission in the very first round. This is hardly it for Bermudez. He's only 27 years old and still a top-10 talent. He'll just need to start a new streak.
Who's next: Dustin Poirier
Featherweight, like welterweight, is a minefield. Once you're in the top 10, it's tough fight after tough fight. Bermudez and Poirier are both coming off losses to top championship contenders. This would be a battle to stay relevant in the higher reaches of the division and also likely a pretty damn fun fight. Both are also still young, so a loss here would not send either careening completely out of contention.
JESSICA EYE
Whether you agree with the stoppage or not, Eye's second-round TKO of Leslie Smith was her best performance in the UFC. And if you really look at it, she could very well be 3-0 in the organization right now. Some had her beating Alexis Davis at UFC 170 in February, but she fell in a split decision. "Evil" Eye is a serious threat.
Who's next: Sarah Kaufman
At first glance, this rematch doesn't make complete sense. But consider that it was an extremely close bout won by Eye via split decision and also that there has been beef between the two ever since that bout. Earlier this year, Eye's victory was turned into a no contest because she tested positive for weed. So since on paper no one won, why not do it again? The winner could emerge as a title contender.
LESLIE SMITH
Leslie Smith wades in against Jessica Eye before her ear gets split open.
"The Peacemaker" is developing quite the reputation for being one of the toughest, most exciting fighters in the UFC's women's bantamweight division. Those attributes can keep someone around a long time in the UFC, even if they aren't competing for a title on a regular basis. Smith has many fun fights in the future.
Who's next: Larissa Pacheco
Smith is coming off a loss to Jessica Eye due to doctor's stoppage (ear nearly hanging off). Pacheco fell to Jessica Andrade in her UFC debut in September. Both are long, exciting strikers who throw heat. Pacheco provides Smith with a good style matchup, someone she can stand and bang with. A win over Smith would be huge for Pacheco's budding career. A fun kickboxing war could be good for both women.
---
---