Julianna Pena knows the road to the title goes through Valentina Shevchenko
January 24, 2017

Just days away from her first UFC main event, Julianna Pena knows there are going to be a lot of questions coming at her about what's next.

With an undefeated record in the UFC, including victories over Cat Zingano and Jessica Eye, Pena is seemingly at the top of the list for a title shot if she can get past Valentina Shevchenko on Saturday night in Denver.

Arguably, Pena could have already fought for the gold if not for Ronda Rousey's return, which ultimately trumped any potential title shot for the former "Ultimate Fighter" winner. The title fight snub obviously didn't sit well with Pena, but rather than allowing the ill feelings to fester inside of her, she decided to use it as motivation for her fight against Shevchenko instead.

"It definitely lights a fire under my butt," Pena told FOX Sports. "I'm angry but this is my chance to prove truly what I've been confirming in my head. It's just important to keep your head level and stay as humble as possible.

"I didn't get the shot against (Amanda) Nunes and she wanted to wait around for Ronda (Rousey). Ronda laid an egg so now it's just my opportunity to show why I deserve the title shot and why I should be fighting for a title after I get my hand raised on Jan. 28."

The UFC has made no official announcement that Pena's fight against Shevchenko will earn the winner a title shot, but it would be rather absurd if that didn't happen.

Shevchenko has notched a 2-1 record in the UFC, including a three-round battle with current champion Amanda Nunes as well as a lopsided victory over former champ Holly Holm. Pena's credentials have been flawless in the UFC and with one more win over Shevchenko it's going to be hard to deny her the shot at the gold.

"I'm going to continue to push as hard as I can and push as hard as I can in the fight to solidify my spot in the division. To continue to remind everybody why I am the best 135-pound female that fights," Pena said.

"My job is to give it my all and go out there and put on a show and make sure I'm doing whatever is possible to get the win. That's all I can do and that's what I'm going to do."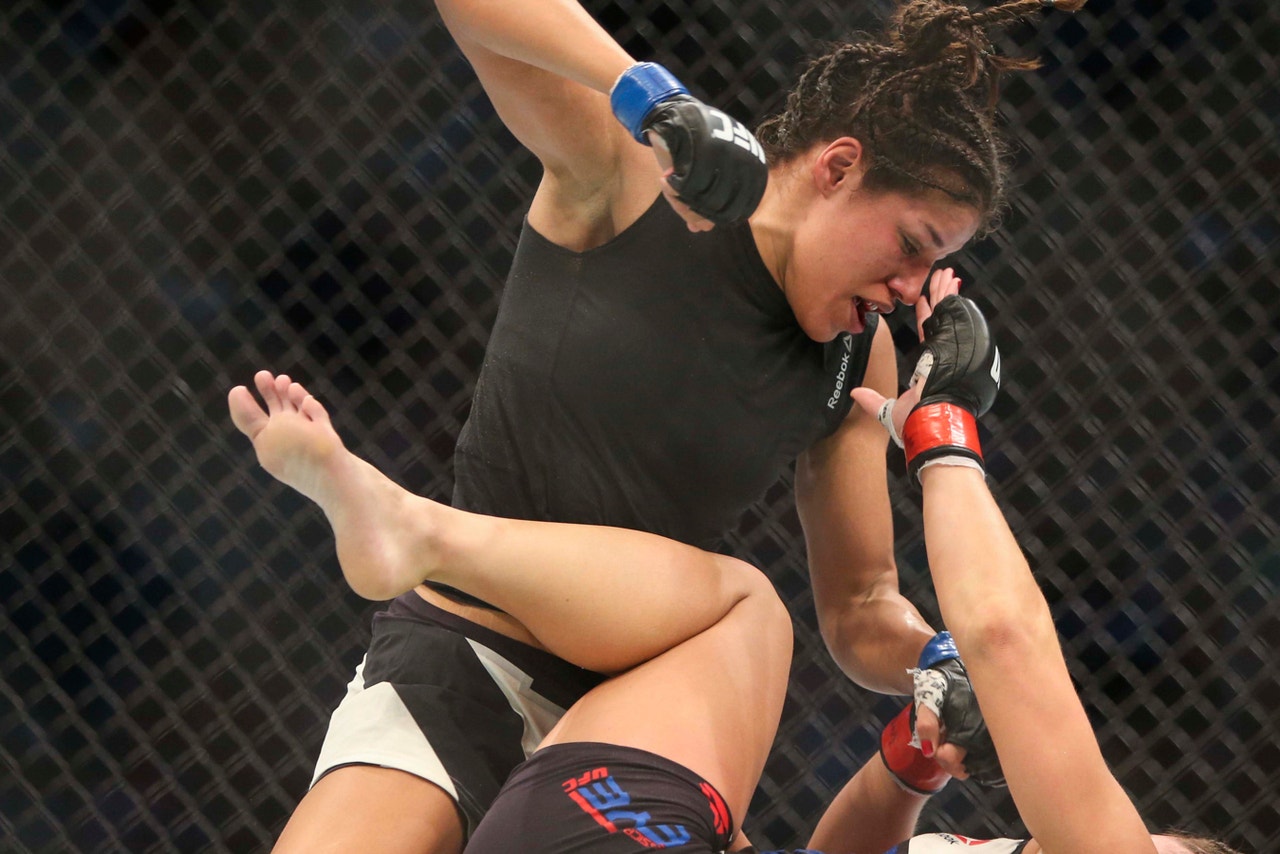 While the stakes appear to be the same for Pena and Shevchenko, only one of them can walk out of the Octagon with a victory and a statement sent to the UFC about the next shot at the belt.

On paper, Pena has more Octagon experience, especially when adding in her wins from "The Ultimate Fighter" where she had to go through a trio of tough opponents in a short, six-week period. What Shevchenko's mixed martial arts record doesn't account for are her numerous kickboxing bouts, which gives her an extensive fight history even deeper than her opponent this weekend.

As much as Pena respects what Shevchenko has done during her career, she still doesn't see how it will be enough to topple her when they finally step into the cage together.

"Valentina has like three, four, ten times as much experience as I do. She's a very strong fighter, but the only problem is I'm a very strong fighter, too. It doesn't matter how much fight experience she has," Pena said. "What matters is when we both get locked inside that steel cage and I plan on getting in a fist fight. I plan on biting down on my mouthpiece and coming forward.

"Aside from all of her credentials, I see a strong fighter and I see that she's good everywhere but I see that in myself, also. So it's really going to be a battle of who wants it more and I'm betting every feather and every dollar that I have that that's me."

As much as Pena will be bombarded with inquiries about the title shot before this fight, she knows nothing is guaranteed even with a dominant win over Shevchenko.

Rather than talking about what she deserves, Pena would rather let the performance speak for itself and when she's done with Shevchenko there will be no doubt who is the true No. 1 contender at 135 pounds.

"Getting a title shot is a consequence of all the hurdles and all the bumps and all the fights that I've had to get over in order to get to that. When that time comes, it will be very sweet and very well earned in my opinion," Pena said.

"In the meantime, I'm not looking past Valentina. I'm looking to get my hand raised against Valentina. The only thing that I'm focused on completely and solely is Jan. 28. I can't stop thinking about that date."

Pena faces Shevchenko in the main event at FOX UFC Fight Night from Denver on Saturday night with the main card starting at 8 p.m. ET on FOX.


---
---