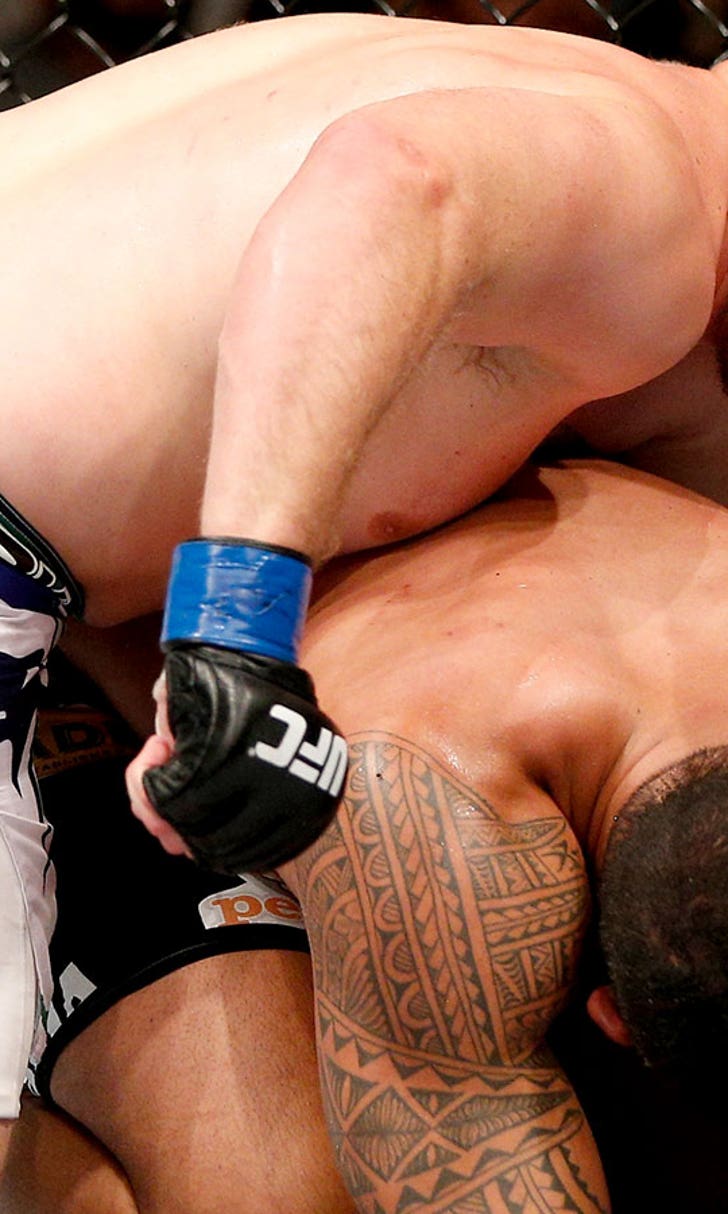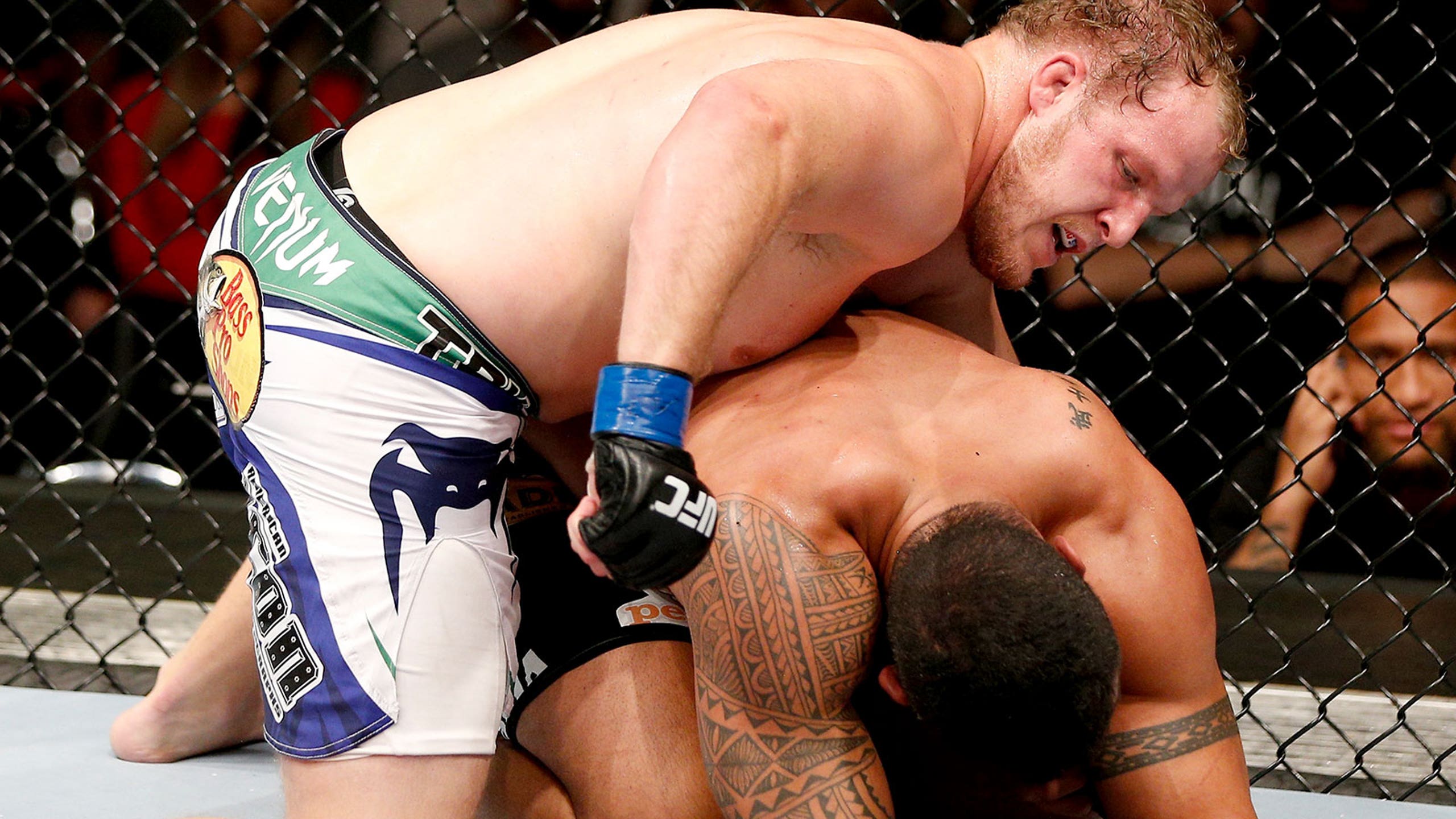 Jared Rosholt says he's improved, healthy and eager for UFC Fight Night
BY Elias Cepeda • November 20, 2014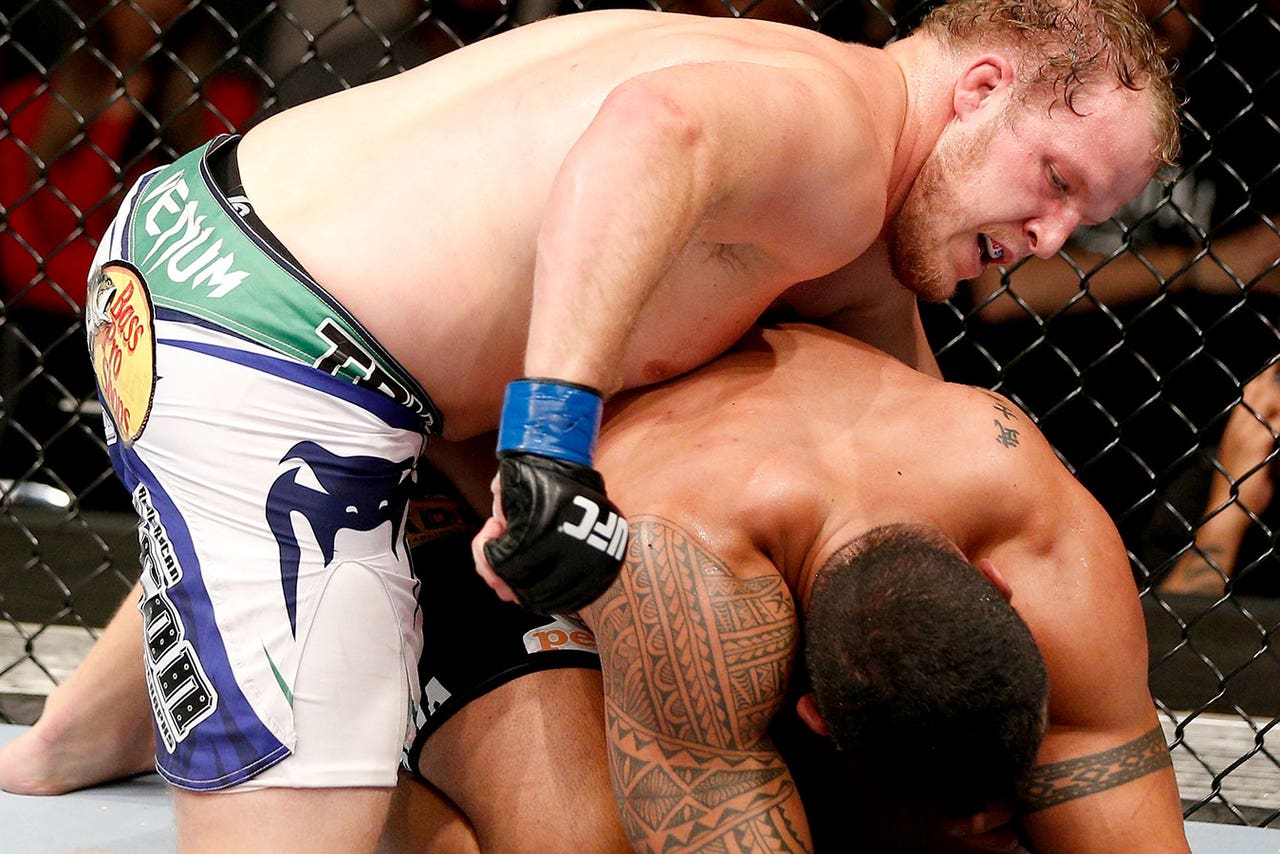 Back when this writer first spoke with heavyweight Jared Rosholt (11-1) as he prepared to make his UFC debut, in 2013, the former three time NCAA Division I wrestling All-American was confident that his superior athleticism would make the winning difference for him against the big men of MMA. A year and three wins later, Rosholt is undefeated in the UFC and heading into a fight against Alexey Oleinik (49-9-1) Saturday in Austin.
So far, the 28 year-old's early prediction seems to be holding up. "Yeah, I think so," Rosholt tells Fox Sports when asked if simply being more athletic than his opponents has been a big factor in his starting out strong in the UFC.
"I think that, and the wrestling, and also conditioning has made the difference. With my wrestling background I am able to grind on these guys. With the big guys, people are always questioning our conditioning, as well. Having good conditioning has helped me put these guys through a grind, and that's a big part as well."
In about the most humble sounding way one can imagine, Rosholt believes that what he's got can allow him to compete with the best in the world. The winningest heavyweight in wrestling powerhouse Oklahoma State's history believes those three pillars will carry him far - into the UFC heavyweight division's top five, to be exact -€" but he also knows that if he wants to become a champion, he has to improve even more.  
"It's hard to say, exactly, how you'll do against people until you really break these guys down, but I think that, for the most part, the abilities I have now can serve me well up to the top five," he says.
"Wrestling, conditioning and athleticism can take you a long way in the heavyweight division. Once you get into the top five, anything can happen. A guy like [champion] Cain Velasquez has really good wrestling, too. Someone like [interim champion] Fabricio Werdum is just a wizard on the ground, so taking him down is just half of the battle."
Rosholt's early success has increased the pressure on his shoulders. That, in turn, has prompted him to scale up his focus and intensity in training.
"Yeah, I've kind of gotten it in stages," he explains.
"The first time was when I had my first loss in fighting (back in 2012, to Derrick Lewis). After that, I really picked it up a lot. It really helped me develop the work ethic I needed, and helped me realize how hard I needed to work, and how much I needed to get better. Then, when I got the call from the UFC, which was another stage.
"I didn't want to mess up, look bad and not win. I wanted to stay with the company, so that was a little more pressure. And yeah, now riding a three-fight win streak, being one fight away from getting some pretty big damned fights, it's even more motivation."
Rosholt has converted that motivation to improvement. The heavyweight says that his current training camp has seen him get better in many areas, as well as stay healthy for the first time in a long time.
"We feel like my training has turned the corner," he says.
"My conditioning hasn't been an issue but we're taking it to a new level, and my skill set is improving a lot. I know that in just this one camp alone, we've seen such huge jumps in conditioning, my striking. We do stuff most heavyweights aren't doing, in workouts. I'm not one of those guys who things he does not need to get better. I'm always the first one to say that I think I can get better."
Rosholt has respect for the experience his Saturday foe Oleinik brings to the table. The Russian has fought nearly sixty times as a professional, and is riding a ten-fight streak.
"I see a guy with a ton of experience," Rosholt says of his opponent.
"He's had over fifty fights so he's probably not going to be rattled very easily by performing in front of people. But I think that he's one of those guys where my athletic ability is quite a bit more than his. He does some submissions you don't see very often, and gotten a lot of guys with them. "
Still, Rosholt sees himself as the favorite Saturday night. If not for reasons of his own ability, at least because he feels as though many past opponents were better than his next.
"I think it's going to be a tough fight but I think it's one of those fights where I've fought better guys than him...I can't wait to fight."
---
---