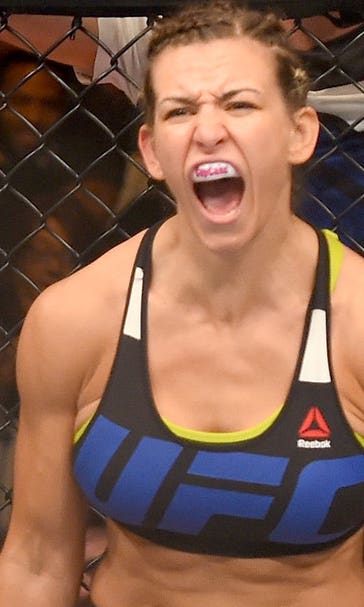 How Miesha Tate went from near retirement to a shot at Holly Holm
BY foxsports • February 29, 2016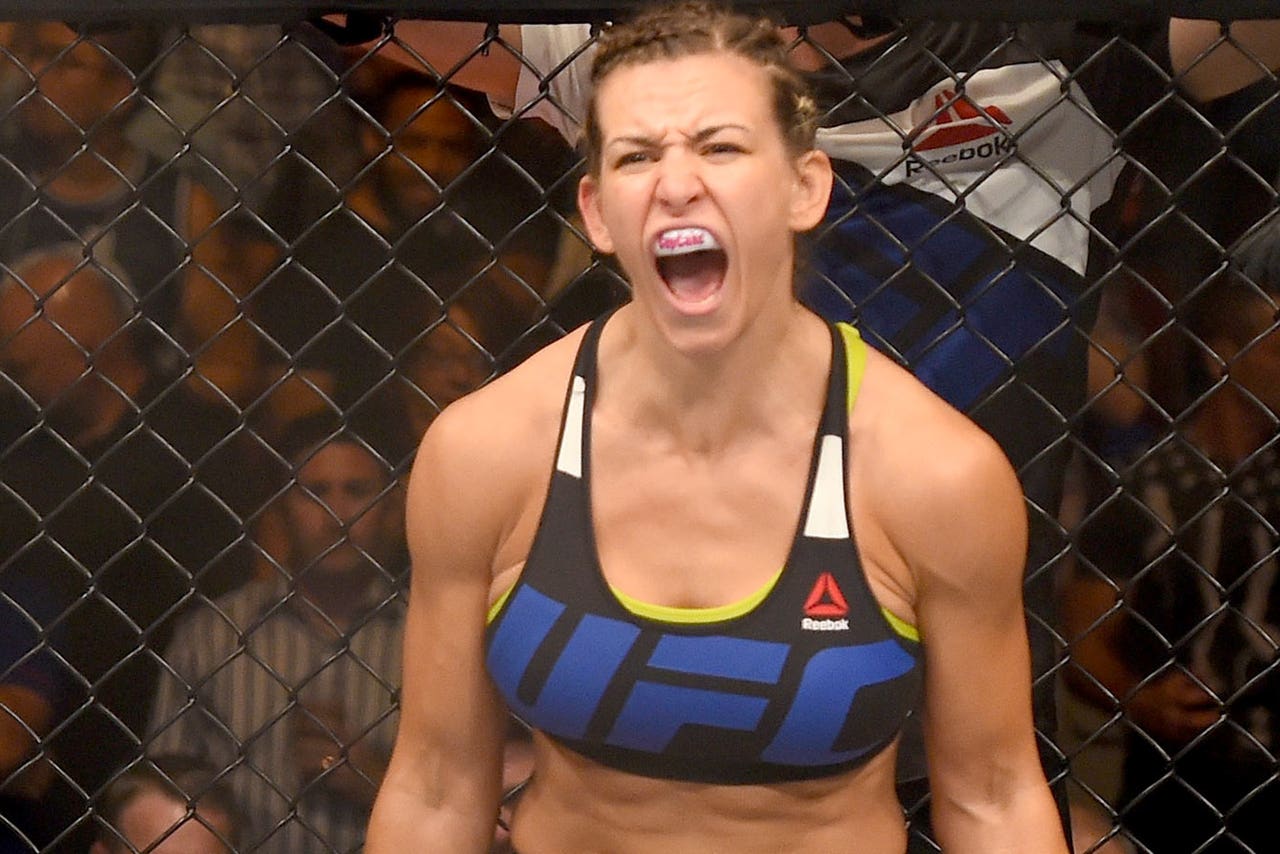 Miesha Tate was on top of the world following her win over Jessica Eye last July, which marked her fourth win in a row and seemingly put her on top of the contenders list for a shot at the women's bantamweight title.
The good news only compounded for Tate after Ronda Rousey dispatched Bethe Correia in less than a minute at their fight at UFC 190, further strengthening the logic that a third fight between the two rivals was in the works.
Even UFC president Dana White acknowledged that Rousey vs. Tate 3 was on the horizon after Tate's last fight in July.
"She has worked her way back to Ronda Rousey," White said at the post fight press conference.
Just as Tate was starting to prepare for another showdown with Rousey after twice falling to her in the past, the rug was pulled out from under her during a stunning announcement that was made on national television.
The UFC had opted to give undefeated former boxer Holly Holm the shot at Rousey instead but failed to even tell Tate that it was happening.
"I felt like I was at the top of the top after winning four straight fights in a row and getting another title shot and really feeling like I was ready for that. I was excited for that opportunity. Right away, I was back in the gym and I was unscathed in the fight with Jessica (Eye). Then I found out I wasn't getting the title shot and I was a little upset about that and the way that it was announced. I was super upset," Tate told FOX Sports about the incident. "I just felt like I was never going to get another title shot so long as Ronda was the champion."
The doldrums weren't just Tate tasting sour grapes for getting passed over in favor of Holm receiving the title shot.
In fact, Tate stated at the time that calling it a career was a real option after the way her title shot disappeared and it seemed like she was always going to be on the outside looking in so long as Rousey was standing on top of the world.
"That was really hard for me to swallow," Tate said. "That had me contemplating retirement even at one point, but not because I wasn't able to compete at that high of a level but because I felt that maybe that door had shut for me in the eyes of the UFC.
"I didn't know where I stood with that and how I could process those emotions and what my motivation would be if it's not to become the best in the world. My motivation is to fight for what? I'm not fighting for a participation ribbon. I'm fighting to be the champion."
Tate says she really did think about walking away from the sport, but then her world turned upside down on a night in November that will go down as one of the most shocking in MMA history.
Holm defeated Rousey with a thunderous head kick that sent the former Olympian crashing to the canvas in violent fashion. She was now the champion and suddenly Tate was back in the title conversation.
"So that was a very emotional state for me that I was in. I was frustrated. Then the turn of events with Holly and it was like holy crap! It was like a full 180 and this is meant to be," Tate said. "This was the chain of events that needed to happen. I knew Ronda wasn't going to be ready for a while, and I know for sure she wasn't going to be ready as soon as me because I was ready to start my camp tomorrow. As soon as Holly wants to get back in there."
An excited Tate immediately got back in the gym and started preparing for what she believed would be an inevitable call from the UFC to offer her a title shot against Holm.
Considering Rousey got knocked out cold, Tate couldn't imagine that she would be ready to fight again as early as Holm would probably hope to defend her title, so all the pieces were falling into place for a long awaited title shot.
Until it all fell apart again.
"I've followed Holly's career. I know she likes to get back in there and accept challenges that are in front of her. I really do respect her, and I knew she'd want to get in there sooner rather than later," Tate said. "Sooner than Ronda would want to be back in there. So then I was at the highest high again thinking this is my opportunity. Then I sat down with the UFC and they assured me that was not going to be the case.
"Ronda was going to fight at UFC 200 and I would have to take another fight and see how that fight would go from there. So again, I was like this is not what I wanted to hear."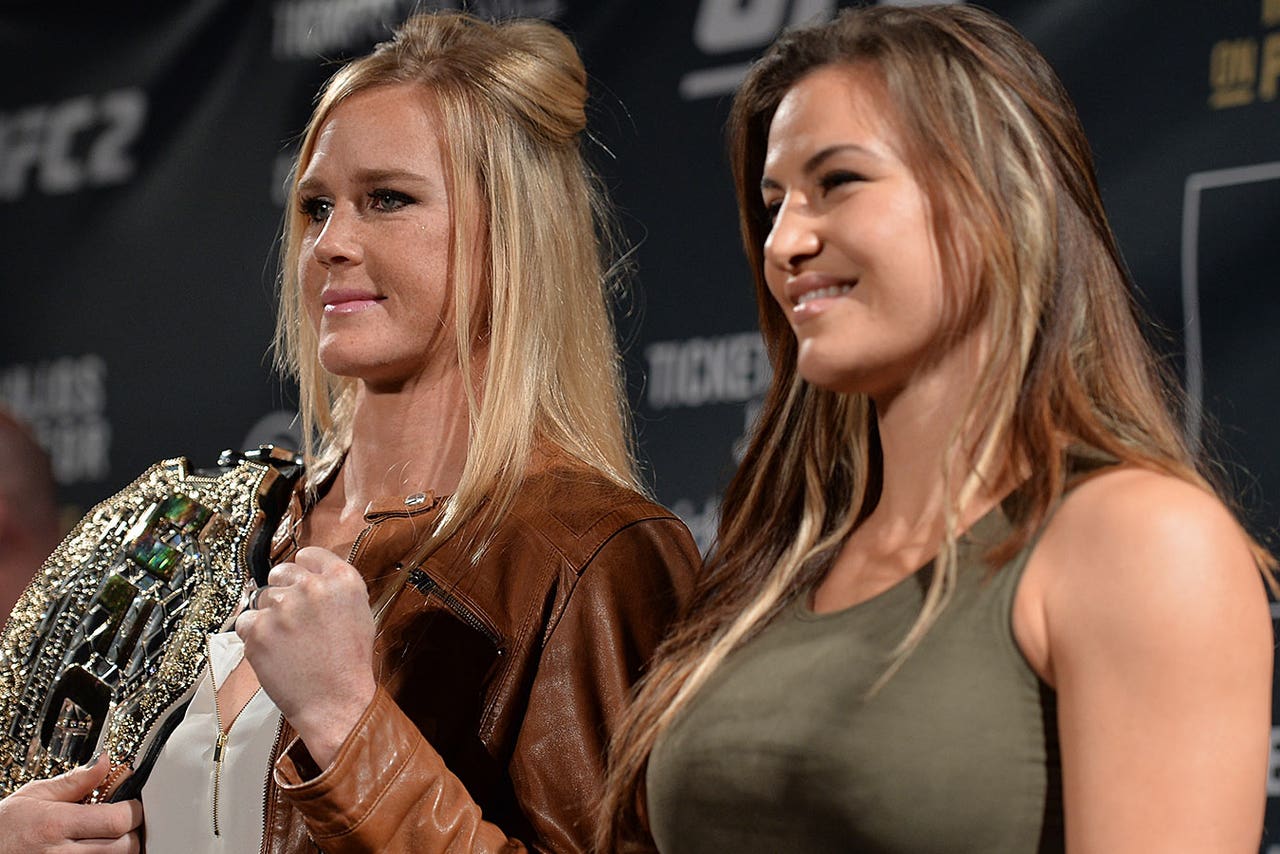 Holm and Tate are ready to rumble.

Rather than getting mired in disappointment about the title fight situation, Tate finally decided there was still a light at the end of the tunnel because Holm was still the champion and Rousey had been vanquished.
"There was something possible on the horizon, and I stayed positive and we were at a much better place than we were. It was like water under the bridge, we're starting over," Tate said.
"It was looking like I was going fight Cat Zingano, Amanda Nunes and they offered me Julianna Pena, but I already said I didn't want to fight her because of our friendship. So that's what I was looking at."
But then rumors started swirling that Rousey's movie schedule was going to keep her fairly busy through the first half of 2016 and that might push her return to action past the scheduled showdown with Holm in July.
It was around this time before anything was officially announced that Tate got a call from the UFC that she might want to start getting ready because something big could be on the horizon.
Tate didn't blink and immediately shifted her focus toward a potential title fight with Holm. Sure, she had her hopes smashed two times already when it looked for certain she was getting a shot at the gold, but Tate refused to play the pity card.
"The UFC started nudging me a little bit like, 'Hey you might want to stay ready, we're not sure what's going on with Ronda and it's really based on what she wants to do. If she feels she can fight at UFC 200, we're going to let her, but if she doesn't want to we're going to talk about other possible options,' " Tate revealed. 
"So it was like OK, that's fine. So I started my camp without confirmation that I was going to get the title fight."
Before long, Tate got the call that Rousey was out and she was getting the title fight with Holm at UFC 196 on March 5 in Las Vegas.
Considering how tumultuous these past six months have been for Tate, riding a roller coaster of emotions that teetered between retirement and finally getting a second shot at the UFC title, it's understandable that she was overwhelmed in the moment.
After so many ups and downs, Tate sees this fight with Holm as her destiny and the end result is finally grasping the women's bantamweight title between her fists.
And in Tate's mind, she's already wearing the gold.
"Fate has a way of discovering itself, and I think this is fate. I think it's meant to be. I think I'm meant to fight for the title, and I think I'm meant to be the champion in 2016," Tate said.
"The belt to me signifies all the years of hard work I put into this sport. In my mind, I'm already the champion. I'm already the best. I feel I've won this fight. I've seen myself winning this fight in countless ways. I see myself getting my hand raised. I've already visualized it. I feel like I'm already there, I've already done it and now it's just putting that work in to show it to everybody else. That belt symbolizes everything that I've put into this sport. That means a lot to me. To be able to say I am the undisputed UFC bantamweight women's world champion. That makes everything I've done worth it. That's why I do this."
---
---