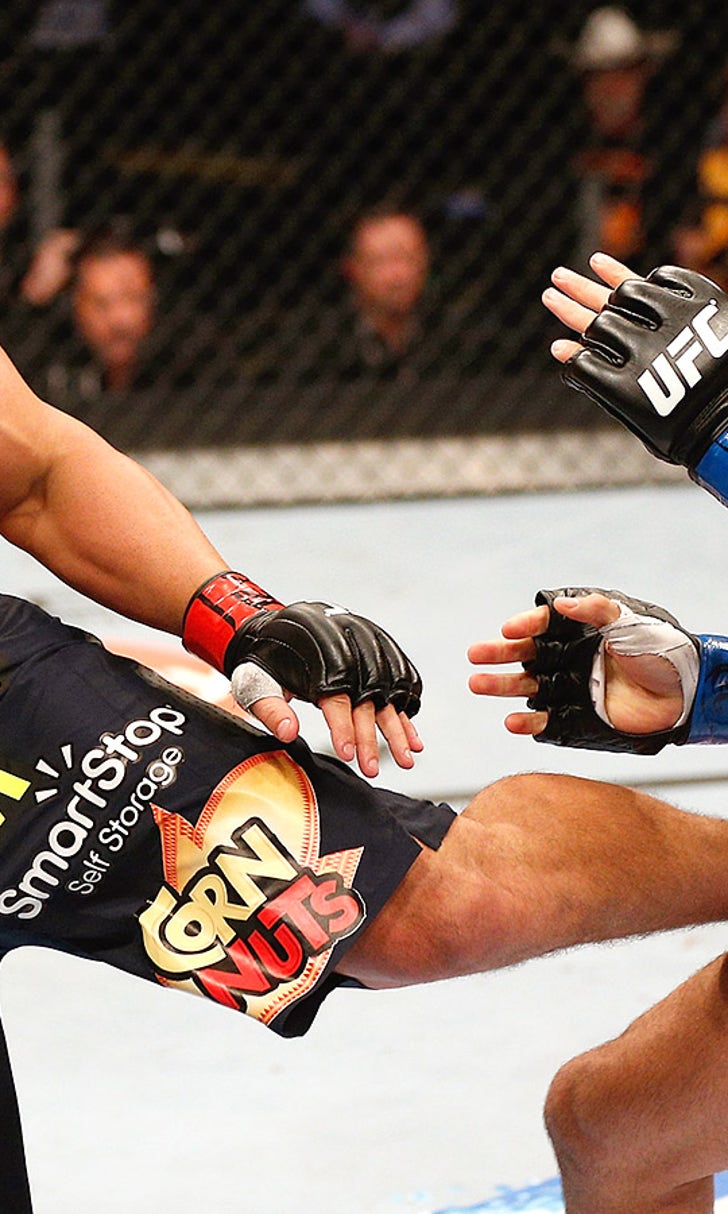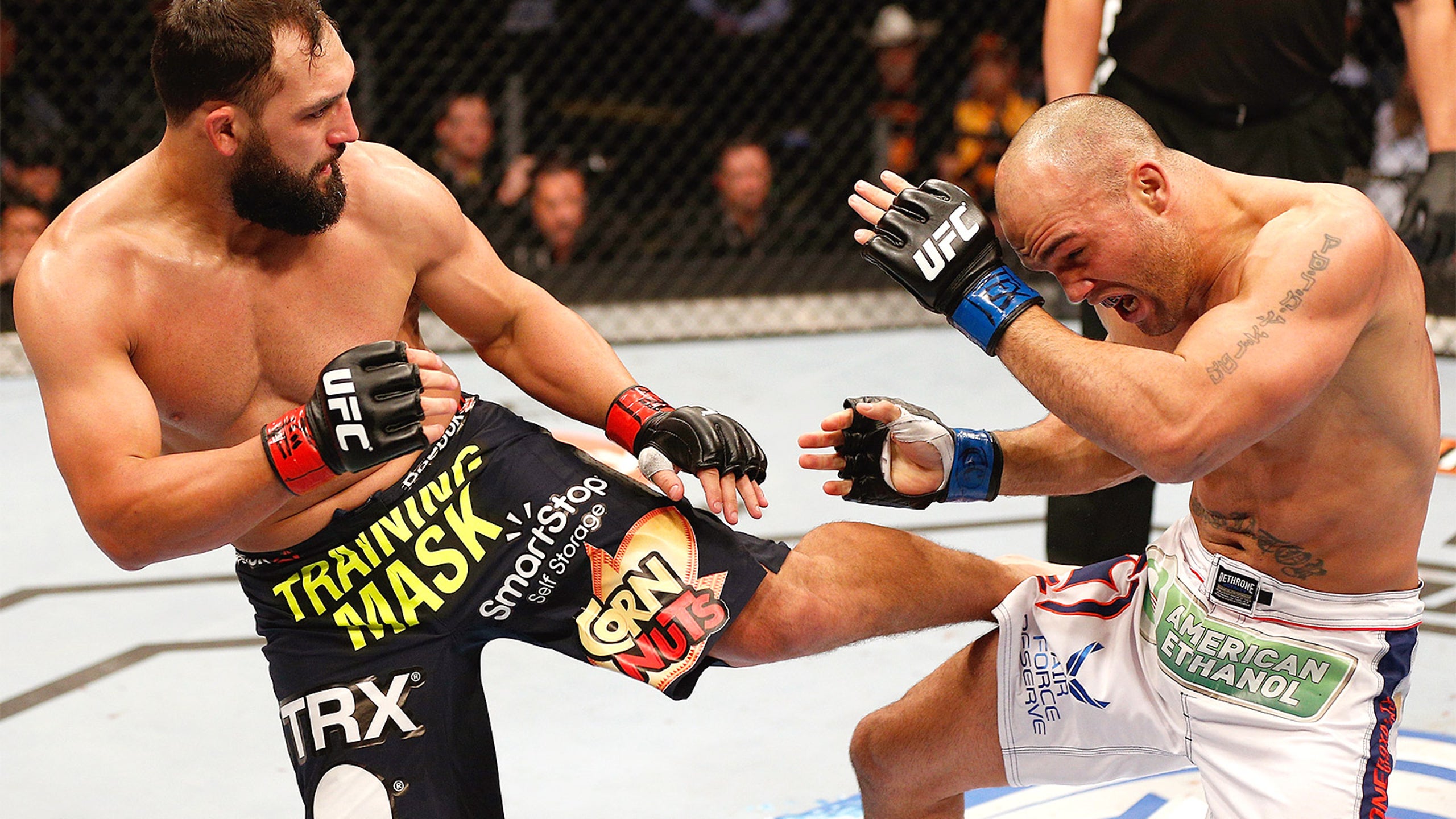 Hendricks wins UFC welterweight title in instant classic over Lawler
BY foxsports • March 16, 2014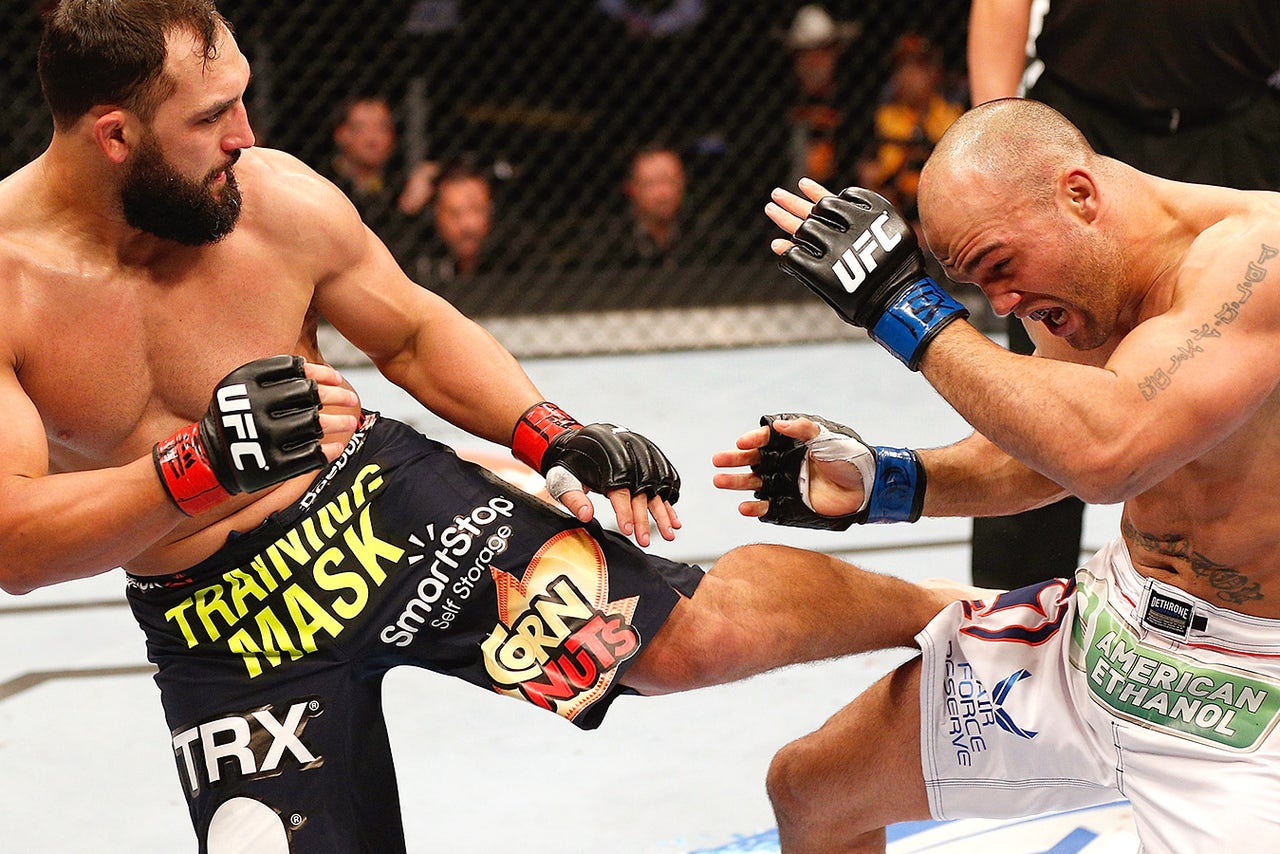 Much of the build-up for the fight this week was about Georges St-Pierre. What would the welterweight division look like without the guy who held the belt for six years?
On Saturday night, nobody cared about GSP. It was all about Johny Hendricks, Robbie Lawler and what could end up being the Fight of the Year.
Hendricks and Lawler stood and traded big punches for much of five full rounds. Hendricks bled badly from his nearly shut right eye. Lawler was hurt badly in the fifth round.
In the end, with the entire crowd at American Airlines Center standing, Hendricks was announced as the winner of an extremely tight unanimous decision (48-47, 48-47, 48-47) and crowned the new UFC welterweight champion at UFC 171 in front of 19,324 fans -- the most ever for a UFC event in the United States.
"Robbie is f***ing tough," an emotional Hendricks told UFC TV analyst Joe Rogan afterward. "God dang. I feel very blessed."
The Dallas native thought he won the title back in November when he pounded St-Pierre for five rounds, but lost a controversial decision. This time, Hendricks came away looking beat up. Blood rolled down his face. But his hand was raised.
The difference was the latter part of the last round. Lawler had likely won the third and fourth, rallying from an early deficit. But Hendricks used his big left hand to stagger Lawler multiple times late in the fifth. A late takedown -- Hendricks using that Oklahoma State wrestling pedigree -- pretty much sealed the victory. Lawler felt powerless after pushing Hendricks to his very limit,
"I was thinking, 'Aw s**t, he's frickin' laying on me,'" Lawler said.
But it really could have gone either way. There were varying scores among media members. The first and second rounds were ultra close. The third and fourth were likely for Lawler. The winner of the fifth had a chance to win the whole thing and that's what happened.
Hendricks had to dig deep. Momentum wasn't on his side. His eye was a mess, his vision blurred.
"Nobody has ever done this to me," Hendricks said.
Before the fifth round, Hendricks said he saw his wife in his corner and said to himself "I gotta win." That's exactly what he did.
"Five minutes can change the world," Hendricks said.
The fact that Lawler was even in this fight was hard to believe. His first fight in the UFC was 12 years ago. He's been through ups and downs since then, bouncing around from organization to organization. Lawler found himself at age 31 at American Top Team in Coconut Creek, Fla. Always with knockout power, Lawler became a technical striker and beat welterweight contenders Josh Koscheck and Rory MacDonald to get here.
"Just disappointed," Lawler said. "So close. It was a hell of a fight. It's been a long road, long journey. I just didn't see it going down this way."
Hendricks was the obvious choice for this fight. Many thought he beat St-Pierre in November. And when GSP announced a few weeks later that he'd be stepping away from the UFC, Hendricks was all but assured of being in this position.
The only setback almost came Friday when Hendricks weighed in at 171.5 pounds -- a pound-and-a-half off where he needed to be for a title shot. He was able to make weight two hours later at the time limit, but called it "embarrassing."
"I promise i won't do it again," he said.
It didn't end up mattering, nor did it effect him against Lawler, who was nearly the victim of a bizarre scoring gaffe by judge Doug Crosby. Crosby gave Hendricks the second round 10-8 and scored the fifth round 10-10. The second round was a close one -- there's no way it could have been 10-8.
St-Pierre left a void of star power in the 170-pound division, though he has left the door open for a return. What he also left is a loaded handful of elite fighters, many of which were on the card Saturday night. Tyron Woodley and Hector Lombard looked especially good.
But Hendricks knew in his heart who he might be seeing across the Octagon from him again -- the guy he just beat. It was that good of a fight. The American Airlines Center was on its feet the entire fifth round. Hendricks fully expects a rematch sooner rather than later.
"I promise you I'll be facing him again and when we do, I hope I can come out with a better performance," Hendricks said.
It rarely gets better than this. Did he knock Lawler out flat like he did to Jon Fitch and Martin Kampmann? Did he bloody and batter him like he did St-Pierre? No. But not every win is created equal.
Hendricks figured that out back in November. He thought for sure he'd won the title when Bruce Buffer announced the decision at UFC 167.
"I damn near died again," Hendricks said of listening to the decision Saturday night. "I was sitting there saying, 'God not another GSP.'"
It wasn't. This wasn't about St-Pierre. In Dallas, his adopted hometown, Saturday night was all about Hendricks, the new UFC welterweight champion. For real this time.
---
---