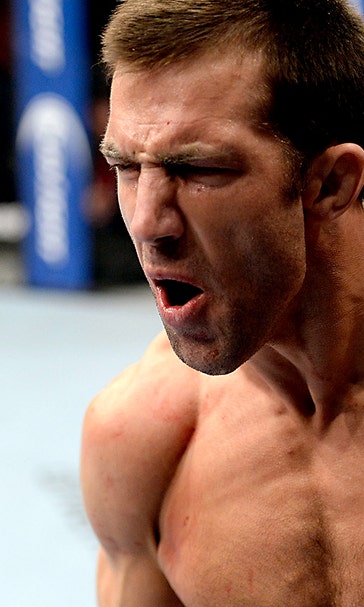 For Luke Rockhold, big win feels surreal after "hellish" training camp
April 20, 2015

None of us would have guessed it from the way he fought Saturday night against Lyoto Machida, but presumptive new number one contender for the middleweight world title Luke Rockhold had one of the worst training camps of his life leading up to his FOX UFC Fight Night main event contest. "I had a horrible training camp. This was brutal," he tells FOX Sports Monday morning.
"It sucked. My body finally came around at the last second. I couldn't use my left hand for a lot of camp. I sprained a knuckle and then changed the way I punched because of it. Because of the way I punched, then, I hurt my hand. I also sprained my big toe on my right foot. So, I didn't have my left hand or my right foot, fully. I was so limited in so many ways, this camp. I cut my head multiple times, and then I got bronchitis. It was a hellish training camp."
It certainly sounds like it. Despite all that, Rockhold dominated Machida on the ground, Saturday, and finished him with a rear naked choke. 
Rockhold was confident heading into the fight, promising the world that he could do exactly what he ended up doing. Even the Santa Cruz fighter has to admit that the dominant win was shocking.
"It definitely feels surreal to have gone in there and gotten the job done the way I did," he allows.
"But I knew I was going to do what I did. I felt sloppy on the feet, honestly. I could have done much better, there. But I was very confident in my ground game. I knew that I would be that much better than him, there. I feel that I'm one of the best guys out there with my control."
Now, Rockhold hopes he'll have a middleweight title shot to look forward to, next. With either the current champ Chris Weidman, who looks poised to become an all-time great, ahead or challenger Vitor Belfort, who two years ago knocked Rockhold out, The American Kickboxing Academy fighter takes heart from his well-roundedness and improvement.
"I'm constantly improving," he promises.
"I'm getting better everywhere. More than anything, my confidence is growing. I think that I've improved a lot, but it is mentally where I've grown the most."
Rockhold explains that being comfortable everywhere in the cage allows him to be calm against the very best in the world. "Being well-rounded in my game helps me a lot, mentally," he says.
"I don't care if I lose position in Jiu Jitsu. I don't care if we're on our feet, because I feel confident in my striking. That all allows you to relax and allows you to not be tense, and not stressed about losing position. It gives you this relaxation."
Accordingly, Rockhold is able to look at possible title match ups with either Weidman or Belfort, calmly. Against Weidman, the master wrestler, Rockhold is confident that he would be able to get up as often as he needed to, and also out-strike the defending champion.
"I definitely won't concede takedowns to him, and even when I'm on my back, I'm transitioning to sweeps to get on top. I win in that scramble," he says.
"I don't think anybody can hold me down, especially in this weight class...I also think I have better stand-up than him. I'm faster, I'm a little bit slicker, and I think I have more power than him."
If Rockhold were to fight Belfort again, he assures that it would go much differently than their 2013 meeting where he was caught with a spinning heel kick to the jaw. "If I fight Belfort, the sequel would have a different ending, 100 percent," he says.
"That was a well-placed kick, but again, it was a spinning heel kick, and one that landed right on the jaw." 
The specificity from Rockhold is to emphasize just how crazy of a fight-ending that was, and therefore, how unlikely it would be for anything like that to ever happen again. "It was one of those lightning strikes situations," he says.
"There was a lot of luck involved in that. Obviously, there was some skill, also, and some steroids, and a lot of things that played into that kick. I would demolish Vitor if I ever fought him again."
Though the idea is for Rockhold to wait for a winner of Weidman vs. Belfort to emerge at UFC 187 in lat May, there always exists a possibility that one of them could once again become injured and that he could be offered a short notice, replacement opportunity to fight for the belt. Rockhold says that it would be hard to turn down such an opportunity, though his mind and body certainly need a rest right now.
"I want a break. Mentally, I need a break," he says after a pause.
"It would be hard to pass up an opportunity for the title. I've come so far. But it would also be hard to jump on that fight, last-minute, without a whole-hearted camp, with a clear conscience. I'm going to stay somewhat in shape for the next couple of weeks. If something happens in the next couple weeks and they need me to fight in that one, I'd consider it. If things fall apart in close to the fight, no. I wouldn't take it, then."
---
---