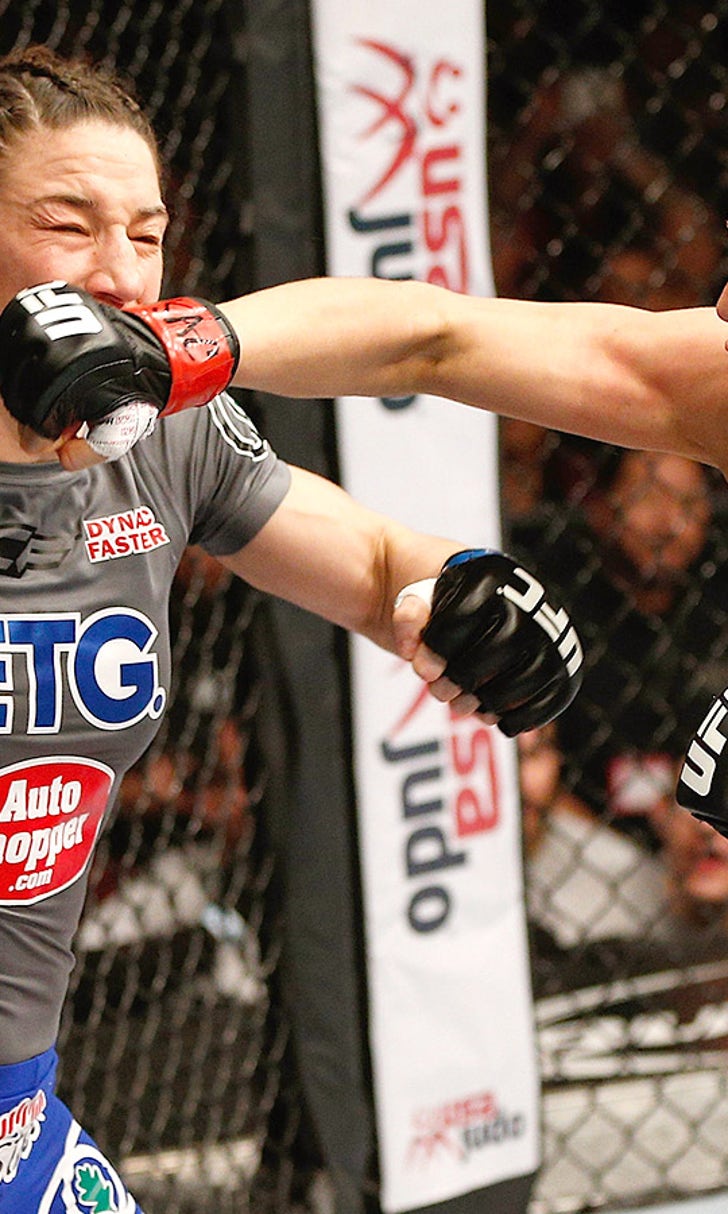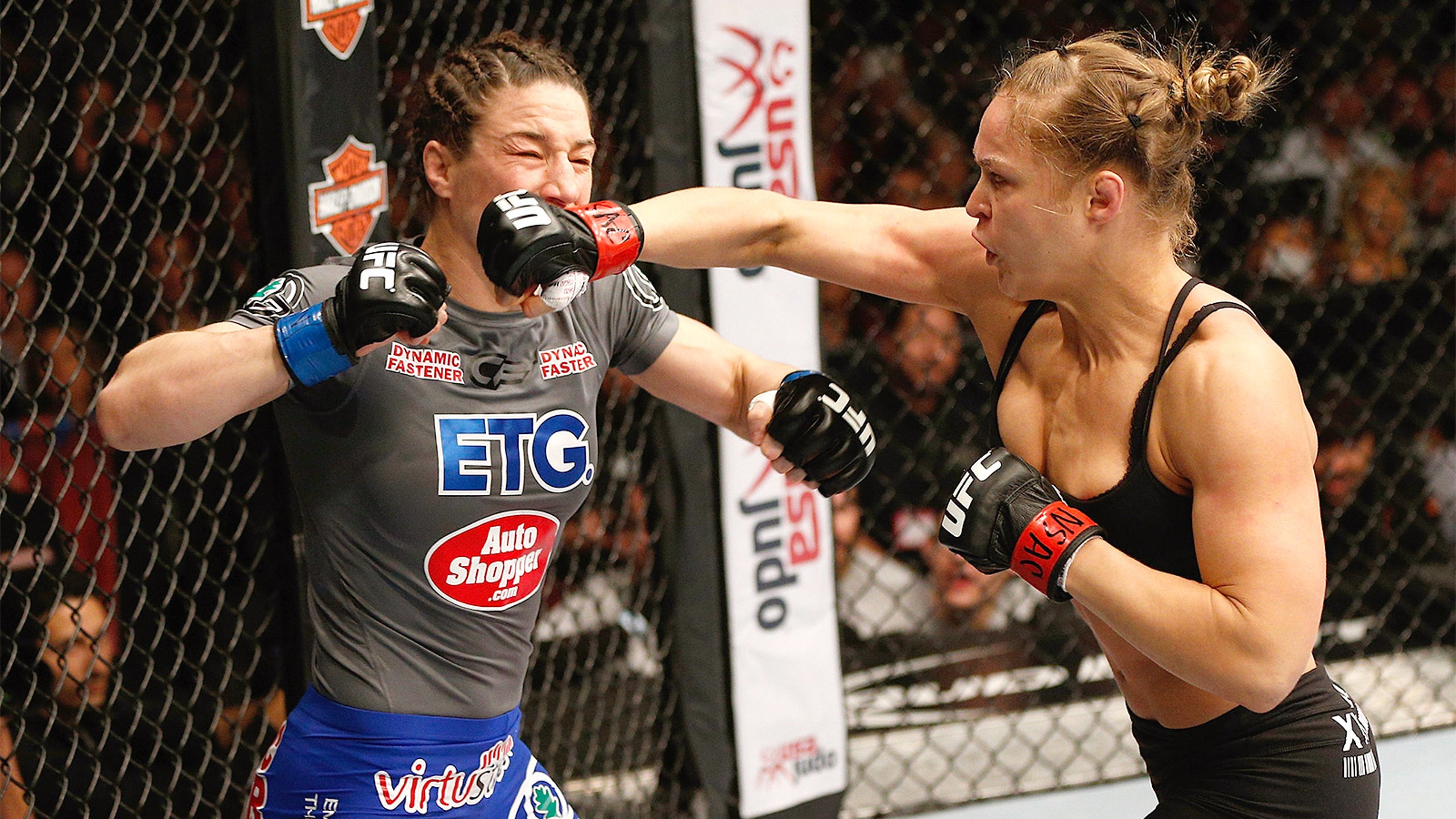 FIGHT BLOG RECAP: Rousey TKO's McMann in record time
BY Damon Martin • February 22, 2014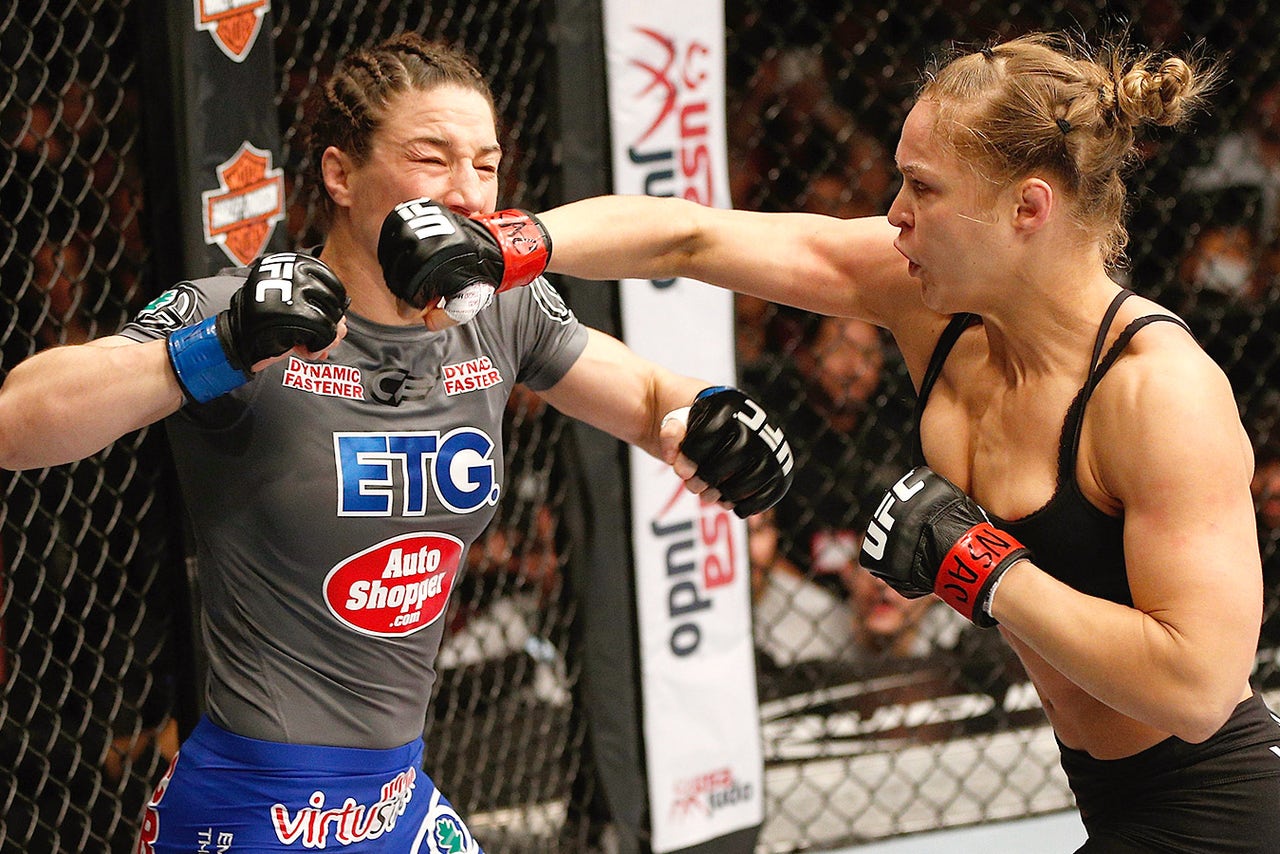 Ronda Rousey's streak is over.
She's still the UFC women's bantamweight champion, but now she has her first knockout after dropping Sara McMann with a knee to the liver that buckled and finished the former Olympic silver medalist just over a minute into the first round of their main event matchup at UFC 170.  Her consecutive fights ending by armbar is over, but now Rousey proves she's dangerous everywhere, not just on the ground.
The win marks Rousey's third straight title defense since coming to the UFC, and she just seems to be getting better and better. 
Meanwhile, Daniel Cormier made quick work of Patrick Cummins, knocking out the late notice replacement in impressive fashion early in the first round.  Cormier said after the fight following all of Cummins' comments, this was the only way the fight could have ended.  Rory MacDonald also bounced back in impressive fashion from a tough loss in his last fight to put on a stellar performance against Demian Maia.
Round 1:
McMann pops Rousey with some powerful punches to open the fight.  Rousey going for the clinch and she lands a huge knee to the body that drops McMann to the ground.  McMann covers up and Rousey lands a few more punches as Herb Dean comes in for the stoppage.  Looks a bit premature even during the replay but Rousey is the winner either way.
Official decision: Ronda Rousey def. Sara McMann by TKO (knee and strikes)  1:06, R1
Analysis: The stoppage did seem to come a little early but in multiple replays McMann's arm was limp and she was face down on the mat.  Rousey gets her first TKO win after a career defined by the armbar so we now know that the UFC women's champion has plenty of weapons in her arsenal.  Rousey will head off to Hollywood for her next project as she films the 'Entourage' movie coming up in March before taking a nice long break from fighting after back-to-back title defenses inside of two months.  Rousey's next challenge could be Cat Zingano or Alexis Davis depending on the timing of her fight.  Then again, if Cris Cyborg really can make the cut to 135 pounds will we see the biggest bout in women's MMA history? Only time will tell. 
Patrick Cummins out to "Long Tall Sally" by Little Richard. Daniel Cormier out to "Right Above It" by Lil Wayne
Round 1:
Cormier blasts Cummins with an uppercut as the newcomer tries to get a takedown.  Cormier just unloads with punches and Cummins drops to the mat.  Cormier just starts pummeling Cummins with shots as he falls limp and the referee stops the carnage.
Official decision: Daniel Cormier def. Patrick Cummins by TKO at 1:19, R1 
Analysis: For all the talk about Patrick Cummins, he was still a late notice replacement who really had no business in the same cage with Daniel Cormier.  Still, Cormier needed to prove he could make the cut to 205 pounds, and given the opponent, he needed to dominate him.  Cormier did more than enough as he obliterated Cummins in one minute flat. Now it's time for Cormier to get that top ten opponent he was supposed to have going into UFC 170.  Cormier may still end up being the biggest challenge that Jon Jones will face in his light heavyweight title reign, it's just a matter of time before it happens. 
Demian Maia out to "Numb" by Linkin Park. Rory MacDonald out to "Seek and Destroy" by Metallica
Round 1:
Maia shoots in and he's got MacDonald on the mat just 30 seconds into the fight.  Maia very aggressive on the ground and he gets MacDonald mounted.  MacDonald is scrambling, trying to get loose of Maia's grip but the Brazilian is not letting go.  MacDonald has a cut between his nose and eye that's drawing a little blood out of his face.  MacDonald finally slips out and gets to his feet as the round closes
R1 10-9 Demian Maia
Round 2:
Maia is diving in and he really wants this one on the ground again, but MacDonald's sprawl is working perfectly this round.  MacDonald unloads a kick to the midsection that will probably make it hard for Maia to breathe tomorrow.  Maia's takedowns are sloppy and slow as he struggles to get air in his lungs.  MacDonald is really turning it on now, in complete control.  Maia is busted up but he's surviving.  MacDonald pulls a complete 180 in the second round, just battering Maia over all five minutes
R2 10-9 Rory MacDonald 
Round 3:
MacDonald peppering away with jabs to take over the first part of the round, but Maia digs deep and finds a way to get in close, grabs the legs and takes the fight to the mat.  Maia on top but can't do much with the position and MacDonald uses his butterfly guard to lift him up, and escape out the back door.  Maia's shots are completely telegraphed at this point and MacDonald is getting out with ease.  Every time, Maia shoots, MacDonald sprawls and punishes the Brazilian on the way back up. MacDonald puts together a huge combination with a series of straight punches as the fight comes to an end.
R3 10-9 Rory MacDonald (FOX Sports scores the fight 29-28 Rory MacDonald)
Official decision: Rory MacDonald def. Demian Maia by unanimous decision (29-28 on all cards)
Analysis:  Following a rough first round where he spent the majority of the time on his back defending Maia's attacks, Rory MacDonald looked fantastic in the final ten minutes.  MacDonald has been criticized for not taking chances in the past, but once he got out of the first round he opened up and just punished Maia for the remainder of the fight.  Let's not forget he was one round away from beating Robbie Lawler in his last fight and with Georges St-Pierre out o the UFC for now, the sky is the limit for MacDonald right now.  He could sit and wait for one of the top welterweights who wins at UFC 171 in Dallas, or possibly step up to face top ten fighter Matt Brown, who needs a fight when he returns from injury later this year. 
Round 1:
Even through most of the first round, although Waldburger looks really solid on his feet. Pyle puts a stop to all that, however, and brings the fight to the ground where he immediately moves into side control.  They work back up the feet and Pyle doing a great job with his Muay Thai plum, looking for knees inside before landing another takedown to end the round.
R1 10-9 Mike Pyle 
Round 2:
Pyle hits a takedown to start the round but he lets him up and tries to take him in the transition back to the feet.  The two fighters are scrambling all over the place as they both rally back and forth for takedowns.  Pyle still in control but Waldburger is hanging tough. 
R2 10-9 Mike Pyle  
Round 3:
Pyle blasts Waldburger with a huge pair of right hands and Waldburger is stunned, diving for a takedown.  Pyle fires back with a spinning back first that also connects but Waldburger is hanging on, not giving his opponent any space. Pyle switches to an inside elbow and Waldburger is stunned again. Pyle lands a knee, takes Waldburger down and it's just piling on with punches and elbows.  Waldburger is just taking too much punishment here and mercifully Herb Dean finally stops the fight.  Seems like it should have ended about 30 seconds earlier.
Official decision: Mike Pyle def. TJ Waldburger by TKO (strikes) at 4:03, R3
Analysis: Mike Pyle came back big after a tough loss to Matt Brown in his last fight.  Pyle was strong everywhere in this one, on the ground, on the feet, and then just brutalized Waldburger to get the finish.  Pyle is a veteran fighter and he can still go with the best of them. He asked for a top ten fighter although it may be a bit soon for that following only a single win after the loss to Brown.  Either way, Pyle is still a tough out for anyone that faces him in the UFC welterweight division. 
Round 1:
Wonderboy all about the kicks in this round and he's just a step ahead of Whittaker when he's throwing his counter punches.  Whittaker just keeps pressing forward and while he's not landing often, he does manage to slip in a few power punches.  Thompson has had enough of that and he counters with a huge straight right hand that flattens Whittaker.  Thompson follows up with a barrage of strikes on the ground and that's all she wrote.
Official decision: Stephen Thompson def. Robert Whittaker by TKO (strikes) at 3:43, R1
Analysis: Stephen Thompson continues to evolve as a pure mixed martial artist, but the fact is if you stand with him, chances are he's going to put a lot more fighters to sleep.  Thompson is nasty good on his feet and his creativity makes him a great addition to the welterweight division.  It would be fun to see Thompson matched up with another great striker like Thiago Alves if he returns to full health and wins in April or possibly a fighter like Adlan Amagov when he's back in action.
Round 1:
Jessica Eye looking strong early with quick punches and her timing is fantastic.  Every time Davis moves forward, she's getting hit.  Davis wants this fight in the clinch or on the ground, but Eye doing an excellent job to avoid the mat.  Davis finally slips under with a beautiful takedown, landing in Eye's half guard and hitting a few short forearms to the face before the round ends. The takedown makes it a lot closer to score than it was 30 seconds earlier.
R1 10-9 Jessica Eye 
Round 2:
Davis wastes no time getting Eye to the ground this time and this is probably the last place the Ohio native wants to be in this fight.  Davis is suffocating on the ground, and she's looking for a kimura but switches instead to some short elbows to the face.  Davis constantly moving and controlling Eye, who is only playing defense at this point.  Davis opening up with strikes and this was a completely one-sided, dominant round for the Canadian
R2 10-9 Alexis Davis
Round 3:
Eye showing patience this round and her boxing looks good while Davis is countering with kicks.  Between rounds, Davis' coaches said that Eye couldn't stop the body kick and through about three minutes into the final round that has been a true statement.  Eye's not out of it yet because she's still firing back with quick combinations.  The final seconds count down as Davis and Eye are just firing back and forth at each other.  Another insanely close round to close this out.
R3 10-9 Alexis Davis (FOX Sports scores the fight 29-28 Alexis Davis)
Official decision: Alexis Davis def. Jessica Eye by split decision (29-28, 29-28, 29-28)
Analysis: Super close fight that could have easily gone the other direction for Jessica Eye just depending on how the first and the third rounds were scored.  That said, Alexis Davis wins her third straight inside the Octagon since coming to the UFC.  Davis seems to be next in line for a title shot but that all depends on when Cat Zingano comes back from injury.  If Rousey is victorious in her fight on Saturday, she's in for a long break to film some movies so a Davis vs. Zingano matchup may actually make the most sense. 
Round 1: 
Raphael Assuncao might be staring at a title shot with a win, but Munhoz is an undefeated fighter with a real chance in this fight.  Munhoz showing no fear, firing off leg kicks early. Both fighters are content with the stand up in this fight despite Assuncao and Munhoz having legitimate ground skills.  Assuncao's striking is crisper with his boxing but he has to pay attention to his defense to keep ahead. Munhoz feeding a steady diet of leg kicks as the round comes to an end. Very close round.
R1 10-9 Raphael Assuncao  
Round 2:
Munhoz almost gets a heel hook to start the round but they work back to the feet in quick order.  Munhoz is loving these leg kicks, chances are Assauncao is not.  Munhoz goes for a spinning kick, but Assauncao catches it and puts him down on the mat.  Assauncao in complete control on the ground and Munhoz can only play defense
R2 10-9 Raphael Assuncao 
Round 3:
Assuncao pops Munhoz with a nasty left hook to start the round. Munhoz is continuously rubbing his left eye as a mouse and a small cut develop.  Ridiculous difference in the stand up at this point as Assuncao has out landed Munhoz 90 to 9 in head strikes.  Assuncao coasting at this point as he rides out the round to get the victory
R3 10-9 Raphael Assuncao (FOX Sports scores the fight 30-27 Raphael Assuncao)
Official decision: Raphael Assuncao def. Pedro Munhoz by unanimous decision (30-27 on all cards)
Analysis: Raphael Assuncao looked strong in his standup, just punishing Munhoz with his boxing throughout all 15 minutes.  Considering Munhoz was a late replacement, Assuncao could have possibly taken a few more chances during the fight, but he wanted to cement his standing in the division, and he did exactly that. Assuncao should probably move from this fight into a title bout against Renan Barao with the bantamweight belt on the line.  Assuncao was arguably already the No. 1 contender, but this fight just sealed the deal for him to get the shot later in 2014.
Round 1:
Aljamain Sterling has received very high praise coming into this fight training under Matt Serra and Ray Longo, the same coaches who work with middleweight champion Chris Weidman.  Sterling definitely has some flash throwing a ton of kicks but he gives up a takedown to Gibson.  They get back up and they are throwing heavy leather.  The round finally slows down with Sterling controlling Gibson in the clinch. Great first five minutes between two newcomers
R1 10-9 Aljamain Sterling
Round 2:
Gibson tells his corner between rounds that he believes he's winning the striking so that's where he wants to keep the fight. Despite what he's saying, however, Gibson opts for the clinch and the takedown to get moving in the second round.  Sterling gets up and switches the clinch as his coach Ray Longo yells 'now be impressive!'.  Sterling goes for a spinning back first, misses, and Gibson grabs a hold of him again.  Sterling gets a takedown but Gibson grabs a guillotine before the round comes to an end
R2 10-9 Cody Gibson 
Round 3:
Sterling gets his hands under Gibson's butt to start the round and takes him up and back down to the mat.  Sterling almost pulls off a D'arce choke from the ground, but Gibson isn't going to be deterred and he slips out.  Gibson looks for another guillotine, but at this point in the fight they are both sweaty and Sterling drops right out of the hold.  Sterling is back on top in Gibson's half guard working with body shots. Time is ticking away and Sterling is definitely up in this round.  Sterling takes Gibson's back and he's fishing for a choke to finish but switches to punches until the final horn sounds
R3 10-9 Aljamain Sterling (FOX Sports scores the fight 29-28 Aljamain Sterling)
Official decision: Aljamain Sterling def. Cody Gibson by unanimous decision (29-28 on all cards)
Analysis: Fun performance from two young newcomers to the UFC. Sterling was touted as the next great prospect in the bantamweight division, the potential is definitely there and despite it being Gibson's first time in the Octagon as well, he was an extremely tough test.  Gibson will be back as well and he's not going to be an easy out for anyone in the division.  These are two names to remember because you will absolutely hear them again, maybe with a top ten ranking a year or so from now.
Round 1: 
Both of these flyweights were super impressive in their UFC debuts.  Equally impressive are the nicknames in this battle with 'Fun Size' vs. 'Gremlin'.  Makovsky lands a nice slam takedown just about a minute into the first round.  Sampo does a good job with his scrambles and Makovsky maintains top control.  Although his guard game was elusive, Sampo definitely wants to keep this one standing. 
R1 10-9 Zach Makovsky
Round 2:
Sampo's corner tells him between rounds that he absolutely lost the first round, so he has to pick up business starting in round two.  Makovsky is just so fast on his feet, popping Sampo with knees and punches before he slips in for a takedown.  As the round moves forward, the fighters get back to their feet but Makovsky has set the pace. Sampo is tentative after being taken down multiple times and just isn't pulling the trigger.  Makovsky closes the round with yet another takedown of Sampo
R2 10-9 Zach Makovsky
Round 3:
It has to be desperation time for Sampo in this round because he's clearly down two on the scorecards.  Sampo is able to get Makovsky down on the ground to start things and he's doing a good job controlling the fight, but this plan of attack isn't getting him any closer to finishing, which seems to be the only way he could win.  Makovsky is able to get back to his feet, and again it doesn't take him long to slip under and get Sampo down again.  He's virtually calling his shots at this point before passing to half guard with time running out.  Looks to be a shutout win for Makovski in his second UFC fight.
R3 10-9 Zach Makovsky
Official decision: Zach Makovsky def. Josh Sampo by unanimous decision (30-27, 30-27, 29-28)
Analysis: Two fights in for Zach Makovsky and he's been flawless thus far in his UFC career.  Makovsky's quick single leg takedown might be the fastest wrestling we've seen in this division since Demetrious Johnson arrived and promptly won the 125-pound title.  Makovsky isn't in contention for title talk yet, but after another dominant win, he deserves to face a top ten opponent for his next fight. 
Erik Koch vs. Rafaello Olivera
Erik Koch out to "Survival" by Eminem.  Rafaello Oliveira out to "Coming Home" by Diddy 
Round 1:
First time we're seeing Erik Koch at 155 pounds after a career spent in the UFC and WEC at featherweight.  Koch looks comfortable striking and he lands a big straight left that drops Oliveira to the mat.  Koch jumps on top and absolutely blasts him with ground and pound.  Like he was firing with a laser sight and Yves Lavigne sees enough and stops the fight.
Official decision: Erik Koch def. Rafaello Oliveria by TKO (strikes on the ground) at 1:24, R1
Analysis: Any time a fighter moves up or down in weight, the jury is always out until a fight happens.  Well, Koch passed with flying colors for his first test at 155 pounds.  Oliveira isn't the most dominant fighter in the history of the division, but still an impressive performance from Koch while he also bounces back from a couple of losses. 
Ernest Chavez vs. Yosdenis Cedeno
Round 1:
The Las Vegas crowd fashionably late as usual but the seats will begin to fill as the card moves along. Cedeno controls the action for the first three and a half minutes with superior stand up while escaping any offensive moves from Chavez. Unfortunately late in the round, Cedeno decided to go for a spinning wheel kick and it missed, giving Chavez the chance to get the fight to the ground. Cedeno was able to slip out and stand back up before the round came to an end.
R1 10-9 Ernest Chavez
Round 2:
Chavez is able to control the action in the second round, dragging Cedeno to the ground. Cedeno seems to be fading a little bit, maybe his cardio is back firing after taking the fight on short notice.  Chavez is unable to take control of the ground advantage but still the dominant fighter throughout the course of the round.
R2 10-0 Ernest Chavez
Round 3:
Chavez is the one slowing down this round abandoning the takedown for the largest part of the round and allowed Cedeno to fire back with some striking.  The only problem is Cedeno didn't gun for any kind of real combinations  to try and finish the fights.  Scores should be interesting in this one
R3 10-9 Yosdenis Cedeno
Official Decision: Ernest Chavez def. Yosdenis Cedono by split decision (29-28, 29-28, 30-27)
Analysis: Two newcomers who both took this fight on short notice so neither stuck out with a great performance.  That said, Chavez did what he needed to do to get the win but he will definitely need to work on his stand-up to survive in the Octagon
FIGHT CARD:
Ronda Rousey vs. Sarah McMann (for UFC women's bantamweight championship)
Daniel Cormier vs. Patrick Cummins
Rory MacDonald vs. Demian Maia
Mike Pyle vs. TJ Waldburger
Stephen 'Wonderboy' Thompson vs. Robert Whittaker
FOX SPORTS 1 Prelims:
Alexis Davis vs. Jessica Eye
Raphael Assuncao vs. Pedro Munhoz
Cody Gibson vs. Aljamain Sterling
Zach Makovsky vs. Josh Sampo
FIGHT PASS PRELIMS
Erik Koch vs. Rafaello Oliveira
Ernest Chavez vs. Yosdenis Cedeno
---
---