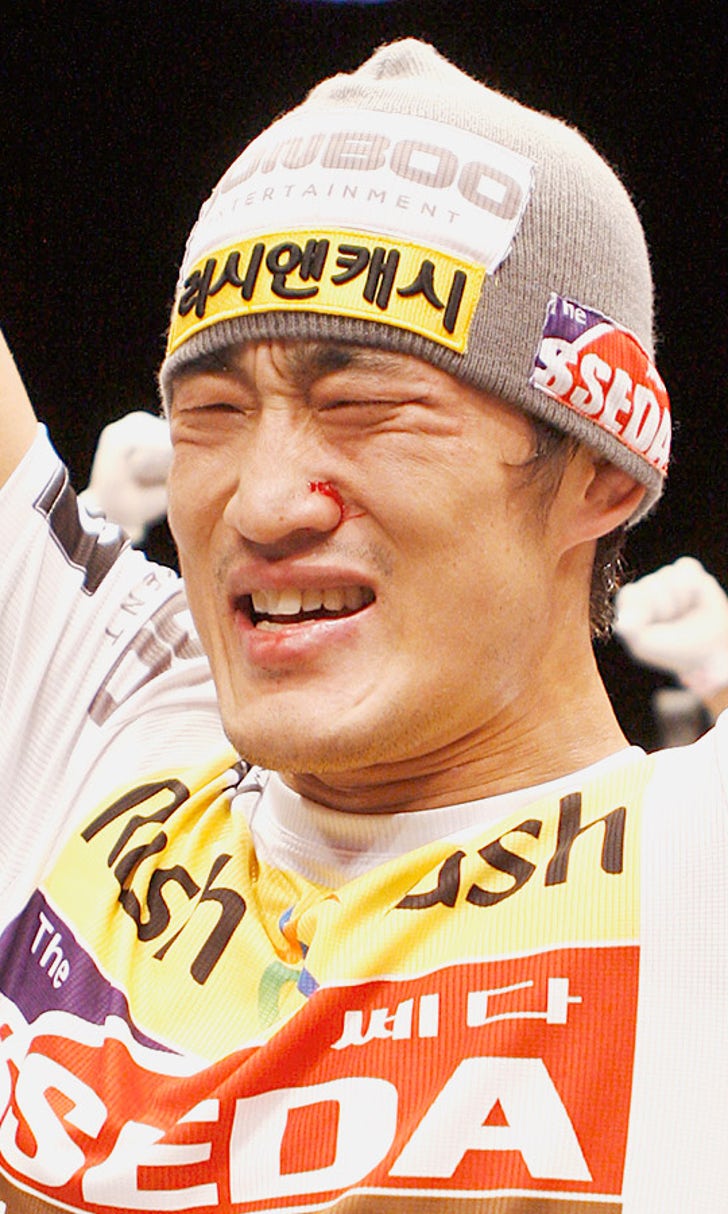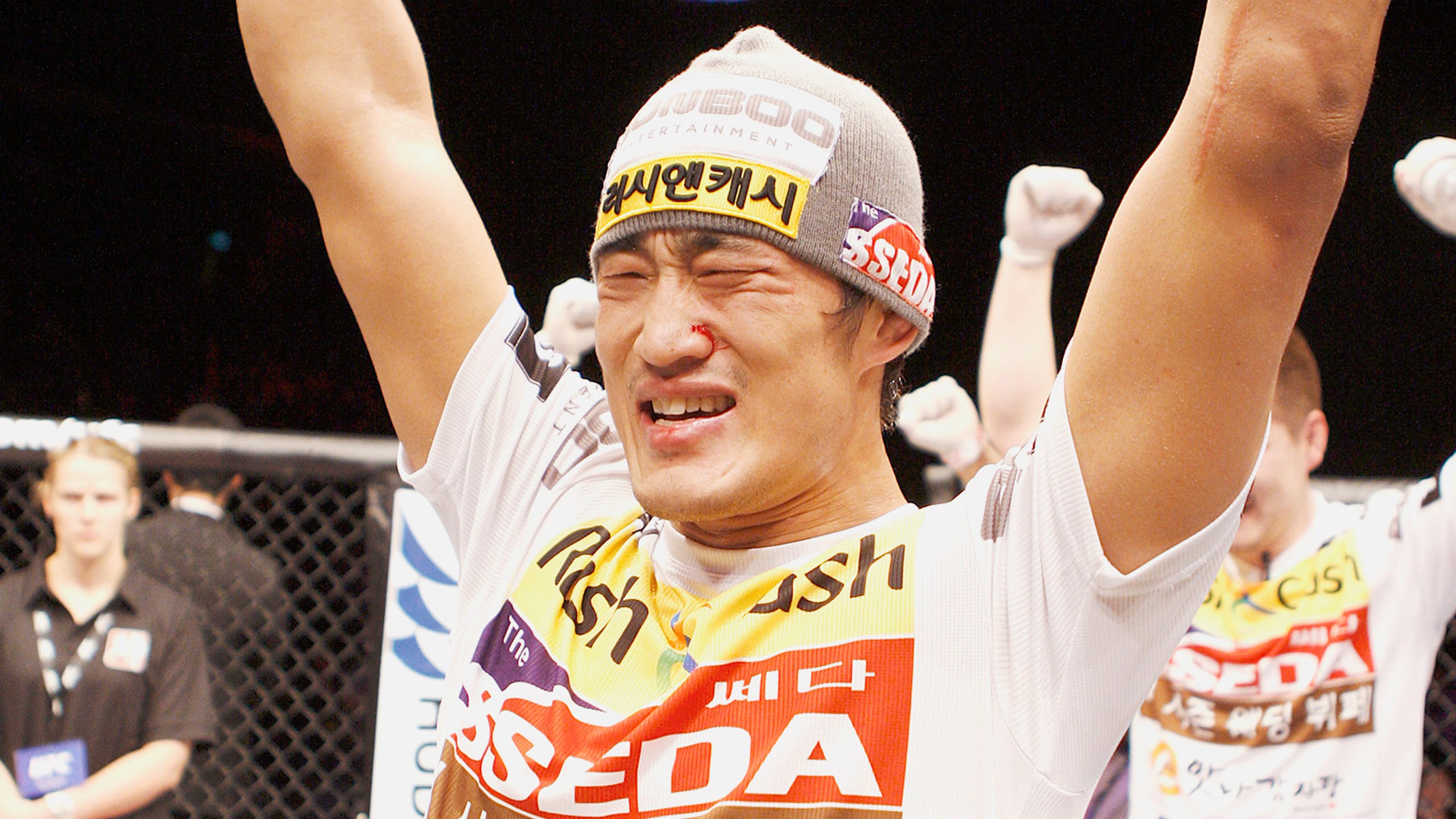 Dong Hyun Kim stuns John Hathaway with spinning back elbow knockout
BY Damon Martin • March 1, 2014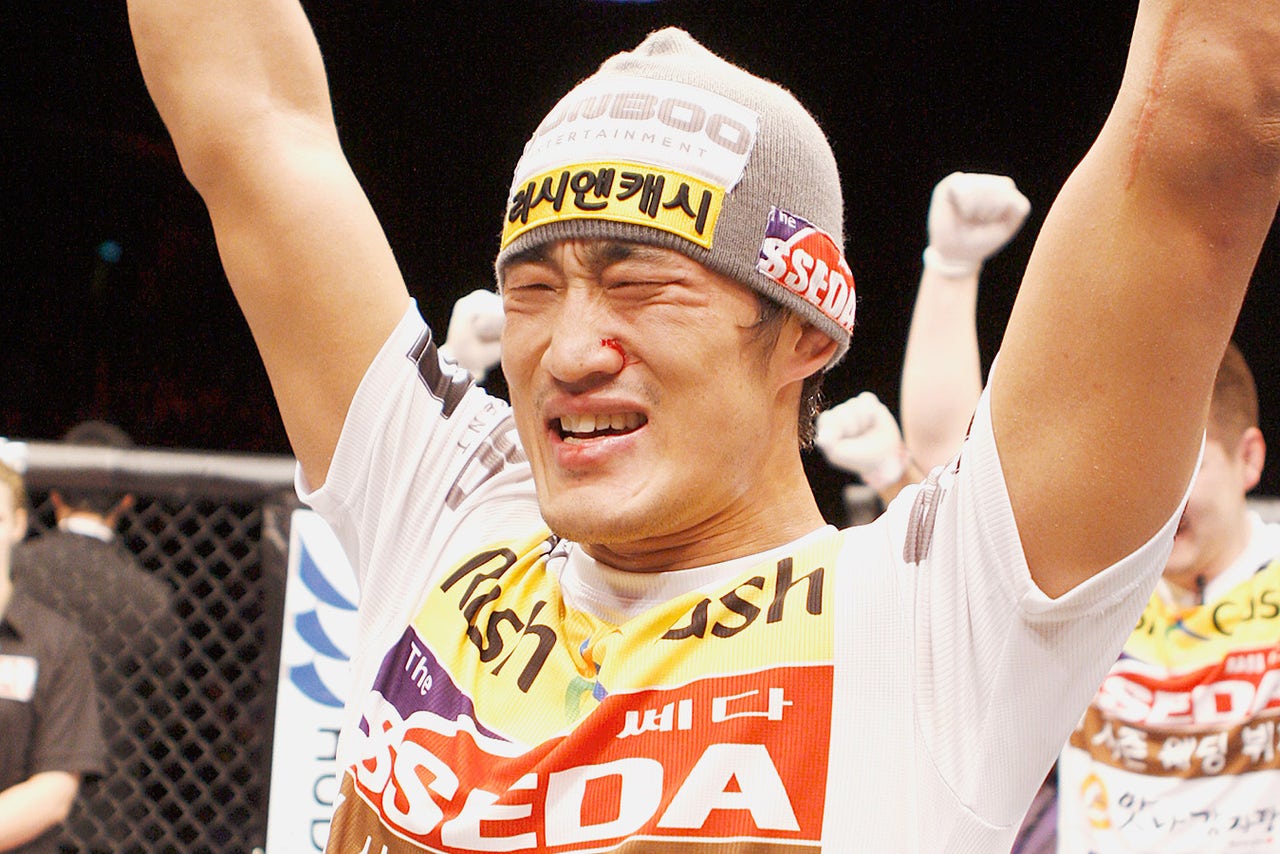 The book written on UFC welterweight contender Dong Hyun Kim through his first 11 fights in the Octagon said that he was a stifling and suffocating grappler, who could take an opponent down and grind them into dust by the time the final horn sounded.
Until his last bout with Erick Silva in 2013, Kim only had one stoppage on his UFC record and that came in his very first fight with the promotion.
Kim has added a new chapter lately, however, as he finished his second straight fight with a spectacular knockout -- the latest coming via spinning back elbow as he flattened John Hathaway in the third round of their main event matchup at UFC Fight Night in China.
From the moment the referee said go, Kim was aggressive and in Hathaway's face pressuring with his striking while trying to overwhelm the British prospect after a 17-month layoff from action.  Kim nailed Hathaway with several big punches in the first round, rattling him several times as he gunned for the finish.
What could only be described as a disastrous opening to the fight, Hathaway survived and was able to find the strength to survive the onslaught and make it to the second stanza.  There, Hathaway picked up his pace and landed a few good knees to Kim while it appeared for at least a moment that a dominant first round zapped the Korean's gas tank.
Still by the end of the round, Kim was back in control where he took Hathaway to the mat and began to open up his attack from there and for a fleeting moment it looked like he was going back to the strategy that won him seven UFC fights where he just mauled opponents on the ground.
The third round erased that memory almost immediately as Kim again picked up the pace with a second wind in his lungs, and the ending came in devastating fashion.
With Hathaway looking to get inside on Kim and possibly go for a trip or takedown, he failed to see 'Stun Gun' move his feet and launch into a spinning back elbow that landed flush across the jaw.  The single shot snapped Hathaway's head like a rubber band and a second later he was sprawled out on the mat, knocked unconscious from the vicious left elbow courtesy of Dong Hyun Kim.
Hathaway lay motionless on the canvas for a few moments and thankfully Kim showed perfect restraint knowing his opponent was out cold from the spinning elbow attack. As the referee swooped in to make the stoppage, Kim celebrated his second straight knockout victory -- this one maybe even more impressive than the last.
"There's no stopping. I'm going to continue to go forward, forward, forward," Kim said after the win about his new ultra aggressive style inside the Octagon.
The main event Macao ended with Hathaway actually out landing Kim statistically with 47 to 40 significant strikes, but the numbers don't even come close to telling the actual story of the fight. Outside of a slower pace he carried after the first five minutes of the fight, possibly due to exhaustion, Kim ran the table on Hathaway until the end came violently just 62 seconds into the third round.
Following the fight, Kim was awarded with a $50,000 'Performance of the Night' award from UFC president Dana White, marking his second straight award winning performance in the Octagon.
The victory for Kim (19-2-1, 1 NC) also marks his fourth win in a row in the UFC and he's also picked up victories in five out of his last six fights overall.  Kim's new style has made him quite an exciting fighter to watch lately, and while he may have to resort to some of his wrestling and ground control again when facing more dangerous standup fighters at the upper echelons of the division, this latest performance should land him a spot against a top ten opponent.
Like most UFC fighters, Kim is just hoping to one-day wrap a gold belt around his waist, but he'll face whomever the promotion deems worthy to get there.
"I don't care who it is, I want to get a shot at the title," Kim said.  "I don't care who my next opponent will be."
---
---