Daniel Cormier: Anthony 'Rumble' Johnson has no chance if the fight goes past round one
BY Damon Martin • March 29, 2017
Daniel Cormier has seen all of the terrifying knockouts Anthony 'Rumble' Johnson has unleashed on his most recent opponents.

Cormier has seen all the highlight reels cobbled together with Johnson standing victorious over a laundry list of unconscious top 10 fighters.

He's heard stories about how Johnson has learned so much since their first encounter that saw Cormier win by rear naked choke in the third round back in 2015.

The only problem is Cormier just isn't buying it.

"The reality is and I've got to be completely honest with you here, he's doing exactly what he was doing before our first fight," Cormier told FOX Sports when speaking about Johnson ahead of their rematch at UFC 210 on April 8 in Buffalo. "When he got back in the UFC he absolutely demolished [Antonio Rogerio Nogueira], then he just beat Phil Davis for 15 minutes and the only reason he didn't finish Phil is because Phil's just tough. I think he knocked somebody else out before we fought, he knocked out Andrei Arlovski at heavyweight before he even got into the UFC and he knocked out Alexander Gustafsson. So he had knocked out everybody before we fought the first time.

"We say he's made a ton of improvements, but what are we basing this on exactly? The fact that Ryan Bader shot from halfway across the Octagon and "Rumble" sprawled? "Rumble" is a junior college National Champion so it's not like he doesn't know how to sprawl. He knocked out Jimi Manuwa. So are we basing it on the fact that he took down Jimi Manuwa? He's a good wrestler. He took me down. So what are we basing these improvements on exactly?"

https://www.youtube.com/watch?v=WvT7GRLZ638

In many ways, Johnson has been built up as some sort of light heavyweight boogieman, who gives his opponents nightmares with the kind of frightening power on the feet that they've likely never seen before and will probably never see again.

But just like all those classic horror films where supernatural bad guys like Freddy Krueger or Michael Myers appear to be unstoppable killing machines, someone always finds a way to stop them.

In this case, Cormier views himself as the protagonist who already found a way to topple the scary monster who has torn through every other light heavyweight contender. Just like the first fight, Cormier had to survive an early onslaught from Johnson's lethal power, but he doesn't expect the rematch to go any differently in the end.

"The first round is his only chance. If he doesn't finish me, he will lose," Cormier stated. "Anthony Johnson has to knock me out in the first round. If this fight goes past the first round then he's done. I have too many avenues to victory.

"He has to knock me out. I can submit this guy. I can TKO this guy. Because in the second round [of the first fight] and there was 30 more seconds, the fight would have been done. I would have just battered him on the ground until the referee jumped in to stop it."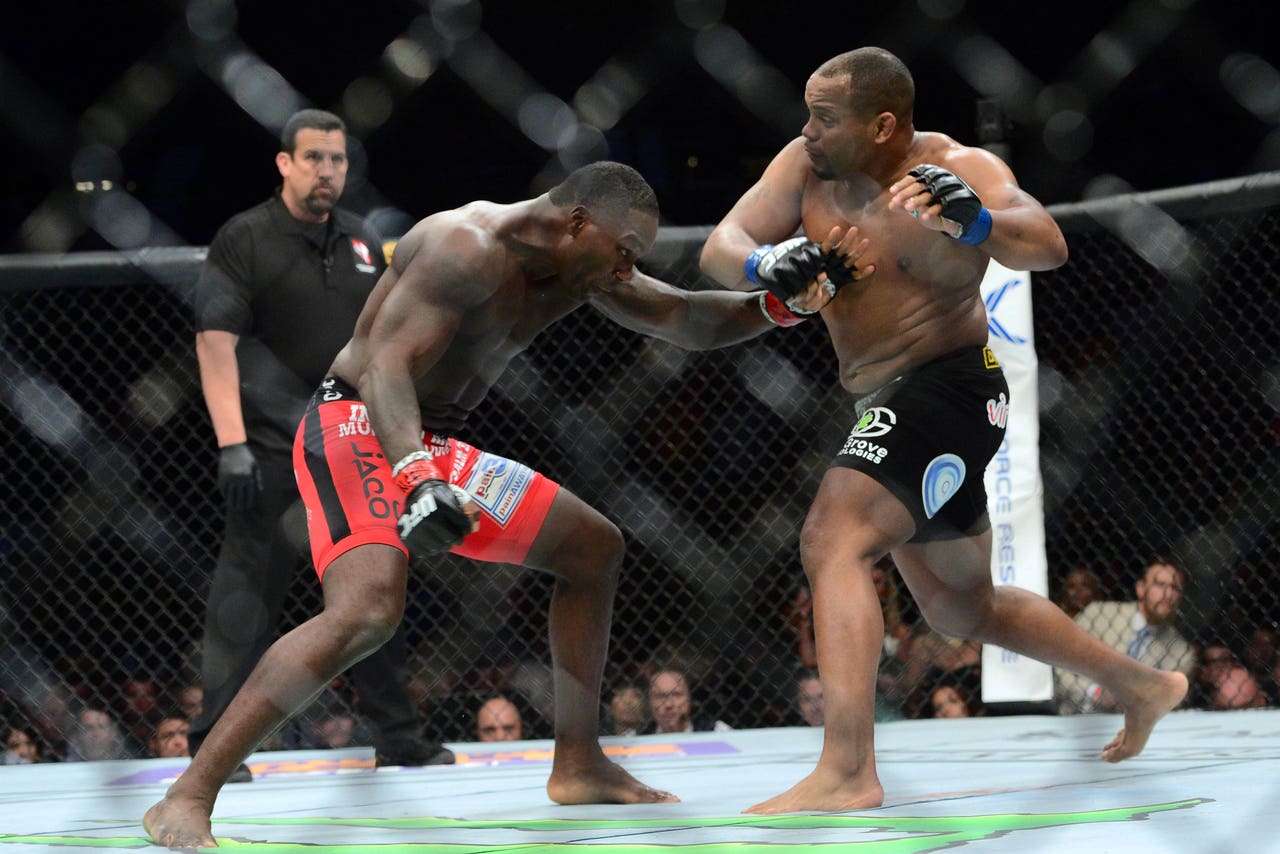 Once the fight goes past those first five minutes, Cormier just doesn't see a way Johnson survives to the final bell, but anything is possible.

"I can win a decision. I can fight 25 minutes. I don't think there's any way Anthony Johnson can go 25 minutes with me in a fight," Cormier said. "He fought 15 minutes against Phil Davis and he looked fantastic, but he had to sit back and Phil let him fight at his pace.

"If he tries to sit back with me and not be as aggressive, I'm just going to run right over him. He has to fight like that, that frantic style of striking where he's throwing everything he has and every combination because his best bet is to knock me out. If he doesn't do that, he's in trouble."

Ahead of their original bout, Cormier criticized Johnson as a bit of a front runner, who would maul anybody crazy enough to just stand and trade with him, but he would fold in the face of adversity.

Make no mistake, Cormier has the utmost respect for Johnson's frightening ability to separate human beings from consciousness but ultimately he still sees him as the same guy he fought the first time who will crumble when the pressure is truly on.

"I think he's tough. I do believe he's really, really tough. He's good at what he does. [But] how do you build that? How do you build the ability to actually say '[expletive] is not going right but I'm still going to fight through this' when you've never done it," Cormier said. "I've been situations where things weren't going right and I continued to fight. That Gustafsson fight was not going right, I continued to fight. When he knocked me down, that's not ideal for me but I got up and I continued to fight. In the Jones fight, I continued to try to fight. He was actually better on that night. The adjustments that I made and the efforts that I put forward, they weren't enough against him.

"But you don't see me pack it up, fold it up. I don't know how you develop that until you experience that and fight through it."


---
---