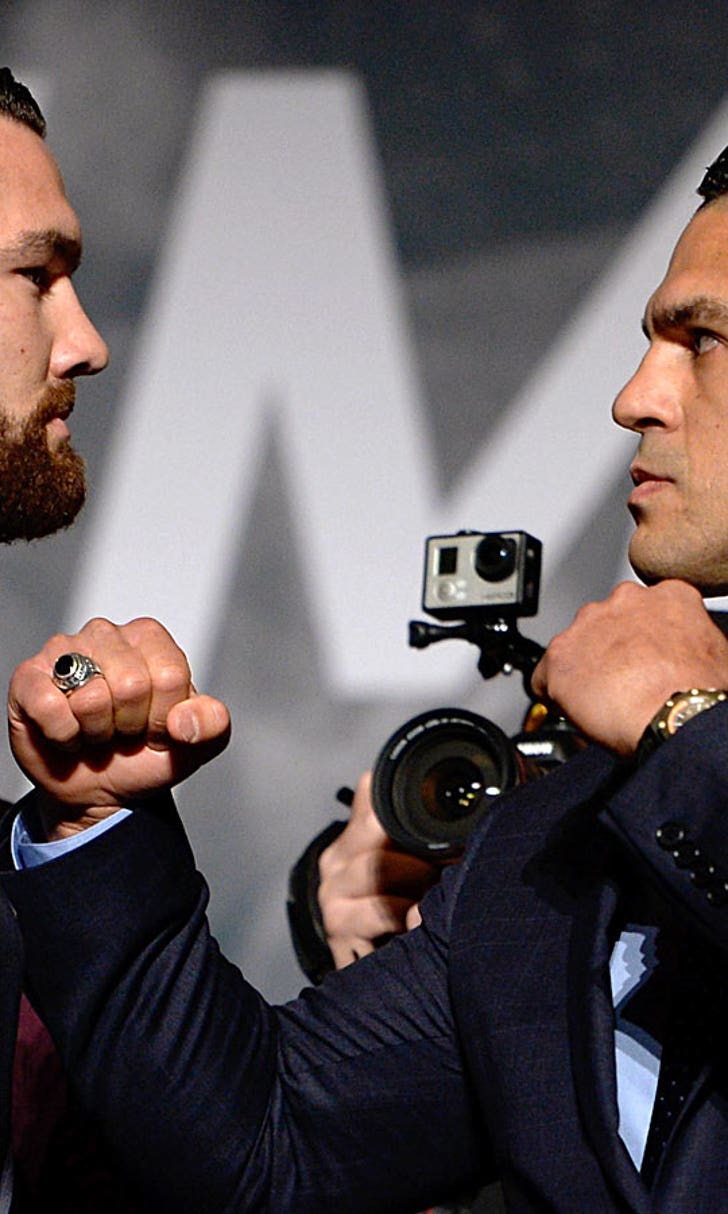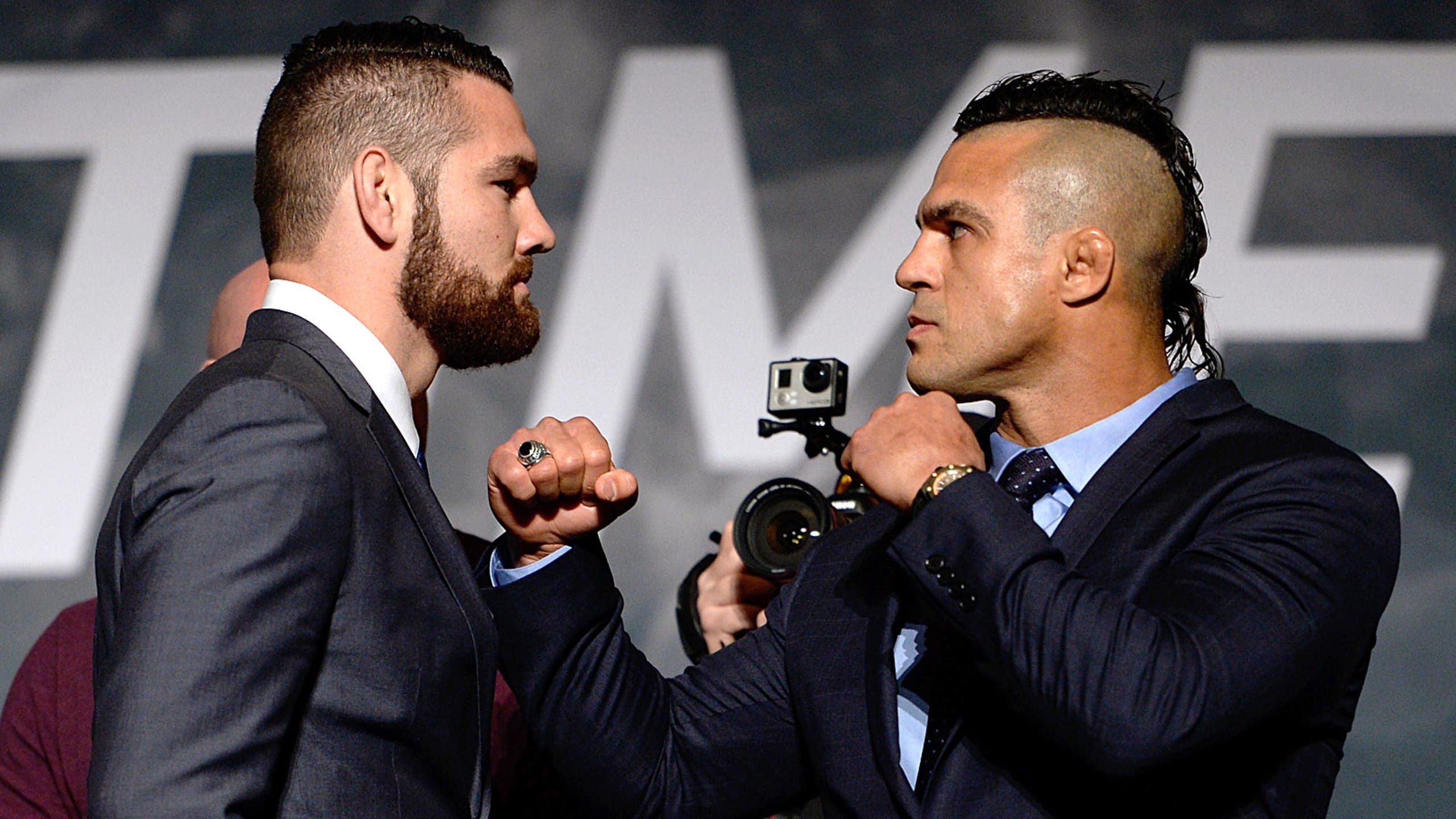 Chris Weidman on Vitor Belfort: 'I'm not going to let a cheating juicehead take my belt'
BY foxsports • November 17, 2014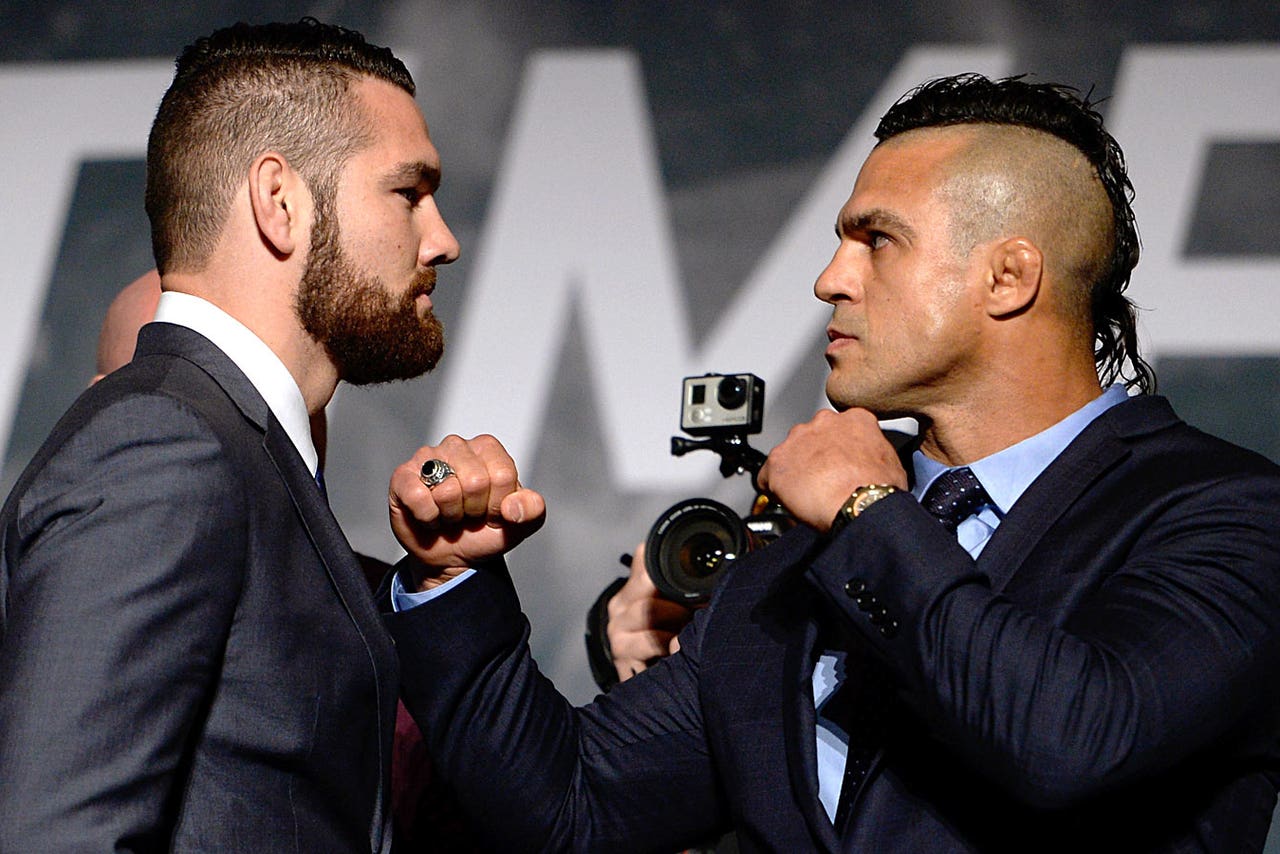 LAS VEGAS -- Chris Weidman's last two opponents were Anderson Silva and Lyoto Machida. The buildup to both fights was cordial, almost friendly. This time, Weidman is going through a little something different.
The UFC middleweight champion admits that things with Vitor Belfort have ventured into being personal. Weidman, who defends his belt against Belfort at UFC 184 on Feb. 28 in Los Angeles, was upset when Belfort accused him of faking an injury in an interview. And Weidman loathes Belfort's history with performance-enhancing drugs and testosterone replacement therapy (TRT).  
"He's trying to take my belt," Weidman said Monday at the UFC's Time Is Now event at The Smith Center. "He's been caught cheating and I'm not going to let a cheating juicehead take my belt."
Belfort said during the live press conference, setup to promote the UFC's massive next two months and 2015 as a whole, that he was against trash-talking and wouldn't engage in it with Weidman. The champion thought that was ironic since Belfort questioned the validity of Weidman's broken hand back in September. The two were supposed to fight next month at UFC 181, but Weidman had to withdraw due to the injury.
"He was the one, when I got injured he said, 'He just wants to keep his belt for Christmas and spend time with his family,' basically calling me a liar and that I'm faking an injury," Weidman said.
For the first time against a foe, Weidman has openly knocked Belfort on social media, questioning why Belfort had not yet to been drug tested despite the Nevada Athletic Commission's assertion it would do so when Belfort was granted a license. Since then, Belfort was tested earlier this month. The results have not come back yet. Weidman said he would be "disgusted" if Belfort failed and could not compete at UFC 184.
"I'm worried," Weidman said. "I want him to get drug tested and when I found out he did, I'm crapping my pants for two weeks hoping that he's still fighting me. He's the guy I want to fight."
Belfort has tested positive for steroids in the past and over the last few years was on TRT before it was banned by the NAC and other regulating bodies in February. "The Phenom" would have fought Weidman in May, but the UFC pulled him from the bout, because he admittedly was positive for elevated levels of testosterone in a test done by the NAC after the TRT ban was instituted.
"I don't want to victimize him for his whole career," Weidman said. "I don't want to take everything away he's ever accomplished. But if you look at him in some of his fights, it's kind of crazy like, what human being looks like that naturally? You just kind of go into your own logic and figure it out on your own."
The 37-year-old Belfort (24-10) has won three straight, all by knockout over Dan Henderson, Michael Bisping and Luke Rockhold. The undefeated Weidman (12-0) ended Silva's seven-year middleweight title reign last year, defeated Silva in a rematch last December and beat Machida by unanimous decision in July.
Weidman feels like we could see a better version of Belfort now, despite the lack of TRT.
"I expect an even better Vitor Belfort," Weidman said. "Maybe it's a blessing in disguise he's off this stuff. Maybe he doesn't have to worry about getting tired. I'm preparing for a Vitor we haven't seen yet, a guy who isn't afraid to go hard as he can right away and doesn't have to worry about getting tired.
"A lot of times we've seen him freeze in big fights. Maybe he was freezing, because he's a juicehead and he's afraid of getting tired."
This is a different Weidman than the one we saw leading up to fights against Silva and Machida. He was determined and focused before. But this time, Belfort has lit a serious fire under him.
"I'm going out there to completely dominate him," Weidman said. "If I don't completely go out there and smoke him and dominate him, it's a loss in my eyes. … He's a cheater. I want to completely destroy him."
---
---