5 Reasons to Watch: UFC Fight Night: Condit vs. Alves
Published
May. 27, 2015 6:49 p.m. ET

Condit suffered an ACL tear in his last fight in March 2014 that put him out of action, but "The Natural Born Killer" is ready to resume his career on Saturday night while hopefully climbing back into title contention.
The same could be said for Alves, who is 2-0 since facing a long road of injuries as well, and now the Brazilian will go home while trying to re-stake his claim to a top-five ranking in the division.
Also on the card, a featherweight rematch almost four years in the making will finally go down as Charles Oliveira and Nik Lentz look to settle their differences after a no-contest marred their last fight in 2011.
In that bout, Oliveira finished Lentz, but only after an illegal knee strike precipitated the end of the contest. Now these two featherweights are ready to settle the score once and for all.
With two great fights at the top, plus a loaded undercard, there are plenty of reasons to watch UFC Fight Night: Condit vs. Alves, but we're here to give you five good reasons to make sure you tune in for all the action from Brazil on Saturday night. It's all on FOX Sports 1, starting with the pre-fight show at 7 p.m. ET. The prelims begin at 8 p.m., followed by the main card at 10 p.m.
Finish Him!
Condit is a fighter molded out of a "Mortal Kombat" character because the veteran welterweight only understands one style of fighting and it usually ends with his opponent lying in a heap on the ground or asking the referee to stop the fight.
Condit has a ridiculous 93.1-percent finishing rate throughout his career with 27 of his 29 career wins coming by way of knockout or submission.
He's earned two separate Knockout of the Night awards for his finishes over Dan Hardy and Dong Hyun Kim, and he's earned another three bonuses for Fight of the Night during his UFC tenure.
While Condit may love a good knockout, he's no stranger to the ground game either. He's attempted submissions on the ground on 18 occasions, which stands as the fifth most in UFC/WEC combined history.
Condit rarely goes to a decision, so chances are he's going to be gunning for a finish on Saturday night, and that always makes for an exciting fight.
This Is Gonna Hurt
As impressive as Condit's finishing rate might be, his opponent Alves is just as deadly and dangerous on the feet, and he may be considered one of the best Muay Thai strikers in the entire welterweight division.
Alves has eight knockouts or TKOs in the UFC, which stands as second all time in the welterweight division behind only Matt Brown, who has nine. Alves does hold the record for most knockdowns in welterweight history with 11, and he's also one of only nine fighters on the UFC roster to record 10 or more takedowns during his career.
Before he goes for the knockout blow, Alves likes to soften up his opponents with a heavy barrage of leg kicks, and he's a master at throwing them. Alves has landed 232 leg kicks during his career, another UFC record, which means he trumps featherweight champion Jose Aldo and any other fighter known for the damaging blows.
Alves throws hard, throws often and he's ultra destructive with his offense. This fight has barnburner written all over it.
Oliveira vs. Lentz 2
Nearly four years ago in Pittsburgh, Lentz and Oliveira met in a lightweight battle at UFC Fight Night, and what resulted was one of the most exciting fights of the year that unfortunately ended in a no contest.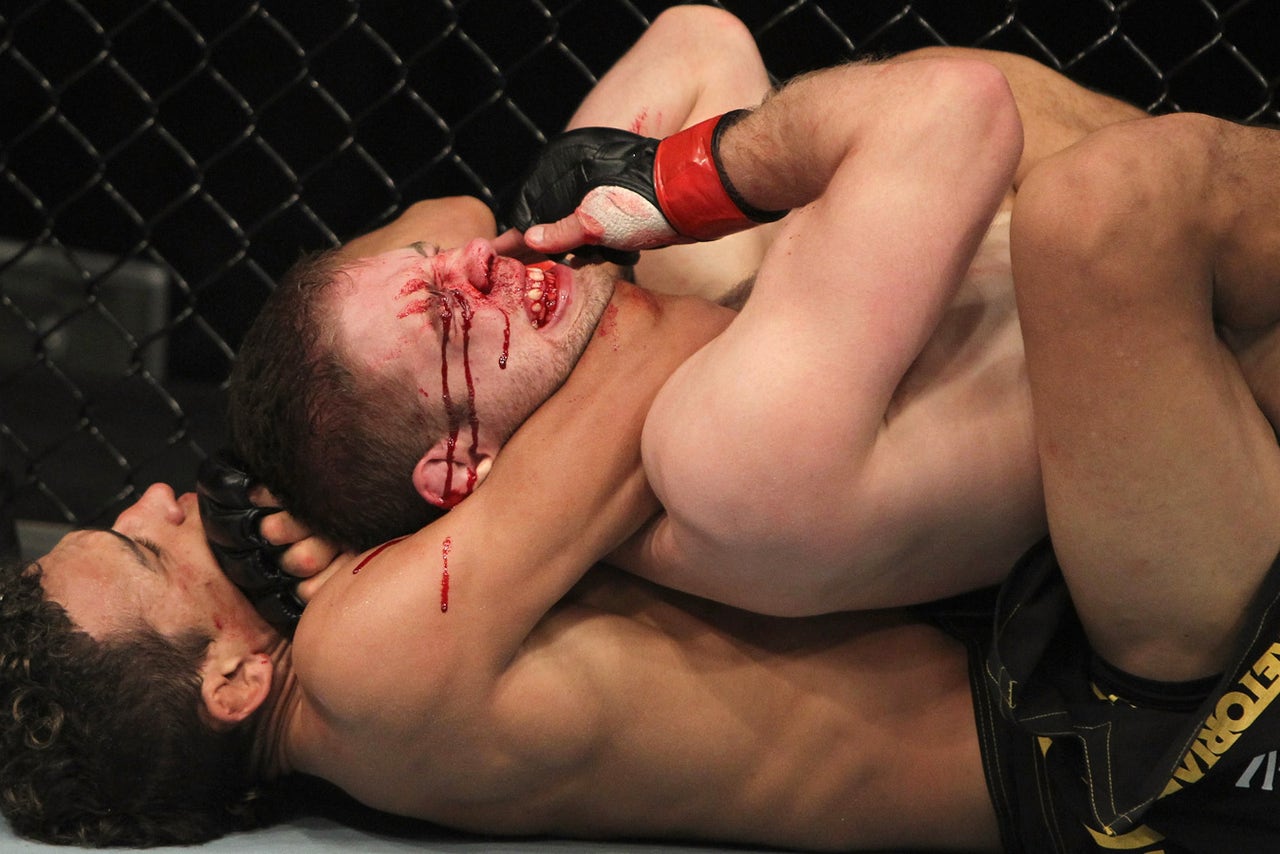 Oliveira came out looking to take Lentz's head off, and the two engaged in a slugfest. Oliveira was ultra aggressive looking for the knockout and then the finish as Lentz tried to drag him to the mat with his stifling wrestling attack.
The fighters battled back and forth into the second round before Oliveira cracked Lentz with a big knee strike and then finished him with a submission on the ground.
Unfortunately, the knee happened while Lentz was still on the mat, which made Oliveira's strike illegal. Ultimately, the Pennsylvania State Athletic Commission decided to overturn the decision and declare the bout a no-contest.
Now with Oliveira and Lentz being ranked No. 8 and No. 9, respectively, at 145 pounds, it seems like the perfect time to settle the score from the first fight. Oliveira brought the fight to Lentz like no one has done before and he'll try to pick up his fourth win in a row while gaining a little bit of revenge for the last victory being taken off his record.
And if it's anything like the first fight, this matchup will be a can't-miss bout.
Top 15 Flyweights on the Prelims
The FOX Sports 1 UFC Fight Night prelims are also loaded with talent, including a featured matchup at 125 pounds as Jussier Formiga takes on Wilson Reis in a pivotal matchup in the flyweight division.
Formiga is ranked No. 4 in the world as he begins to close in on a potential title shot in the next year, but Reis has looked nothing short of fantastic since joining the UFC a year ago and now stands as the No. 12-ranked fighter in the division.
Both Formiga and Reis are also Brazilian, so fighting in front of a home country crowd definitely will put an exclamation point on whoever comes away victorious.
Stylistically this is also a really fun fight with Formiga and Reis possessing serious ground credentials. Both fighters also average well over two takedowns per fight with a ton of submission victories as well.
The winner will be in a prime position to look for a title shot with a win, so this fight is pivotal to Formiga, Reis and the rest of the flyweight division as well.
Remember the Name Mirsad Bektic
When it comes to UFC prospects, one of the names to keep an eye on this year is American Top Team fighter Mirsad Bektic, who makes his third appearance in the Octagon with his fight this weekend against Lucas Martins.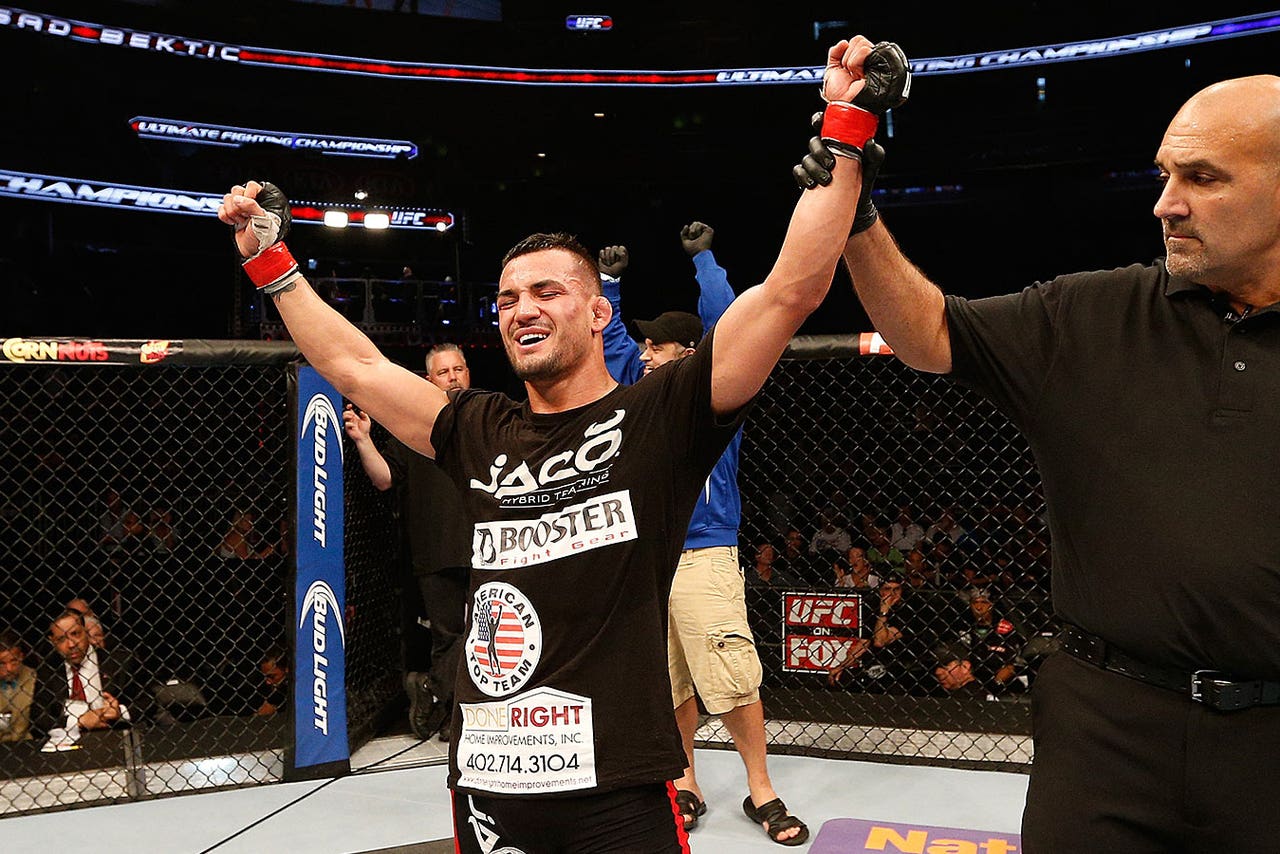 Bektic has been a highly-touted featherweight fighter ever since he joined the Coconut Creek, Fla., gym. So far he's gone 2-0 in the UFC, and he'll look for win No. 3 this weekend.
Bektic is a complete fighter with nasty standup, good wrestling and a very solid submission game as well. He's the new breed of mixed martial artist that excels in all areas and doesn't necessarily concentrate on any one.
With a phenomenal team around him, Bektic is a star on the rise but this matchup with Martins will prove where he's at in his career because this is a decided step up in competition. Martins is a serious veteran and he'll give Bektic everything he can handle and more. 
This should be a fantastic way to kick off the prelims on FOX Sports 1 Saturday night. 
---
---