5 Reasons to Watch: FOX UFC Fight Night: Johnson vs. Bader
BY Damon Martin • January 28, 2016
The next title contender at light heavyweight may be crowned this Saturday night when Anthony "Rumble" Johnson takes on Ryan Bader in a pivotal fight at 205 pounds.
Johnson has been nothing short of incredible since returning to the UFC and following a knockout win over Jimi Manuwa he's eyeing another title shot in 2016.
As for Bader, he's currently riding a five-fight win streak with a win over former champion Rashad Evans in his last trip to the Octagon and he would like nothing more than to beat Johnson and secure his first shot at UFC gold.
Also on the card, former UFC champion Josh Barnett will look to get his second win in a row while taking on one of the heaviest-handed heavyweights on the roster in Ben Rothwell, who himself is looking to add another knockout to his resume.
With four fights on the main card and a loaded preliminary card, there are plenty of reasons to watch FOX UFC Fight Night from New Jersey. But here are five particularly good reasons to make sure you're tuned in on Saturday night.
Rumble, Young Man, Rumble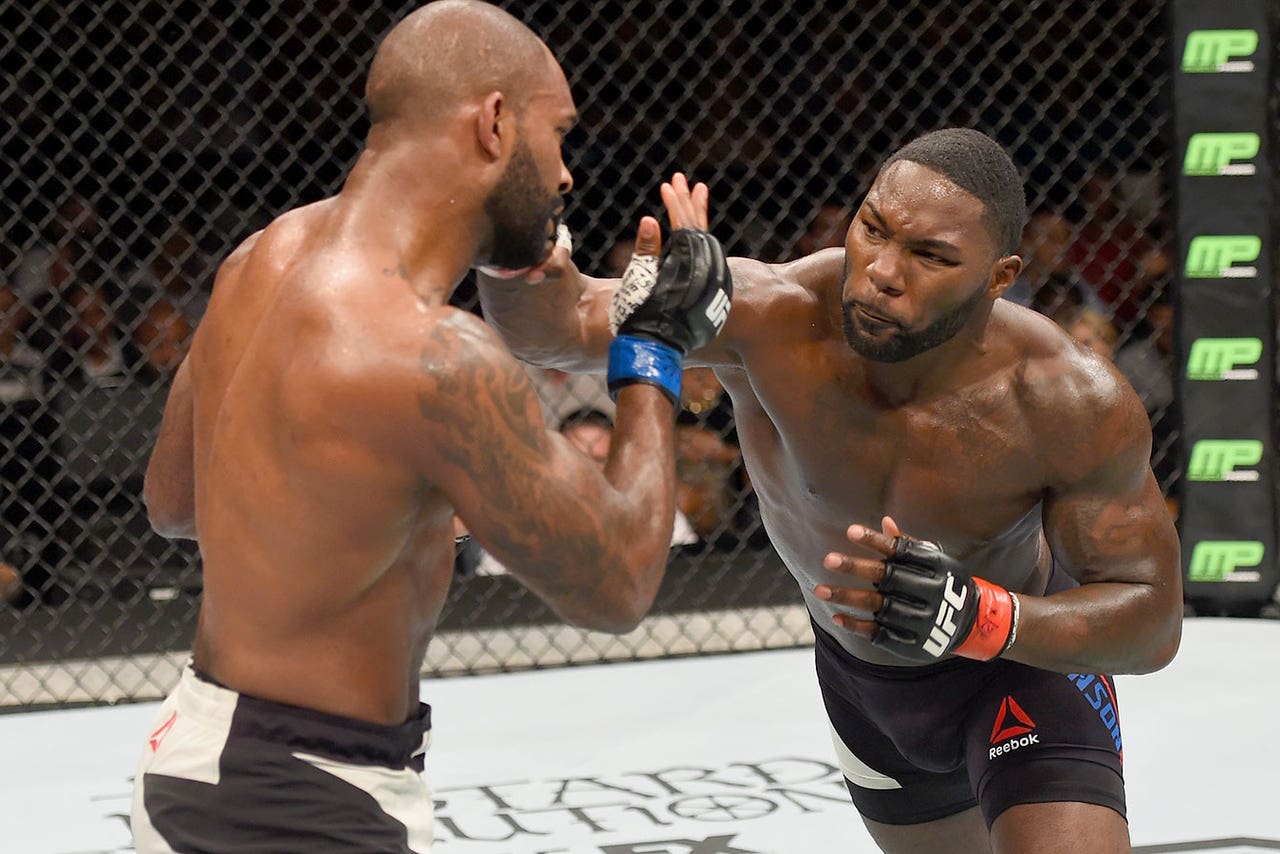 Johnson isn't just one of the best light heavyweights on the planet -- he's also one of the most dangerous, as well.
Johnson likely has the heaviest hands and feet of anyone fighting in the world today at 205 pounds and he has the numbers to back it up.  He has the third-highest knockdown rate of any active fighter in the UFC with 12 throughout his career.
He also doesn't waste time -- Johnson also has the most sub-one-minute knockouts in UFC history with four, and he's not known for going to decisions even if the fight makes it out of the opening round.
Johnson already holds knockouts wins over Alexander Gustafsson and Jimi Manuwa since returning to the UFC and he nearly leveled Daniel Cormier in their fight last May before the current light heavyweight champion found some way to recover.
Don't blink when Johnson starts throwing bombs because he's fast, accurate and deadly -- and everybody loves a good knockout.
R-E-S-P-E-C-T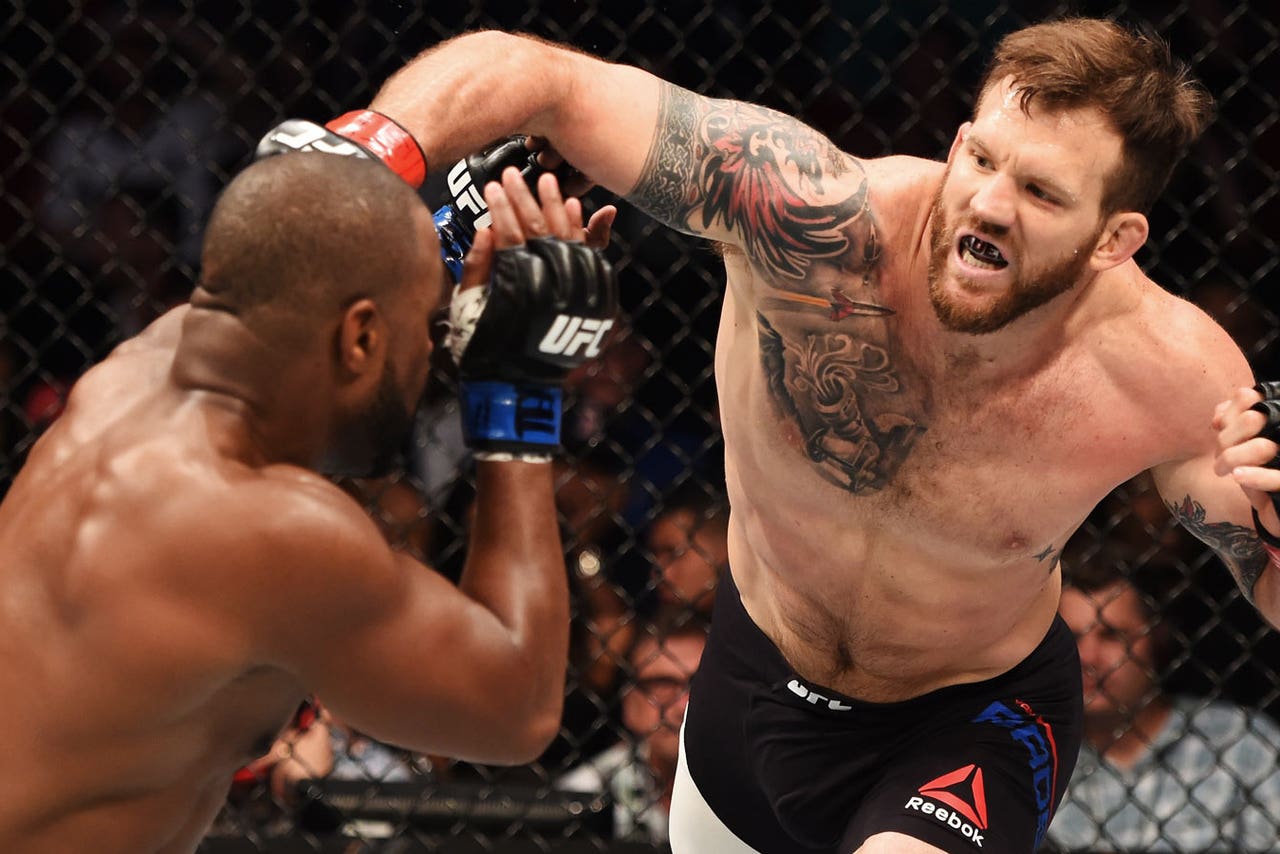 Bader might not walk out to the Aretha Franklin classic but he's certainly asking for it with his fight this weekend against Johnson.
Bader is riding a five fight win streak with all of those victories coming over top 15 fighters including Evans, Phil Davis and Ovince Saint Preux. Along the way, Bader has inched closer and closer to title contention but still hasn't gotten his shot and it undoubtedly bugs the former "The Ultimate Fighter" winner.
He only got angrier when the UFC opted to give Gustafsson -- off a knockout loss, no less -- a title shot last October rather than give it to Bader. Needless to say, Bader was not amused.
If Bader wants to make a big impression, a win over Johnson would certainly do the job.
Bader will get to fight on the biggest stage this weekend with millions of people watching from around the world, and if he can find a way to get past Johnson, there's no chance the UFC can deny him any longer and he should finally earn his chance at the belt.
Heavyweight Contenders Beware
The UFC heavyweight title was supposed to go up for grabs next week with Fabricio Werdum facing Cain Velasquez in the UFC 196 main event. Unfortunately, injuries to both men derailed the fight, despite the failed efforts of the UFC to place Stipe Miocic in the main event at the last minute.
So right now the heavyweight division is a bit of a mess but Barnett and Rothwell both have a huge opportunity to make the most out of a bad situation with their fight this weekend.
Barnett is a former champion with skills inside and outside the cage and an impressive win over Rothwell could convince the powers that be that he might just be the right candidate to fight for the title later this year.
On the other hand, Rothwell has not only looked better than ever lately with wins over names such as Alistair Overeem and Matt Mitrione but he's developing an outgoing personality in interviews -- and everybody loves a good evil laugh at the end of a fight.
So while Werdum heals up, the UFC will have some decisions to make about who faces him next and nothing promised will actually happen until contracts are issued and signatures are gathered. In other words, Barnett or Rothwell could put on the kind of performance that would have the UFC second-guessing who is the real No. 1 contender.
Super Sage Returns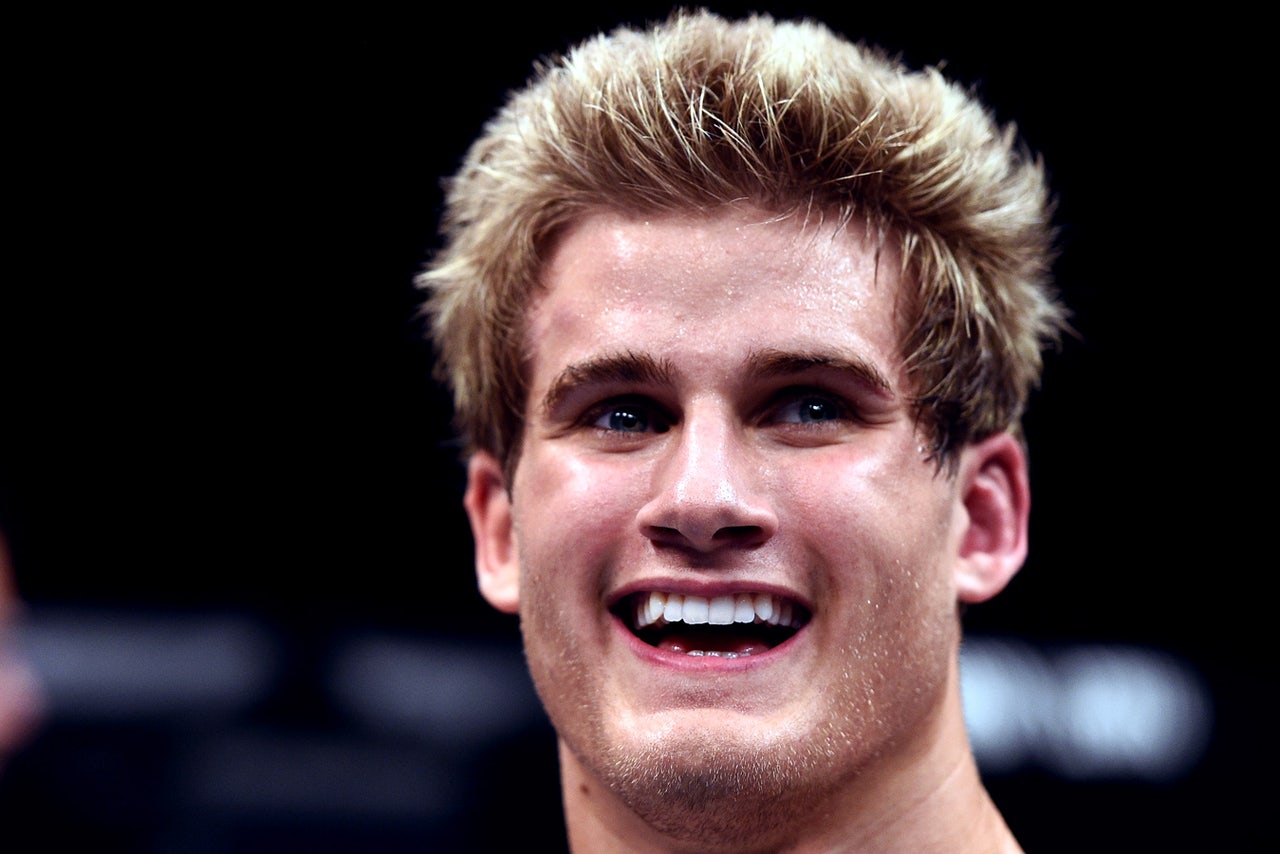 Sage Northcutt might have the strangest love/hate relationship with fans and fighters alike ever since he debuted in the UFC this past October.
Fighting in the Octagon at age 19 was already a special feat, but Northcutt did so with a huge amount of hype heaped on him by the UFC -- and especially by UFC president Dana White, who actually found the teenage prodigy while scouting talent for his reality show. Northcutt has certainly delivered in his first two fights and he is now one of the most polarizing figures on the roster.
Inside the cage, Northcutt is as legitimate as they come.
A lifelong martial artist with good striking and grappling, Northcutt is definitely the next generation of fighter but he's also so squeaky clean and wholesome that he actually reminds you of the impression Bender does of Brian in "The Breakfast Club".
His demeanor is almost too good to be true so a lot of people have turned against Northcutt based on that alone but whether you root for him to win or can't wait for his demise, he's fighting this weekend and that's definitely a good reason to watch.
Last Stand
The featured prelim this weekend that will air on FS1 features two former title contenders who have fallen on hard times of late.
Injuries slowed down Tarec Saffiedine after he made a huge impact in his final fight with Strikeforce and his UFC career has been virtually nil outside of two bouts -- the last of which ended with a knockout courtesy of Rory MacDonald. His fight this weekend will be just his third in three years so needless to say Saffiedine has something to prove.
On the other side of the Octagon, Jake Ellenberger has been a perennial top-10 fighter most of his UFC career but he's suffering through the toughest stretch of his career right now. Ellenberger went from the verge of title contention to going 1-4 over his last five fights including a brutal knockout from Stephen "Wonderboy" Thompson in his most recent appearance.
If Saffiedine and Ellenberger want to salvage a spot in the top 15 and remind the rest of the welterweight division just how dangerous they are, this is a golden opportunity to do so. While hard times have greeted both men lately, Saffiedine and Ellenberger know that a big knockout or submission on Saturday night will breathe new life into a career and that could result in the sleeper fight of the night on the entire card.
Don't miss a minute of the action from FOX UFC Fight Night: Johnson vs. Bader with the live prelims kicking off at 5pm ET on FS1 before the main card starts on FOX at 8pm ET. 
---
---