2016 Fight of the Year: Conor McGregor vs. Nate Diaz 2
BY Damon Martin • December 23, 2016
For five long months, Conor McGregor was forced to stew in the misery that he was submitted by Nate Diaz at UFC 196 after the Stockton, Calif. native accepted the fight on just 10 days notice.

Never mind that McGregor was preparing for a lightweight title fight against Rafael dos Anjos before he got injured or that he was just a few months removed from a staggering 13-second knockout over Jose Aldo to claim the featherweight championship.

McGregor lost and beating Diaz in a rematch was the only thing that would satiate his thirst for vengeance.

At UFC 202 on Aug. 20 inside the new T-Mobile Arena in Las Vegas, McGregor finally got his chance to meet Diaz for a second time. The days leading up to the fight had been as chaotic as any bout in UFC history, especially after a volatile press conference erupted into mayhem after McGregor and Diaz started launching water bottles and cans at each other.

Every time McGregor and Diaz were even in the same building together it was as if the tension just automatically ratcheted up like something explosive was about to happen. Finally after months of build up, just past midnight east coast time, McGregor and Diaz stepped into the Octagon together.

And what happened over the next 25 minutes was arguably one of the greatest fights in mixed martial arts history.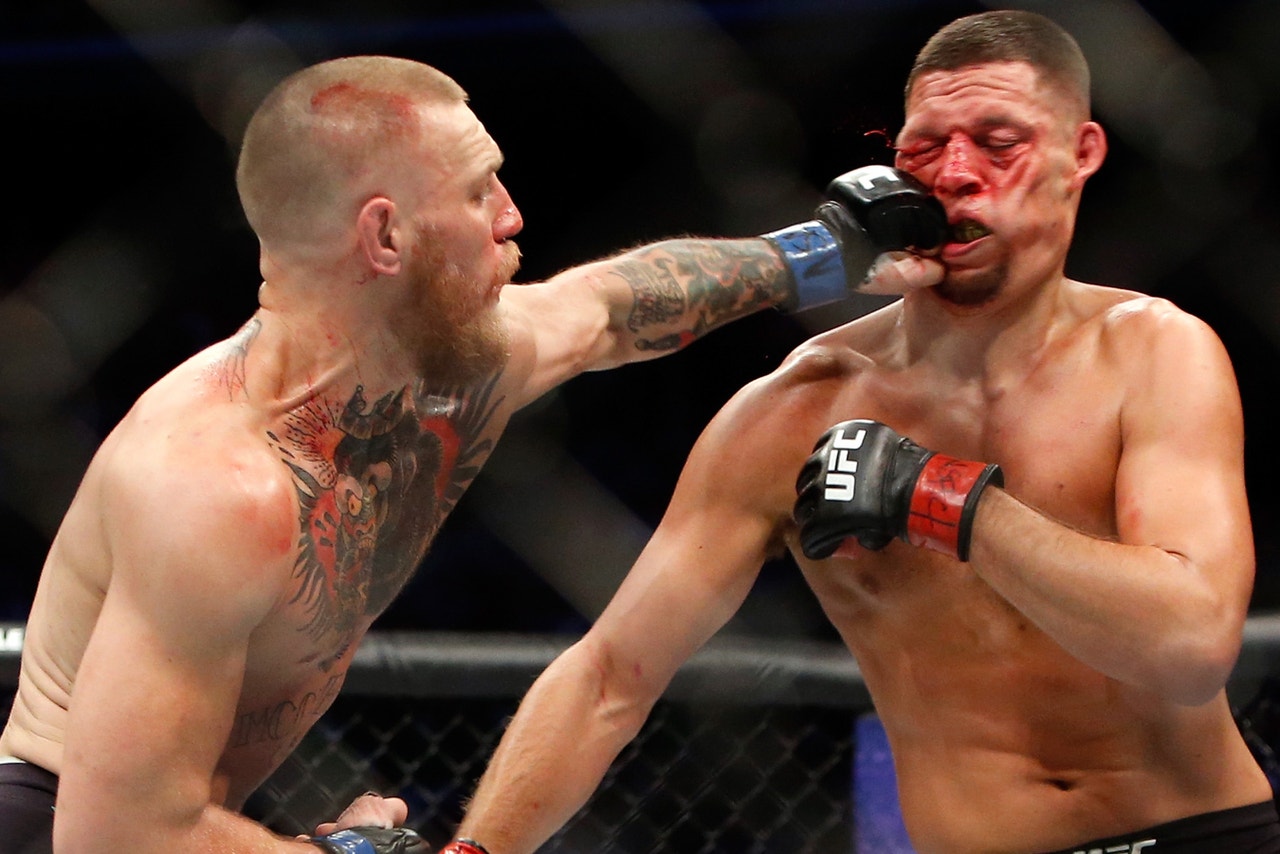 Learning from the mistakes in his first performance against Diaz in March, McGregor didn't come storming out of the gates as the opening round began just head hunting for a knockout. Instead, McGregor started feeding Diaz a steady diet of leg kicks, a problematic strike that had haunted him in past performances as well.

While McGregor stopped throwing nothing but power shots, he did manage to connect with a beautiful left hook that clipped Diaz's jaw and sent him tumbling to the mat. The Las Vegas crowd roared as McGregor earned the first knockdown of the fight, but rather than leap into Diaz's guard and go for the finish, the Irishman stood back and waited for his opponent to get off the canvas.

McGregor's assault continued in the second round with a dizzying array of strikes that had Diaz wobbled and down again. McGregor looked like he made all the necessary adjustments to foil Diaz until the latter half of the round began.

Diaz started to mount a comeback after finally finding his rhythm by connecting on a series of long, straight punches that had McGregor backing up for the first time all night. As the third round began, the momentum had shifted dramatically with Diaz in control and McGregor looking up at the clock as if he could somehow will the seconds to tick away faster so he could get back to his corner to recover.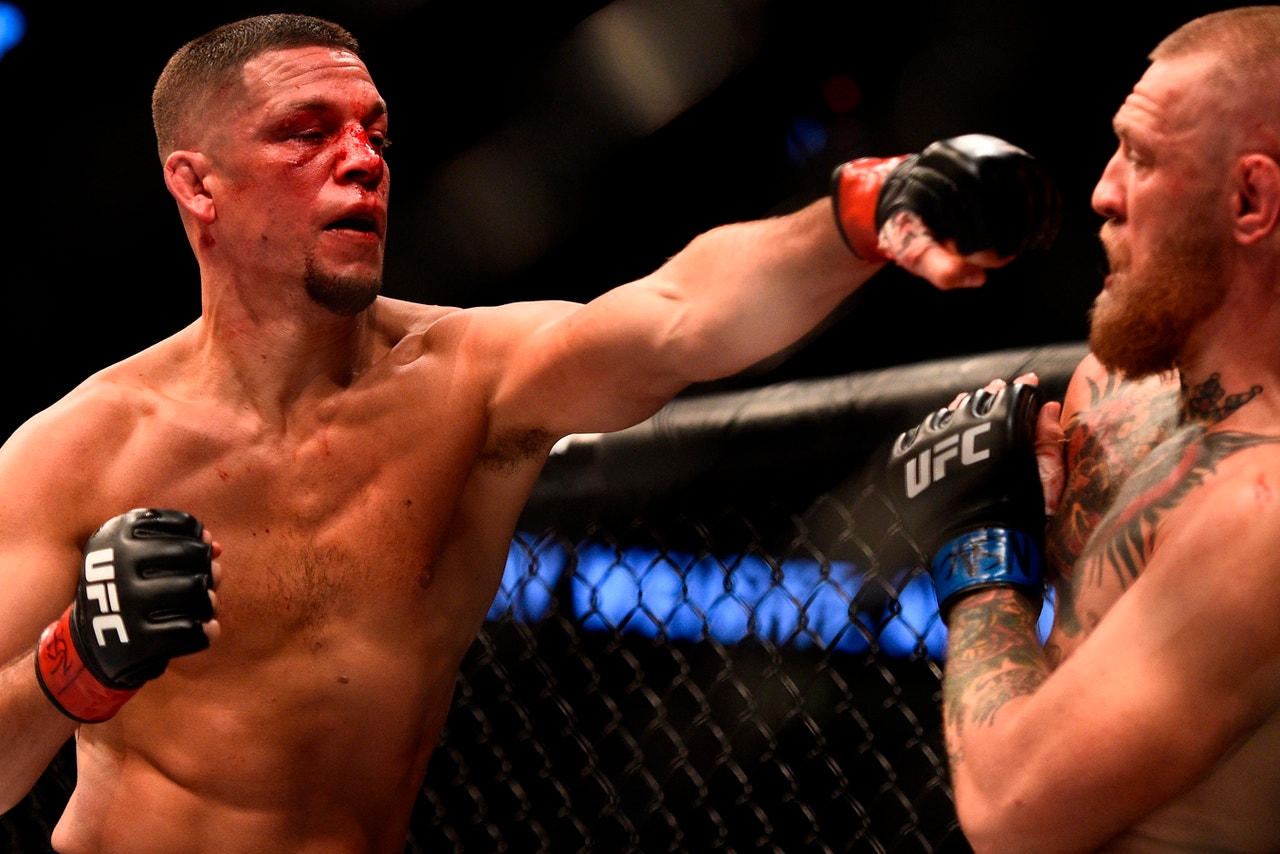 Diaz refused to allow McGregor a moment to breathe as he poured on the punishment, trapping him against the cage and absolutely battering the featherweight champion with punches. For a moment it appeared that the referee might look to stop the fight, but the horn sounded and McGregor was able to lumber back to his corner.

At this point in the fight, it appeared that Diaz was about to win a second straight fight with McGregor and crush the hype surrounding the biggest superstar in UFC history.

In the corner, McGregor slumped over to catch his breath while his coach John Kavanagh gave him advice. The mannerisms from McGregor in the corner certainly didn't look like those from a fighter about to stage a comeback, but that's exactly what happened.

In the fourth round, McGregor dug deep and started putting together his combinations again just like those that knocked Diaz down earlier in the fight. McGregor started landing more regularly and with each punch that stung Diaz, his skin started to split apart and blood began trickling down his face.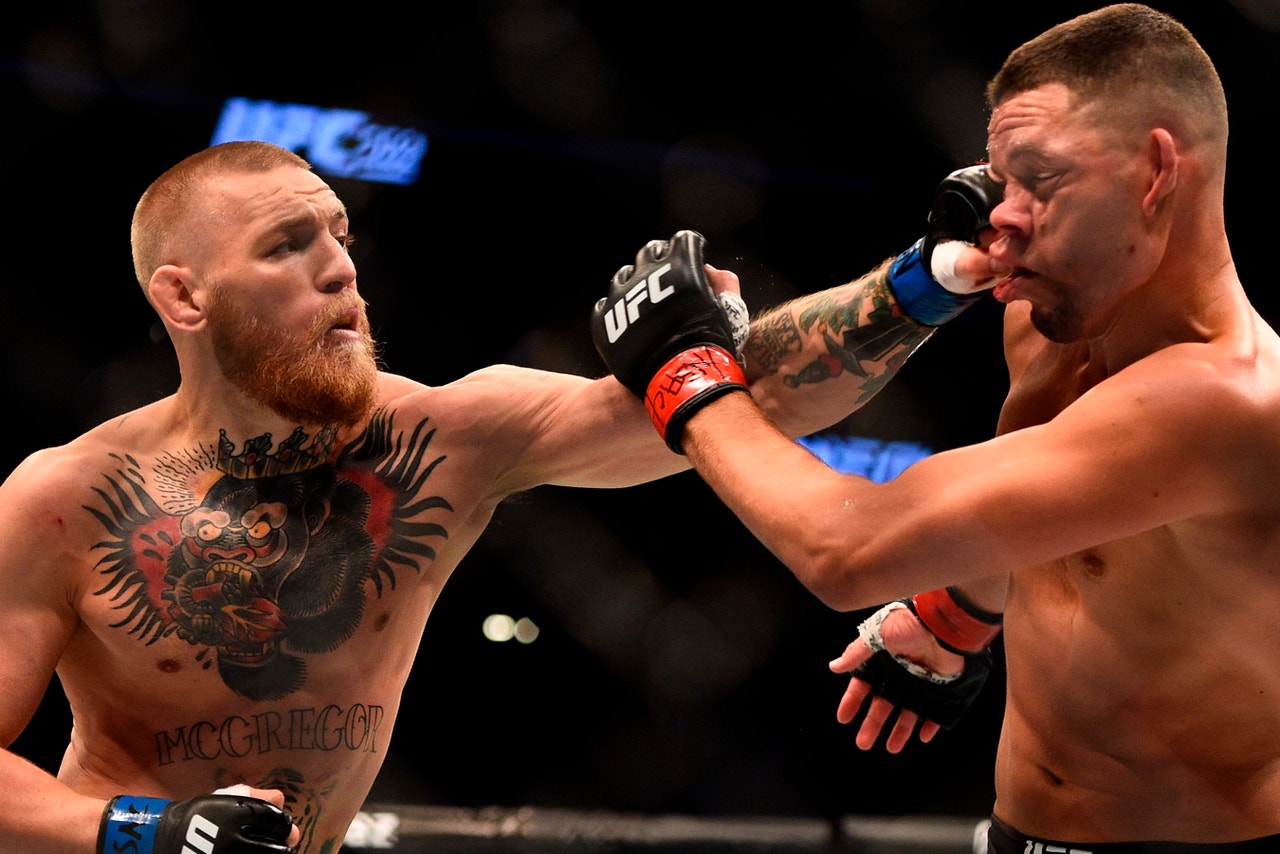 It was a miraculous performance after McGregor was seemingly on the brink of being finished just five minutes earlier, but he dug down deep to outstrike and outfight Diaz in the very next round.  As it turns out, McGregor needed that performance in the fourth because the pendulum swung back towards Diaz in the final around.

This time it was Diaz who started landing shots at will while McGregor could only hold onto hope that he would reach the final bell. Diaz had to know he was probably down on the scorecards so he threw everything he had at McGregor in a series of blows that had the featherweight champion on rubber legs.

The back-and-forth battle finally ended with Diaz landing a late takedown with a few more punches on the ground before the horn sounded that signified the end of the fight. When it was over, a bloodied Nate Diaz extended his hand to a battered Conor McGregor and lifted him off the canvas before the two of them embraced for just a moment while appreciating the violent masterpiece they had just painted.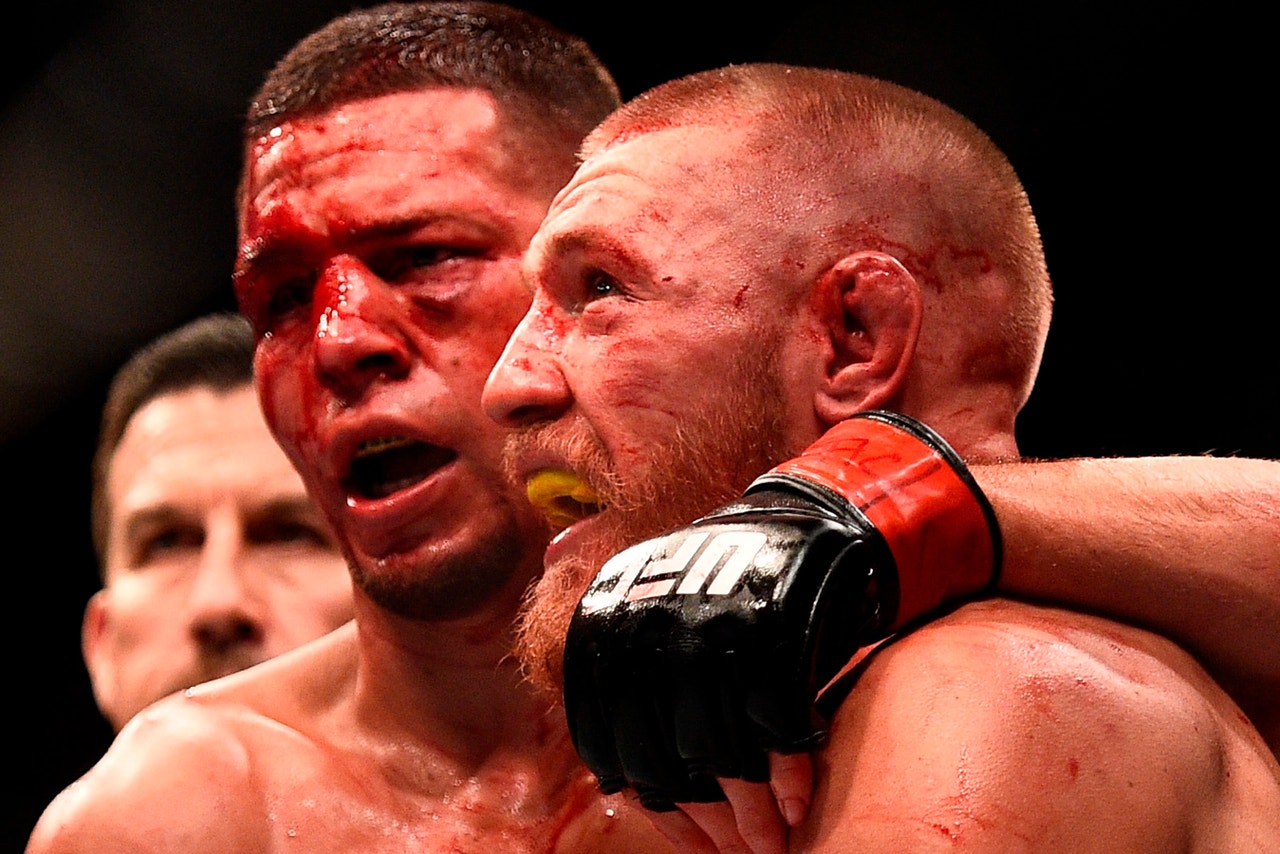 When the scorecards came back, McGregor had earned a majority decision victory over Diaz, which gave him the satisfaction that he needed following the embarrassing defeat he suffered earlier in the year.

"Surprise, surprise mother (expletive), the king is back!" McGregor shouted to an approving crowd in Las Vegas that lived, died and was reborn with each second of this titanic war over five rounds.

The greatest rivalries in sports history are usually accompanied by the most memorable games. Ohio State will always rise up for a fight against Michigan, but the rivalry is accentuated when they engage in a double overtime dog fight like the one that just took place this past November.

In combat sports it's no different.

Rivalries are often born outside the cage, but a truly great feud is fueled even more by an awe-inspiring fight like the rematch between McGregor and Diaz at UFC 202.

That's why McGregor vs. Diaz 2 goes down as the best fight of 2016.


---
---