tennis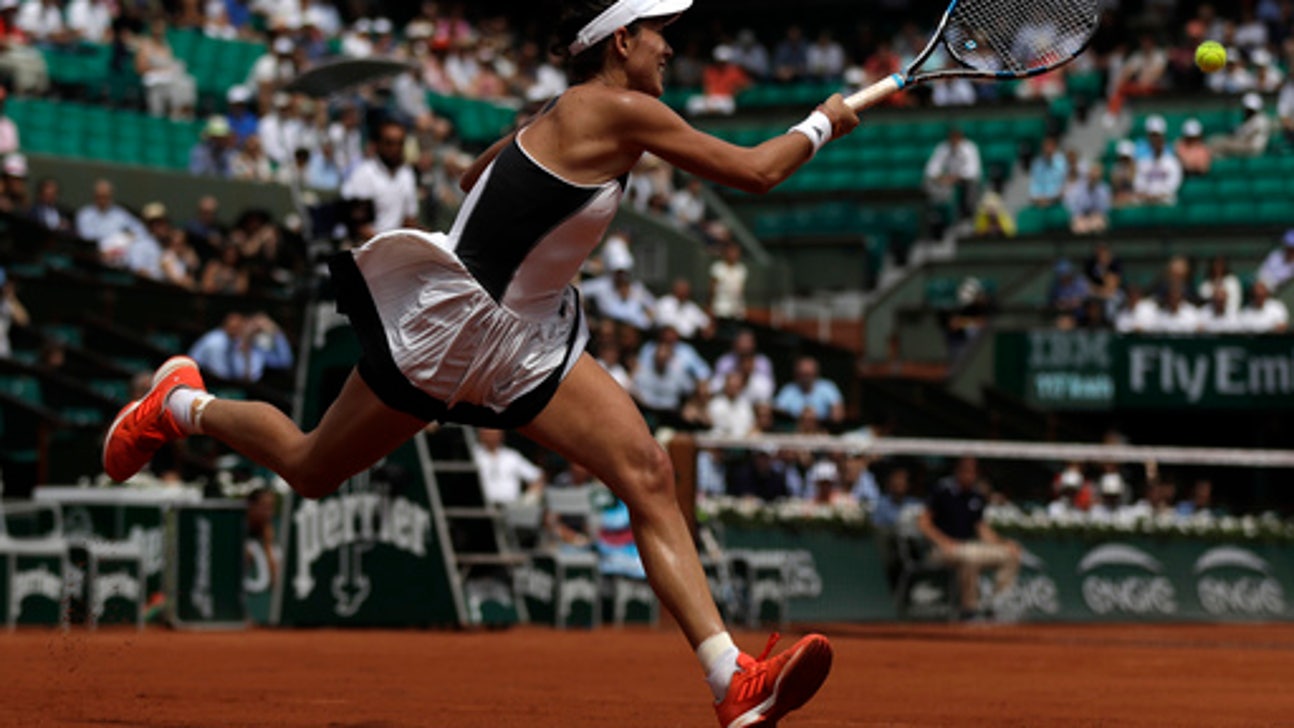 tennis
The Latest: Defending champion Djokovic into quarterfinals
Updated
Mar. 4, 2020 1:14 p.m. ET

PARIS (AP) The Latest from the French Open (all times local):
---
8.55 p.m.
Defending champion Novak Djokovic is through to the quarterfinals of the French Open for the eighth straight year.
He beat 19th-seeded Spaniard Albert Ramos-Vinolas 7-6 (5), 6-1, 6-3 in the day's final match on Court Philippe Chatrier. Djokovic sealed victory on his first match point with a cross-court winner struck firmly from near the net.
The second-seeded Serb dropped his serve at the start of the match and squeezed through a tough first set lasting 1 hour, 15 minutes.
Next up for Djokovic is No. 6 Dominic Thiem of Austria - the player he beat in last year's semifinal in three sets, dropping just seven games.
---
8:30 p.m.
Timea Bacsinszky explained why she sprinted to her chair as Venus Williams was about to serve.
Late into their fourth-round match, Williams was about to toss the ball up into the air when the American noticed the 30th-seeded Swiss was not standing at the other end.
Instead, Bacsinszky was making an express trip to wash clay off her hands. She had got them dirty attempting to treat a sudden injury.
"I had a pinched nerve in my thigh. I was clumsily trying to stretch my foot and I got my hands all filthy with clay," Bacsinszky said. "I really needed to get to my chair, and I had already received a warning about time. So I just rushed back and said (to the chair umpire) 'Please, I'm really sorry, I've got clay all over my hands. I can't play properly.'"
Bacsinszky, a semifinalist at Roland Garros in 2015, won 5-7, 6-2, 6-1.
---
7:20 p.m.
Dominic Thiem is through to the French Open quarterfinals for the second straight year after easing past Horacio Zeballos 6-1, 6-3, 6-1.
The sixth-seeded Austrian, a semifinalist at Roland Garros last year, next plays either defending champion Novak Djokovic or No. 19 Albert Ramos-Vinolas.
Zeballos received a thumbs up from Thiem after one superb lob midway through the third set, but the unseeded Argentine was never really in contention and lost in 1 hour, 40 minutes.
An ace down the middle gave Thiem victory on his first match point.
---
6:05 p.m.
Venus Williams has lost in the fourth round of the French Open to 30th-seeded Timea Bacsinszky of Switzerland, meaning the tournament will produce a first-time Grand Slam champion.
Bacsinszky won 5-7, 6-2, 6-1 in Court Philippe Chatrier, the second year in a row that she beat Williams in the fourth round in Paris.
Williams, who turns 37 this month, is a seven-time major champion, with all of those titles at Wimbledon or the U.S. Open. Her best French Open showing was in 2002, when she lost to her sister Serena in the final.
Bacsinszky's best result at a major tournament was reaching the semifinals at Roland Garros in 2015.
---
5:15 p.m.
Defending champion Garbine Muguruza has lost in the French Open's fourth round to France's Kristina Mladenovic 6-1, 3-6, 6-3.
Mladenovic reached the quarterfinals at Roland Garros for the first time.
---
4:50 p.m.
Spaniard Pablo Carreno Busta beat fifth-seeded Milos Raonic of Canada 4-6, 7-6 (2), 6-7 (6), 6-4, 8-6 in the French Open fourth round.
Carreno Busta reached his first Grand Slam quarterfinal the hard way, wasting six match points through a combination of unforced errors and big winners from Raonic.
He wasted three of them serving at 5-4 up, and three more when serving at 7-6.
He finally won with a forehand volley at the net, with Raonic near the back of the court.
After 4 hours, 17 minutes of hard slog, the 20th-seeded Carreno Busta will have used up valuable energy for his quarterfinal against nine-time champion Rafael Nadal.
---
4:35 p.m.
Defending champion Garbine Muguruza and French favorite Kristina Mladenovic are heading to a third set at Court Suzanne Lenglen with a Roland Garros quarterfinal spot at stake.
Muguruza forced a third set by taking the second 6-3, breaking in the last game. Mladenovic took the opener 6-1.
It is the third time in four matches that Mladenovic has played a three-setter. One of the earlier ones ended at 9-7, the other at 8-6.
Muguruza is seeded No. 5, Mladenovic No. 13.
Muguruza beat Serena Williams in the French Open final last year.
Mladenovic had never made it past the third round in Paris. The last woman representing France to win the country's Grand Slam tournament was Mary Pierce in 2000.
---
3:50 p.m.
Teenager Jelena Ostapenko is the first woman from Latvia to make it to the French Open quarterfinals in the professional era. She beat 2010 runner-up Samantha Stosur 2-6, 6-2, 6-4.
The 47th-ranked Ostapenko is the youngest player in the tournament at age 19.
She compiled a whopping 46-15 advantage in winners against the 23rd-seeded Stosur, who won the 2011 U.S. Open.
Ostapenko now faces former No. 1 Caroline Wozniacki, who is a two-time major finalist.
---
3:20 p.m.
Richard Gasquet retired from his all-French third-round match against Gael Monfils at Roland Garros after getting treatment on his right thigh.
The 24th-seeded Gasquet stopped playing while trailing 4-3 in the third set. The players split the first two sets.
Before the start of the third, Gasquet had a trainer work on his upper right leg. Gasquet got a massage and then his thigh was taped up.
The 15th-seeded Monfils moved into the fourth round at the French Open for the seventh time. His best showing in Paris was a semifinal run in 2008.
---
3 p.m.
Rafael Nadal eased past 17th-seeded Roberto Bautista Agut 6-1, 6-2, 6-2 to reach the quarterfinals of the French Open.
The fourth-seeded Spaniard secured victory on his third match point when he pushed Bautista Agut to the back of the court with a big forehand that his countryman could only pat back into the net at full stretch. He won in less than two hours.
Nadal is through to his 11th at Roland Garros - equaling Roger Federer's Open era record.
The 31-year-old Nadal is seeking his 10th French Open title and 15th Grand Slam title. His last major came at Roland Garros in 2014.
His opponent in the last eight will be either No. 5 Milos Raonic of Canada or Spaniard Pablo Carreno Busta.
---
1:35 p.m.
Two weeks past his 21st birthday, unseeded Karen Khachanov of Russia became the youngest man to reach the French Open's fourth round since 2009, beating 21st-seeded American John Isner 7-6 (1), 6-3, 6-7 (5), 7-6 (3).
Isner was the last U.S. man in the draw of 11 who entered the tournament.
Khachanov is playing at Roland Garros for the first time. It is only the third major of his career.
The match was suspended a night earlier after the first set because of rain.
Despite hitting eight double-faults, Khachanov won all 23 games he served against Inser, saving four break points. Khachanov converted 1 of 6 break points on Isner's serve, but that was enough.
---
1:20 p.m.
Former No. 1 Caroline Wozniacki returned to the French Open quarterfinals for the first time since 2010, eliminating 2009 champion Svetlana Kuznetsova 6-1, 4-6, 6-2.
The 11th-seeded Wozniacki is a two-time runner-up at majors.
She played her typically safe style for much of the match, winding up with 15 fewer unforced errors than No. 8 Kuznetsova. Wozniacki also broke in half of Kuznetsova's 12 service games.
Wozniacki missed the 2016 French Open because of an ankle injury. She lost in the first or second round each of the previous three years.
---
12:40 p.m.
Croatian qualifier Petra Martic upset 17th-seeded Anastasija Sevastova 6-1 6-1 to reach the fourth round of the French Open.
Martic is ranked 290th but she took just 49 minutes to beat the Latvian and match her best performance at a Grand Slam tournament.
The 26-year-old Martic next faces fifth-seeded Elina Svitolina after the Ukrainian beat Magda Linette 6-4, 7-5.
---
12:30 p.m.
Karolina Pliskova of the Czech Republic is through to the fourth round of the French Open after swatting aside Germany's Carina Witthoeft in straight sets.
The second-seeded Pliskova hit 34 winners as she raced to a 7-5, 6-1 victory in 70 minutes. She will next face the winner of the match between Veronica Cepede Royg and Mariana Duque-Marina.
---
12:15 p.m.
The rain delay suited Kei Nishikori as he recovered to beat Hyeon Chung 7-5, 6-4, 6-7 (4), 0-6, 6-4 when their third round match resumed at the French Open.
The eighth-seeded Nishikori was leading 7-5, 6-4, 6-7 (4), 0-3 when rain stopped play on Saturday, but was clearly struggling with a wrist injury and had also had treatment on his back as the 21-year-old Chung rallied.
Chung, who is ranked 67th, had never beaten a top-10 player in six attempts but leveled when play resumed, keeping alive his bid to become the first South Korean to reach the fourth round at Roland Garros.
Nishikori broke early in the fifth set and was serving for the match when Chung broke back, but the Japanese player sealed the result when his opponent double faulted.
It was the first time in the Open era that two Asian men had met as late as the third round in a Grand Slam tournament.
---
11:15 a.m.
Carina Witthoeft turned up late for her third round match against second-seeded Karolina Pliskova at the French Open.
Witthoeft walked onto Court 3 about eight minutes after Pliskova, who gave the German a wry smile as she walked past her seat.
---
11 a.m.
Defending champions Novak Djokovic and Garbine Muguruza both play Sunday in the fourth round of the French Open, in a packed schedule created by multiple rain postponements.
Djokovic is last on Court Philippe Chatrier, against No. 19 Albert Ramos-Vinolas of Spain, while the fifth-seeded Muguruza plays No. 13 Kristina Mladenovic of France on Court Suzanne Lenglen after Rafael Nadal plays Spanish compatriot Roberto Bautista Agut.
Seven-time major champion Venus Williams is bidding for a quarterfinal spot against No. 30 Timea Bacsinszky.
Three third-round men's matches are scheduled to resume after rain cancelled play on Saturday afternoon: No. 8 Kei Nishikori against Hyeon Chung, No. 15 Gael Monfils against No. 24 Richard Gasquet, and No. 21 John Isner against Karen Khachanov.
---
---
Get more from tennis
Follow your favorites to get information about games, news and more
---