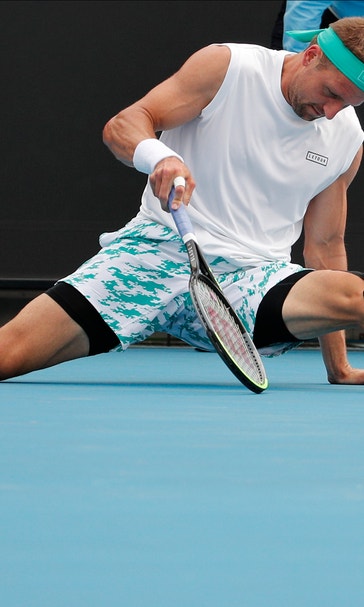 Tennys, anyone? Sandgren, Paul stun Australian Open seeds
January 22, 2020
MELBOURNE, Australia (AP) — Tennys Sandgren was looking in great shape for a big upset at the Australian Open after building a massive lead against No. 8 seed Matteo Berrettini on Wednesday.
And then, suddenly, he wasn't.
"Two-sets-to-love up, I was feeling pretty good about myself," the 100th-ranked Sandgren, who is from Tennessee, said about the second-round match, "but playing such a great player, that can get erased pretty quick — and I guess it did."
Sure did. Same thing happened to another American: The 80th-ranked Tommy Paul, who was born in New Jersey and now is based in Florida, took the opening two sets against No. 18 seed Grigor Dimitrov before seeing that lead vanish, too.
In the end, though, the two Americans managed to finish the job and produce five-set upsets of opponents who were semifinalists at last year's U.S. Open.
Sandgren edged Berrettini 7-6 (7), 6-4, 4-6, 2-6, 7-5. Paul was two points from exiting while down 5-4, 30-love in the fifth set before defeating Dimitrov, a three-time major semifinalist, 6-4, 7-6 (6), 3-6, 6-7 (3), 7-6 (3).
"One of my crazier matches I've ever been a part of," Paul said.
At one point in the fifth set, he looked at a videoboard and saw that Sandgren had gone from two sets up to winning in five.
"So I was like, 'All right. I guess it can be done,'" Paul said.
When he got to the locker room, he ran into Sandgren, and they greeted each other with excited shouts.
"Cool that we had similar scorelines and he got the 'W,' too," said Paul, who started working late last year with Brad Stine, who used to coach two-time Grand Slam runner-up Kevin Anderson.
Paul seemed to be fading against Dimitrov, after playing four sets in a rain-delayed match Tuesday. But the 22-year-old who won a French Open junior title picked up his first five-set victory; he hadn't won a Grand Slam match of any length until this week.
Now Paul meets Marton Fucsovics of Hungary, who already beat two young players: Canada's Denis Shapovalov, 20, and Italy's Jannik Sinner, 18.
When the sleeveless Sandgren completed his win, he flexed his right biceps.
Sandgren improved to 4-0 in five-setters. It was also the fourth top-10 win of his career; two of the others also came at Melbourne Park, back in 2018, when Sandgren reached the quarterfinals for his best showing at a major tournament.
Up next for him is an all-American matchup against Sam Querrey, with a berth in Week 2 on the line. They played in the fourth round at Wimbledon last year, with Querrey coming out on top.
"It's great when an American, for sure, will get through," Sandgren said.
---
---