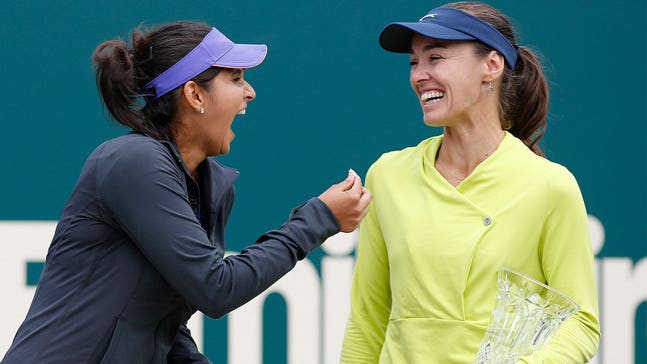 'Swiss Miss' Hingis, now 34, wins French Open doubles match
Published
May. 27, 2015 1:32 p.m. ET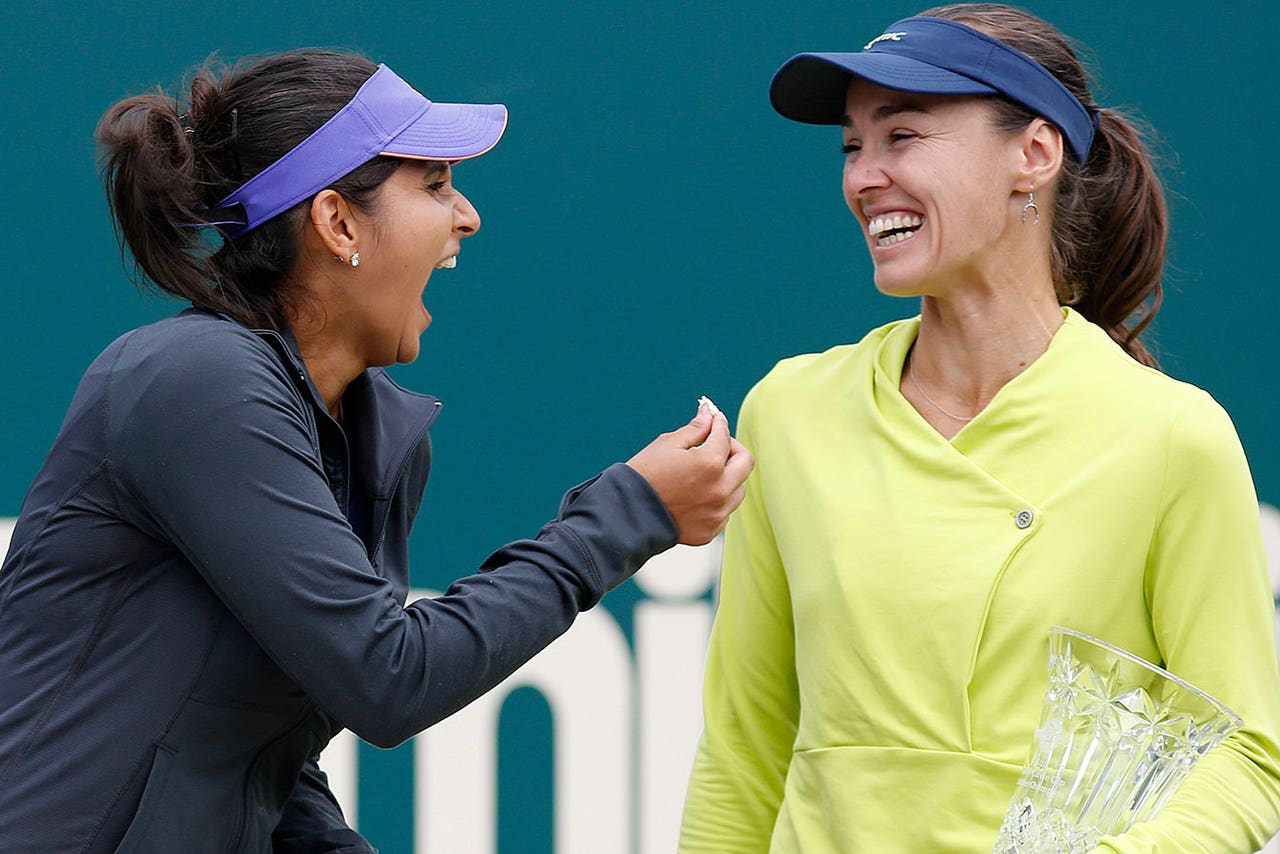 After a 15-year absence, Martina Hingis once again played — and won — a women's doubles match at the French Open.
Hingis and Sania Mirza, the first woman from India to rank No. 1 in singles or doubles, are the top-seeded pairing at Roland Garros and made a successful Grand Slam debut as a partnership, beating Julia Goerges and Barbora Krejcikova 6-3, 6-0 on Wednesday.
''I had enough of a break, so I'm fresh again,'' said Hingis, who is 34 and in the midst of a third career on tour after two stints in temporary retirement.
''It feels like, not that I'm 25 again, but it's a new comeback,'' Hingis said. ''I'm definitely mentally refreshed and this is where you have to be when you do sports or play tennis. I'm hungry and I'm fresh and I feel like I still have (game), and that's why I tried to come back. And now, with Sania, it's clicked.''
Hingis last entered the doubles in Paris in 2000, when she and Mary Pierce won the title. Pierce and most of the women they beat that year are long gone from the game, including players such as Jennifer Capriati and Conchita Martinez.
Hingis also won the French Open doubles trophy two years earlier, when she won all four major titles, teaming with Mirjana Lucic-Baroni at the Australian Open and Jana Novotna at the others.
Lucic-Baroni, who's now 33, knocked off 2014 runner-up Simona Halep in singles Wednesday.
''Yeah,'' she said, ''we have been out there for quite some time.''
All the way back at the 1997 Australian Open, when she was 16 and nicknamed ''Swiss Miss,'' Hingis became the youngest major champion of the 20th century, collecting the first of her five career Grand Slam singles titles. She also won Wimbledon and the U.S. Open that year, coming within a loss in the French Open final of claiming a calendar-year Grand Slam, and was the youngest woman to reach No. 1 in the WTA rankings.
She quit tennis in 2002 because of foot and leg injuries, then rejoined the circuit full-time in 2006, reaching two major singles quarterfinals and returning to the top 10.
Hingis announced her retirement again in 2007, when she was given a two-year suspension for testing positive for cocaine at Wimbledon. At the time, she denied taking the drug but did not appeal the ruling.
She worked in recent years as a coach.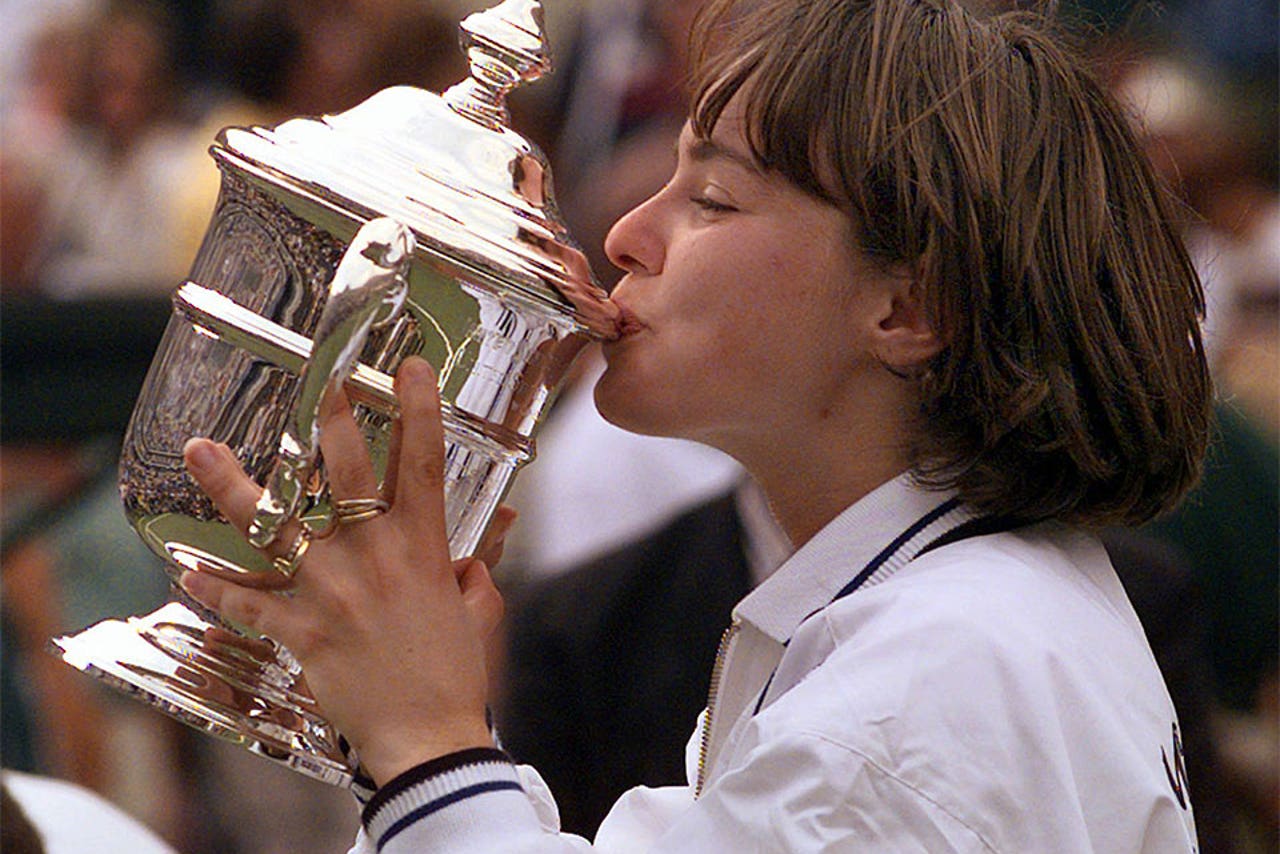 Hingis after winning the women's singles finals match against Venus Williams at the U.S. Open in 1997. 
''It's not a secret that Martina is supposed to be one of the smartest players ever that we've had,'' the 28-year-old Mirza said, drawing chuckles from Hingis. ''For me, it's an honor to play with her. ... I mean, really, she's been a great player in the past, of course, but she's back to being very good again.''
Their first tournament together was at Indian Wells, California, in March. They won the title there and at their next two appearances.
''I don't mean to make her sound old,'' Mirza said, eliciting peals of laughter from both women, ''because she's only a few years older than me, but I did watch her as a kid. But she was also a kid when she was winning.''
---
---