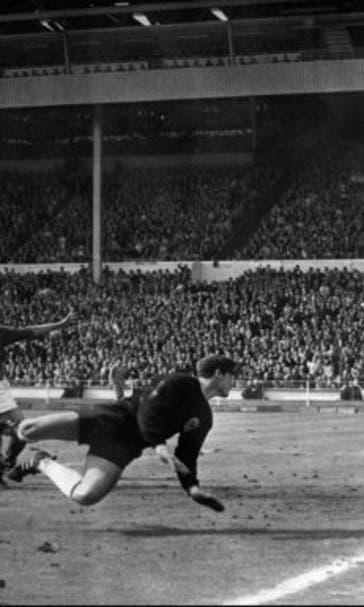 WORLD CUP: Hurst hat trick wins it for England in 1966
June 5, 2018
Alf Ramsey's prediction that ''England will win the World Cup'' at home was bold. After all, the home of football had done very little since returning to the FIFA fold in 1950.
But Ramsey was prescient as England became the first host to win the World Cup since Italy in 1934, largely thanks to a hat trick from Geoff Hurst.
After a limp start to the 1966 tournament, Ramsey's team evolved, one that was organized and resilient - dubbed ''The Wingless Wonders.''
It would be unfair to say England was lacking in flair.
In Bobby Charlton, England had one of the game's great strikers of a ball, and there have been few defenders in the history of the game more composed than the captain, Bobby Moore.
And although Ramsey lost striker Jimmy Greaves because of injury, he was able to promote Hurst to the starting lineup. Ramsey would stick with Hurst, the scorer of the only goal in the quarterfinal victory over Argentina, for the final against West Germany even though Greaves was healthy again.
It's a decision that has allowed Hurst's name to become synonymous with World Cup final history.
More than 50 years later, Hurst is still the only player to score a hat trick in a final. His first, a header in the 18th minute, got England back to 1-1. The match was even until Martin Peters put England ahead in the 78th, a lead it held until the last minute of normal time when Wolfgang Weber scrambled home an equalizer.
It may have been agony for England but Ramsey had one last moment of inspiration before extra time started: ''You've won it once - now go and do it again,'' he said. ''Look at them, they're finished.''
Cue Hurst and one of the most controversial moments in World Cup final history.
Late in the first period of extra time, the tireless Alan Ball crossed to Hurst, who turned and shot. The ball thumped down from the underside of the West German crossbar. The nearby Roger Hunt raised his arms to proclaim the ball bounced over the West Germany goal-line. Weber thought he headed the ball over for a corner. Swiss referee Gotffried Dienst went over to Soviet linesman Tofik Bakhramov who believed there was a goal.
Hurst added his third in the dying seconds with a thumping left-footed drive to make it 4-2.
The country that had done more than any other to make football the world's top team sport finally won the World Cup.
It's still waiting for its second.
---
For more, see https://www.youtube.com/watch?v=zhykeM1XorA
---
AP World Cup coverage: www.apnews.com/tag/WorldCup
---
---