San Jose
San Jose
Whitecaps change lineup ahead of playoff opener (Oct 25, 2017)
Published
Oct. 25, 2017 12:55 a.m. ET

VANCOUVER, British Columbia -- Carl Robinson was talking about the need to rely on key veterans in a playoff game.
And then the Vancouver coach all but confirmed that he will replace two long-time standouts on Wednesday in the Whitecaps' Major League Soccer knockout-round playoff game against the San Jose Earthquakes.
One -- left fullback Jordan Harvey, the longest-serving Whitecap -- definitely will not start. Instead, Marcel de Jong, who has been deployed mainly as a utility player on the back line and in midfield, will get the call.
"Marcel has played very well for the last three games he's played, and so has Jordan, but for this matchup, Marcel will play," Robinson said after a practice Tuesday at the club's University of British Columbia training facility.
Harvey, a 33-year-old Mission Viejo, Calif., native, has rarely taken a night off since joining the Whitecaps in a trade from Philadelphia in Vancouver's inaugural MLS season in 2011.
De Jong, a 31-year-old Newmarket, Ontario, native who plays internationally for Canada, got into only 13 games during the regular season and just seven in 2016 after joining the club in midseason from Ottawa of the second-tier North American Soccer League.
Meanwhile, Stefan Marinovic, a 24-year-old New Zealand international, is expected to start in goal as David Ousted, a 31-year-old Dane who has been the team's heavily used starter since his arrival in mid-2013, watches for the fourth time in the past five games.
Marinovic has a modest 2-2-1 record with one shutout.
"It's no gamble at all," Robinson said of changing goalies. "Stef's a top-class goalkeeper. We know that.
"I'm a very lucky manager in this league in that I've got two very good goalkeepers. Stef's come in and, in the games he's played, he's been exceptional. I need him to make saves at big times. (Ousted) has done that throughout the first two-thirds of the season. Stef has now taken charge."
The Wednesday contest marks the time for the Whitecaps to take charge of their postseason fortunes after they squandered a chance to finish first in the Western Conference and dropped to third thanks to a draw with the Earthquakes two weeks ago and a loss to the Portland Timbers last weekend.
Vancouver (15-12-7) has never won a playoff game in its MLS existence.
The winner of Wednesday's contest will play a two-game, total-goals series against either first-place Portland or the second-place Seattle Sounders.
The Earthquakes, who grabbed the sixth and final playoff berth in the West with a 13-14-7 mark, are clear underdogs. However, Vancouver captain Kendall Waston downplayed the apparent pressure on his team, which was a modest 1-3-1 in its last five regular-season games.
"Pressure, for me, is (not having) money to go buy milk for my son," Waston said. "This is trying to be (as) responsible as we can. We have to look at this match as the others, but the thing is, if we lose, we have to go home -- and we (don't) want to go home."
Vancouver's top scorer, Fredy Montero, said he is ready to play a full game after being used as a substitute in Portland due to a minor injury.
Meanwhile, the Earthquakes will try to continue to rebound from a 6-6-5 start that cost former coach Dominic Kinnear his job. Replacement Chris Leitch saw the team endure some fits and starts, but the Earthquakes managed to get into the playoffs after Marco Urena, a teammate of Waston on Costa Rica's national team, scored the last-minute winner over Minnesota United last weekend.
"I always shine in these important moments," Urena said afterward. "God chose me (for such times.)"
The Earthquakes might need some divine intervention after allowing 21 more goals than they scored during the regular season. Even so, they have one of the all-time best MLS players in Chris Wondolowski, who assisted on the winner and also scored last weekend, earning MLS player of the week honors.
"Legitimately one of the hardest things I had to do in my life," Wondolowski, who loves to shoot, said about passing on the winning goal.
Wondolowski, who is tied for second on the MLS all-time scoring list with Jeff Cunningham at 134 goals, said it has been a "look-in-the mirror-and-see-what-you're-made-of season," for the Quakes, who made several midseason roster changes.
---
---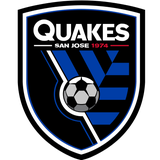 Get more from San Jose
Follow your favorites to get information about games, news and more
---