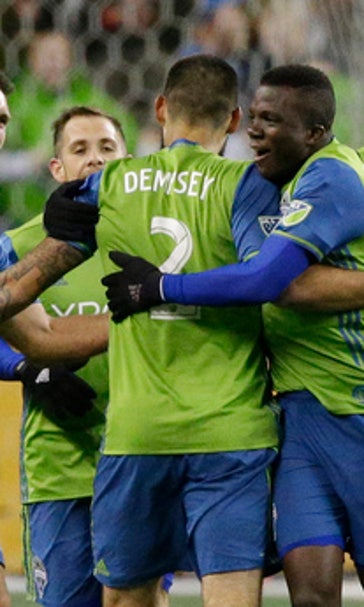 Sounders are through to conference finals, await opponent
November 3, 2017

Now that the defending champion Seattle Sounders have made the conference finals, they have to wait a couple days to see who they'll face.
Then they'll get more than two weeks to prepare.
The Sounders beat Cascadia rival Vancouver 2-0 on Thursday night to advance following a scoreless first leg of the conference semifinal. Clint Dempsey, who was suspended for the first match, scored both goals in the second.
Last season, Seattle was a fourth seed and swept through the playoffs into the final against Toronto FC, beating the Reds 5-4 on penalties after a scoreless draw.
This season, Seattle was a second seed, earning a knockout-round bye. The Sounders will face the winner of the other semifinal between the top-seeded Timbers and the Houston Dynamo, who play their second leg on Sunday in Portland. The first leg of the conference final is scheduled for Nov. 21.
''I think the guys by the end of that next training session will be really sick of us, and they'll really be ready to play, so hopefully we can use that to our advantage,'' Sounders coach Brian Schmetzer said.
The MLS Cup championship game is set for Dec. 9.
Portland and Houston played to a scoreless tie Monday on a chewed-up field at BBVA Compass Stadium that had hosted several events in October.
Timbers midfielder Diego Chara broke a bone in his foot during the match. Fellow midfielder Darlington Nagbe injured his calf and center back Larrys Mabiala hurt his hip. Portland was already without Fanendo Adi, who has been dealing with a lingering hamstring injury. Winger Sebastian Blanco didn't play in the first leg after burning himself with boiling water while cooking. Defensive midfielder David Guzman also sat out the first match with a sprained knee.
Portland coach Caleb Porter said team's depth will be tested in the second leg. But the Timbers have won six straight at home and their style of play is better suited to the faster artificial turf at Providence Park.
''We still have work to do, so we'll stay grounded, businesslike and professional,'' Porter said. They're a good attacking team, so we can't let our guard down. We've got to be focused and go into this game and execute and play the way that hopefully we're used to playing. By doing that, we know that it will open up the counter attack as well. By having the ball, there'll be a few more counter opportunities. So we've got to be balanced and we've got to be smart in transition.''
Houston was dealing with its own issues.
Goalkeeper Tyler Deric was arrested Tuesday morning in connection with an alleged domestic incident. He was charged with misdemeanor assault and suspended by the league. MLS is working closely with the Dynamo and the Houston police during the investigation.
Deric started 26 games for the Dynamo this season with six shutouts.
The Dynamo also were without defender A.J. DeLaGarza, who had surgery Wednesday to repair a torn ACL in his left knee. DeLaGarza was hurt on Oct. 22 in the 13th minute of Houston's 3-0 victory over Chicago.
There's drama in the Eastern Conference semifinals, too.
The Columbus Crew have a clear advantage in their semi against NYCFC after a 4-1 victory at home in the opening leg. NYCFC is hosting Sunday's second leg, the same day as the New York City marathon.
The playoffs come as Crew owner and CEO Anthony Precourt is threatening to move the team to Austin, Texas, unless a new, privately-financed stadium is built in downtown Columbus.
Precourt, whose Precourt Sports Ventures has owned the Major League Soccer club since 2013, said the team will stay put next season, but a future beyond that is unknown.
In the other semifinal, Toronto won its first leg against the Red Bulls 2-1. The match became controversial when fans at Red Bull Arena verbally attacked Reds forward Jozy Altidore and captain Michael Bradley.
The two players have faced jeers since the U.S. national team failed to qualify for the 2018 World Cup. But Altidore told the Toronto Sun that the taunts were especially vitriolic, and one fan close to the bench area went too far in attacking his religion and questioning his patriotism.
Raised a Jehovah's Witness, Altidore does not salute the flag or put his hand on his heart during the national anthem for religious reasons.
Toronto head coach Greg Vanney told the Sun he wrote a letter to the league complaining about stadium security around the bench.
---
---