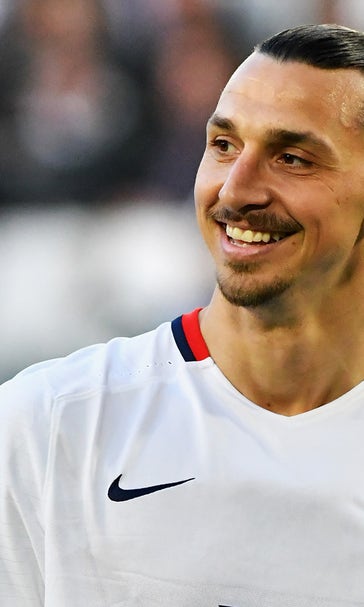 PSG Champions League win is inevitable, says Zlatan Ibrahimovic
May 14, 2016

Zlatan Ibrahimovic believes that Paris Saint-Germain will be successful in its quest to win the Champions League one day, but has said that patience will be required.
"It's just a matter of time and decisions," he told Goal. "All teams that were expected to win this year have been eliminated. First it was PSG, then it was Barcelona and Bayern Munich. You can be the best, it does not mean that you will win.
"We were all very disappointed with the elimination in the Champions League. We have not won this competition and we believed we had a great opportunity to do so this year. We want to win the Champions League as much as others. But you can't always do so. Sometimes you win, sometimes you lose ... it's the game."
Despite the disappointment in Europe, the Sweden international is pleased with this season overall, in which he has scored 35 league goals — a personal best tally.
"The season has been magical, fantastic for me and for the team," he said. "I was 100 percent physically, so that's why I was able to play like I did. If you are not 100 percent, it is difficult to play as you wish and especially to produce big performances.
"This year, I worked harder than I was used to. I have always worked well but this season I worked really, really hard. I'm harvesting the fruit now and I am very happy. I made a lot of sacrifices and the season was exactly as I wanted it to be.
"I do my job and I do it well."
Voted PSG's Player of the Season by Goal France users, Ibra has no regrets with how his campaign has gone.
"I never look back because it has happened the past," he said. "I am here to write history. I'm doing it and I'll do it again. I look forward because if I look back I'll start to think and I do not need that. If I look further back, I'll be really proud and really happy because the trophies are there"
He also reserved praise for his teammates and said that the unity of the squad has been exceptional.
"The group is very strong, the players are very professional, they all work to get to meet the goals and remain positive in any circumstances," he continued. "The players want to make sacrifices for their teammates. It is this strong mentality that is important.
"No matter what is said outside the club, outside the team, in the newspapers ... that's just bulls***. What is written is what people would like us to be, but it's not like that in reality. On the contrary, it makes us even stronger. Between us, we laugh when we see it. It doesn't stop us from playing our game."
PSG has enjoyed a record-breaking campaign in Ligue 1 by earning 93 points in 37 matches, and Saturday it will attempt to improve that tally by three in its final Ligue 1 fixture of the campaign against Nantes.
---
---