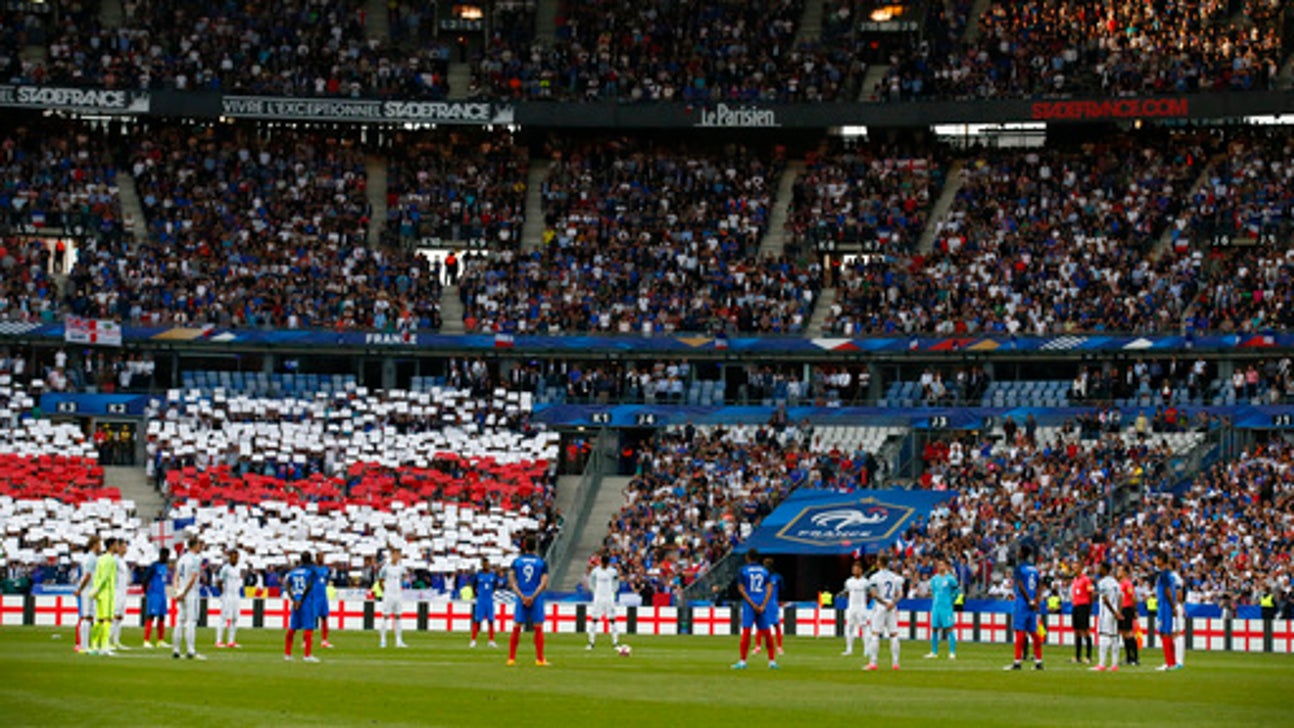 Players walk out to sound of Oasis song for France-England
Updated
Mar. 4, 2020 7:40 p.m. ET

SAINT-DENIS, France (AP) In an emotional show of support for the victims of the recent attacks in Manchester and London, France and England players walked out to the sound of ''Don't Look Back in Anger'' from Oasis moments before Tuesday's friendly at Stade de France.
The famed pop anthem was played by the musicians and the choir of the French Republican Guard, with the lead singer in uniform playing a guitar. As he started singing the famed pop anthem, pockets of England fans joined in, some with their arms raised.
The two big screens at the stadium projected the red and white Cross of St. George and giant flags from both countries were rolled out onto the field. There was huge applause rippling around the stadium after the iconic song - which enjoyed worldwide success in 1995.
Three attackers mowed down pedestrians on London Bridge and then stabbed people in nearby Borough Market on June 3. Eight people were killed and dozens more injured. On May 22, a man detonated a bomb as crowds were leaving an Ariana Grande concert in Manchester, killing 22 people.
In honor of the victims, national anthems were reversed, with ''God Save the Queen'' following ''La Marseillaise,'' with the words to each anthem displayed on the stadium's giant screen. Some of the French crowd joined in as the English sang. British Prime Minister Theresa May and French President Emmanuel Macron, present at the stadium after a working dinner, also did.
Then, the players linked arms and posed for a photo, before moving to the center circle to stand for an impeccably observed minute of silence in honor of the victims.
France coach Didier Deschamps offered his counterpart Gareth Southgate a France shirt with No. 1 written on it.
''I simply told him that we were on their side because of what happened over there,'' Deschamps said. ''They received us very well when we came to Wembley after the attacks in Paris.''
France was hit by deadly attacks in Paris in November 2015 and in Nice last July.
France's players were touched by the overwhelming show of support they received from England fans when they played a friendly at Wembley Stadium on Nov. 17, 2015 - just four days after the deadly attacks that swept through Paris.
England fans that night sang along with the French anthem and numerous other tributes were on display.
France went on to win Tuesday's match 3-2, despite being reduced to 10 men early in the second half.
---
---