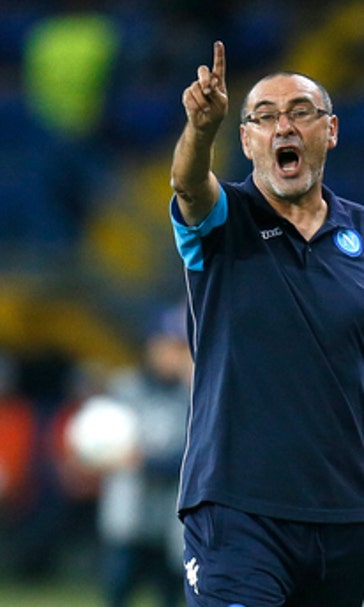 Napoli thanks Sarri for contributions after Ancelotti talks
May 23, 2018
NAPLES, Italy (AP) Napoli appointed Carlo Ancelotti as its coach on Wednesday, with the former Bayern Munich manager signing a three-year contract to replace Maurizio Sarri.
Napoli announced the news in a brief statement on its website on Wednesday, the day after a three-hour meeting between Ancelotti and club president Aurelio De Laurentiis.
The club also posted a video on social media with Ancelotti saying - in Italian, English, French and Spanish - ''I am really happy and honored to be the coach of a team of such a unique city with incredible fans.''
The 58-year-old Ancelotti, who was sacked by Bayern Munich in September, has won league titles in four different countries - Italy, England, France and Germany - and won the Champions League with AC Milan (twice) and Real Madrid.
The Italian coach has not worked in his home country since leaving Milan in 2009.
At Rome's airport, where Ancelotti was getting a flight to London, he told waiting television journalists that ''we'll see each other July 9.'' That is expected to be the date of his official presentation.
Shortly before the announcement, De Laurentiis publicly thanked Sarri, without officially confirming his departure.
De Laurentiis wrote on Twitter: ''I'd like to thank Maurizio Sarri for his valuable contribution to the Napoli cause. He brought joy and prestige to Naples and Napoli fans all over the world with an entertaining brand of football that drew praise from all quarters. Well done, Maurizio.''
Sarri had been in charge of Napoli since 2015 and led his hometown team to second place in Serie A last season with a club record of 91 points.
The 59-year-old Sarri has been linked with a move to Chelsea amid speculation that fellow Italian Antonio Conte could be on his way out of the Premier League club.
Zenit St. Petersburg is also interested after Roberto Mancini left to take over as Italy coach.
---
---